This 5 Day Smoothie Fast cleanses the body gently using fresh fruits and vegetables for five days, never making the same smoothie recipe twice! You can also add a boost of protein to the smoothies with these helpful tips.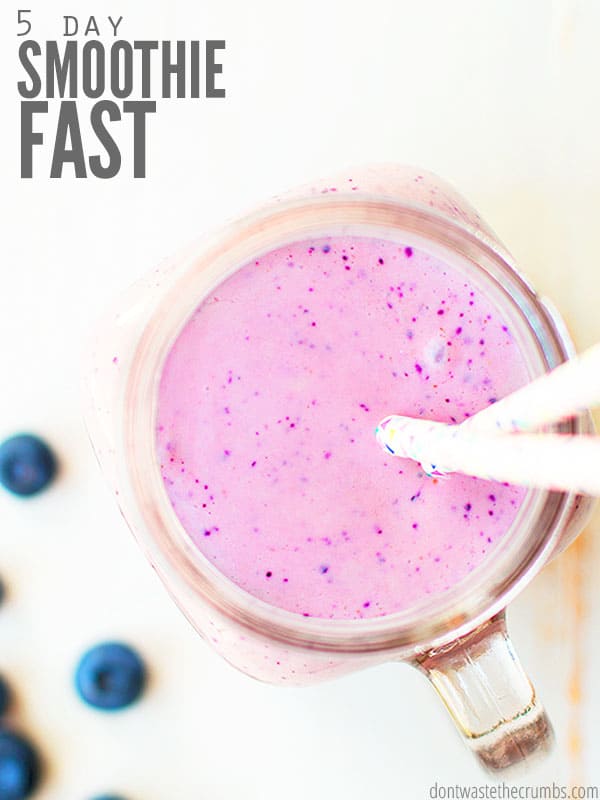 Have you ever been interested in doing a smoothie fast, but it seems too daunting? I know I have felt that way. The thought of not eating solid foods for a few days seemed a bit too extreme!
But I learned that doing a smoothie fast had many benefits for your body, and I wanted to give my gut a short term rest from solid foods. So I came up with a plan that is achievable and simple!
I created a plan that is both challenging (not too easy) AND within reach so you are able to succeed.
Whether it is resting your gut from solid foods or lowering your calorie intake, a smoothie fast can have great benefits!
Why do a smoothie fast? Consider the health benefits
Knowing your motive and recognizing your health goals are important when considering a fast. Personally, I am in fairly good health with no major chronic issues. My cholesterol and blood pressure are well within normal ranges. I try to eat healthy food regularly. In my opinion, I don't need to fast.
But when my husband fasts I feel compelled to support him in his efforts. After all, I don't think I'd be so thrilled to see the rest of my family eating big bowls of spaghetti while the smell of freshly baked bread lingered in the air either.
The truth is I can benefit from fewer calories and less solid foods (as we all can), but not eating entirely simply does not work for me in this season of life.
How to Plan for a Successful Smoothie Fast
Fasts are not easy, at least for me! More than half of the battle is mental. If you pick a fast that doesn't fit with your current state of health and frame of mind, you're only setting yourself up for failure.
That's why I've come up with a list of things to consider when choosing a fast:
Willpower. In my case, choosing not to eat anything would be setting myself up for failure. I do, however, have the willpower to refrain from eating certain types of food.
Responsibilities. I have a husband and two children to care for, plus a homestead and a job to manage, and there are always various social commitments. Life does not slow down so I can sit alone for several days, so water fasting isn't the best option for me just yet.
Type of fast. There are many types of fasts (water fast, intermittent fasting, etc.), but I prefer a smoothie fast. It is food, yet not solid. It is difficult to consume only liquids, but attainable.
If you're not following a specific plan, you must create your own
Usually, I have a green smoothie every day for breakfast, which is my favorite go-to recipe (it is seriously delicious, even with leafy greens). I incorporated smoothies into my long term daily routine because I wanted to be intentional about my health. In my mind having one more smoothie for dinner isn't that difficult. However, my normal green monster smoothie uses kefir and I want to keep my food intake as easy to digest as possible.
I created the following "rules," just so the fast has some structure:
Five full days
Two smoothies per day
One serving (one cup) of kefir per day
Raw fruits and vegetables only (with two small exceptions, see days 2, 4 and 5. Frozen fruits are okay to use)
No duplicating fruit/vegetables on the same day (except for the bananas)
No grains, meat, seeds or nuts
No sweetener
Why fast for five days?
Five days may seem like an odd number, but there is a method to my madness!
Food takes an average of 36-72 hours to run the entire course of digestion, from intake to exit. In order to allow my digestive system minimal rest, the fast needs to be at least three days. Three days didn't seem very difficult, and ten seemed a bit extreme. I settled on five days for two main reasons:
Digestive Rest. It allows two full days of maximum digestive rest within the constraints of my fast.
Success. I really want to succeed, and I don't think I'd make it much longer than 5 days!
Five Day Smoothie Fast
Here's a list of the smoothies I like to have during my smoothie fast. This will help you compile a shopping list:
Day 1 of Smoothie Fast
Morning (369 calories)
Evening (263 calories)
1 cup coconut water (I like this one)
1 banana
1/2 pear
1/2 apple
1 carrot (Carrots are very grainy so the smoothie will be much thicker)
Day 2 of Smoothie Fast
Morning (362 calories)
1 cup homemade kefir
1 banana
1 cup kale
1/2 orange
1/2 cup pineapple
Evening (284 calories)
1 cup coconut water
1 banana
1 apple
1 cup spinach
Day 3 of Smoothie Fast
Morning (378 calories)
1 cup homemade kefir
1 banana
1 cup kale
1/2 lemon
1 cup pineapple
Evening (307) calories
1 cup coconut water
1 banana
1/2 pear
1/2 apple
1 orange
Day 4 of Smoothie Fast
Morning (405 calories)
1 cup homemade kefir
2 bananas
1 cup kale
1/2 lemon
Evening (288 calories)
1 cup coconut water
1 banana
1 pear
1/2 cup pumpkin puree
2 sprinkles cinnamon
1 sprinkle each nutmeg, cloves, ginger
(This smoothie inspired my Easy Pumpkin Smoothie recipe, which is higher in protein)
Day 5 of Smoothie Fast
Morning (396 calories)
1 cup homemade kefir
1 banana
1 cup kale
1/2 lemon
1 pear
Evening (272 calories)
1 cup coconut water
1 banana
1 apple
1/2 cup pumpkin puree
2 sprinkles cinnamon
1 sprinkle each nutmeg, cloves, ginger
Note: If you're wanting to try some of these smoothies but don't have kefir, try subbing 1/2 cup yogurt (here's how to make it homemade) and 1/2 cup coconut water. Still delicious and you'll still get good gut bacteria!
I recommend using a high powered blender for making smoothies. I love my Blendtec!
Fasts don't have to be extreme to be beneficial
The smoothie route is perfect for those fasting for the first time. It is just the right balance of challenge and accomplishment. Each day has enough variety to keep it from being boring while still following the rules of the fast.
It feels great to make it through the full five days! The first time I did a smoothie fast I thought I'd be run down and exhausted, worn out from the lack of food, but that wasn't the case at all. My energy levels felt higher and it was great to know that my body was getting pure nutrition without any weird additives. The benefits throughout the rest of my body were noticeable too!
Great sleep.
I didn't crave any particular foods, including grains and sweets.
I felt more satisfied after eating.
My gut felt rested.
My skin was clearer.
Of course, after fasting, it is normal to be eager to eat food again. Personally, when I complete a fast it makes me look forward to the next one. I get to know what my body is capable of and I know what to expect!
FAQs For Smoothie Fasting for 5 Days
How many calories per day do you consume in a smoothie fast?
The daily calorie intake ranges from 630 to 690 – well below what our bodies require to operate on a daily basis. Limiting calories and consuming only blended fruits and vegetables allows your body to rest from the constant work of breaking down food.
Is smoothie fasting healthy?
Short term smoothie fasting, like this 5 day smoothie fast, has been very beneficial for my health. I don't smoothie fast for longer than 5 days due to my busy lifestyle, AND I like to eat healthy food too much!
More healthy smoothie recipes
Drinking smoothies regularly can have so many health benefits and can help you incorporate eating fruits and veggies into your eating habits. Here are a few of my favorite recipes:
Find even more recipes in my book High Protein, No Powder. It is the ONLY eBook that educates on the dangers of protein powders, teaching you how to make your own high protein smoothies using REAL food. Includes amazing recipes for plant based smoothies and protein bars. Read more here.