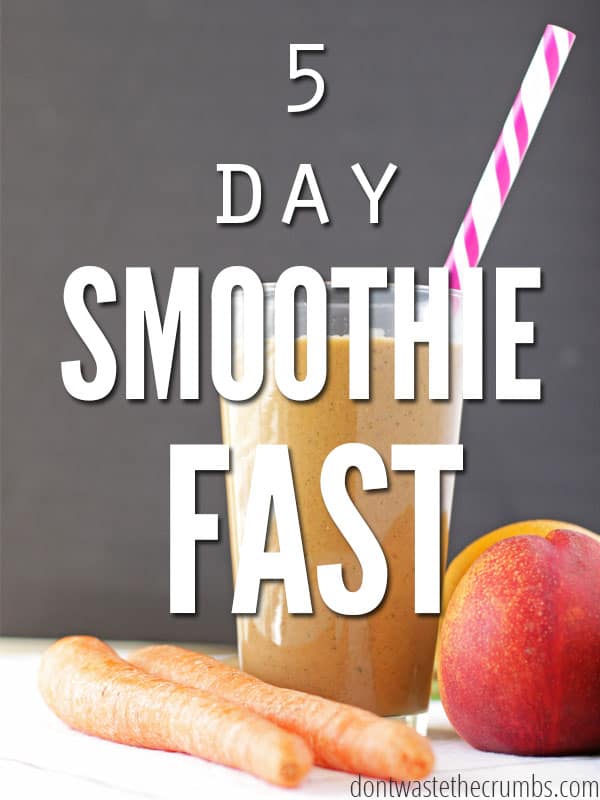 It's 5:45am Friday morning. The Girl just crawled into bed to snuggle, but instead of going to sleep she keeps whispering "buttered toast" into my ear.
The alarm goes off a little earlier than normal so the husband can make it to men's Bible study at 6:30am. This also means that the morning is a little more rushed than usual. Same usual routine, just less time to complete it in.
The Girl and I meander downstairs to prepare the husband's morning smoothie and lunch. She tells me she wants two pieces of toast, she wants to put it in the oven and she wants to pick her plate.
That's right. She's 3 going on 30.
As I turn the oven on for her toast and pull out the blender for the husband's smoothie, it hits me like a brick. He's not eating today. He hasn't eaten for 3 days.
And today is day 1 of my smoothie fast.
Turns out the blender isn't for him, it's for me.
*sigh*
Consider the health benefits you want to achieve.
This was big when choosing my own fast this past January. I am in fairly good health with no major chronic issues.  My cholesterol and blood pressure are well within normal ranges. In my opinion, I didn't need to fast.
But the husband wasn't eating and I felt compelled to at least support him in his efforts. After all, I don't think I'd be so thrilled to see the rest of my family eating big bowls of spaghetti while the smell of freshly baked bread lingered in the air.
So I gave it some additional thought and concluded that my body would definitely benefit from greatly reducing calories and eliminating solid foods (as we all would), but completely eliminating all foods altogether wouldn't provide a significantly greater benefit for me – at least not at this time.
Consider the likelihood of your success.
This is huge in my book. Choosing the impossible path will create an impossible result. Otherwise known as failure. At the same time, we don't want to choose the super easy route because of fear of failure. Instead we should try something that is challenging AND within reach so you are able to succeed. Fasts are not easy.  More than half the battle is mental. If you pick a fast that doesn't fit with your current state of health and frame of mind, you're only setting yourself up for failure.
In my case this would mean my fast would have to include some sort of food. Whether it be only juice, only raw fruit or only raw vegetables – choosing to not eat anything would be setting myself up for defeat. I know myself too well and at the time, I simply didn't have the will power to completely abstain from food. The only way there could ever be a fighting chance is if you locked me in a closet and gave the key to someone to hide.
But I have a husband and two children to care for, plus a house to manage and various social commitments. Life wasn't going to stand still so I could sit alone for several days, so a water fast was not going to work for me just yet.
In the end I chose a smoothie fast. It was food, yet not solid. It would be difficult to only be able to drink my meals, but not unattainable.
If you're not following a specific plan, you must create your own.
Green monster smoothies have been my breakfast nearly every day (and since that post is my most popular post of all time, I'm guessing I'm not alone!). In my mind having one more for dinner wasn't going to be that difficult. However, my normal green monster contains kefir and I wanted to keep my food intake as pure as possible. Kefir isn't "unpure" per se, but it is dairy and can sometimes be difficult to digest, even if it is fermented.
I created the following "rules" so the fast was somewhat structured and not a smoothie free-for-all, which would have been easy for me to do (but not very beneficial):
five full days
two smoothies per day
one serving (one cup) of kefir per day
raw fruits and vegetables only (with two small exceptions, see days 2, 4 and 5)
no duplicating fruit/vegetables in the same day
no grains, meat, seeds or nuts
no sweetener
Five days may seem like an odd number, but there was a method to my madness. 😉
Food takes an average of 72 hours to run the entire course of digestion, from intake to exit. In order to allow my digestive system minimal rest, the fast needed to be at least three days. Three days didn't seem very difficult, and ten seemed a bit extreme given my good state of health. I eventually settled on five days for two main reasons:
1)  it allowed two full days of maximum digestive rest within the constraints of my fast, and
2)  I didn't think I'd make it much longer than that. 🙂
Below is a list of the smoothies I drank during the fast. All of these were delicious, except the ones with carrot and broccoli. The carrot didn't taste bad, but I wasn't a fan of the consistency. Carrots are very grainy and the smoothie was much thicker than I prefer.
The broccoli was an experiment that I absolutely would not recommend to anyone. Despite knowing I couldn't make another smoothie in its place and would more than likely go to bed hungry that night, I couldn't finish it. It was just awful. Live and learn, right?
Day 1
Morning (369 calories)
1 cup kefir
1 banana
1 cup kale
1/2 lemon
1 orange
Evening (263 calories)
1 cup coconut water
1 banana
1/2 pear
1/2 apple
1 carrot
Day 2
Morning (362 calories)
1 cup kefir
1 banana
1 cup kale
1/2 orange
1/2 cup pineapple
Evening (284 calories)
1 cup coconut water
1 banana
1 apple
1 cup broccoli
Day 3
Morning (378 calories)
1 cup kefir
1 banana
1 cup kale
1/2 lemon
1 cup pineapple
Evening (307) calories
1 cup coconut water
1 banana
1/2 pear
1/2 apple
1 orange
Day 4
Morning (405 calories)
1 cup kefir
2 bananas
1 cup kale
1/2 lemon
Evening (288 calories)
1 cup coconut water
1 banana
1 pear
1/2 cup pumpkin puree
2 sprinkles cinnamon
1 sprinkle each nutmeg, cloves, ginger
(This was BY FAR my FAVORITE smoothie of them all. It tasted EXACTLY like pumpkin pie. I wish had I tried it earlier in the fast, because I would have chosen this one every time! It's actually what inspired me to make the high protein version in my new eBook.)
Day 5
Morning (396 calories)
1 cup kefir
1 banana
1 cup kale
1/2 lemon
1 pear
Evening (272 calories)
1 cup coconut water
1 banana
1 apple
1/2 cup pumpkin puree
2 sprinkles cinnamon
1 sprinkle each nutmeg, cloves, ginger
The daily calorie intake ranged from 630 to 690 – well below what our bodies require to operate on a daily basis. Limiting calories and consuming only blended fruits and vegetables allowed my body to rest from the constant work of breaking down food.
Now available! "High Protein, No Powder" is the ONLY eBook that educates on the dangers of protein powders, teaches you how to make your own high protein smoothies using REAL food and offers 20 smoothie recipes you can make NOW. Read more
HERE
and continue the journey to healthy living!.
UPDATE: If you're wanting to try some of these smoothies but don't have kefir (which you should because it's AMAZINGLY healthy for you – read my write-up here), try subbing 1/2 cup yogurt (homemade preferred since it's SO cheap) and 1/2 cup coconut water. Still delicious and you'll still get good gut bacteria!
Fasts don't have to be extreme to be beneficial.
For a first-time faster, the smoothie route is perfect. It was just the right balance of challenge and accomplishment. Each day had enough variety to keep it from boring while still following the rules of the game. I also discovered a few delicious flavor combinations in the process!
It felt great to make it the full five days. I thought I'd be run down and exhausted, worn out from the lack of food, but that wasn't the case at all. I felt energized and it was great to know that my body was getting pure nutrition without any weird additives. The benefits throughout the rest of my body were noticeable too!
I slept better.
I didn't crave any particular foods, including grains and sweets.
I felt more satisfied after eating.
Bowel movements were minimal, yet regular and very soft.
My skin was clearer.
Although I was eager to eat real food again (nothing can really replace chewing 😉 ), I look forward to completing another fast later this year. With one under my belt, I now know what my body is capable of and I know what to expect!
What about you? Have you tried resting your gut through smoothies and reducing calories? Have any smoothie recipes to recommend for next time?