Enjoy 7 Days of Green Smoothie Recipes! They're healthy, quick & easy, and you can even make freezer smoothie packs! Use spinach or kale, and try them with Greek yogurt, kefir, or non-dairy milk.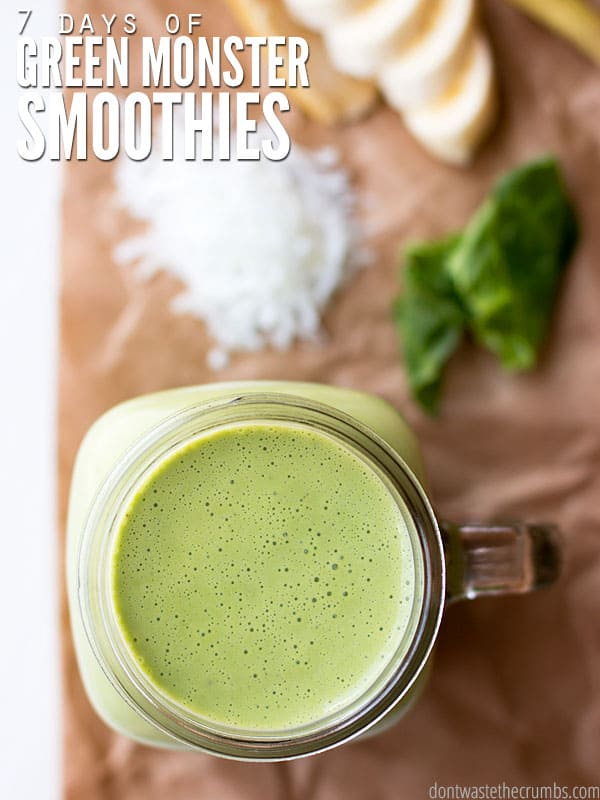 There are two basic types of green smoothie makers:
TYPE A. The person who throws in whatever they think sounds good and VIOLA! – They have a deliciously healthy smoothie.
TYPE B. The person who follows a recipe because they're slightly afraid that just throwing in this or that will make their smoothie taste bad. And then they'll feed bad for wasting all that produce. And then drink the smoothie anyway.
I'm type B. I want my smoothies to taste good, so I follow a recipe. Mr. Crumbs is type A. He doesn't care what it tastes like in the end as long as he's getting a glass full of fruits and veggies. He says that it tastes "good," but I've tasted a few and it's hard to get past the look of it in order to qualify the smoothie as edible.
So I stick to the plan. Mostly.
I spent 7 days drinking 7 healthy new smoothie variations – off of a base green smoothie recipe – and I just want to say….
THESE ARE DELICIOUS SMOOTHIES! SERIOUSLY.
I'm addicted. I can't imagine having anything else for breakfast for the rest of my life. Cross my fingers that I never have to eat scrambled eggs with bacon and homemade biscuits!
Mmmm… maybe that should be on the dinner menu then…
I figured if I liked them, you would too, so I'm sharing some basics and some variations for you to try.
7 Days of Green Smoothie Recipes
Not only are drinking green smoothies a delicious way to enjoy a plant based breakfast, they are also:
Healthy! Of course, it's a no brainer. But with leafy greens (like spinach or kale), which are high in fiber, protein, iron, folate and a bunch of other vitamins and minerals, you can't beat a green smoothie for breakfast!
Quick and easy. Perfect for weekdays on the go, where there's no time to fix pancakes, waffles, or a breakfast casserole.
Convenient. Did you know that you can make frozen smoothie packs ahead of your week? Then you just pull a pack from the freezer each morning, whiz in your blender, and go!
What are the ingredients in a basic green smoothie?
How to make a green smoothie
Place all ingredients in a blender, and blend on high until smooth.
Note: Add ice cubes to the blender if you want it extra cold and thick. Or use a frozen banana / frozen mango in place of ice.
What are the best green smoothie recipe variations?
These variations are ALL delicious, but day #4 was one of my very favorite green smoothie recipes – with the pineapple and mango! YUM!
Feel free to use these variations or mix and match ingredients to your liking. Don't forget that you can always switch up the greens, non-dairy milks, or add chia seeds rather than flax seed.
Day 1: Switch to non-dairy milk and add kefir
Day 2: Add strawberries to this green smoothie
Day 3: Add blueberries
Day 4: Pineapple juice and mangoes make this green smoothie amazing
1/2 cup kefir
1/2 cup pineapple juice (strained from canned pineapple, or use orange juice)
1 banana
2 cups spinach
1 tablespoon flax seed
1/2 mango
Day 5: Add peanut butter for protein to this smoothie with greens
Day 6: Nutella makes this green smoothie rich & nutty
Day 7: A mixed berry variation makes this green smoothie bright and flavorful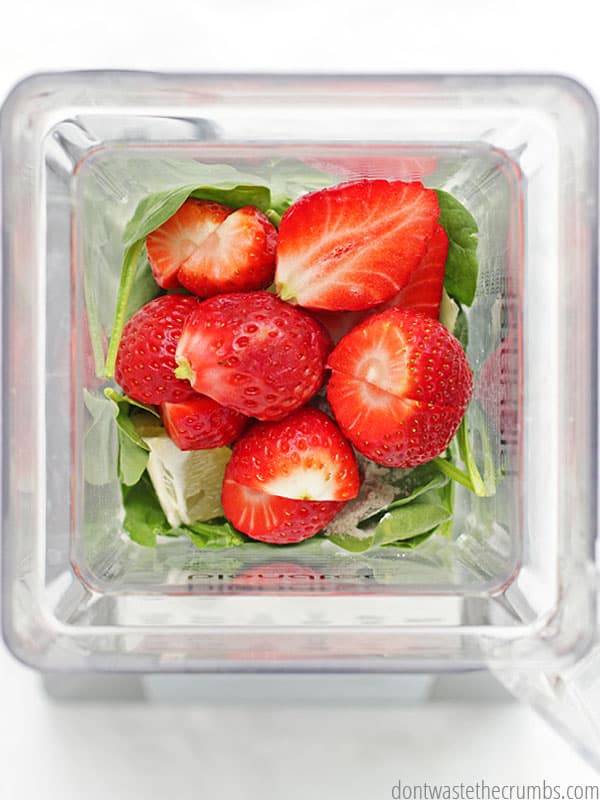 Additional Variations for Green Smoothie Recipes:
How do you add healthy protein to smoothies?
My eBook "High Protein, No Powder" is the ONLY eBook that educates on the dangers of protein powders, teaches you how to make your own high protein smoothies using REAL food and offers 20 smoothie recipes you can make NOW. Read more HERE and continue the journey to healthy living!
What greens to put in a smoothie recipe?
Leafy green vegetables (spinach, kale, chard and romaine lettuce) are high in fiber, protein, iron, folate and a bunch of other vitamins and minerals that you probably didn't know you needed. 🙂
You can pretty much add whichever greens you want. I first started with the basic recipe – the "no fail" recipe that even beginners would like – and I built the variations from there.
Are green smoothies really that good for you?
I definitely think so! Green vegetables blended with fruits, yogurt or kefir, milk (dairy or non-dairy) and natural proteins are an amazing way to begin the day. You'll get a great start on a ton of vitamins, nutrients, protein and fiber.
Is it OK to drink a green smoothie every day?
According to myplate.gov, the average person should consume 3 cups of vegetables a day (or more). Green smoothies are the perfect way to get in a portion of your daily requirement for fruits and vegetables.
Want to learn more about healthy smoothies?
Here's how to…
Freezer Cooking: Breakfasts
Sign up to get instant access to my
Freezer Cooking: Breakfasts Plan
, complete with recipes, supply list, and shopping list!
Basic Green Smoothie Recipe
How do you like your Green Smoothies?