45+ blender uses and ideas for beginners or novices (making brownies and ice cream are my favorite). I have a high-powered Blendtec, but use what you have!
I've always said that if I was stranded on a desert island (and assuming the island had electricity), the three kitchen appliances I'd pack are the following:
These three things are the lifeblood and workhorses in my kitchen. They save me time and money because I can now make so much more from scratch without taking forever to do it!
However, I know there are TONS of readers who have one of these things – or all three – and have no idea what to use them for!
We've already talked about 30+ creative ways to use a KitchenAid mixer (and covered it quite thoroughly, I think). We all know how to use a blender but let's dive into all the AMAZING blender uses – specifically, to do things you had no idea they could do!
45+ Awesome Blender Uses
Meal Prep
1. Waffles. This is my go-to waffle recipe and it comes out perfect EVERY SINGLE TIME.
2. Pancakes. Any pancake recipe can be made in the blender, but these protein pancakes and sheet-pan pancakes are two of our favorites.
3. Muffin Batter. To make muffins in a blender (like banana bread muffins), combine all the wet ingredients first, then pulse in the dry ingredients just until it's combined. Stir in the toppings and pour into muffin cups!
4. Quick Bread Batter. Use the tips for "muffin batter" above!
5. Cauliflower Rice. Add steamed cauliflower to the jar and pulse a few times! Here's how to make crispy cauliflower rice.
6. Bread Crumbs. Put old, stale bread in the blender and pulse. Tada!! Breadcrumbs! (Here's the full tutorial.)
7. Refried Beans. I was able to put a WHOLE BATCH of homemade refried beans into my blender and whiz them up for slightly chunky refried beans.
8. Soup. The Blendtec specifically has a "soup" function, which uses the heat from the motor to warm the soup. Tomato basil soup is delicious!
9. Oat Flour. Turn rolled oats into oat flour with this tutorial.
10. Pumpkin Puree. Homemade pumpkin puree is so easy using this method. Plus you can freeze extra all season long!
Sides & Snacks
11. Hummus. Chocolate hummus, cake batter hummus, cookie dough hummus, snickerdoodle hummus, or our favorite classic hummus. So many choices!
12. Larabar Bites. Using the blender for pumpkin Larabar bites makes the process SO much faster!
13. Energy Bites. The methodology for Larabar bites applies to sweet and salty energy bites too!
14. Crushing Pretzels. Crush pretzels for homemade granola bars. Or blend nuts and graham crackers for your favorite desserts. Or make a crumble topping!
15. Fruit Leather. Homemade fruit leather starts with a blended mixture of fruits and vegetables.
16. Fruit Roll-ups. The same concept as fruit leather, except for fruit roll-ups, which are slightly thinner. When you use the blender, you can easily gauge how much additional liquid to add to get the consistency you want.
17. Peanut Butter. Natural peanut butter tends to have lots of oil at the top and super thick peanut butter on the bottom. Scrape it all out into your blender and mix it up!
18. Nut and/or Seed Butter. Make nut butter from scratch! Great for the little bits of nut crumbs that end up in the bottom of your bag.
19. Mashed Potatoes. Whipped mashed potatoes are the best. If you don't have a hand mixer or immersion blender, throw your cooked potatoes in the blender!
Blender Uses for Sauces & Condiments
20. Thai Peanut Sauce. The PERFECT sauce to make any boring dinner amazing is Thai peanut sauce.
21. Hot Sauce. Never buy hot sauce again with this amazing copycat Frank's hot sauce recipe!
22. Tomato Sauce. Use this tutorial to make homemade tomato sauce!
23. Pesto. Pesto is a great way to use up leftover spinach or reduce food waste using carrot tops or other greens!
24. Pizza Sauce. We've been making homemade pizza sauce in our blender for 11+ years. This is the best recipe ever.
25. Lime Crema. Tacos need lime crema. Seriously.
26. Caesar Salad Dressing. Homemade Caesar dressing is one of the best ways to save money and ditch gross ingredients.
27. Applesauce. If you don't have an immersion blender, a standing blender works perfectly for homemade applesauce!
28. Salsa. Another dump-and-blend recipe that will beat anything you buy on store shelves – is homemade restaurant-style salsa.
29. Creamy Cauliflower Sauce. For those who can't have dairy, creamy cauliflower sauce is the best! Seriously, your family won't know that they are eating vegetables.
30. Apple Butter. Similar to applesauce, you need well-mashed apples to make slow cooker apple butter!
Desserts
31. Brownies. Both homemade brownie mix and black bean brownies work! Follow the same steps as the muffin batter above.
32. Ice cream. Here's my hack for making ice cream without a machine. Vanilla bean ice cream and apple crumble ice cream are amazing.
33. Ice Pops & Popsicles. The only difference between ice pops and popsicles is what you put in the blender. Here's how to make ice pops, and here's how to make cherry limeade popsicles.
34. Milkshake. Ultra-smooth chocolate milkshakes are my husband's specialty. He loves this frozen drink!
35. Sorbet. Sorbet is a fancy word for blended and frozen fruit. Take some fruit, blend it up, freeze it in something flat (think these oblong baking dishes), and use an ice cream scoop to serve!
36. Powdered Sugar. Powdered sugar isn't necessarily a dessert in and of itself, but it's most often used for dessert. Here's the step-by-step to make it.
Beverages
37. Smoothie. Here's my basic smoothie recipe, but if you want high-protein recipes, I recommend my ebook!
38. Coffee Creamer. Blend up your creamer ingredients first and then heat on the stove. Or try using the "soup" function on the Blendtec. I like to make homemade vanilla bean creamer or pumpkin spice creamer.
39. Non-dairy Milk. You can save TONS of money by making your own non-dairy milk. Almond milk, coconut milk, and rice milk, to name a few.
40. Frappucino. Although "frappuccino" is technically trademarked by Starbucks, I'm thinking you can throw some coffee, creamer, and ice in the blender to make your own version of this crushed ice blended drink.
41. Juice. A high-powered blender can also be your juicer! You won't just extract the juice, but keep the pulp from the fruit and vegetables too, which means more nutrients!
Other Great Blender Uses
42. Dried Dill. You need to dry your dill first (here's my dehydrator and a tutorial for dehydrating dill), but once it's dry, use a blender to make a super fine dill powder.
43. Tomato Powder. Just like dill, you'll need to dry the tomatoes first (how to make tomato powder).
44. Carpet Deodorizer. You could add essential oils to a jar with baking powder and shake it up, but I like to do a quick whiz in the blender to really distribute the oils. Here's how.
45. Laundry Detergent. Use this tutorial to make your own laundry detergent. The blender really helps to make a fine powder that works in your laundry.
46. Garden Fertilizer. No recipe here, but make a coarse powder out of your kitchen scraps before throwing it into the garden. This mixes into the soil much better than whole potato peels!
Questions about Blender Uses
What kind of blender should I use?
There are MANY options when it comes to blenders. They come with various speed settings, in stainless steel or plastic, "easy to clean with warm water" claims, and a wide range in price. I've seen them priced as low as $10 and also well over $1000.u003cbr/u003eu003cbr/u003eI have experience with several types of blenders, but my all-time favorite is the u003ca href=u0022http://amzn.to/2zrOjvsu0022u003eu003cstrongu003eBlendtec Total Blender Classicu003c/strongu003eu003c/au003e. It's a funny story, about how we ended up with it, but I've used mine for nearly 12 years now and it hasn't lost a beat!
What are the benefits of a blender?
The benefits of using a blender are that clean-up is easy, it's a huge timesaver, and it is versatile.
Do I NEED a high-powered blender?
No, you don't NEED a high-powered blender. You could get along just fine with an ordinary kitchen blender from Walmart or Target. But there is the possibility of it breaking and you having to buy a new one over and over again.u003cbr/u003eu003cbr/u003eI'm on team "save up for the good stuff". Nearly every year on Black Friday, I've seen the refurbished Blendtec go on sale for an amazing price. It's worth the wait if you're ready to upgrade your blender!
Blender Uses Recap
You can make a TON of things in the blender so you don't have to spend so much time in the kitchen. Here are the best blenders (in my opinion), depending on your budget:
I've used my Blendtec for nearly 12 years now and it is still running strong. I honestly use it every day and don't know what I'd do without it!
More Helpful Tips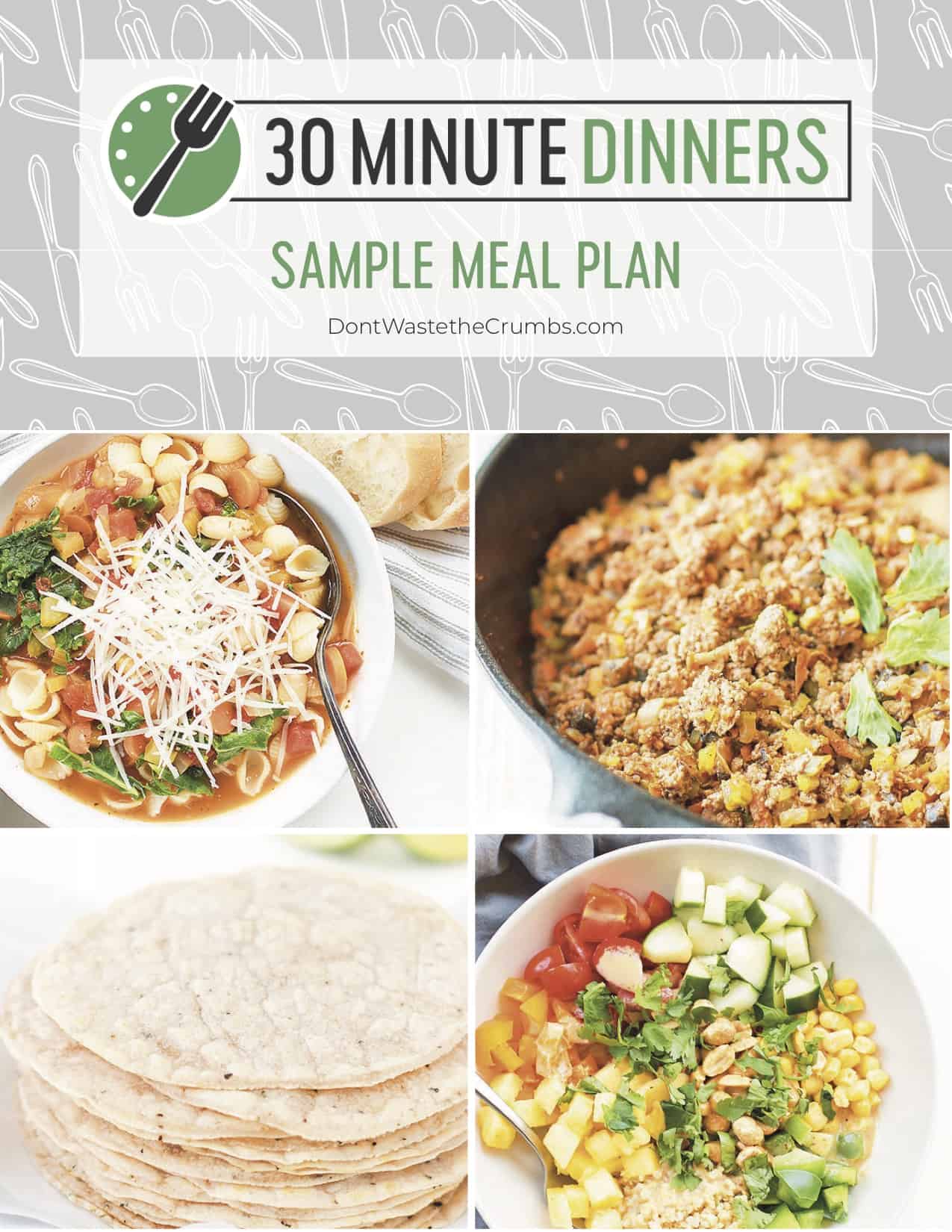 30 Minute Dinners Sample Meal Plan
Sign up to get instant access to my
30 Minute Dinners Sample Meal Plan
, complete with recipes and step-by-step instructions!