Today's post is a guest post from Elsie of Richly Rooted. I've known Elsie in the blog-o-sphere for awhile now, but had the opportunity to meet her at Allume and she's every bit as sweet in person as she is on her blog! She inspired me to clean out my closet, encourages me to think outside the 'normal' box and her list of things to nail down before it's too late is as if she was reading my mind. I hope her post today is a blessing and encouragement to you too!
In my experience, in order to save money on real food, the little things really add up. As my husband and I have learned about real food, we've simultaneously faced the financial challenges of looking for our first jobs out of college, going through grad school, losing jobs, and building a business from scratch. We have to be frugal in the kitchen, as well as everywhere else!
Although there's a lot we've learned about being frugal with our food budget, here are some of our top ways to save. And since I know there's plenty that's not on this list, I'd love to hear your frugal tips in the comments!
20 Ways to Save Money on Real Food in the Kitchen
1. Meal plan.
I'm 99.9% sure that you've heard this already… which is a lot. But it is a truth universally acknowledged that a good meal plan will save you money. If you don't want to do the work yourself, check out Tiffany's database of frugal meal plans. You might also like my super-simple method of "menu mapping."
2. Keep refrigerator and freezer inventories.
Penny-pinching won't do you any good if you end up throwing away what you buy! The undersized fridge in our tiny cabin gets crammed full and we tend to forget about the items that are out of sight–until they spoil. A few months ago I started a freezer inventory to keep track of items and avoid food waste.
3. Stop using paper towels.
You can go through paper towels pretty fast in the kitchen, and the cost can add up! Keep a stash of cloth in a basket for cleaning up spills–you can use old kitchen towels, cut-up T-shirts, cloth napkins, or even bleached, flat cloth diapers.
4. Rank your produce in a hierarchy, and purchase items that are lower on the totem pole.
Figure out which fruits and vegetables are more expensive in your area, and which are cheaper. Save the more expensive produce for a treat or a special recipe, and make the cheaper items your normal fare. If you live in southern California, for instance, avocados may be cheap, but if you live in Michigan they might be more of a splurge! Generally, items like carrots, potatoes, bananas, and oranges are a safe, frugal bet; whereas things like grapes, berries, and bell peppers are more expensive.
5. Buy produce in season.
Even a "treat" item, if bought in season, can be very affordable! Check out these printable summer and autumn produce guides to see what's in season in your region of the U.S.
6. Start a garden.
The big investment here is your time, but with a little practice you can save lots of money by raising your own organic produce! If you live in a small space, at least grow herbs! You can raise them on your balcony, patio, or in a pinch, the window sill!
Note from Tiffany: This was our first year of gardening and while there were ups and downs, the harvest of tomatoes alone was worth the effort!! Read all my posts on gardening here.
7. Get fruits and vegetables at pick-your-own farms.
If gardening is a no-go for you, go pick from someone else's! (With permission, obviously!) Pickyourown.org will help you find farms in your area. This is my favorite way to buy in bulk–we gather loads of fresh strawberries, blueberries, squash, and apples to make into applesauce, fruit spreads, and purees to freeze and use throughout the year.
Note from Tiffany: Here are a few simple tutorial for how to freeze and how to dehydrate fruits and vegetables.
8. Buy produce from the clearance rack.
Scour your grocery store's produce section for a clearance rack, and check it first every time you go to the grocery store. If your store doesn't have one, then ask the produce manager–they may very well start one if you show interest!
9. Make condiments on an as-needed basis.
Rather than buying and stocking your fridge with processed condiments, save money and space by preparing a condiment when a meal calls for it. Salad dressing, meat marinades, and salsa are easy to whip up on the spur of the moment, while mayonnaise and ketchup are items you might want to make in advance to always have on hand.
10. Buy some ingredients online.
After scouting around, I found that I could buy some ingredients online for cheaper than in my local grocery and health food stores. Thrive Market and Amazon are great places to start to find good prices on coconut oil, sucanat, maple syrup, and other real food ingredients.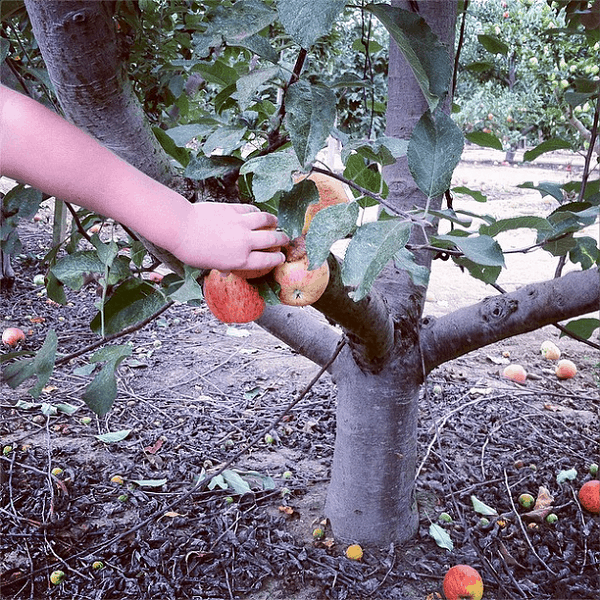 11. Cook in bulk.
Cook once, eat twice (or more!). If you have homemade "convenience" food ready to go in your freezer, you'll be less tempted to order out, right?
12. Save your scraps.
You'll never need to buy boxed chicken or beef broth again if you save all your meat bones! I keep a "bone bag" in the freezer and toss in bones and vegetable peelings to make homemade, nourishing broth. What about fruit peelings? If they're from organic fruit, save them to make fruit vinegars!
13. Use butter wrappers for greasing pans.
Cross cooking spray off your list–permanently! Butter works just as well for greasing muffins tins and cookie sheets. I use the bits of butter at the end of a stick, or even just the wrapper. I fold up the empty wrappers and keep them in a small container in the door of the fridge.
14. Put your spatula to work.
A cheap, flexible spatula is your best friend for scraping pans and getting the dregs out of condiment bottles, sour cream containers, and yogurt. Every little bit adds up!
15. Buy dry beans instead of canned.
This takes very little hands-on time, but can help you save big bucks over time–and it's a health plus if you're trying to ditch canned goods! Here's how to cook and de-gas dried beans.
You get more bang for your buck when you buy a whole bird. I use sharp kitchen shears to cut up the chicken, using the pieces for different types of meals (and the bones for stock).
17. Don't buy juice.
If you're on a real food diet you might've already stopped buying Coke and energy drinks, but what about juice? We decided that it wasn't really a "must" at breakfast time, and leaving off that one item from our list has saved so much money! If we spent $1.99/week on juice, we'd spend over $100 in a year. And those are modest calculations–I'm sure bigger families could spend much more on juice!
18. Save your bacon grease.
Real foodies know that bacon fat is a good fat! After frying bacon in a skillet, scrape out the fat and keep it in a jar in the fridge. You can use it for frying eggs and pan-crisping vegetables to get extra flavor and nutrients (and save money on butter!).
19. Buy kitchen tools at thrift stores.
From the small tools (measuring cups, pastry cutters) to the big (food processors, toaster ovens) make the thrift store your first stop when you need a new item. Nine times out of ten you'll find exactly what you need!
20. Shop at ethnic food stores.
Do a Google search to see what's in your area. We've discovered that ethnic food stores are often less expensive for certain items like bulk spices or rice, vinegars, special oils, or vegetables.
What are your best tips for saving money in the kitchen?
This post was written by Elsie at Richly Rooted