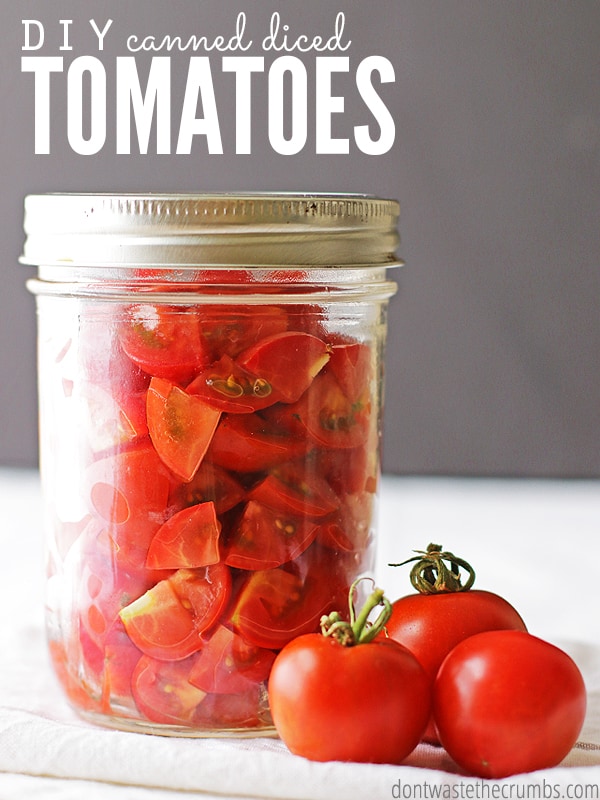 As of this posting, my five potted tomato plants have produced over 20 pounds of deliciously sweet fruit.
You would think that 20 pounds of tomatoes would be relatively hard to eat, but apparently we like tomatoes more than I thought we did!
Little by little the big bowl of tomatoes on the counter dwindles… That is, before I pick 50+ tomatoes in a day and fill it back up again. Which is my cue to make my own homemade canned diced tomatoes!
I should preface this whole tutorial with a disclaimer that I am NOT a seasoned canner.
I've canned some fruit, some whole tomatoes and tomato sauce, but that's about it. I don't have a pressure canner or even my own big pot for the water bath method. Anytime I want to can, I have to borrow my dad's stock pot.
But I do have a lot of tomatoes that I want to save for winter and the desire to learn how to preserve them… because we buy A LOT of canned diced tomatoes in the winter.
I used to buy all sorts of different varieties of canned tomatoes, but over the years I've grown to use canned diced tomatoes for nearly everything. I can buy canned diced tomatoes in bulk and save over all the single cans of various types, which makes my budget very happy and helps keep me sane while shopping.
BUT, I can save even more if I use my own garden tomatoes – after all, those are free!
My goal is to not buy canned diced tomatoes this winter if I don't have to. It means I need a lot of fresh tomatoes, but at about 75¢ per can on the shelf, there's a lot of money to be saved too!
So whaddya say – are you with me? Got tomatoes, a desire to save and a desire to can? Perfect – let's do this!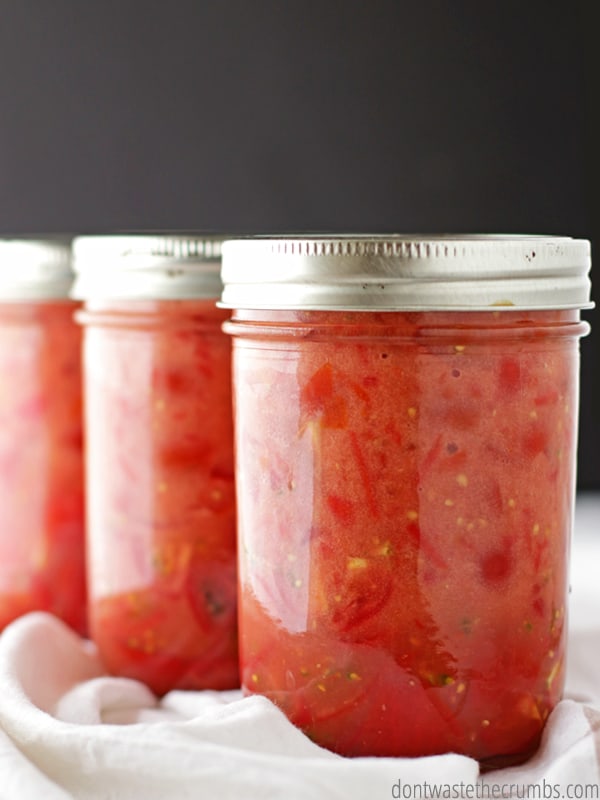 Ok, before you begin, let me assure you that canning your own tomatoes is NOT difficult at all. Seriously. If you think it is, it's your mind playing tricks on you. Push the little voice aside and listen to me: It looks hard, but it's really not.
It's essentially some rinsing, maybe some boiling, some chopping and more boiling.
See? Easy peasy.
But you do have to prepare yourself. And the kitchen. Homemade canned diced tomatoes is easy, but it's messy. Be forewarned!
Also, know that it takes a shockingly large amount of tomatoes to make one pint of homemade canned diced tomatoes. Like, 1-2 pounds per can. Isn't that crazy?
So if you only have an extra pound or two of tomatoes that you want to preserve, it might not benefit you to go through the trouble of canning them. You're probably better off just freezing them whole or eating them up.
But I will say this – the fact that it takes so many tomatoes for one pint kinda makes me re-think whether buying fresh tomatoes in December at $2/lb (that don't really taste that great anyway) is really better than a can of tomatoes at 75¢…
Anyway, the nitty gritty of the numbers behind all this is for another time. Today, we're putting on aprons, cleaning the counters and getting busy.
Be sure to pull out all your supplies before you begin. You'll thank me later when you've got tomato goo all over your hands!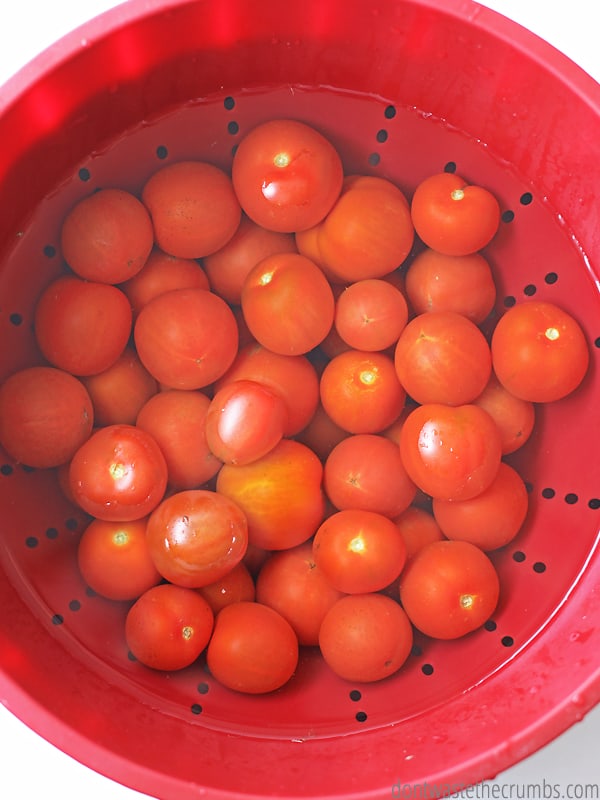 Homemade Canned Diced Tomatoes
Homemade Canned Diced Tomatoes: Ingredients
lots of tomatoes
lemon juice
salt
Homemade Canned Diced Tomatoes: Supplies
clean jars – choose between either 16 oz pint size or 32 oz quart size, depending on how many diced tomatoes you tend to use in recipes. Be sure to have enough canning lids and rings to go with each jar.
a really big pot – you'll need a pot big enough to cover your jars plus 2″ of water. If you chose pint jars, you can probably use the typical 6-quart pot that comes with most cooking sets. If you're using quart jars, you'll need a big stock pot.
a small saucepan – a small one like this that comes in your cooking set will work. It's to keep the canning lids warm while you prepare the tomatoes and jars.
a knife
a cutting board
a cookie sheet OR another large pot – some canners keep the jars warm in the oven on a cookie sheet; other keep them warm in a big pot of water. Choose whichever method suits you.
a medium pot (for removing skins), optional – if you want to remove the skin because it's tough or doesn't taste good, you'll need this
big bowl of ice water, (for removing skins), optional
Homemade Canned Diced Tomatoes: Method
Fill your really big pot (either the stock pot or 6-quart pot) 2/3 full with water and bring it to a boil. This takes some time, so go ahead and start this first.
If you are removing the skins from your tomatoes, fill the medium pot 2/3 full with water and bring to a boil. (See additional recipe notes for more on removing the skins from the tomatoes.)
Preheat the oven to 250F if you're using cookie sheets, place the empty jars on the cookie sheets and place inside the oven. OR fill a large pot (if you're keeping jars warm with water) half full with water and place empty jars inside. Bring to a simmer.
Fill the small pot with a couple inches of water and place the canning lids inside. Bring to a simmer on a back burner.
If you're removing the skins from tomatoes, prepare the big bowl of ice water.
Catch-up: At this point you should have up to 4 pots on the stove:
stock pot for water bath canning
large pot for warming jars OR jars in the oven on a cookie sheet
medium pot for de-skinning (optional)
small pot for lids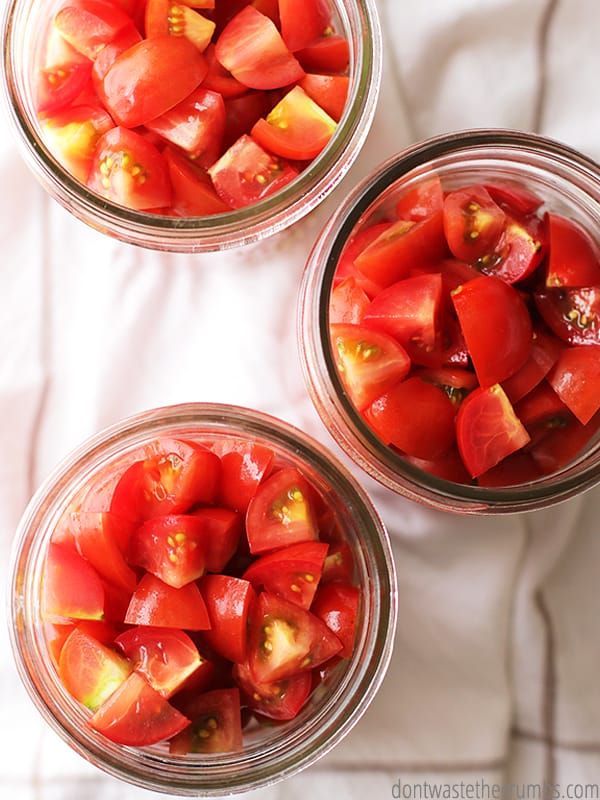 Homemade Canned Diced Tomatoes: Remove the Skins (optional)
Remove the stems from the tomatoes and cut a small "X" at the bottom of the tomato. Place as many tomatoes that will comfortably fit in the medium pot, leaving about 1″ of water covering them. Allow the tomatoes to boil for 30 seconds (use a kitchen timer).
Use a slotted spoon to remove them from the boiling water and into the bowl of ice water.
Allow them to sit in the ice water until they are cool to the touch.
When cool, remove the tomatoes from the ice water and set aside to remove the skins. Repeat this process for the remaining tomatoes.
When all the tomatoes have been boiled and cooled, peel the skins off and set aside.
Homemade Canned Diced Tomatoes: Dicing the Tomatoes
Using your knife, carefully cut the tomatoes (peeled or unpeeled) into small pieces. The actual size of the diced tomato is a matter of personal preference. I cut my tomatoes (1-2″ in diameter) into pieces that are 1/3″ – 1/2″ in size. You want them small, but they don't have to be microscopic.
As you're working through the tomatoes, set aside any scraps and juice. They'll come in handy in a moment!
Homemade Canned Diced Tomatoes: Filling the Jars
When all of your tomatoes are diced, pull out as many jars from the oven that will fit in your really big pot (mine holds 6) and start filling them up! You want to pack the tomatoes in the jars lightly, but well. Leave about 1/2″ of head room at the top of the jar for expansion.
When your jars are filled, measure lemon juice into each jar. Use 1 tablespoon for pint jars, 2 tablespoons for quart jars.
Measure salt into each jar. Use 1/2 teaspoon for pint jars, 1 teaspoon for quart jars.
Fill the jars up with liquid, still leaving the 1/2″ of room at the top. You can fill the jars with either water or tomato puree. Personally, I chose tomato puree because it enhances the flavor of the homemade canned diced tomatoes and lets me use up my tomato scraps.
If you choose tomato puree: toss all of your tomato juice, scraps and skins that you've been saving into a blender and puree until super smooth.
As you're filling the jars with puree (or water), slide a chop stick or butter knife to remove as many air bubbles as possible. Rotating the jar back and forth on the counter (in a half-circle motion) also helps too.
Homemade Canned Diced Tomatoes: Canning with the Water Bath Method
When the jars are filled, carefully remove a lid and ring from the small pot of simmering water. Place the lid on the can, then the ring on securing just enough so the lid stays on and doesn't fall off. You don't want to overly tighten the ring at this point. My trick is to turn it until it catches (and I can't pull it straight off) and then another quarter turn.
Place the jars in the really big pot of boiling water and let them boil submerged in water, for 45 minutes if you used water, or 85 minutes if you used homemade tomato puree. Set the timer and occasionally check the water level to ensure the can stay covered.
Note: This is for the water bath method at an altitude of 0-1000 feet. If your elevation is different or are seeking a different canning method, use this guide from the National Center for Home Preservation.
Homemade Canned Diced Tomatoes: Cooling the Canned Diced Tomatoes
When the timer goes off, carefully remove the cans from the boiling water (this is when a canning kit comes in handy) and set aside on a towel to cool for 24 hours. You should hear some popping over the hours as the lids seal themselves.
Check for a good seal by pushing down on the center of the lid. If it doesn't bounce back, you're good. If it does bounce back, repeat the water bath method in the next batch OR put them in the fridge and include them in a meal in the next few days. You can also freeze the tomatoes if you don't have any meal ideas for tomatoes in the next few days.
When the first batch of canned diced tomatoes is cooling, check to ensure the water level in the really big pot is still good, adding more water if necessary. Then start working on the second batch by repeating the same process again.
When all the tomatoes have been canned and cooled and sealed, put them away and congratulate yourself for a job well done!
Frequently Asked Questions about Homemade Canned Diced Tomatoes
Should you remove the skins from your tomatoes?
It depends on a) your preference, and b) the type of tomato you're canning.
If you like smooth, skinless tomatoes, then you should remove the skins. If you're canning tomatoes with tough skins (in general, the bigger the tomato the tougher the skin) then you might want to remove the skins.
Me? My tomatoes are only 1-2″ in diameter and I don't really care if there's skins in my sauce, so I kept the skins on.
Can I speed up the process?
Yes! Working in batches makes this process go MUCH faster. That means taking the skin off all the tomatoes at the same time, then dicing all the tomatoes at the same time, then putting them in jars at the same time… catch my drift? This process works really well – just make sure you have enough bowls and containers to hold your tomatoes.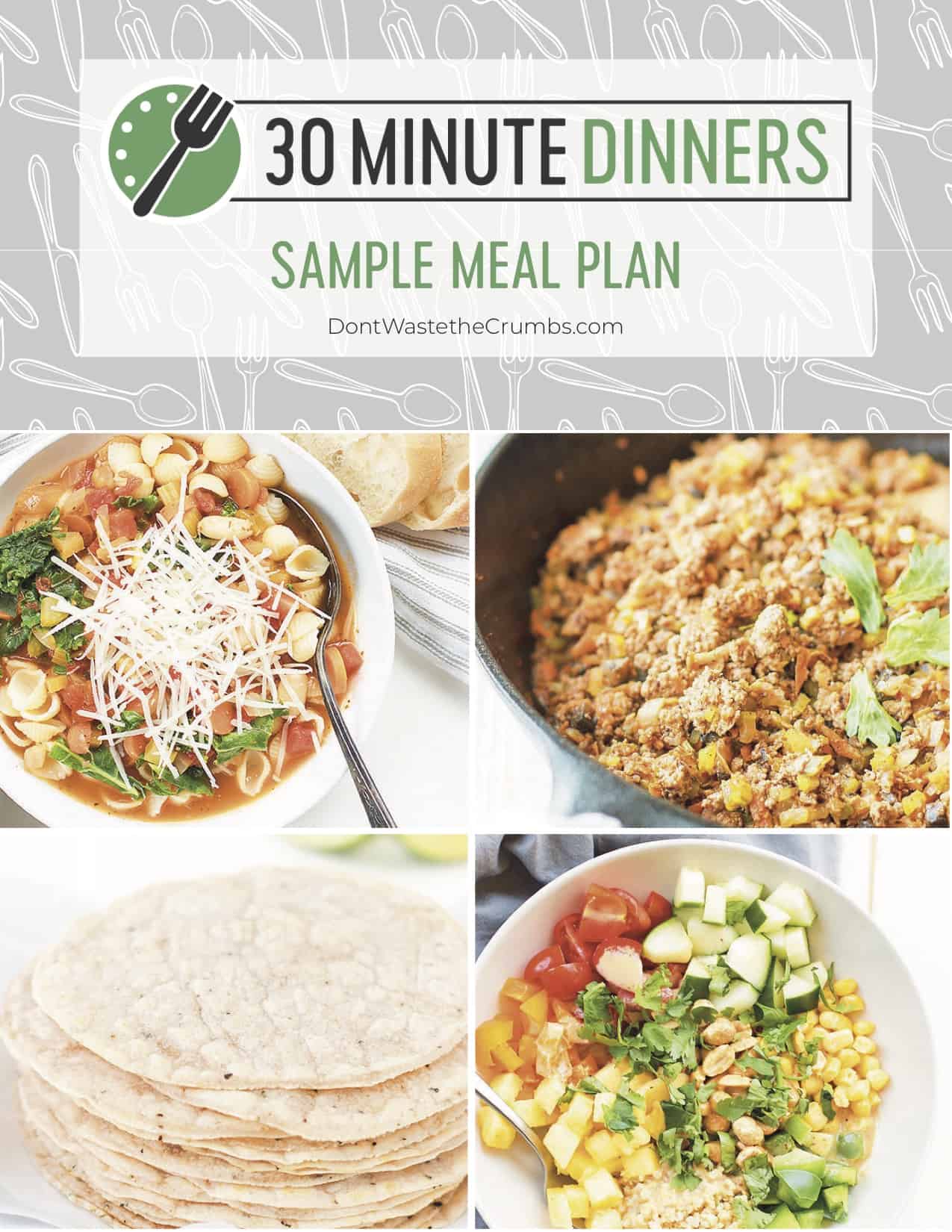 30 Minute Dinners Sample Meal Plan
Sign up to get instant access to my 30 Minute Dinners Sample Meal Plan, complete with recipes and step-by-step instructions!
Have you ever made homemade canned diced tomatoes before? What are you preserving for this winter?