Everything You Need to Know About
Have you ever been totally out of your element – have no clue what to do, where to go or even how to ask for help – yet still had to function like a normal person?
That's how I felt earlier this year when my family and I went on a vacation we had spent SIX years saving for.
We went to Costa Rica where my four years of Spanish (10+ years rusty) were put to the ultimate reality test. They don't teach you how to grocery shop in Spanish class!
Sure it might sound easy… fruits look like fruits and vegetables look like vegetables, right? But it gets a bit more difficult when you start having to read ingredients on packages… which are NOT listed in English. You can't just reach for a jar of spaghetti sauce and call it a day, you have to make your own homemade spaghetti sauce…. from scratch!
butter versus cream cheese?
10 different varieties of white rice with percentages (?!) listed on them?
flour versus corn meal versus corn masa?
I'd be lying if I said the pictures on the packages didn't help me decipher which was what! Hence, making items like this homemade spaghetti sauce or faux risotto became mandatory and not optional (one time a carton explained how we accidentally bought orange and carrot juice, instead of just orange juice… no wonder the juice tasted like carrots!).
Needless to say, we ate lots of fruit, vegetables, and chicken while in Costa Rica. But we also ate some pasta, oats, and flour too … once we figured out what was in the package!
Grocery shopping (and converting currency!) was half the battle. Knowing how how to cook it was another.
There were no cookbooks, no recipes, no nothing showing me how to cook the food we just bought.
My typical kitchen appliances were also limited. No mixer, no rolling pin, no high powered blender.
Everything we made was from memory, or made up on the spot, with the spoons and spatulas we had on hand.
I was VERY fortunate that my recipe for homemade tortillas is burned in my brain, as is the one for roasting a whole chicken, making crispy potato wedges, and sauteing vegetables. However, making homemade spaghetti sauce from scratch (without a crockpot) isn't something I remember so easily!
And I was even more fortunate that my kids were willing to pound out the tortillas by hand, and that we had enough pans to saute veggies and cook rice at the same time.
But everything else? It was entirely on a whim. Which is actually a good thing. That's how this TOTALLY YUMMY homemade spaghetti sauce was born.
Homemade Spaghetti Sauce: a 15 Minute Recipe
Now, you might be wondering what makes this homemade spaghetti sauce so good, and yet different from all the other spaghetti sauces in the world, and why you should make THIS spaghetti
sauce instead of your typical favorite sauce.
a) because it's simple (only 4 ingredients, minus salt & pepper)
b) because it's fast (ready in the time it takes to make the pasta)
d) because it's the BOMB
It also uses fresh tomatoes, whereas many other homemade spaghetti sauce recipes use jarred or cooked sauces. It's perfect for the end of summer (or Central America year-round) when you are picking tomatoes off your plants 50 or so at a time and they keep showing up in your CSA box too.
Ahem.
I kinda feel silly posting this WAY simple recipe, but I know that many readers struggle in the kitchen and need recipes, no matter how simple they may be. So here I am, typing it up while trying to reassure you that this is quite possibly the easiest homemade spaghetti sauce you'll ever make. You just might swear off the jarred sauce during the summer, it's that good!
No cooking skills are required. Perfect for a busy weeknight meal. Easy to double (or triple) for company (or school lunches). Super frugal.
Win. Win. Win. (Win.)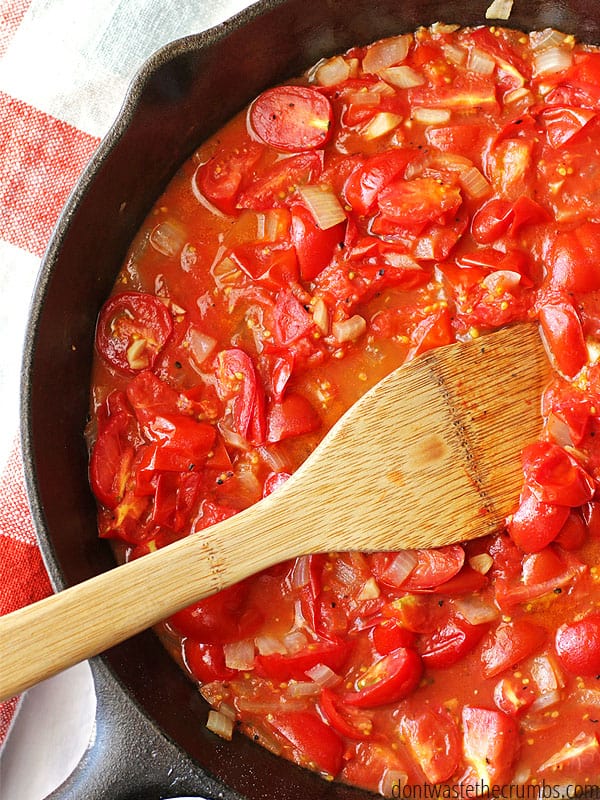 Homemade Spaghetti Sauce: a 15 Minute Recipe
Author: Tiffany
Prep Time:

5 mins

Cook Time:

10 mins

Total Time:

15 minutes

Yield:

4

1

x
Category:

Main meals

Method:

Stove Top

Cuisine:

Italian
8 oz

spaghetti pasta

2 Tbsp

olive oil

1/2

onion, diced finely

2

garlic cloves, minced

2

lbs tomatoes, diced

1/2 tsp

salt

1/2 tsp

pepper
Cook pasta according to package directions.
Meanwhile, heat oil over medium heat and add onions and garlic. Cook until translucent, about 4 minutes. Add tomatoes and allow vegetables to cook for about 4 minutes. Season with salt and pepper.
Using a wooden spoon, squish any large pieces of tomatoes so that the sauce is slightly chunky, but without any significantly large pieces. If you want your homemade spaghetti sauce more of a paste, you can blend or mash tomatoes more.
Drain pasta when it's done. Add to sauce and toss with tongs until well coated.
Serve hot, adding additional salt and pepper as desired.
Keywords: Homemade Spaghetti Sauce
Additional Recipe Tips
Since the flavor of this dish relies heavily on quality fresh tomatoes, I don't recommend using tomatoes in the off-season or canned tomatoes unless you've canned them yourself. It just wouldn't be the same.
As for the garlic and onion, I haven't tried using granulated versions of either. You can certainly increase the quantity of both though, if you like more onion and more garlic in your pasta.
Cost Breakdown
pasta: $0.50
olive oil: $0.26
onion: $0.13
garlic: $0.20
tomatoes: FREE (from the garden, otherwise add $2 to the total)
salt & pepper: $.10
Total cost for this Homemade Spaghetti Sauce recipe is $1.19.
Imagine you only had access to fresh produce and meat. Would you make this homemade spaghetti sauce…? What other creative dishes could you make for dinner?