Quick & easy recipe for the best Italian pasta salad – classic, zesty flavor with homemade Italian dressing! Serve cold with pepperoni, or go no meat!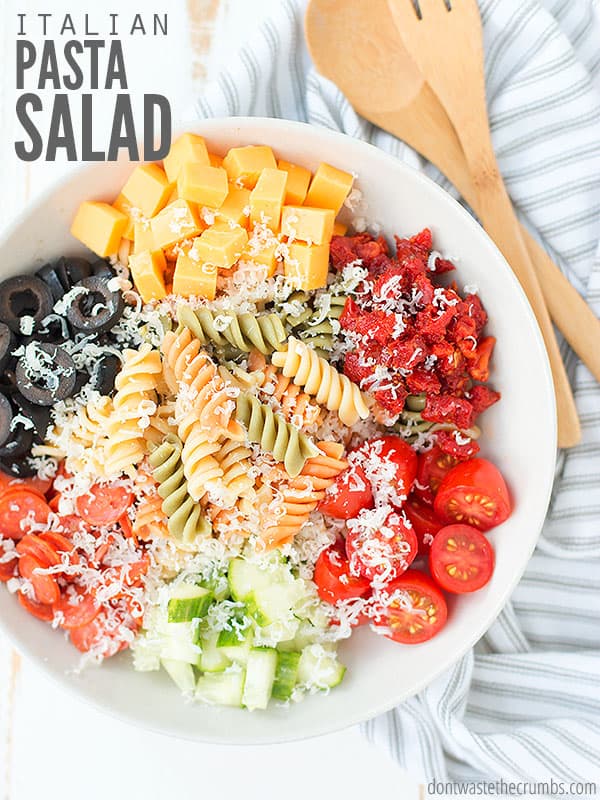 As a kid, my mom would make pasta salad from a box. She'd add a little bit of this and a little bit of that and in just a few minutes, dinner was done.
I really like that concept, especially when it's hot outside. In fact, not wanting to heat up the house while cooking dinner is how my Cobb pasta salad recipe came about, as well as my Greek quinoa salad.
Although I don't cook from a box anymore, sometimes I crave that classic pasta salad flavor that I grew up on – a copycat Suddenly Salad of sorts. And that's exactly what this Italian pasta salad is!
Zesty Italian Pasta Salad
When you want super easy recipes that the family loves, this Italian pasta salad is everything you're looking for:
it can be made ahead of time
it comes together really quick (even if you have nothing prepared)
it's PACKED with the classic Italian flavor you love
can be customized to what you like and what you have in the fridge
It's the perfect recipe to put at the end of the meal plan when you need to use up leftovers from the week, or for when you come home to an empty fridge after vacation!
Summer Pasta Salad (copycat Suddenly Salad)
Do I love this summer Italian pasta salad because it is COLD and doesn't require the stove to be on? Or because it tastes JUST LIKE the pasta salad that my mom used to make from a box, Suddenly Salad?
Yes!! Although my version is much healthier.
I've added a few ingredients to make it more of a well-rounded meal and eliminated the spice packet with who-knows-what mystery ingredients.
In the end, you're serving a healthy pasta salad that you can feel good about serving your family AND it's ready in less than 20 minutes!
How to Make My Italian Pasta Salad Recipe
Here are the usual players for my classic Italian pasta salad ingredients:
Pasta. Other than long noodles like spaghetti and fettuccine, any type of noodle will work. I recommend using smaller noodles that fit in a spoon. If you're very short on time, here's a method for freezing cooked pasta that will cut your prep time down to practically nothing.
Sliced Olives. I love black olives, but you can use green olives too.
Tomato. Halved cherry tomatoes are the quickest to prepare, but any tomato will work. If you use a big tomato, cut it into pieces about the size of the noodle you're using.
Cheddar Cheese Cubes. This is optional, but it adds a bit of protein. You can substitute with mozzarella cheese, but remember that cheese is almost always cheaper when you buy the bricks instead of the bite-sized cubes.
Pepperoni. Choose a nitrate-free version if there's room in your budget (consuming too many nitrates is not healthy). If you don't want the processed meat, cubed chicken or turkey will work great too!
Sun-dried Tomatoes. Totally optional, but they help get that copycat flavor.
Parmesan Cheese. Again, optional but it adds a big flavor punch.
If you have them to use up, or your garden is overflowing, these are also great additions:
Cucumbers
Bell peppers
Summer squash
Small broccoli florets
Red onion
Pasta Salad with Italian Dressing?
On their own, pasta, vegetables, and cheese don't carry a lot of flavor, so we're getting that zesty bold flavor for this Italian pasta salad from homemade Italian dressing.
This dressing is made in a jar and literally comes together in just a few minutes. If you make extra, you can use that to dress other salads that week too!
Want a Vegetarian Pasta Salad?
My version includes meat, but you can easily add more vegetables and/or garbanzo beans to make it vegetarian! (Here's how to make Instant Pot beans so you can still keep the kitchen cool.)
Can pasta salad be made the day before?
Yes! Making this pasta salad earlier in the day or the day before will help the flavors to mature together.
Can you freeze Italian pasta salad?
I don't recommend freezing this salad once it's prepared, but you can freeze the pasta ahead of time and thaw it when you're ready to make this salad. Here's my tutorial for how to freeze cooked pasta.
How much pasta salad per person?
This is a popular dish to bring to summer pot lucks and barbecue's, and it's really easy to make for a crowd! I allow 2 ounces of pasta per person when it's a side dish. When the pasta is mixed with the vegetables and other add-ins, it comes out to roughly a heaping cup of pasta salad per person.
How much pasta salad for 50 or 100?
If we use the 2 ounces per person rule, you need 100 ounces of pasta if you're serving 50 people (that's this recipe 6x), and 200 ounces of pasta if you're serving 100 people (that's this recipe 12x).
Consider how many other dishes will be at the table as well. If there's just one other side dish, you'll likely need all this pasta. If this Italian pasta salad is just one of MANY side dishes, you can get away with allotting about 1.5 ounces of pasta per person.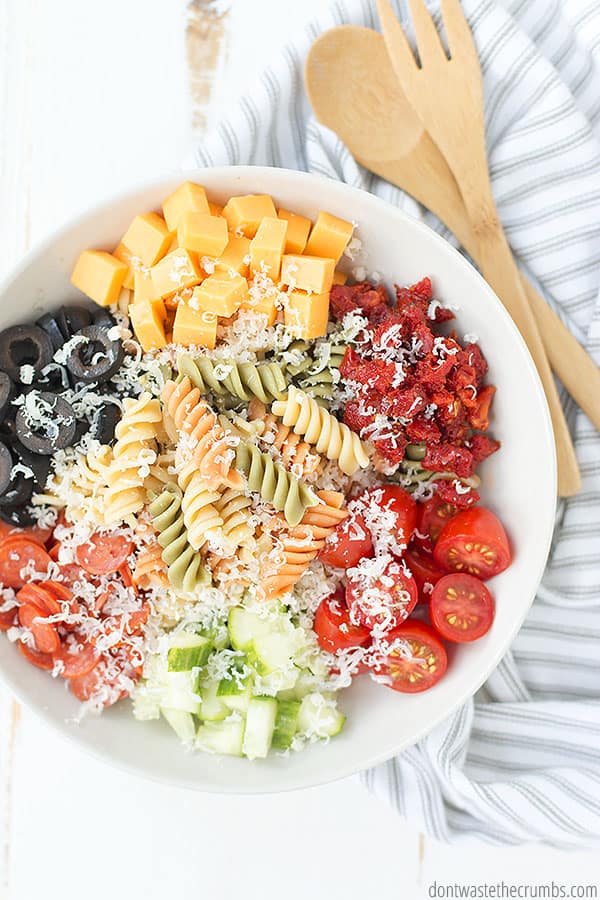 Some of My Other Favorite Pasta Salad Recipes:
Easy Italian Pasta Salad (copycat Suddenly Salad)
Quick & easy recipe for the best Italian pasta salad – classic, zesty flavor with homemade Italian dressing! Serve cold with pepperoni, or go no meat!
Author: Don't Waste the Crumbs
Prep Time:

15 mins

Cook Time:

10 mins

Total Time:

25 mins

Yield:

8

servings

1

x
Category:

Soup & Salad

Method:

Chop and combine

Cuisine:

Italian
Pasta Salad

16 oz

medium pasta (I used rotini)

½ cup

sliced olives

½ cup

cherry tomatoes, halved

4 oz

cheddar cheese, cubed (about

1/2 cup

)

½ cup

cucumbers, cut into bite-sized pieces

3 ½ oz

pepperoni, quartered

2 Tbsp

sun-dried tomatoes, chopped

2 Tbsp

Parmesan, finely grated
Italian Pasta Salad Dressing

½ tablespoon

garlic powder

½ tablespoon

onion powder

1 tablespoon

dried oregano

½ tablespoon

dried parsley

1 tablespoon

salt

½ teaspoon

black pepper

¼ teaspoon

dried thyme

½ teaspoon

dried basil

2 tablespoons

water

1 cup

vinegar (any flavor works well)

1½ cups

olive oil
Instructions
Prepare the pasta al dente according to package directions. Drain and rinse briefly with cool water.
Prepare the Italian salad dressing according to the directions in this recipe.
Meanwhile, prepare the olives, tomatoes, cheese, cucumbers, pepperoni, sun-dried tomatoes and parmesan for the pasta salad.
Combine the cooked pasta with the remaining ingredients in a large bowl and mix well. Store in the refrigerator until ready to serve, although this salad will be fine if it's left outside at a picnic. This salad can be prepared earlier in the day or the day before.
Keywords: Italian pasta salad