Money is tight, but these 8 tips to save on cheese make it a bit easier. And it's so much more than just buying a brick and shredding it yourself! Try some cheese recipes like Parmesan crisps and the best stovetop mac and cheese.
WARNING: Today's post has some math.
Call me a nerd, but the bean counter in me likes to evaluate even the tiniest of decisions to see whether or not they're really worth the payoff. I know some people aren't as fond of numbers as I am, so it's my pleasure to do it on their behalf as well.
Saving money on cheese was nowhere on my radar until about a few years ago. At the time, I realized we were buying more protein-rich foods – other than meat – in an effort to still consume enough protein, minus the expense.
There was a sneaking suspicion dinging around in my brain that buying whole bricks of cheese would be more affordable than buying shredded, sliced, string, or even those little snack-y cheeses, but I never really sat down to do the math to see how much money I could be saving. Nor did I weigh the pros and cons to doing some of the prep work myself.
So I ran some numbers, jotted down some pros and cons over one weekend, and came to one, massively simple conclusion:
9 times out of 10, it's cheaper to buy bricks of cheese.
Argue with me all you want that buying shredded can save you time, or that buying string cheese helps you better with portion control and thus saves more in the long run. Go ahead – I'm open to hearing your side of the story.
But I'm warning you, it's going to be tough to convince me otherwise. I spent WAY more time than I had available typing up all my calculations and comparing notes just to try to convince you that buying bricks is the way to go.
All for naught though, because I should have just said this:
Crunch the numbers the next time you shop.
My Experience with How to Save on Cheese
Here's my case:
A 2 lb brick of organic cheese at Costco costs 34¢ per ounce. Organic sliced cheese costs the same per ounce, but have you ever tried to shred sliced cheese? Nearly impossible unless you want shredded fingertips too.

This means you'll have to buy shredded cheese too… and you've now doubled your cost.
Note – I wouldn't recommend cutting sliced cheese in an effort to "sprinkle" cheese onto something. You end up with chunks, not shreds, and chunks don't sprinkle well.
Sliced cheese might have the "easy to put on a sandwich" factor, but make a one-time investment in a cheese slicer (your choice of super simple, middle-of-the-road, or super fancy) and you're good to go.

In fact, I've been using a vegetable peeler like this to make thin slices for sandwiches and it's working like a charm! I'll admit that my slices aren't "perfect," but they're getting melted in between tomatoes and pesto anyway – so why aim for perfection? I'm good with "gets the job done."
Organic string cheese is considerably marked up at 42¢ per ounce, and I've only seen one flavor available in organic: mozzarella.

I have seen a Colby/jack combination in conventional, but the Colby is orange. I'm willing to bet it's colored with annatto and it's a good rule of thumb to avoid that additive whenever possible.
My simple workaround for making string cheese is: Cut off chunks from the brick.
Organic shredded cheese runs an average of $6.99/lb – nearly $1.50 MORE per pound than the brick. Having sliced cheese on hand is a HUGE time saver, I admit, but it's definitely not worth the cost! Considering you can shred an entire 2 lb brick of cheese in just a few minutes, I say save the cash and use those muscles. Plus you can shred however fine or thick, short or long as you want, instead of being at the mercy of what's available on the shelf.
So those are the price points summed up, and clearly, the brick cheese wins out. What's even better though is that buying bricks of cheese means you can avoid the additives that come with shredded cheese (powdered cellulose in particular, which helps to keep the cheese from sticking to itself).
You can also try new flavors that aren't offered in slices or shred, and it's much easier to find grass-fed cheese in bricks than in other forms.
Since we all knew deep down that brick cheese was more affordable, I don't want to leave you hanging with just that. So here's the fruit of my research and frugal thinking labor:
8 Ways to Save on Cheese, Besides Buying it in a Brick
1. Freeze it.
When you bring home a brick of cheese that is larger than what you can eat in a couple of weeks, go ahead and shred/slice/chop what you need. Then measure and portion the cheese into individual freezer-safe containers. When you need cheese, simply pull one out to thaw for dinner. Note that the texture of once-frozen cheese is slightly different than fresh, so I would not recommend this if your cheese is intended for snacking.
2. Buy in Bulk.
Go ahead and stock up if you come across a great deal on grass-fed cheese. Even more so if it's a "general" flavor like mozzarella, mild cheddar, or Monterey Jack. Follow rule #1 above and you'll be set for quite some time!
3. Swap flavors.
The easiest way to spend a lot of money on cheese is to only buy one particular kind. Try swapping similar flavors, based on what's available and the prices, to keep the cost of cheese down. All of these cheeses can be used interchangeably without drastically affecting the flavor (or possibly not even affecting the flavor at all).
Monterey jack, mozzarella, and mild cheddar
Blue cheese, Gorgonzola and Stilton
Dubliner and Swiss
Havarti and Gruyere
Colby and sharp cheddar
Parmesan and Pecorino
4. Slice your pieces thinly.
When you're adding sliced cheese to sandwiches, it doesn't take much to do the trick. Slice thin pieces instead of thick ones and make your brick last longer.
5. Always buy Parmesan (or Pecorino) in bricks or wedges.
It seems silly to add since I've already convinced you that buying cheese in bricks is the way to go, but this holds especially true with Parmesan. This cheese has a very strong and distinct taste, so it doesn't take much at all to enhance dinner.
When you manually shred it yourself, you can better control how much you're using and the flavor. Plus it's one of the more expensive cheeses, so pulling some out of a container or even pouring some out usually means adding more than you need and going through what you have much more quickly.
6. Shop the dairy case over the specialty section.
Buying cheese at the supermarket? Brands in the dairy case can be up to 45 percent cheaper than those in the specialty food section. As with any rule when shopping, read the label to make sure there isn't any icky stuff added.
7. Shop gourmet stores for gourmet cheese.
It might sound contradictory to shop at a tiny mom-and-pop shop over a bigger store, but in most cases, you'll spend less on gourmet cheese at a cheese shop than you will on gourmet cheese at a traditional supermarket.
Remember that markets have to order a lot and sell a lot in order to make a profit. The cheese stores will sell as little as 1/8 lb or just 2 ounces – and then you're only paying for what you really need.
8. Buy generic.
Brand names don't matter a whole lot in cheese – it's the ingredients that you should be looking out for. Read up on the 30 most common dairy additives if you haven't already, and aim for cheese that has just milk, enzymes, salt, and rennet (optional).
FAQs for How to Save on Cheese
What is the cheapest cheese?
It is cheaper to buy bricks of cheese.
Is it cheaper to buy or make cheese?
It is cheaper to make your own cheese! When you make your own, you are only paying for the ingredients. When you buy cheese from the store, you are paying for the packaging, freight, store markup, and marketing.
Comparing Cheese Prices
The best way to get the most food for your money is to compare the unit prices. Some stores will list the unit prices on the shelf tags, but oftentimes, you have to do the steps to figure it out yourself.
Choose the same kind of thing.
Gather two bits of information (price and quantity).
Do the math and determine the unit price.
The key with cheese is to determine what form of cheese we want to price compare first and then follow the three steps above. Repeat the other forms and decide what works best for your needs.
More Cheese Recipes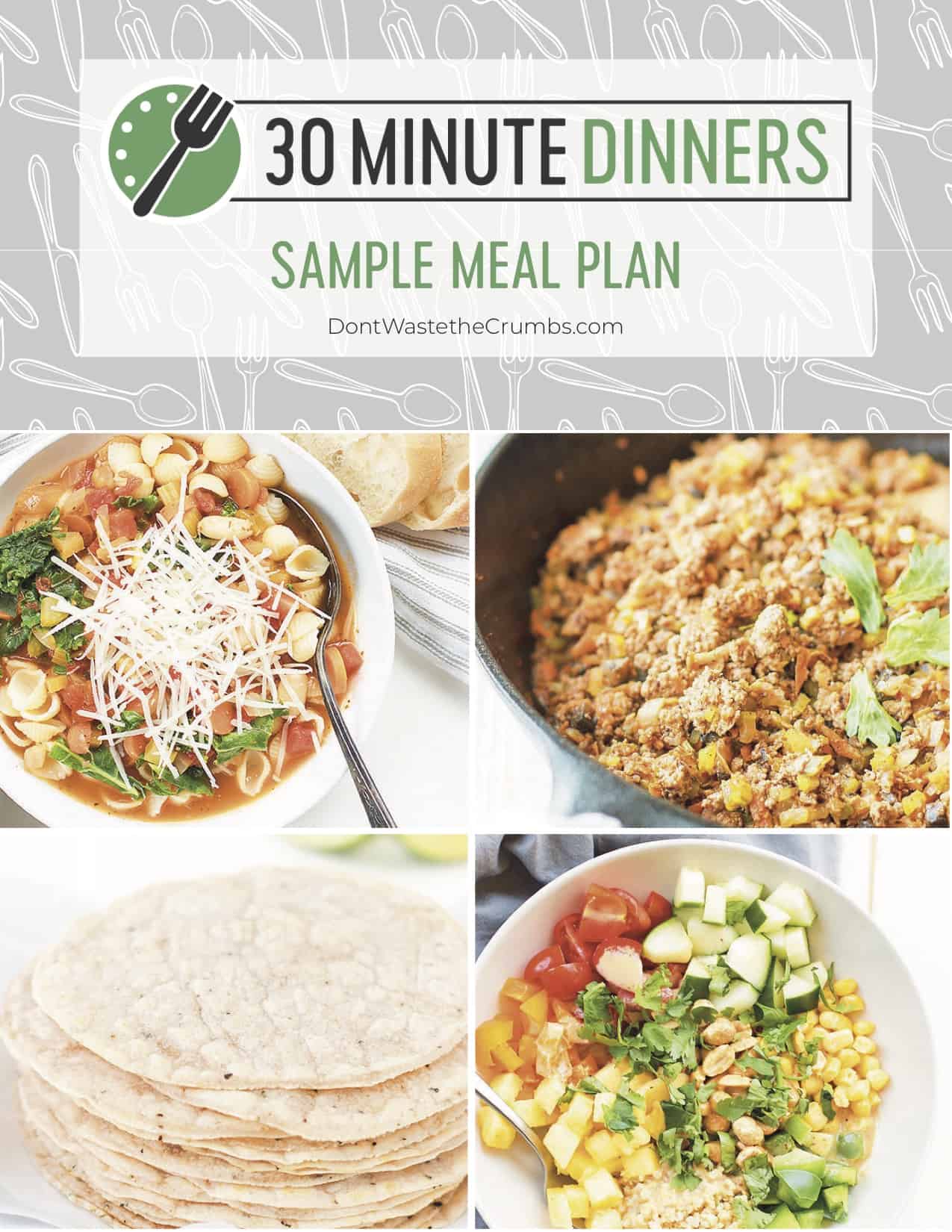 30 Minute Dinners Sample Meal Plan
Sign up to get instant access to my
30 Minute Dinners Sample Meal Plan
, complete with recipes and step-by-step instructions!