Gather round, grilled cheese lovers!
This Mediterranean Grilled Cheese Sandwich with basil pesto, roasted red peppers, feta, and provolone is the best grilled cheese sandwich evaaah!
It even rivals this Grilled Ham and Cheese with Tangy Mustard Dip, which I loooove.
Grilled Cheese for Grownups, Mediterranean Style
When most people hear "grilled cheese," they think "kids menu."
Not any more.
This outside-the-box, grownup version of grilled cheese will win the hearts of kids and adults alike. Pinky promise.
It's smeared with basil pesto and loaded with roasted red peppers, purple onions, spinach, olives, and feta – all swirled into a sea of ooey, gooey, melted Provolone cheese and stuffed between two slices of sourdough brushed with a garlic-butter-olive oil blend and grilled to a beautiful golden crisp!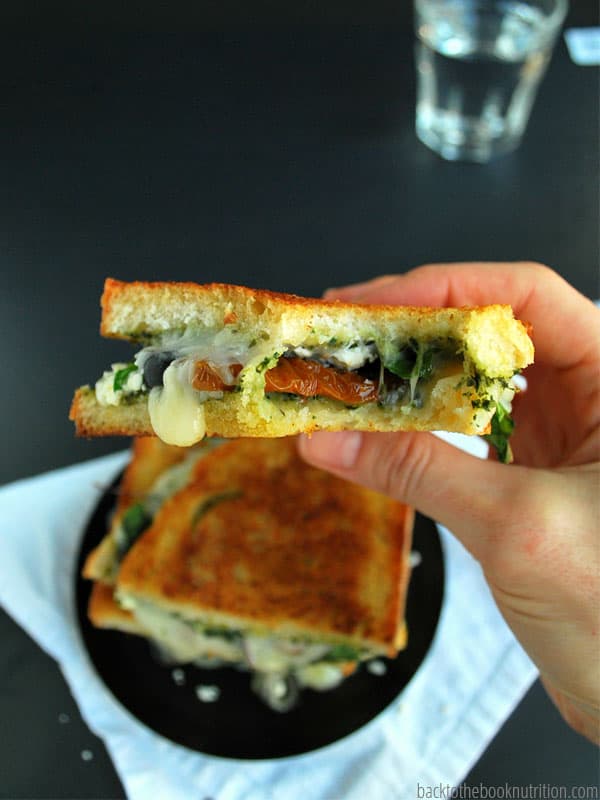 Now that's a sandwich, especially if you're in love with anything Mediterranean like me (simple 5-minute bruschetta, 3-Ingredient Greek Chicken, and Feta Chicken are all personal favorites) but this one takes the cake!
Plus, these sandwiches are easy to prepare and super satisfying, which means I can add a quick salad with my homemade Greek dressing and dinner is done!
They're meatless too, so that saves some extra money and cuts down on prep time!
Tips for Making the Best Grilled Cheese Sandwiches
There's an art to making a great grilled cheese. Here are a few of my best tips for getting it just right every time! I'd love to hear your ideas too so be sure to leave a comment below the post!
(1) Choose a "thirsty" bread
Sourdough is my very favorite bread for grilled cheese – in addition to the health benefits of traditional sourdough, its light and airy texture soaks up the butter beautifully, giving your sandwich a beautiful, crispy surface.
(2) Choose a good melting cheese, and use plenty of it!
It's so disappointing when the cheese inside of a grilled cheese doesn't melt! Choosing the right cheese is a big part of getting that oozey melted center without burning the bread. Provolone, Monterrey Jack, and Swiss all work well and are fairly budget-friendly.
(3) Add a flavor flare
Something as simple as a few slices of onion or olives between cheese layers can add a fun touch to even the most basic grilled cheese. Flavor can also be added to the surface – stirring a little olive oil, garlic powder, or dried herbs into your butter before spreading it on the bread are all cheap and easy ways to add a punch of flavor.
(4) Don't skimp on the butter
Back during my fat-phobic years, I would make grilled cheese sandwiches with cooking spray or, if I was feeling really indulgent, the tiniest pat of low calorie butter. Ewww!
For the best color, texture, and flavor, you've got to use a generous amount of real butter, period. There's just no getting around it. The good news is, real butter is healthy!
(5) Manage your heat
To get a perfectly golden crispy surface with a soft and melty cheese center, you've also got to control the heat. I heat the butter in the pan over medium heat just long enough for the butter to begin bubbling. When the sandwich hits the sizzling butter, it'll get nice & crisp on the surface. Once the first side is golden brown, flip it, allowing the other side to crisp over medium heat as well.
Once both sides are crispy and golden brown, turn the heat down to low and "tent" the sandwich loosely with foil to hold the heat in enough to melt the cheese without overcooking the bread. Flip back to the first side partway through this step to ensure even heating as needed.
Mediterranean Grilled Cheese
Delicious Mediterranean grilled cheese to switch up sandwich night. Frugal recipe the whole family loves, and a fun way to enjoy grilled cheese Greek style!
Author:
Prep Time:

20 mins

Cook Time:

10 mins

Total Time:

30 minutes

Yield:

4

whole sandwiches

1

x
Category:

Main Meals

Method:

Stovetop

Cuisine:

American
Scale
Ingredients
8

large slices sourdough, each cut in half

1/2 cup

pesto

8

slices Provolone cheese, each cut in half (Mozzarella could also be used)

1/4 cup

very thinly sliced red onion

1

small can (

2.25 oz

) sliced black olives, drained (Kalamata would also be great!)

6 oz

roasted red peppers in olive oil, drained and sliced into smaller pieces if too large (Mine were mini red peppers and I sliced them into

2

–

3

pieces each)

3 Tbsp

crumbled feta cheese

1

large handful baby spinach, chopped

4 Tbsp

butter, melted

2 Tbsp

olive oil

1/2 tsp

garlic powder
Instructions
Place a long sheet of wax paper on the counter, then lay all 16 half-slices of sourdough on the wax paper, with top and bottom slices lying open and facing one another as you build each sandwich.
Spread 1/2 Tbsp pesto onto each half-slice.
Place a half-slice of Provolone on top of the pesto on each half-slice of sourdough. You'll continue to build the sandwich on top of the Provolone on one side of the sandwich.
Layer the red onions, black olives, feta, roasted red peppers, and spinach onto one side of each sandwich.
Flip the other half-slice of each sandwich with pesto and Provolone over on top of the slice holding all the toppings. You should now have 8 assembled sandwiches lined up on the wax paper.
Now melt the butter and whisk in the olive oil and garlic powder. Use a pastry brush to coat the top slice of all 8 sandwiches with the garlic-butter-oil blend.
Use the remaining garlic-butter-oil blend to brush the griddle/pan generously. (I use either my cast iron griddle or a heavy duty stainless pan)
Heat the griddle/pan over medium heat until garlic-butter-oil just begins to sizzle. Be sure the garlic-butter-oil is spread around enough to cover the bottom of each sandwich (If you're cooking in batches, be sure to reserve enough of the garlic-butter-oil for remaining sandwiches).
Use a spatula to transfer the sandwiches, dry side down, to the hot griddle/pan. Turn the heat down to low-medium.
My trick for getting the cheese to melt without burning the edges of the sandwich is to allow both sides of the sandwich to reach your desired level of crispy golden brown, then turn the heat down to low (or turn the burner off entirely) and cover it loosely with a foil "tent" for a few more minutes.
If cooking in batches, place cooked sandwiches on a large plate covered loosely with foil to keep them warm until ready to serve.
Cost Breakdown
Sourdough: $1.25 if homemade (or $3.50 if store-bought)
Pesto: $1.56 for store-bought (or $1.14 for Tiffany's carrot top pesto recipe)
Provolone: $4.50
Red onion: $0.10
Black olives: $0.98
Roasted red peppers: $1.04
Feta: $0.25
Spinach: $0.40
Butter: $0.62
Olive oil: $0.36
Garlic powder: $0.01
Total cost for all four sandwiches is $11.07. That's just $2.77 per full sandwich! And the kids and I often just eat a half sandwich with a big salad.
That's super frugal considering how satisfying this Mediterranean Grilled Cheese is and that it tastes as good as something you'd order in a restaurant!
Tip from Tiffany: Put this recipe on your meal plan when you're making other dishes with similar ingredients, like these:
So, how about you? What are your tips for the best grilled cheese sandwich?
Disclaimer: This post contains affiliate links. By making a purchase through those links, I will earn commission that helps to keep the lights on in the Crumbs house – with no additional cost to you. Thank you for supporting Crumbs in this way. Read my full disclosure statement here.