This is the BEST Greek vinaigrette recipe and hands down, my husband's favorite! It's so easy, healthy, and it has a traditional flavor that's better than store-bought. Plus, if you make one small swap, you can make a CREAMY Greek salad dressing!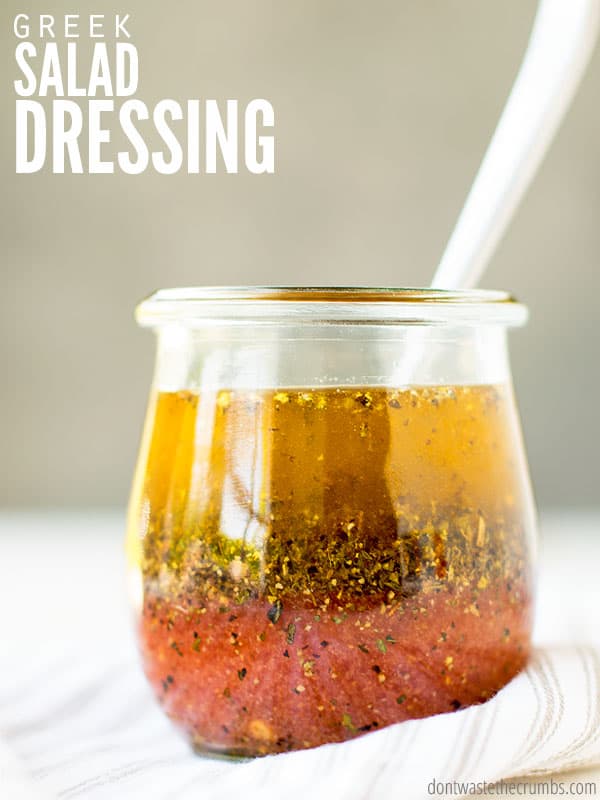 I think it might be a guy thing, but when my husband finds something he likes, he generally doesn't want anything else.
For example, the first time I made Greek couscous, he asked for it every week.
The same thing happened when I made our favorite hummus and again when I made Greek quinoa salad.
Obviously, the man likes Greek food!
It didn't take me long to realize that if I made just one thing, I can pretty much turn any meal into a Greek meal. What's that thing? Greek salad dressing!
We stopped buying salad dressing YEARS ago when I went through every cabinet in our kitchen and threw away anything and EVERYTHING that had either high fructose corn syrup or hydrogenated oils.
That was a big deal at the time because the majority of our condiments contained one or both of these harmful ingredients, and I don't think we had a single bottle of salad dressing left!
Thankfully, though, we quickly learned that making your own salad dressing isn't that hard or time-consuming!
The Best Greek Salad Dressing Recipe
I'm going to be honest here – I haven't tried tons and tons of Greek salad dressing recipes. I found this one ages ago and we loved it so much, that I never bothered trying another one.
I have, however, had Greek salad dressing at restaurants and often times a Greek salad dressing is the "house" dressing.
My homemade version is just as good, if not better than any restaurant version. It has the perfect balance between authentic Greek flavors and the tang of red wine vinaigrette. Honestly, we could eat this dressing every night!
I generally will make a single batch of dressing and make sure we use it up within a week or two. Since homemade salad dressings don't have any preservatives, they won't last months on end, but the vinegar and oil help keep the salad dressing good in the fridge for a few weeks.
Is Greek Salad Dressing Healthy?
Considering there are no artificial preservatives or sweeteners, I'm going with yes!
It's also vegan, keto, gluten-free and dairy-free, meaning it's SUPER friendly to many different dietary preferences and food allergies.
Making this an Authentic Greek Salad Dressing
A few things make this Greek salad dressing taste authentic, namely the vinegar and the spices.
Red wine vinegar will give the signature tang you're looking for, but I've substituted apple cider vinegar before in a pinch.
I don't recommend white distilled vinegar or rice wine vinegar for Greek salad dressing because they're too mild and they don't have enough bite. I also don't recommend balsamic vinegar because it's naturally sweet, and it will take away from the Greek flavors.
The base of Greek salad dressing is oil and vinegar, and while I recommend extra virgin olive oil, you can use a different liquid oil, like grapeseed or avocado oil, if you prefer.
As for the spices, we're using only dried spices and you probably already have them in your pantry!
Greek Salad Dressing Ingredients
Here's everything you need to make Greek salad dressing:
Extra virgin olive oil. You can substitute a mild oil of choice if necessary, but make sure you use quality ingredients!
Red wine vinegar. If you run out, you can substitute apple cider vinegar and MAYBE lemon juice, but don't use white distilled vinegar, rice wine vinegar or balsamic vinegar.
Garlic powder + dried oregano + dried basil. The holy trio of traditional Greek salad dressing recipes.
Salt and pepper. You can't forget the basics!
Onion powder. You can add garlic powder here too if you want, but it's not required.
Brown mustard. There's lots of flexibility here. There's lots of flexibility here. I prefer brown mustard, but I've used Dijon mustard, spicy brown, horseradish (YUM!) and plain yellow mustard – they're all good!
How to Make Greek Salad Dressing
Most times, I add everything to a wide-mouth mason jar and hand it over to the kids to shake it up like crazy. The mustard helps emulsify the dressing, which means the oil and vinegar don't separate as easily as they would in other dressings.
P.S. These lids make it super easy to shake and pour!
In my home, we make this so often that I keep a jar of just the dried spices in my spice cabinet, and then I measure what I need for this recipe. As written, this makes two tablespoons of spices. I triple or quadruple the spices and then measure out two tablespoons to make the dressing.
Doing it this way also means I have a Greek spice blend ready to go for roasting vegetables or seasoning our meat!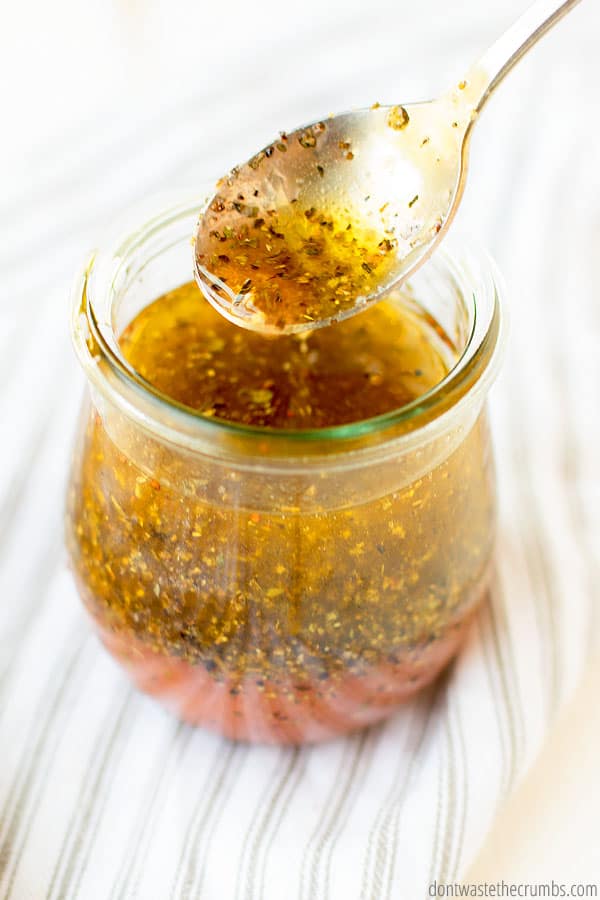 Make this a Creamy Greek Yogurt Salad Dressing!
Turn the tables on the typical Greek salad dressing and use YOGURT instead of oil! You'll get a completely different recipe, and it will still have a great punch of Greek flavors.
To do this, mix the red wine vinegar and spices in the jar first and then add yogurt one scoop at a time until you have half of the amount of oil called for in the recipe. This allows you to control how thick and creamy you want your Greek salad dressing to be.
At this point, you can finish the rest of the amount with yogurt, or you can add oil if it's too thick. Remember that the beauty of NOT buying Greek salad dressing is that you can make it just how you want!
How to Use Greek Salad Dressing
Obviously, a salad is the first thing that comes to mind here. However, there are plenty of other ways you can use Greek salad dressing to give some serious flavor to your foods!
Use it to marinade chicken (this is especially delicious!)
Use it to marinade beef
Do a quick-marinade (30-60 min) on fish or seafood
Use it as a dressing on Greek couscous or Greek quinoa salad
Toss your vegetables in a few tablespoons before roasting or grilling
As a baked potato topping, instead of butter and sour cream
As a dressing for pasta salad (which is PERFECT for summer BBQ's!)
Use it instead of mayo for egg salad or chicken salad
Toss with kalamata olives, red onion and feta cheese for a scoopable appetizer
No matter how you use it, you really can't go wrong with a delicious batch of homemade Greek salad dressing!
Our Favorite Salad Dressing Recipes
Aside from Greek salad dressing, here are the homemade salad dressings we make most often:
Homemade Greek Salad Dressing
This is the BEST Greek salad dressing recipe! So easy, healthy and a traditional flavor that's better than store-bought! Add yogurt to make it creamy!
Author: Don't Waste the Crumbs
Prep Time:

5 mins

Cook Time:

0 mins

Total Time:

5 mins

Yield: Scant

1 cup

1

x
Category:

Sauces/Condiments

Method:

Combine and shake

Cuisine:

Greek
⅓ cup

and 1 Tbsp olive oil

1 tsp

garlic powder

1 tsp

dried oregano

1 tsp

dried basil,

1 tsp

black pepper

1 tsp

salt

1 tsp

onion powder

1 tsp

spicy brown mustard

½ cup

and 2 tsp red wine vinegar (you can substitute up to half white vinegar without altering the taste)
Instructions
Combine all ingredients in a glass jar.
Secure the lid and shake vigorously. This dressing can be stored at room temperature for a day, but it should be refrigerated for long term storage.
Keywords: Greek salad dressing
Have you started making your own homemade salad dressings yet? You can't go wrong with a Greek vinaigrette! What's your favorite salad dressing?