I have a list of 50+ no cook meals and 8 tips for cooking dinner without heating the house. Stay cool and eat well even when temperatures are hot! These no cook recipes are really simple and will be done in minutes. Also, try my One Week No Cook Meal Plan and Healthy No-Bake Cookies.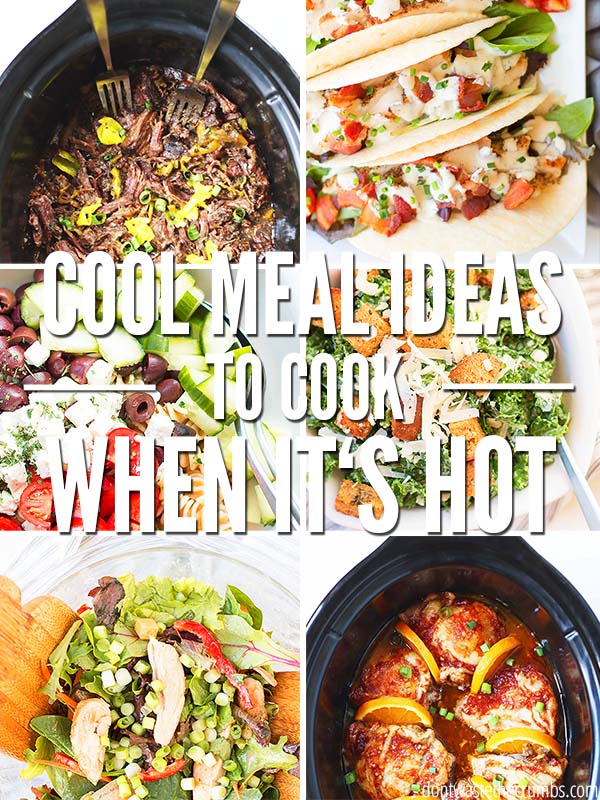 It's hot outside and I don't want to heat the house, but how do we cook dinner?
My friend Dena said last week that it's so hot, she seriously considers offering homemade popsicles to her toddler for breakfast. I don't blame her.
You can still have healthy eating habits without an oven! I have a great list of 50+ no cook meals for hot days in Summer, but let's first talk about tips on cooking without heating the house. Hopefully, these tips will help you come up with even MORE no cook meal ideas!
Tips for Cooking Dinner Without Heating up the House
#1. Grill Outside.
Beyond burgers and grilled chicken, did you know you can grill pizza, vegetables, and even asparagus? If you think your food will fall through the grate, try using this reusable grilling pan.
Use this FREE one-week grilling menu!
#2. Use Your Slow Cooker and/or Instant Pot.
Slow cookers won't heat the whole house and are great for making staple recipes like rice, chicken stock, or even bread. If your crock pot gives off any heat, you can move it to the garage or porch.
Instant Pots will not heat the kitchen either! Here are more recipes. Most slow cooker recipes can be made in a pressure cooker too!
#3. Use Other Small Appliances.
Break out the waffle maker, toaster or quesadilla maker, or whatever weird gadget you have and use that instead of the oven. Waffles make a great substitute for bread and work with sweets (like berries and syrup) and savories (like almond butter with bananas).
#4. Use A Griddle.
Griddles are essentially portable stovetops. Try biscuits, tortillas (flour or corn), grilled sandwiches, bacon, and eggs. And just like the slow cooker, you can always take the griddle outside if yours makes the kitchen a bit warm.
#5. No Cook Meals.
Don't cook at all! Think of cold meals like summer salads, wraps, salad lettuce wraps, and cold soups. A side dish like Caprese salad is perfect for any meal and includes seasonal tomatoes too.
Lettuce is totally in season now and you can spruce up any combination of fruits and vegetables with classic dressings and dips. My two favorite homemade recipes include zesty Italian dressing and Greek salad dressing.
#6. If You Must Cook, Cook Early in the Day.
It's tough to not cook at all, so if you have to, cook early in the morning before the sun has a chance to heat up the house. While you've got breakfast going, make boiled eggs or bake up your meats. You can always reheat later, serve at room temperature or even serve it cold if the temperature doesn't really matter.
Tip: To make this easier, do all the prep work the night before. That way you can assemble and bake early, then turn the oven off well before lunchtime comes around.
#7. Batch Cook.
A fantastic way to beat the heat is to cook up a bunch of things at once, so you don't have to do it again later. Think whole grains, pasta, or rice. Like #6, do it early in the morning and cook what you need for the whole week. You'll have plenty of noodles for cold salads, and anything warm can be reheated quickly for meals.
This idea applies to just about everything you make, including items on the griddle. Make double or triple batches of tortillas, and undercook them just a tad so they're still very pliable when you reheat. Pancakes can be reheated in a toaster too, or even cold as my kids sometimes prefer them.
Batch cook meats overnight! A slow cooker often takes hours to cook rotisserie chicken, carnitas, or brisket. Use the cooler nighttime temps to let your meat cook while you sleep.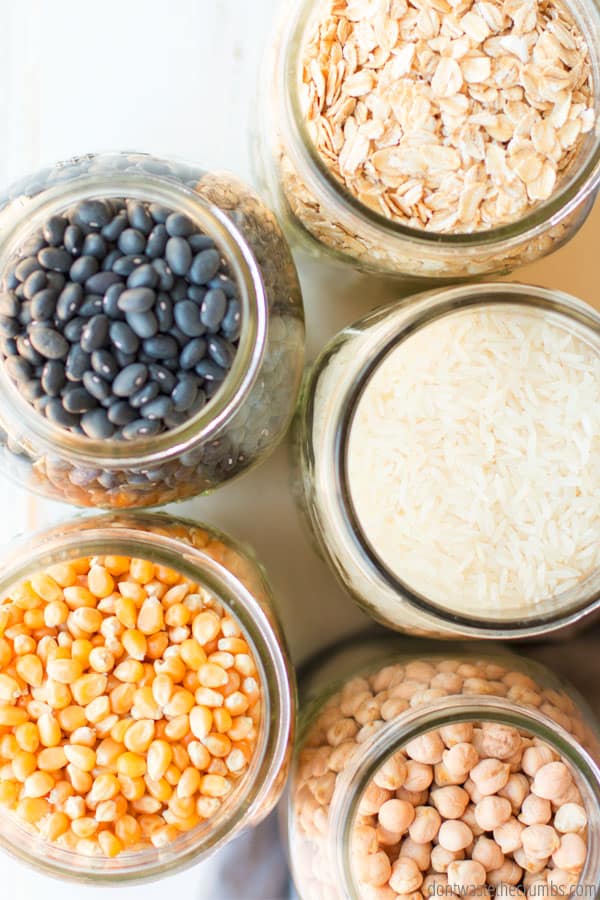 #8. Approach Meals Differently.
What would you pack for a picnic? Chicken salad with homemade crackers (that you made a lot of one morning), veggie slices, and fruit?
During our no spend months, my family and I will have an outdoor picnic on our homestead. Our menu usually includes fresh fruit, fresh veggies that could be eaten raw (squash, tomatoes, radish, and cucumber), an assortment of cheese and crackers, hummus, and egg salad sandwich or tuna salad. It's delicious and relaxing and we all enjoy being outside together.
What if you were on a camping trip? You can see how we cook camping meals here, sometimes thinking of specific situations where you don't have an oven, helps you to think of easy recipes that can be made without one.
FAQs for No Cook Meals
Do crock pots heat up the house?
Slow cookers do not warm up the house! We have this one.
Is there a way to cook without heat?
What foods can you eat without cooking?
50+ No Cook Meals for Summer
No Cook Breakfast Ideas
No Cook Meals for Lunch
No Cook Dinner Ideas
No Cook Meals for Snacks/Desserts
More Healthy Recipes
No Cook Meal Plan
Sign up to get instant access to my
No Cook Meal Plan
, complete with recipes and shopping list!