Everything You Need to Know About 8 Tips for Cooking Dinner Without Heating up the House
So… I hear it's pretty hot outside, eh? Like, whats-the-point-of-doing-your-makeup-because-the-heat-will-melt-it-off-before-you-get-to-the-car kind of heat?
I hear ya.
My friend Dena said last week that it's so hot, she seriously considers offering homemade popsicles to her toddler for breakfast. I don't blame her. I would too if out temperatures were breaking 100 degrees…
Or even 80 degrees, because 'round these parts of California, we don't have air conditioning. Granted, it isn't needed when it's usually a mild 68F outside, but it sure would come in handy when those temps reach a scorching 90F every few years! 😉
Just because it's not hot for ME, doesn't mean it's not hot for YOU. That's why you're going to love today's 8 tips for cooking dinner without heating up the house. I know that it is NO FUN turning on the oven and cooking dinner when the house already feels like it's 100 degrees.
And that's WITH air conditioning.
Our oven quit working around Christmas last year and for three weeks we had to devise meals that didn't require the oven. It wasn't easy, for sure, but it was do-able. I'm using that small bout of no-oven-cooking to inspire these tips, since heat or not heat, we all have to eat!
8 Tips for Cooking Dinner Without Heating up the House
1. Use your slow cooker
This was a saving grace for us, and led me to discover how to bake bread in a slow cooker – both yeast and quick breads. I've got my own not-so-secret collection of slow cooker eye candy here on Pinterest, but you can use it to make your stand-by favorite frugal soups and homemade chicken stock too. Take it to the garage if it gives off any noticeable heat or if you're making something on the smelly side. Mr. Crumbs isn't a fan of the way chicken stock smells, so our big 6 quart slow cooker spends most of its time out there.
Non-conventional items can be cooked in a slow cooker too, like baked potatoes and sweet potatoes. Rice dishes like jambalaya and risotto, casseroles, ingredient prep like beans and grains… you can even steam veggies in a slow cooker!
Most slow cooker recipes can me made in the Instant Pot too!

2. Grill Outside
Grill pizza, rotisserie tri-tip or roasts, or straight up chicken (tutorial for chopping it whole here). Add whole veggies like carrots and corn on the cob directly on the grate, or use one of those disposable aluminum pie/square tins for smaller veggies. Just wash instead of dispose and you're good for the season (instead of ruining nicer baking dishes and replacing the disposable ones over and over). Find natural charcoal in bulk and invest in a charcoal starter – one of the best investments to day, according to Mr. Crumbs. My friend Kelly from The Nourishing Home also has great tips for grilling here and here.
Use this FREE one week grilling meal plan!
3. Use a griddle.
You can make all kinds of foods on a griddle and it won't heat up your house nearly as much as the stove. If your house is tiny, use an extension cord and take it outside!
Whip up biscuits (customize the dough for plain, savory or sweet), pancakes, tortillas (flour or corn), grilled sandwiches or pitas. We also cook bacon on the griddle and my sister-in-law cooks her eggs right next to the bacon.
4. Use other small appliances, other than the slow cooker and griddle.
Break out the waffle iron, toaster or quesadilla maker or whatever weird gadget you have and use that instead of the oven. Waffles make a great substitute for bread and work with sweets (like berries and syrup) and savory's (like peanut butter with bananas).
5. Don't cook at all.
Think cold meals like salads, wraps and cold soups. Side dishes like caprese salad are perfect for any meal and include seasonal tomatoes too.
This wasn't as easy back in December, but lettuce is totally in season now and you can spruce up any combination of fruits and vegetables with classic dressings and dips. My two favorites include homemade blue cheese and strawberry balsamic. I've got quite the collection of delicious salads on this board on Pinterest too.
6. If you must cook, cook early in the day.
It's tough to not cook at all, so if you have to, cook early in the morning before the sun has a chance to heat up the house. While you've got breakfast going, boil your water or bake up your meats. You can always re-heat later, serve room temperature or even serve it cold if the temperature doesn't really matter.
Tip: To make this easier, do all the prep work the night before. That way you can assemble and bake early, then turn the oven off well before lunch hits.
7. Batch Cook
A fantastic way to beat the heat is to cook up a bunch of things at once, so you don't have to do it again later. Think pasta, whole grains or rice. Like #5, do it early in the morning and cook up what you need for the whole week. You'll have plenty of noodles for cold salads, and anything warm can be re-heated quickly for meals.
This idea apples to just about everything you make, including items on the griddle. Make double or triple batches of tortillas, and under cook them just a tad so that they're still very pliable when you reheat. Pancakes can be reheated in a toaster too, or even cold as my kids sometimes prefer them.
8. Approach meals differently.
What would you pack for a picnic? Chicken salad with homemade crackers (that you made a lot of one morning), veggie slices and fresh fruit?
Since we're not spending anything for the month of August, we moved our Big Sur outing to the back yard last weekend. Our menu included fresh fruit, fresh veggies that could be eaten raw (squash, tomatoes, radish and cucumber), an assortment of cheese and crackers, hummus and a few choice meats. It was delicious, relaxing and we all enjoyed being outside together.
What if you were camping? You can see what we took with us camping in this post, but sometimes thinking of specific situations where you don't have an oven, helps you to think of meals that can be made without one.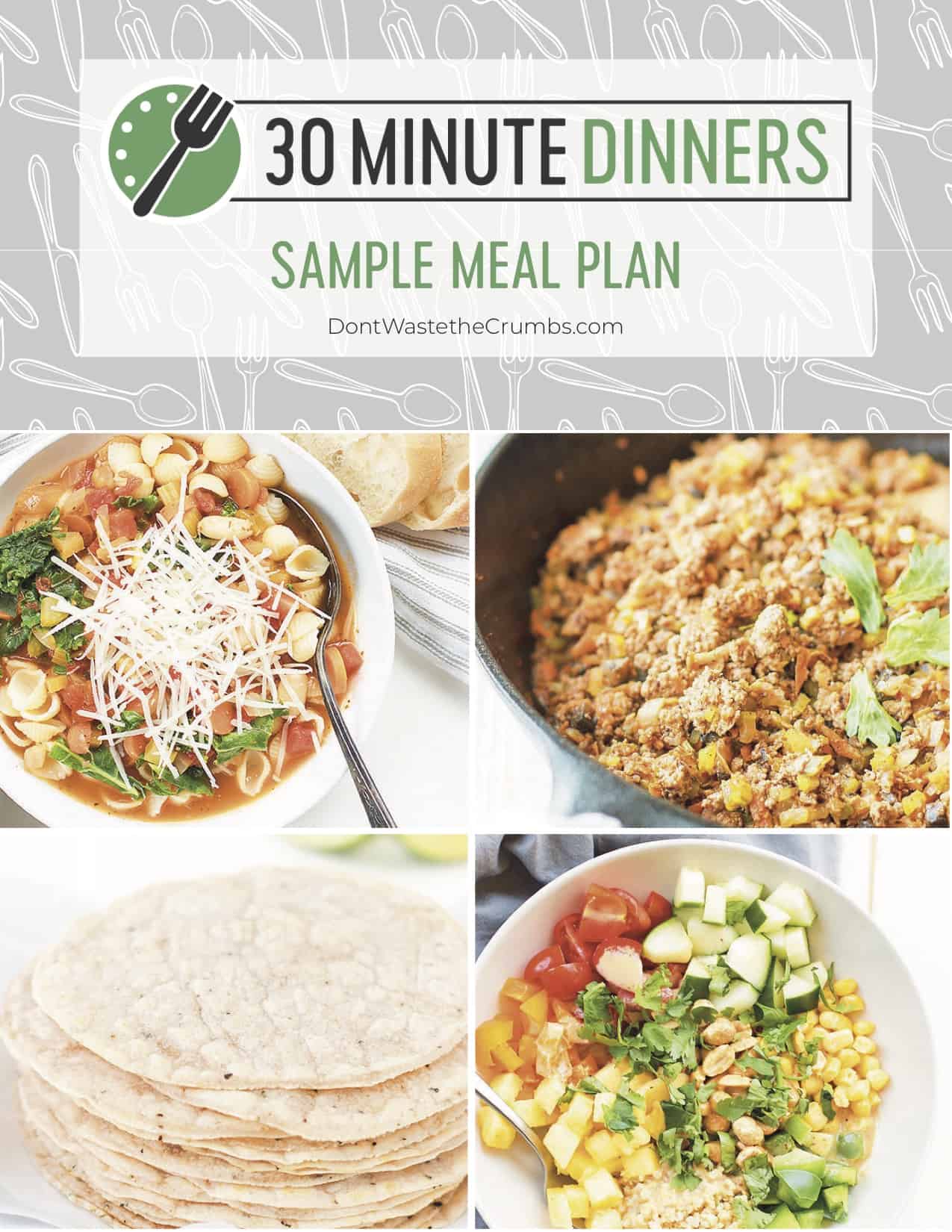 30 Minute Dinners Sample Meal Plan
Sign up to get instant access to my
30 Minute Dinners Sample Meal Plan
, complete with recipes and step-by-step instructions!