This simple & healthy creamy mushroom pasta recipe is perfect for a weeknight dinner. There's no cream, naturally vegan & packed with garlic & herbs!
Everything You Need to Know About
When I'm in a busy season of life (like right now), my favorite recipes are the ones that cook fast but taste slow.
Like maple glazed pork chops. They taste like they've been slowly braising for hours, but they cook in under 10 minutes!
Or Instant Pot honey garlic chicken. A quick stir of pantry staples + chicken means dinner will be ready in under 30 minutes and you don't even have to be in the kitchen!! (I recommend making roasted broccoli and pulling a bag of Instant Pot brown rice from the freezer to go with the chicken.)
Most recently though, we've fallen in love with weeknight mushroom pasta…
It tastes like you've gone out to a restaurant! But all you've really done is filled two pots, whizzed a sauce in the blender, set a timer and walked away…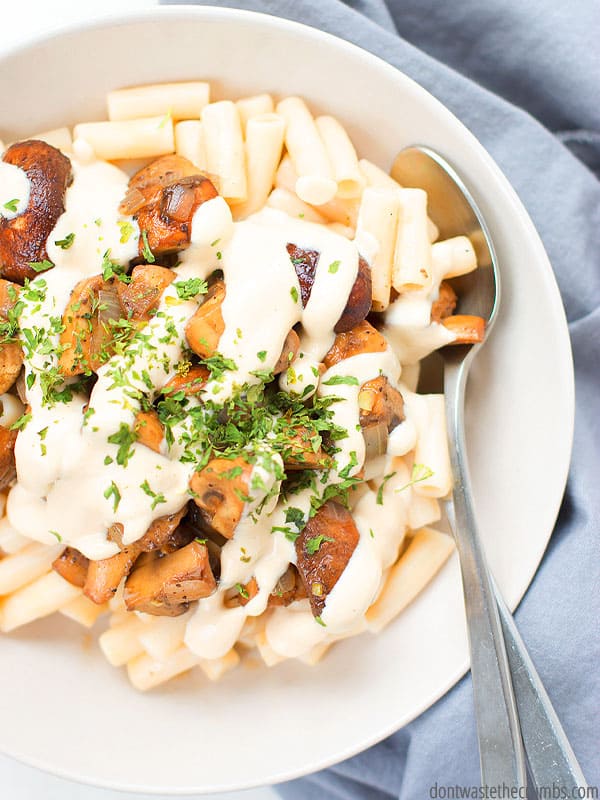 Why should you make this creamy mushroom pasta? Allow me to elaborate.
It's cheap. Pasta is one of the cheapest grains you'll find in the store. Whole wheat pasta often goes on sale for about $1 per pound, but I've seen it marked down to 50¢ per pound before!
It's easy. Literally, boil pasta in one pot, let mushrooms cook in another, set the timer on the pasta, and go do something else. Like help the kids with their homework or re-run the washing machine (again) because you forgot to move the clothes to the dryer. Really, go be productive. Don't stand over the stove for this dinner!
It's made with pantry staples. Aside from the mushrooms (which keep in my fridge for at least a week), everything comes from the pantry. That means if you need to pause your meal plan because you have too many leftovers in the fridge, or if for whatever reason your meal plan falls apart, this is something you can make in a pinch.
The vegetables are built in! Sometimes I focus so much on the main portion of the meal that I forget about the side dishes. In this case, the vegetables are built into the main dish – WIN!
It's fast. We're talking about 20 minutes here from start to finish.
Minimal dishes. Two pots and a blender jar. And one of those pots is for boiling the pasta, which you and I both know barely even counts as a "dish."
It's meatless. We both know that cutting back on meat consumption saves money on the grocery budget. We've cut back on the total amount of meat we eat, so that we can afford higher quality cuts of meat (that we get delivered monthly from Butcher Box, you can read more on that here). That means putting a few meatless dinners on the meal plan each week.
You don't feel like it's meatless. Which is pretty stinkin' amazing! The mushrooms are big, chewy and they make you feel like you're chewing something worthy (unlike a plate of iceberg lettuce!). We leave the table full and satisfied without even thinking that we didn't eat meat.
It's vegan. Which we aren't, but is totally cool if you're trying to eat less meat and more vegetables and less oil and more healthy fats and all that good stuff… which most of us are in one way or another, right?
Which Mushrooms to Use for Mushroom Pasta
If you're new to the world of mushrooms, you might get overwhelmed when you go shopping. You wouldn't think that there were so many different types of MUSHROOMS, but even my local Kroger has several to choose from!
We're keeping it simple here: choose white, or brown.
White mushrooms are just that. The simples of mushrooms, most mild in flavor and they're white.
Brown mushrooms also go by the name of cremini or mini-portabella, but the look just like white mushrooms, except they're brown. These are one step up in flavor. They're a bit heartier, but they don't have any strong flavors that you'll get if you venture into the other mushroom varieties.
I prefer to make this using brown mushrooms, but I took pictures using a combination of both white mushrooms and brown mushrooms so you could see how each would look in the final dish!
A note on the pasta…
Since we've switched to einkorn AND/OR gluten-free grains, we often use brown rice pasta since it's the most affordable. I'm also quickly learning that not all brown rice pasta is the same!
We've tried brown rice pasta from Trader Joe's, ALDI and Walmart. So far, ALDI's ranks the lowest. It definitely could have been the recipe I tried, but we felt like the noodles broke easily and then it just made a mushy mess… which no one wanted to eat, including me.
The Tinkyada brand is what I've found at Walmart and so far, it's held up really well!
I *think* we like the brown rice pasta from Trader Joe's as well… at least it didn't stand out to us as "not good" like the ALDI brand did!
How to Make the Creamy Mushroom Pasta Sauce
You might laugh here, but the creamy mushroom pasta sauce comes from CASHEWS!!
Ever since I made vegan nacho cheese dip, I've been slightly fascinated with cashew sauce.
I love that it's no-cook.
I love that it doesn't require any planning ahead (my Blendtec makes the sauce silky smooth without soaking the cashews.)
I love that it's a springboard for so many flavors… just add whatever you feel like that night!
I love that it's food-elimination-diet-friendly (unless you're eliminating cashews, of course).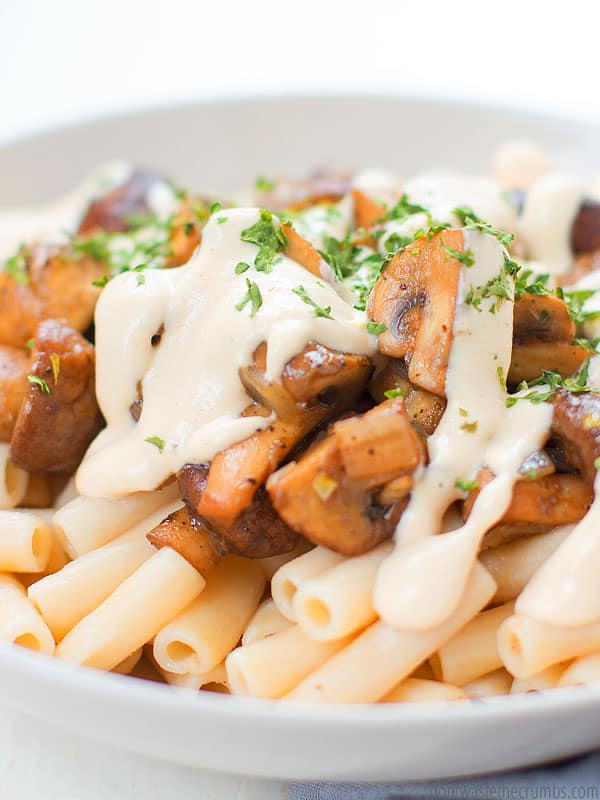 This mushroom pasta would be SO GOOD with no-knead overnight artisan bread to sop up the extra juices and sauce on your plate.
Or rosemary olive oil flat bread… which would require you to stand at the stove, but those fluffy squares of salted dough would be WORTH EVERY SECOND!
Weeknight Creamy Mushroom Pasta
Author: Tiffany
Prep Time:

15 mins

Cook Time:

20 mins

Total Time:

35 minutes

Yield:

4

-

6

1

x
Category:

Main

Method:

Cook

Cuisine:

American
1

lb pasta (any variety)

2

–

4

Tbsp olive oil

1

onion, diced

4

cloves garlic, quartered

1 tsp

dried thyme

1 tsp

dried sage

2

lbs mushrooms, quartered (I use brown cremini)

¾ cup

cashews

½ cup

water

½ tsp

pepper
Cook pasta according to package directions.
Meanwhile, heat 2 Tbsp of olive oil in a large skillet OR a dutch oven over medium heat. Add onions, garlic, thyme and sage and cook until the onions start to become translucent.
Add the mushrooms and cook, stirring occasionally, until the mushrooms have cooked down by half. Add additional olive oil as necessary, scraping bits off the bottom of the pan as you go.
When the pasta and mushrooms are done, combine the cashews, water and pepper in a blender (I have this Blendtec) and blend until the sauce is creamy.
Add the sauce to the mushrooms and stir well. Taste the mushrooms and sauce, adding additional seasoning and/or salt and pepper as desired.
Notes
Either serve a la carte, or add the pasta to the mushrooms and stir well before serving. Best enjoyed warm, but leftovers are just as delicious!
Need some inspiration for meal planning?
Check out my 3 Month and 12 month meal plans. 
Frugal Real Food Meal Plans is a simple solution to feed your family real food on a budget. It doesn't have to be hard to feed your family healthy food! These meals plan includes seasonal recipes, shopping lists, prep lists and budgeting tools so you can put healthy food on the table faster, with less work.
Learn more
here
!
What's your favorite meatless meal? Or have you tried a dairy free creamy sauce before? Let us know in the comments!