Save money by line drying your clothes inside with an indoor clothesline. Creative ideas for line drying despite small yards, HOA rules & bad weather. Quick & easy alternative to a drying rack. Also check out my homemade laundry detergent for affordable, chemical-free laundry (ideal for sensitive skin)!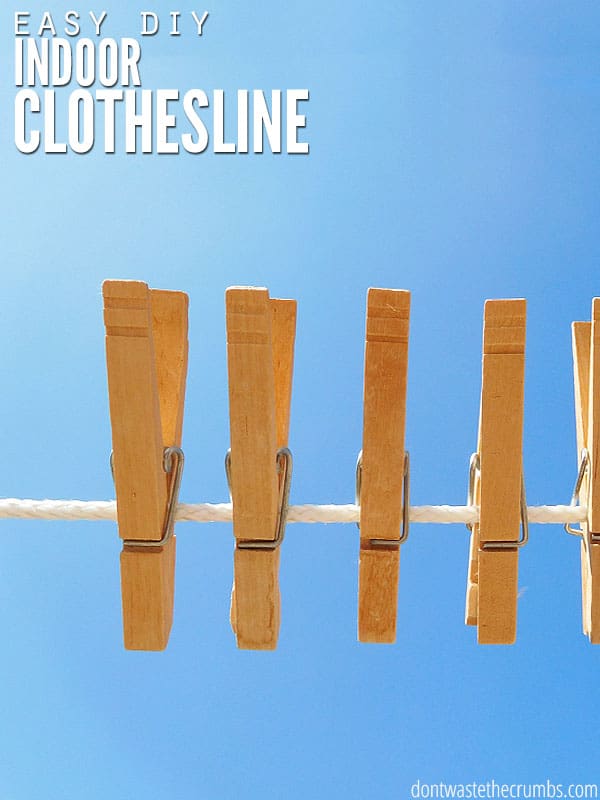 Did you know you can reap all the benefits of line drying your clothes by building an indoor clothesline?
I had no idea, and to think that all these years, I could have been line drying my clothes inside AND making my own laundry detergent!
As it turns out, you don't have to have a ton of space or even your landlord (or HOA's permission) to set up a line to dry your clothes. There are many ways you can make it happen, with just a little bit of creativity!
Now I know there are some good portable options for indoor drying that don't require much building or using complex tools. Things like drying racks, wall mounted retractable clotheslines, or accordion-style wall-mounted racks.
These can good options depending on your space, your volume of laundry and your needs, but there is a great money saving option that you can make yourself requiring only the skill of turning a screw driver!
How to Make an Indoor Clothesline (Step-By-Step)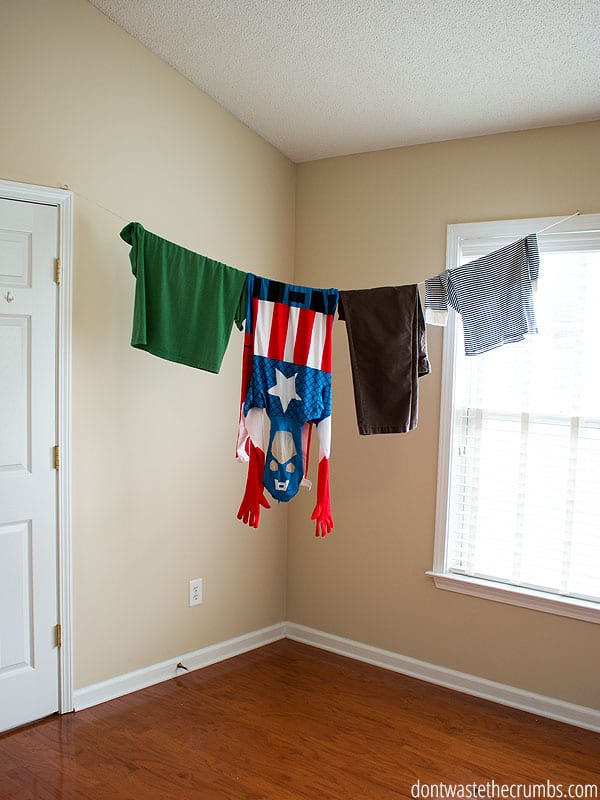 Step 1. Evaluate Your Space for an Indoor Clothesline
Before you actually build the indoor clothesline, you'll need to determine where in your home an indoor clothesline wouldn't be in the way of your day-to-day living, with enough sunlight and/or air circulation for the clothes to dry. All you really need is a solid piece of wood at each end of the line, so use your imagination!
Consider spaces such as:
infrequently-used door openings
the space between the joists in your basement (if your basement has an open ceiling)
in any open loft space like the foyer entryway
in between the railings of stairs or even above the stairs (depending on the layout of your home)
mounting on the wall in an infrequently used room (like the guest room)
above the washer and dryer
underneath the front porch or back porch (outside, but still a good idea!)
over the bathtubs
You'll need to know how much line to buy, what type of hardware that will best suit your plans and how much of the hardware you'll need, so take a few measurements of the space you've chosen.
As a general rule of thumb, you'll need about 8 inches of space between each line, and a way to secure the line at each end.
Step 2. Choosing the Hardware for an Indoor Washing Line
All of your big box home improvement stores will have a great selection for what you can use to build your indoor clothesline. Check the aisles that have rope, chain and hooks. In my local Home Depot it is the same section where you buy the screws, nuts and bolts.
No matter how your indoor clothesline will be set up, here's a basic list of components to choose from and how they can be used:
All of these components are inexpensive, easy to install with very basic tools (screwdriver, hammer, and/or wrench), and work great for permanent or temporary lines. Consider buying stainless steel, or at least zinc coated components. They will hold up better over time.
Also buy plenty of line and some extra hardware to be safe, then plan to return what you don't use. And don't forget the clothespins!
Note: The coated cable, if sold by the foot, is often not returnable.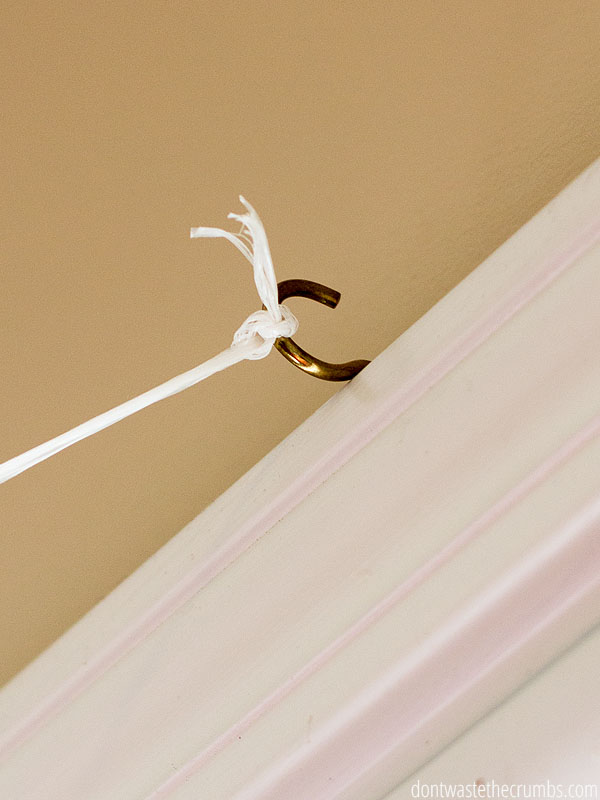 Step 3. Installing Your Indoor Clothes Line
Depending on your creativity, there are myriad ways to create an indoor clothesline. Here are three basic ideas on how you can use the hardware mentioned above to make an indoor clothesline in your home:
Screw an eye screw or hook screw into the bottom of a floor joist for the floor above and screw another one 6-8' away. String line between them.
Screw an eye screw or hook screw into the bottom of the hand rail on opposite ends of an open railing. Use a carabiner or s-hook on both ends of the line to make it removable when not in use.
Screw an eye hook at opposite sides of an infrequently-used door opening, near the top (be sure you do this on the side of the door that won't interfere with its ability to open/close). String a line between them (permanently or temporarily).
Installation Tip: Use a screwdriver as a lever to install these hook screws. If you have a drill, create a pilot hole. If you don't, use a hammer to get the screw started, then tighten it down with the screwdriver.
You don't have to be hindered by an HOA or not having a yard in order to line dry. Building an indoor clothesline is a great way to save money and take advantage of the sun's natural disinfecting and bleaching power. By investing a few dollars and a little creativity, you can set up an indoor clothesline (or few) that will serve you well, and help save money.
FAQs For a DIY Clothesline Indoors
Can you use a clothesline indoors?
Yes! It's very easy to set up a simple clothesline indoors to save money and maintain your clothes. Just follow the steps on this post for a quick and easy alternative to a drying rack.
What is an indoor washing line called?
An indoor washing line is simply another name for an indoor clothesline, or a clothesline indoors. Of course, there are indoor installations called Sheila Maids, but this simple DIY indoor washing line is much more budget-friendly.
How do you dry clothes without a dryer?
Just make a quick & easy indoor clothesline if you don't have a dryer. Follow the simple steps in this post for a cost effective alternative to a dryer or a drying rack.
5 Days to DIY Natural Living
Being healthy isn't just what goes IN your body, it's what goes ON your body too. Download my free guide 5 Days to DIY Natural Living to learn how to save money while getting rid of harmful toxins throughout your home.
More Money Saving DIYs