Every morning when I get dressed, I'm seriously torn about what to wear that day.
As a homeschooling, work-at-home mom, comfy clothes are VERY appealing. I mean, yoga pants are a mom wardrobe staple. Then again, it always feels good to wear something a little nicer, like a flattering pair of jeans with a cute shirt.
Inevitably though, without fail, I get those cute clothes dirty every time.
It doesn't even matter if I never come close to the kitchen or the kids or whatever else that may harbor dirt. Somehow, someway, a random spatter of grease will fly through the air and land on my cute clothes.
Sure, I'm not the only one this happens to, right?
Here's what ends up happening over time. Those cute clothes I love to wear slowly migrate towards the "not worn often" section of the closet because they have stains. No one looks cute in a stained shirt, right?
The cute clothes selection becomes less and less, and I start to choose comfy clothes more and more.
Which really is fine for 90% of the time. But that other 10% still exists… dinner with friends? A date night with Mr. Crumbs? Church?!
I certainly can't wear comfy clothes to any of those things, but my cute clothes have stains!
Solution? DIY Homemade Stain Remover
I keep this little miracle worker on a shelf above my washer and whip it out whenever I need it. A little squirt directly onto the stain, a gentle little scrub with an old toothbrush and a few minutes to rest is all it needs to eliminate those awful grease stains from my cute clothes.
This stain remover works on practically every stain imaginable: grass, grease, food, etc. Plus, it contains frugal ingredients that I normally have on hand anyway. Making more is never an issue!
My "Old" Laundry Routine (that didn't work)

I don't know about you guys, but catching a stain BEFORE the clothes are washed is practically unheard of. It's not until they've been washed, dried and hung up on a hanger that I THEN see the ugly stain. Gah!
It's also guaranteed that if I just throw the dirty shirt back into the hamper, I will NOT remember that it was stained in the first place and needs to be treated. Which means the same clothes will get washed repeatedly (please don't make me confess numbers) before the stain is ever dealt with.
Seeing as this "system" is a bust, I came up with a new one.
My "New" Laundry Routine That Works Every Time
When I notice a stain, I still hang up the clothes. But instead of putting them away in my closet, I hang them on my bedroom door. The next time I leave my room with a laundry basket of clothes to wash, I take the stained clothes on the hanger with me too.
The regular load is tossed in the washer, I go to work on the stains and the laundry stain remover does its job while the load is washing. It's just enough "sitting" time for the stain remover and the treated clothes get added in with the next load with my homemade laundry detergent.
Note: I'm known to forget about treated clothes and let them sit overnight. I'm not sure the effects on the clothes long term, but chances are you're okay if you happen to lost track of time. Which totally doesn't ever happen…
PS – I use this homemade stain remover in conjunction with my homemade bleach alternative and homemade laundry detergent with great success!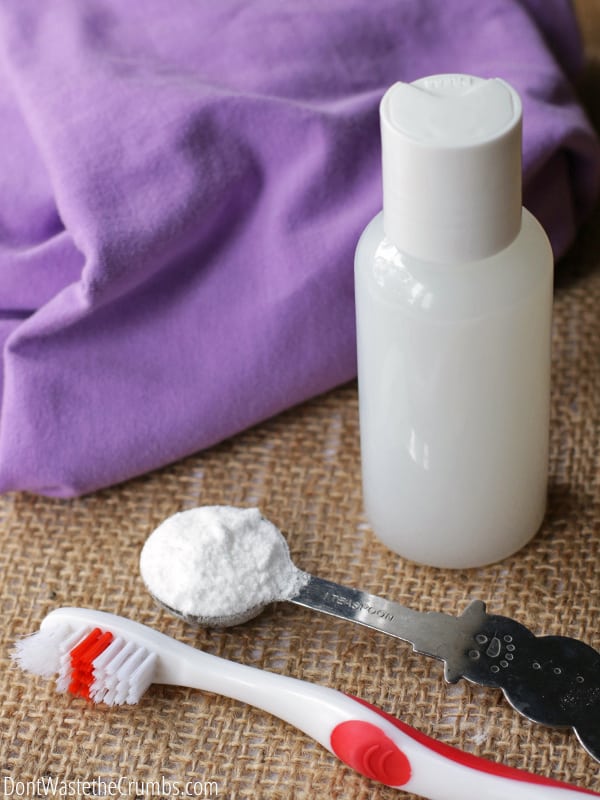 DIY Homemade Stain Remover
Supplies
I buy my dish soap from Young Living. I know there are a lot of essential oil companies out there and I've certainly tried my fair share of brands. But after testing and researching and more testing, only one is worth spending money on (in my opinion). For a couple years now I've been committed to Young Living oils and their natural products, and you can 
read more about their oils and my decision HERE.
Method
Combine all ingredients in a small jar and stir to combine well.
Apply directly to the stain and rub gently with your finger, a piece of fabric or an old toothbrush. Allow stain remover to sit for at least 15 minutes, or up to an hour. Wash normally.
Cost Breakdown
baking soda – $.01
dish soap – $0.11
hydrogen peroxide – $.05
Total cost of homemade laundry stain remover is 17¢. Compare to the cost of Shout at $1.55 for the same amount. Making it yourself saves 89%!
What do you do about stained clothes? Do you have a special method to treat stains?