Remove tough stains with this easy homemade stain remover using just 3 ingredients from your cabinets. Costs 89% LESS than store-bought stain remover and it works great! Also, try my eco-friendly homemade laundry detergent to save even more money!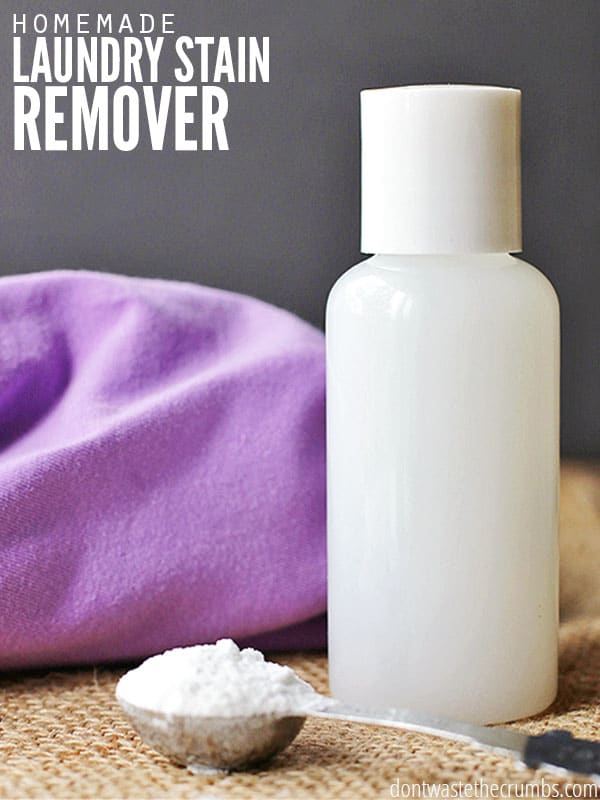 Stains are a fact of life. My clothes, the kids clothes, hubby's clothes. Mystery stains frequently show up on anything and everything.
I've slowly changed my laundry room supplies to natural products like laundry salts, homemade bleach alternative, and Thieves laundry soap. But one of the first DIY recipes I ever tried was homemade stain remover.
This stain remover works on practically every stain imaginable (even tough ones) like grass, grease stains, food, even blood stains! Plus, it contains only 3 ingredients that I keep on hand.
I am ALL ABOUT some cheap easy cleaning.
My "Old" Laundry Routine (That Didn't Work)
I don't know about you guys, but catching a stain BEFORE the clothes are washed is practically unheard of. It's not until they've been washed, dried, and hung up on a hanger that I see the ugly stain. Gah!
Throwing the dirty shirt back into the hamper doesn't work either. I inevitably forget and bury the clothes. Which means the same clothes will get washed repeatedly before the stain is ever dealt with.
Seeing as this "system" is a bust, I came up with a new one.
My "New" Laundry Routine (That Works Every Time)
Separate stained clothes

. When I notice a stain, I still hang up the clothes. But instead of putting them away in my closet, I hang them on my bedroom door. Then, when it's time to wash a load of laundry, I take the stained clothes with me too.

Treat the stains

. While a regular load is washing, I go to work on removing the stains. I apply the stain remover and let it rest until it's time to switch loads and start another. It's just enough "sitting" time for the stain remover to do its job.

Wash the treated clothes in hot water. I used to use homemade laundry detergent, but I switched to Thieves Laundry Soap by Young Living. You can read why I made the switch here!
Dry

. Depending on the clothing, I either line dry or dry them in my dryer. I'm a huge advocate for line drying, though, because of its many health benefits (

read more here

)! It is gentler on your clothes and saves on electricity. Win-win!
Note: I'm known to forget about treated clothes and let them sit overnight. I haven't had any problems with it or cause any issues to leave for over an hour.
Why Use DIY Stain Remover
Shortly after I started my real food journey, I started paying attention to the products I use in my home. MANY of the typical household cleaning and beauty products we used were full of chemicals I couldn't pronounce. How was I to know which were the worst?
The more I researched, the more I wanted to toss everything at once and start over. But the frugal side of me knew that wasn't a possibility. So I started with the most chemical filled products.
Using the Think Dirty App, I found which products in my home were the worst offenders. Laundry products often rate really bad! For example, Shout stain remover rates at an 8! (Ten being the worst for toxins.)
Bottle by bottle, I switched over my products to natural options. I love using DIY recipes because:
It's usually quite a bit cheaper

I can buy my ingredients from trusted sources

The ingredients can be mixed and matched to make multiple recipes (like these six ingredients to make TEN beauty products!)

I can customize to make it fit my needs
If you're overwhelmed by cleaning up your household products, use this FREE 5 Days to DIY Natural Living Challenge. It gives you practical, easy to complete baby steps towards a cleaner home!
DIY Homemade Stain Remover
You only need three simple ingredients to make DIY Stain Remover.
Baking Soda.

Baking soda can be found cheap at any grocery store. Or you can

buy it in bulk on Amazon

.

Thieves Dish Soap. I buy my dish soap from Young Living. There are a lot of essential oil companies out there, but after testing several brands, I committed to Young Living oils and their natural products. You can read more about their oils and my decision HERE.

If you don't have Thieves Dish Soap, use the Think Dirty App to see how your soap ranks. You want to aim for a 3 or better! (Tip: Dawn dish soap is NOT your best option!)

Hydrogen Peroxide.

This ingredient can also be found cheap at a grocery store or Walmart. This is

what I buy from Amazon

.
Once you have all your ingredients, simply combine all ingredients in a small jar and stir gently to combine well.
Your mixture should be thick, which is why I recommend a glass jar and not a spray bottle. If you prefer a smaller container, one with a flip-top and a spout would be best!
Store in a dark container or place. Peroxide can lose its effectiveness when stored in the light. Using a dark container or storing in a dark cabinet will prevent the peroxide to go bad.
How to Use Homemade Stain Remover
Apply a small amount directly to the stain.

Rub gently with your finger, a piece of fabric or an old toothbrush.

Allow the stain remover to sit for at least 15 minutes, or up to an hour. Wash normally.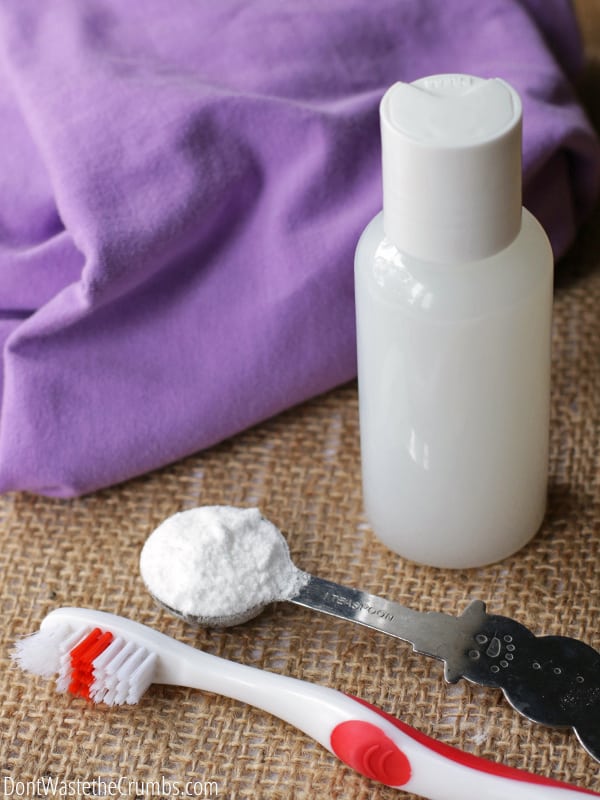 Tips for Using Homemade Stain Remover
Do not shake the stain remover. Some readers have experienced "explosions" when shaking this stain remover. This has not happened to me, but I assume it is because of hydrogen peroxide bubbling up. I suggest stirring and swirling gently to mix.
Alternatively, don't pre-mix the stain remover. One reader suggests putting the baking soda on the stain directly

then adding the soap/peroxide mixture on top. Let it foam, then rub with a toothbrush.

Use caution on dark colored clothing. Baking soda and hydrogen peroxide are natural whitening agents. If you're using on dark clothing, you might want to test a small area first.
Double the recipe for larger families.

This recipe is easy to double up if you get a lot of stains. I have a neighbor with five boys and I'm SURE they need a double batch!

Use with white vinegar on armpit stains. The build up from your deodorant can easily make a shirt look stained. Using white vinegar will help loosen up the build-up and freshen your underarms. (Or you can switch to a natural deodorant like this one OR detox your armpits to avoid the need for deodorant!)
Use with homemade bleach alternative. If you have some extra stubborn stains, try using this recipe and also wash with homemade bleach alternative.
Cost Breakdown
baking soda – $.01

dish soap – $0.11

hydrogen peroxide – $.05
The total cost of homemade laundry stain remover is 17¢. Compare to the cost of Shout at $1.55 for the same amount. Making it yourself saves 89%!
Are You Looking For A Cleaner Laundry Soap?
Making your own laundry detergent is a great option for non-toxic laundry. But I get that DIY isn't everyone's cup of tea.
There are a few brands of laundry detergent out there that have non-toxic ingredients. One that I like is Truly Free. They have a variety of household cleaners, laundry soap, kitchen cleansers, and related products. All are made in America, free from toxins, and sold in reusable packaging!
You can use the coupon code CRUMBS30 to get 30% off anything in their shop. This is a HUGE discount! No subscription is required. Simply order through this link.
More Homemade Cleaning Supplies
There are even more ways to save by making your own supplies. Here are a few other DIY laundry supplies you can make, as well as tutorials for great smelling laundry!
Real Food Reboot
Sign up to join the 30-day
Real Food Reboot Challenge
! It will help you and your family eat healthier food for the long-haul. In less than 15 minutes a day, you can change habits, feel better, AND bring your family along too!
DIY Homemade Stain Remover
Remove tough stains with this easy homemade stain remover using just 3 ingredients from your pantry. Costs 89% LESS than store-bought stain remover and it works great!
Author: Tiffany
Prep Time:

5 mins

Cook Time:

0 mins

Total Time:

5 minutes

Category:

DIY Household

Method:

Mix

Cuisine:

American
Keywords: Homemade Stain Remover