Anytime I talk about making baby steps towards natural living – like making homemade toothpaste or your own foaming hand soap or your own furniture polish – people give me funny looks.
They think that because it's homemade, it can't possibly work as well as store-bought items… that couldn't be furthest from the truth!
Take this DIY Epsom salt laundry booster. One scoop in the wash and my clothes come out softer than any fabric softener could ever make them!
I should back track for a moment though and explain WHY we should consider making our own cleaning items in the first place:
Odds are your cleaning items aren't really that clean.
As I teach in my challenge 5 Days to DIY Natural Living (which is free and open to join at anytime right here!), we can use certain tools to see how healthy or natural our store-bought cleaning items really are.
The Think Dirty app is one of my favorite tools because it ranks name brand cleaners on a scale of 1 to 10, with 1 being the best and 10 being the worst. Cleaning items are ranked based on publicly available data released by non-profit and government agencies in North America and are shared in three categories:
Carcinogenicity (likelihood an ingredient will cause cancer, based on documented evidence).
Developmental & Reproductive Toxicity (likelihood an ingredient will cause brain and/or body and/or reproductive harm, based on documented evidence).
Allergenicity & Immunotoxicity (likelihood an ingredient will cause allergies and/or trigger allergens and/or cause harm to the immune system, based on documented evidence).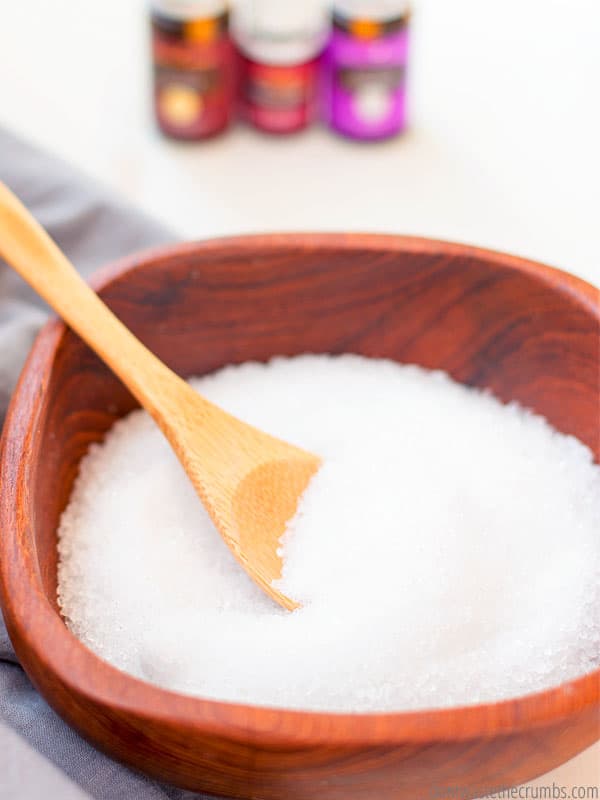 How Toxic is Your Laundry Detergent
When you're taking baby steps to clean up your cleaning routine, the Think Dirty app is SUPER helpful because you can quickly see at a glance how harmful your products are. Then instead of throwing everything away and starting from scratch (which will cost a lot of money), you can focus on the worst ones and take small steps to replace those first.
As we've been actively swapping out toxic cleaning supplies for non-toxic and essential oil-based products these past few years, I've found that the laundry room is one of the worst offending rooms in the entire house!
One of the most popular and mainstream red bottle laundry detergents ranks a 9, and even their "free and gentle" version ranks a 5.
(I don't want to name names here, but think "ocean wave" and you'll be on the right track ::wink wink::).
Even worse than laundry detergents though, are fabric softeners.
By far, the majority of both liquid fabric softeners and dryer sheets rank an 8 or lower, with even "natural" brands listed among the worst offenders! (As a side note: an easy way to get dryer sheets off the list is to install a DIY Indoor Clothesline and skip the dryer altogether).
(Don't believe me? Download the Think Dirty app and go scan your laundry detergent or fabric softener. Then think of a popular "M" brand and see what it says!)
Considering that fabric softeners are OPTIONAL in our laundry routine, this is scary news. We are unnecessarily adding chemicals to our clothes every single day…
chemicals that touch our skin all day long…
that off-gas in our closets while we're sleeping a few feet away…
that off-gas as we snuggle our noses right up into our blankets and pillows for 8 hours every night…
And these chemicals can cause serious damage to our bodies. For example, here are the toxic chemicals listed for one of the most popular blue bottle fabric softeners:
Fragrance: possible allergic reactions; possible carcinogen (the company is not required by law to disclose the exact ingredients in 'fragrance,' but most formulations include chemicals that are known endocrine disruptors, meaning they negatively affect your hormones and the role they play in your body)
Methylisothiazolinone: frequent sensitizer linked to eczema, contact allergy and dermatitis; respiratory and skin irritation.
Methylchloroisothiazolinone: allergy; may trigger eczema; sensitizing effect; respiratory and skin irritation
This should raise some questions… do you have any skin irritations? Possible itchiness or sensitive spots? Any unexplained allergies beyond the typical changing of the season?
It could be from your laundry detergent or fabric softener!
Remember, the true "job" of a fabric softener is to make our clothes soft. But the reason why our clothes are hard isn't because they're getting washed. It's because of the water.
So if we address the issue of hard water and try to soften it a little bit naturally, the end result is softer clothes without the need for toxic chemicals!
Enter Epsom salt.
What Does Epsom Salt Do For Laundry?
My father-in-law used to own his own water conditioning company when my husband was a kid. He taught my husband how to install them and in our first house in Texas, my husband installed a whole-house water conditioner with one key ingredients: salt.
He told me the purpose of a water conditioning system was to help remove impurities from the water (i.e. fluoride and chlorine) and soften the water so that our plumbing pipes, sinks and toilets wouldn't be damaged by the metals in our city water.
As a nice side effect, we would get more bubbles from soap and shampoo and our clothes would come out of the dryer softer too.
Installing a whole house water conditioning system isn't exactly a baby step, so we're going to pull a hack to achieve the same results. We're going to soften our laundry with Epsom salt, one load at a time.
DIY Epsom Salt Laundry Booster
DIY Epsom Salt Laundry Booster: Supplies
1 cup Epsom salt
¼ cup baking soda (optional)
10-15 drops essential oil (optional, for scent)**
DIY Epsom Salt Laundry Booster: Method
Combine the Epsom salt and essential oils, if using for scent, in a glass jar and shake well. That's it! This is safe for both regular washing machines and HE machines.
(Note: Baking soda is a member of the salt family, and some people find that adding some to their Epsom salt helps with softening their laundry even more. It's optional in this recipe, but you can experiment with adding it to your Epsom salt.)
** Truly clean clothes don't have a scent, but I've found that sometimes stinky sweaty gym clothes or kitchen towels can benefit from a little bit of a scent boost. For these loads, I add Purification Essential Oil to my Epsom salts. Other essential oils I've used in my laundry are Thieves (for a cinnamon scent), Stress Away (for a sandy beach scent) and Peace & Calming (for an earthy floral scent).
Purification
is a blend made by Young Living, which I get for
24% off as a wholesale member
. It's by far THE BEST way to afford high quality essential oils. You can learn more about how we afford essential oils
HERE
, and how to join my essential oil community
HERE
.
If joining Young Living isn't for you, I've heard great things about Plant Therapy on Amazon. They have similar blends
that you can find here
.
How to Use Epsom Salt in Laundry

To use Epsom salt in laundry, simply add 1-2 Tablespoons to each load along with your choice of laundry detergent.
For top-loaders, you can add the Epsom salt at the very beginning of the cycle, before you put the clothes in.
For front-loaders, you can add the Epsom salt to the detergent dispenser.
I keep my jar of Epsom salt laundry booster on a shelf in my laundry room and I shake out about 2 Tablespoons for each load after I add my laundry detergent. You could keep a measuring spoon in your jar though, if that's easier!
What baby steps have you taken to "clean up" your cleaning routine? Have you ever tried using Epsom salt in your laundry? Leave your ideas, comments and experiences in the comments section below!