These 17 tips help us afford to buy essential oils, and we're not buying the cheap kind from Walmart or Amazon either (because those aren't pure). The best essential oils can't be found in a local store! Get wholesale pricing online and be able to afford essential oils on a budget!
There's something I need to get off my chest. It's a confession of sorts, so bear with me as I do my best to explain it. It's kind of long, so you might want to get that second cup of coffee first.
I first joined Young Living several years ago because of the essential oil craze. Everyone and their mother were selling oils and I thought I needed to as well.
So I signed up. I started to share a few DIY's (like fabric freshener and cinnamon toothpaste) and I got push back.
A LOT of push back.
My inbox was flooded with emails. People criticized me, saying things like "We can't afford food – how do you expect us to afford essential oils?" and "You're just another blogger trying to push that MLM crap on us. I thought you were different."
Those emails hurt. Words still sting, even if they're read by the eyes and not heard by the ears.
I didn't want to get those types of emails, so I stopped talking about essential oils. I put my kit in a closet and ignored it.
When it came time to move across the country, I almost gave my starter kit to a friend. I figured if you guys didn't want me to talk about them, then what was the point of keeping them?
But something inside me told me to keep them anyway, so I did. I packed that box, in another box, and shipped it 2500 miles. When we unpacked here in Georgia, I unpacked the box of oils and put them back into another cabinet where they continued to sit.
A few months later, we bought a house and moved again. This time though, I didn't put the essential oils behind closed doors.
I put all my oils (still the original 11 from my starter kit) on my counter where I could see them every day. I figured that even if some people didn't want to hear about them, I still spent my money on them and I wanted to use them.
When people ask me what I do, I tell them I teach families how to eat healthy food on a budget. When they probe for more, I give them the 10,000 foot overview… I teach meal planning, shopping strategies and how to read food labels…
Speaking of labels. Have you ever stood in the shower and read the label of your shampoo bottle?
I don't mean "read" as in you quickly glanced over while your conditioner sat for 2 minutes. I mean really truly READ, as in, you went through the entire list of ingredients one item at a time.
Have you ever tried to pronounce those ingredients?
After being on this journey for several years now, here's what I've learned: You can't be concerned about your health and focus only on food.
You cannot say you're interested in healthy living and ignore the stuff you put on your skin, the pills you take and the things you use to clean your house with.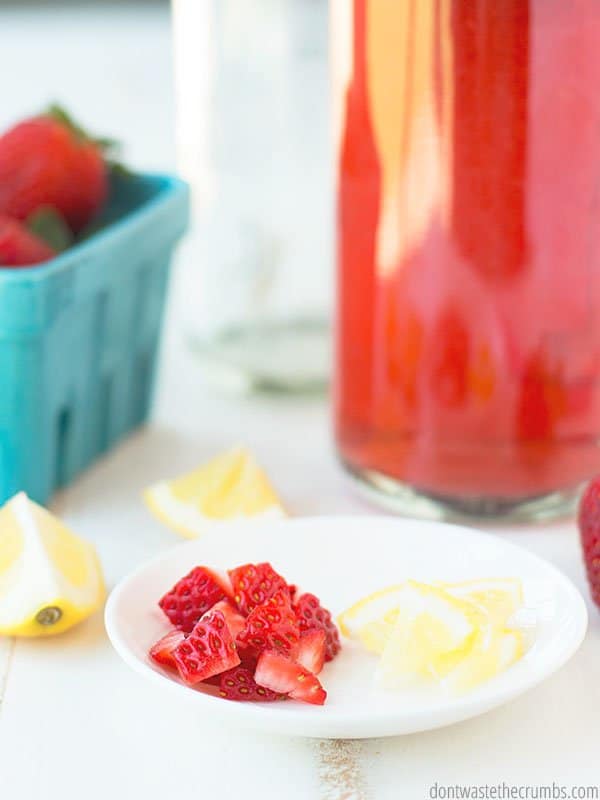 We cut strawberries on a cutting board that was cleaned with chemicals that you would never dare put in your mouth.
Doesn't that strike you as odd? Or worry you even in the slightest?
We wash the bathtub with chemicals known to be toxic to our organs and then we bathe our babies in that tub.
Our children break out in itchy red bumps and we immediately think its gluten. Why are we not looking at the products we use to clean the tubs, scrub the toilets, and wash the clothes?
We use harsh chemicals so we don't have to scrub the shower tiles so hard, and we think we're protecting our family if we keep the cleaning bottle out of their hands. Do you know what my daughter said to me a couple weeks ago as I was cleaning the shower, "Mom! I can smell the lemon all the way down the hall!"
The products I use don't just affect me. My daughter was 2 rooms and 20+ feet away when she made that comment!
Furthermore, why are we blindly trusting "healthy" cleaning products and assuming they're safe?
The "natural daily shower cleaner" I had in my bathroom is made by a well-known and highly reputable "healthy" cleaning company, yet it ranks 9 on the Think Dirty app because it contains hormone disrupters. That's worse than the mainstream "scrub" I was using before!
Are you ready to detox your home?
Join the 5 Days to DIY Natural Living Challenge! In only 15 minutes a day you can take the next steps to a cleaner, healthier home. Whether you've been on a natural living journey for 2 years or 2 days, you will benefit from the practical steps to detox your home. The best part? It's completely FREE!
Sign up HERE to join the 5 Days to DIY Natural Living Challenge!
These are the things that consume me when I'm not working on recipes or teaching Grocery Budget Bootcamp.
What if I wasn't using essential oils to clean my bathroom? She'd be able to smell whatever harsh chemical I used from her bedroom and she wouldn't have a choice in the matter.
What if my hormones aren't wacky because I'm getting older… what if they're wacky because the "healthy" cleaners I've been using are disrupting them?
The products I use affect my entire family, whether I'm conscious of it or not. Whether I choose to turn a blind eye to it, or not.
This blog is an extension of my real life. A reader once wrote to me, "Tiffany – thanks so much for being real. You don't judge and make us feel bad if we can't afford organic or don't make everything from scratch. You're a real person, struggling with the same things we are. I appreciate your honesty – it's a breath of fresh air."
THAT is why I write. THAT is why I teach.
I teach families how to eat healthy food on a budget, and I also teach families how to live a chemical-free life on a budget.
I'm no longer afraid to say this out loud because it's what I'm going through. I've seen for myself how essential oils can drastically change lives.
My kids are testimonies to the power of a supported immune system.
I've seen laundry stains – set in for 5+ years – disappear in a single wash using plant-based laundry soap.
I've replaced EVERY cleaner in my house with one single highly concentrated plant-based formula that works AND I'm not afraid to let my kids use it!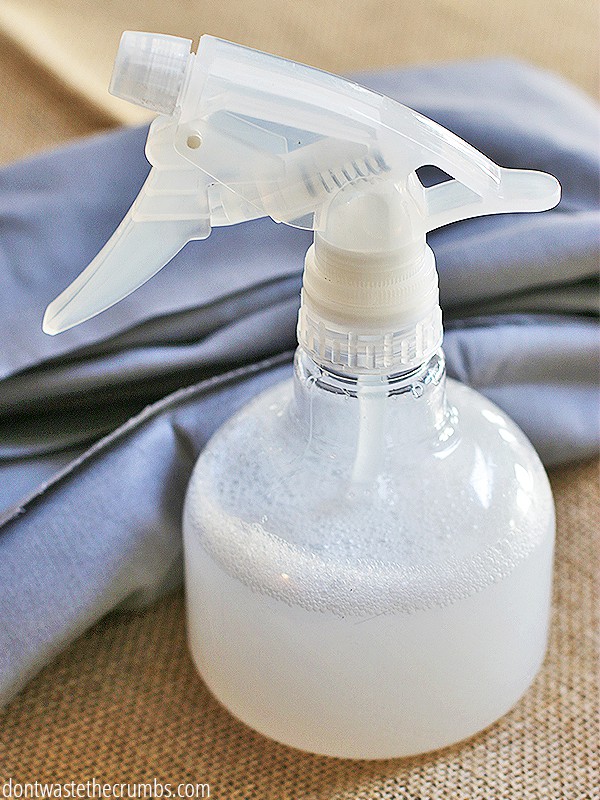 You don't have to agree with me. We are all in different places in our lives and perhaps chemical-free living isn't a priority for you right now. I get it. I was in those shoes several years ago and it's okay. Maybe you're ready to take some small steps towards cleaner living. Maybe you're ready for more.
This blog – and in turn me – will be here when you're ready to venture down that path.
For now though, and with all this said, I want to talk about the number one excuse why people don't invest in quality essential oils – the cost.
I heard people say, ALL THE TIME, "I can't afford essential oils – they're too expensive."But here's the thing. If something is important enough, you will find a way to make it happen.
I don't know where you're spending your money… maybe you like new shoes, or fancy coffee or getting your nails done. There's nothing wrong with any of these things, but if you say living chemical-free on a budget is a priority and you're not willing to invest your time and money into it, then perhaps it's really not a priority after all.
And while I can't evaluate your budget for you, or even tell you what your priorities should be, I can tell you what I have done to afford essential oils and practical ways you can do the same.
How We Afford to Buy Essential Oils
I changed my mind set.
If you think you can't afford to buy essential oils, or that they don't belong in a frugal household, I can relate. I used to think that too.
But when I realized how important they were to me and the health of my family, I found ways to make it work.
I cancelled a VIP subscription to an online company that offers cleaning and personal care products and instead used oils to make my own.
I stopped buying new clothes and used Christmas money to pick up a few "new to me" items at a local second hand clothing store.
I delayed grocery shopping by a day or two each week so we were forced to eat the food we already had.
We stopped going out to eat. Completely.
I've been saving all of my Swagbucks and trading them in for Amazon gift cards so we don't have to buy school supplies or new shoes for the kids out of pocket.
It's just like when we were saving up to buy a house. We cancelled cable, sold things we no longer needed, turned down dinner with friends and worked the coupon circuit like it was my JOB so we could pay our bills AND put money in the savings account. My husband and I said no to thousands of little things so we could one day buy a house in cash.
It wasn't easy, but that goal was important and we made it a priority. We were willing to do whatever it took to meet that goal.
I feel the same way about the health of my family. Nothing will stand in my way. I will find a way to make it happen.
I researched the quality of essential oils.
When I first joined Young Living, it was because my sister-in-law was a member. I hadn't heard anything bad about Young Living, but I figured that if I was serious about oils, I needed to make sure I was using the best my money could afford.
I chose to buy an eBook bundle, partly because I wanted to learn more about essential oils, but also because one brand was a "bonus" when you bought the bundle. I tried other brands too, and made sure to use them whenever I thought the situation warranted it. Some worked okay, and some didn't work at all.
I started digging and found that some companies manipulate oils in order to create a more desired scent. For example, Dr. Cole Woolley (an analytical chemist with expertise in essential oils) evaluated a "pure lavender" essential oil using gas chromatography mass spectrometry (GCMS). He found small percentages of Roman chamomile and geranium essential oils. These oils have a greater floral aroma than lavender, but neither of which should be present in pure lavender essential oil!
This same chemist also found bottles of "pure peppermint" oil to contain 1% ethyl vanillin (it enhances the "candy cane" aroma), bottles of "pure lavender" with 5% linalyl acetate (added for a more floral aroma) and bottles of "natural wintergreen" to actually be 100% synthetic.
For me, it boiled down to this: I don't want to waste my money on oils that could be watered down, pumped with pesticides or have chemicals added just to make it smell better.
If I'm taking the health of my family seriously – and truly trying to steward my money wisely – then it meant avoiding cheaper oils with potentially unknown additives and choosing a brand that doesn't produce anything less than 100% pure oils.
I started with a kit, and still buy kits whenever possible.
Have you ever seen those gift sets at Christmas? Maybe it's a parfum, an eau de toilette and lotion boxed together. Or maybe it's deodorant, body wash, a razor and shaving cream, all in your husband's favorite scent. I know they're all over the local drug stores when the holiday season comes around!
Whether you actually buy them or not, you and I know that these gift sets are more cost effective than buying everything separately. The same concept goes for essential oils too.
Young Living offers FIVE different starter kits to choose from when you first join, plus another THREE kits are available to existing members.
These kits let you save anywhere from $50 to $120 over buying each item individually. I took advantage of that savings when I first joined, and I still buy the kits when it works in my favor. Doing this makes it easier to afford essential oils as a whole.
I didn't replace everything at once.
Common sense says that if you throw away everything in your pantry and re-buy it all again, you're going to be spending a lot of money. Again, the same idea applies for essential oils.
When we started to make the switch to chemical-free living and was looking to replace our commercial cleaners with essential oil based cleaners, we worked through one room at a time using something called transfer buying.
Transfer buying is the idea of reviewing what you're already buying and where you're buying it from.
For example, maybe you buy all-purpose kitchen cleaner and laundry detergent from Target. The next time you run low, instead of buying those same items at Target, you transfer your purchase to Young Living.
You're not necessarily spending MORE money, rather you're changing WHERE you spend it.
Using this method allowed me to use up what I already bought and paid for first, so I'm not wasting anything from the budget. By working through one room at a time (I found going through one room each month to be a good pace) I was able to spread out the purchases even more.
I buy in bulk whenever possible.
Young Living offers essential oils in two main sizes, 5ml and 15ml. In every instance I could find, the 15ml bottle was the better deal. For example, here are a few instances of how much you can save just by buying the larger bottle:
$38 on Sacred Frankincense
$15.75 on Balsam Fir (Idaho)
$26 on Northern Lights Black Spruce
$27 on PanAway
$9 on Christmas Spirit
It's no different than buying food in bulk. If it's cheaper per ounce (or per pound or per milliliter) to buy the larger size, then why wouldn't we?
I buy "refills" whenever possible.
Buying refills of your favorite item is a great way to save money in general, and Young Living makes it possible with a few items that they specifically offer refills for.
For example, you can save $39 if you purchase the V-6 Vegetable Oil Complex refill instead of the 8 oz bottles.
You can also save $13.50 on the Thieves Foaming Hand Soap refill instead of buying the 8 oz dispensers. (Yes, I know you can make your own foaming hand soap using aloe, water, castille soap and essential oils, but not everyone is gifted in the DIY department.)
Even if an item doesn't have a designated "refill," you still might be able to make it work if you look at it from a different angle. The Thieves Waterless Hand Purifier doesn't have an official refill, but if you start off with the small 1 oz bottles and then buy the large 7.6 oz container to refill the smaller bottles when you run out, you'll save $10.75!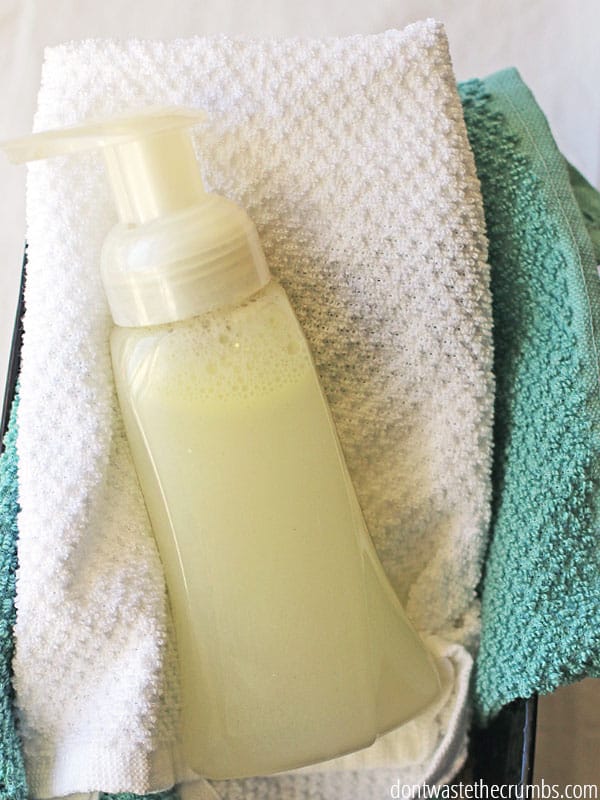 I DIY my own refills, when it makes sense.
I alluded to this one already, but if it makes sense (time-wise and money-wise) to make my own refill, then I'll do that instead of buying the refill itself.
A perfect example is the Thieves Foaming Hand Soap. I bought the 8 oz so I had the containers, but I plan to make my own foaming hand soap when I run out.
The plus side though, of having the Young Living branded soap containers, is that it opens the door for people to ask me about essential oils! Sharing oils with other people brings me SUCH joy, that it was worth the few dollars to invest in the containers.
And re-using these containers means not paying out of pocket for specific foaming hand soap bottles!
I break it down to the price per drop.
One concept that I've shared is the idea of price per serving. If you're not sure if your meals are frugal, break them down into the price per serving and see if it lines up with where your budget should be.
I apply this same concept to essential oils too. Because Young Living only produces 100% pure therapeutic grade essential oils (with ZERO fillers or synthetics or chemicals), they are highly concentrated. You often only need 1-2 drops in order to get the benefits.
Since I started with the Premium Starter Kit (and recommend that to most people interested in getting started because it's the ONLY thing Young Living sells that's 50% off), let's breakdown the price of each oil, per drop:
Frankincense: 28¢
Joy: 15¢
Lavender: 9¢
Lemon: 4¢
PanAway: 40¢
Peppermint: 8¢
Purification: 7¢
StressAway: 11¢
Tea Tree: 10¢
Thieves: 13¢
The most complicated DIY face serum made with essential oils costs $5.25 to make and it will last at least FOUR months (that's just $1.31/month for all natural face serum that actually works.)
The typical mainstream face serum lasts about 2 months, and costs around $20, if not more!
When you look at how little oil you need to make a recipe, and compare that to what you'd normally pay for a similar product at the store, you can see that using essential oils is significantly cheaper!
I make sure to use the right amount.
I'm sure you've seen concentrated laundry detergent before, right? And how you're only supposed to fill to the "1" line or the "2" line?
Well, Young Living has Thieves Laundry Soap and it's 6x concentrated. One 32 oz bottle costs $29.50 as a wholesale member.
The bottle itself says to use ½ capful for a conventional washer and ¼ capful for high-efficiency (HE) washers. Young Living says you can get 64 loads out of the 32 oz bottle, but I think they're being modest and here's why – I measured it myself.
I took off the cap of my own Thieves Laundry Soap, filled it to the line with water and then poured that water into measuring spoons. I found that each capful is 1 ½ Tbsp. There are 2 Tbsp in one ounce, so there are 64 Tbsp in the 32 oz bottle and just over 42 capfuls.
But remember we only need ½ capful per load – that means we can get 85 loads in one bottle if we're using a conventional washer. If you have a high-efficiency washer though (like I do), you can get twice that amount – 170 loads per bottle!!
This works out to just 35¢ per load for conventional washers, and 17¢ for HE washers.
And at the rate we wash (about 5 loads/week), I only have to buy two bottles of detergent every year!
Compare this to "natural" laundry detergents – they cost anywhere from 13¢ to 30¢ per load. The scary part though, is where they rank on the Think Dirty app.
I looked up a detergent that's specifically designed for newborn clothes and it ranked 9 out of 10 because of ingredients linked to carcinogenicity and developmental & reproductive toxicity.
NINE.
OUT OF TEN.
And this stuff is supposedly safe ON OUR BABIES!
Psst! Some members dilute the Thieves Laundry Soap 50/50 with water and are STILL getting clothes that are just as clean. If you join my Young Living team this month (March 2018), I'm sending you a pump bottle in your welcome kit (among other goodies – see the bottom of this post for details). Fill that up halfway with laundry soap, top it off with water and you'll be savings TONS of money on laundry!
I calculate the actual usage price.
Just like the laundry soap, I calculate exactly how much it costs me to take a concentrate and turn it into a full-size bottle of multi-use cleaner.
The Thieves Household Cleaner is 14.4 oz, costs $22.50 as a wholesale member and like the laundry soap, is also very concentrated. You only need one capful to make a 16oz bottle of cleaner and there about 60-65 capfuls per bottle. For the sake of numbers, let's be conservative and say there's an even 60.
I can see the sticker shock of paying $22 for a bottle of cleaner. But when you consider that this single bottle will make over SIXTY full-size bottles of cleaner, the shock wears off. Do the math and you see that it only costs 37¢ to make one 16 oz bottle of cleaner!  (And at the rate we use it, I only have to buy one bottle every EIGHT months!)
Those who doubt will point out that most mainstream cleaners don't come in "small," 16 oz bottles.
Okay then, let's go ahead and double this just to cover the bases: one 32 oz bottle comes out to just 72¢!!
Compare this to the "healthy" brand cleaners in stores. Have you EVER seen a plant-based cleaner rated 0 on the Think Dirty app that cost less than a $1 per bottle?
I know I haven't.
In fact, the "natural, all purpose surface cleaner" that we had been using (that ranks a 7 out of 10, by the way) costs $2.99 for 28 oz on Amazon. That same amount will make OVER FOUR bottles of Thieves Household Cleaner!
By the way, if you think using vinegar or hydrogen peroxide will work to clean your kitchen counters, you're wrong. I did a test and both of these FAILED. Watch it live HERE, and see what cleaners actually did work!
Psst! Young Living also offers the Thieves Household Cleaner in a 64 oz bottle too. If you If you take my previous tip of buying in bulk, it reduces your cost per 32oz bottle to just 66¢!
I signed up for the loyalty program.
I have a Kroger card and every Friday they have a free item coupon.
I have an ULTA card (that's where I get my haircut) and I use my points on brushes and combs.
When I played the drugstore game and was clipping coupons, I had a CVS card – that's how we got our diapers for free!
Why would I sign up for these loyalty programs? Because they save me money.
Young Living has a loyalty program called Essential Rewards (ER) and it comes with a lot of really great perks:
Up to 25% of your purchase back in points that spend like cash
Reduced rate shipping
Free "thank you" oils at months 3, 6, 9 and 12 (typically worth over $10 each)
Exclusive kits that aren't in the regular catalog (and remember that kits are the best way to save!)
Free oils and products at different spending levels
It's because of the ER program that I've been able to try a lot of different oils and products FOR FREE. In fact, in just five months Young Living sent me over $1100 worth of product FOR FREE… AND I've earned over $500 worth of MORE free products.
If you had a store loyalty card that you knew would save you money, would you ever NOT give it to the cashier? Heck no! That's why all of my purchases are done on ER!!
I give oils as gifts. 
I mentioned that on ER (Young Living's loyalty program) you earn free oils and products at different spending levels. One way I reach those spending levels is by giving oils and oily products as gifts.
For example, I like to give my kids' teachers gifts at Christmas, on their birthdays and during Teacher Appreciation Week.
Our budget for these gifts isn't very big – maybe $5-10 per teacher. Instead of spending that money on unhealthy treats or on things she'll never use, I give them 1 oz bottles of Thieves and a sample of StressAway. These purchases help me reach the threshold on ER to earn me free oils and products (PLUS I get up to 25% back on those purchases!) and I know the teachers would appreciate these gifts far more than junk food – I know I would!
Another idea would be to use your oils to make lip balm, homemade lotion or foot soaks!
I buy products that have multiple uses.
I've mentioned previously that I like using coconut oil in my beauty routine because it serves as both my face moisturizer AND my make-up remover. I also use goat milk soap as my face wash, body wash AND to wash my hair.
Choosing items that can serve more than one purpose means saving money in the long run, and the same goes for oils and oily products.
My Young Living team is constantly sharing ways they afford essential oils, and they've shared awesome and creative ways to use their products in more than one way! Here are just a few:
Thieves Dentarome Toothpaste can double as a zit-buster & armpit de-stinker
Mirah Shave oil can double as hair smoothing serum
Seedlings Baby Wipes can double as a fabric softener (some even cut the wipes in half to get twice as many, and then use each sheet multiple times!)
Lavaderm Cooling Mist can double to detangle your hair & also help set your mineral make-up
Thieves Dishwasher Powder can double as a cleaning scrub when you add water to make a paste
Cool Azul Sports Gel can double as hair gel
Thieves Laundry Soap can double to treat stains
Thieves Hand Purifier can double to get permanent marker off surfaces
I usually avoid the expensive oils.
There are some oils that are naturally more expensive than others. Take Melissa for instance.
Melissa plants are grown in France and harvested in early summer, before the plant is in full bloom. It takes 7 tons of Melissa leaves and tops to make 2 ¼ pounds of oil.
Rose oil is another example. It takes 22 pounds of rose petals to make one 5 ml bottle!
While these oils both offer amazing benefits, they're not high on my wish list at the moment. You can usually find ways to make recipes and DIY's using the oils you have.
However, when Rose or Melissa or any other expensive oil does make its way to the top of my wish list, you can bet I'll use my ER points to pay for it so my out of pocket cost is nothing!
I almost always buy carrier oils elsewhere.
Unless Young Living is having an ER promotion where you can get carrier oil for free, I always buy my carrier oils elsewhere. My budget is only so big and my priority is on high quality essential oils, not carrier oils.
I get olive oil from Costco or Walmart – it's the same oil I use for cooking!
I still have jojoba, sweet almond oil and vitamin E oil from beauty DIY's I've made in the past. When I run out, I probably won't replace them UNLESS I need them for a DIY as well.
Frankincense is part of my morning skincare routine, and I use the same exact organic virgin coconut oil that I use to moisturize my face, take off my make-up AND make black bean brownies with!
It's not that I don't love Young Living's carrier oils – I most certainly do! But to keep my costs down and to make essential oils affordable, I buy my carrier oils elsewhere.
I also limit my carrier oils to those that I already use in the house for other things – namely, the olive oil, fractionated coconut oil and organic virgin coconut oil. Again, it's back to the one item for multiple purpose mentality.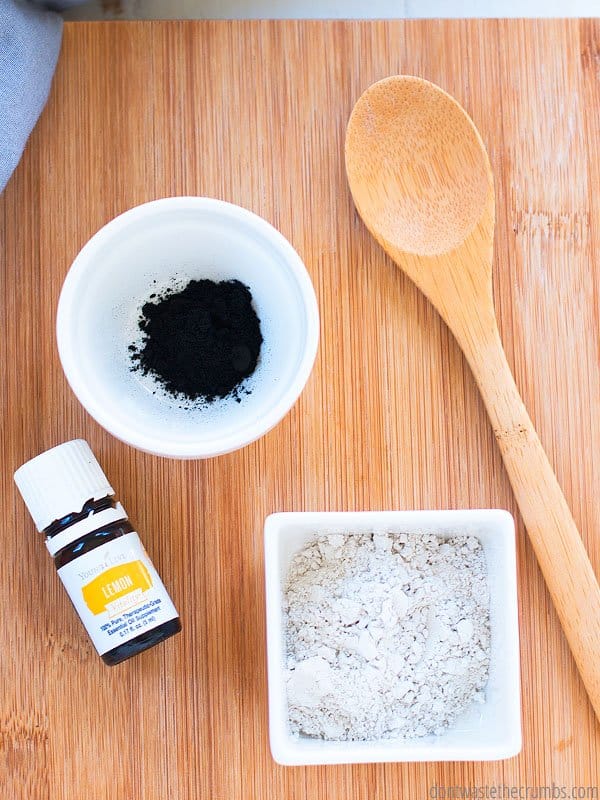 I don't buy EVERYTHING from the catalog.
It's true – Young Living has a VERY extensive line of products that goes beyond essential oils… there's baby care, make-up, supplements, oral care, cleaning and everything else in-between.
But I know where to invest my money, and where to skip.
For example, I really like my goat milk soap and it's half the price of some of Young Living's soaps. I won't turn away free soap because of my ER order, but I'll likely continue using goat milk soap as my face soap, body wash and to wash our hair. I'll continue to DIY other things too, like tooth-powder, body butter and bath bombs.
It's important to me that our supplements and essential oils are high-quality and therapeutic-grade, but the other things that don't rank quite as high don't necessarily have to be. I can still live chemical-free without buying every single thing that they offer – and that's how I save money!
I choose to be proactive with my health to avoid sick days.
My husband gets 10 paid days off each year. Between one week to visit family at Christmas, and another week in the summer to go on a family vacation, he has ZERO sick days left for the year. If he doesn't go to work, he doesn't get paid. It's not ideal, but that's the situation.
The same goes for those of us who don't have traditional jobs too. None of us can really afford to get sick. There are people to take care of, food to cook and places to clean (to prevent the further spreading of germs, if anything).
We all know how important it is to eat healthy and get rest when you're not feeling well, but how many of us have the energy to make homemade chicken noodle soup or have the luxury of napping for several hours when there's other people to take care of?
Odds are we don't, so it takes us longer to get better and we spend money on convenience things to get us through. Don't get me wrong – I know we all do what we have to do sometimes to get through the yuck. But these things cost us money.
Instead of waiting until germs hit our house, I choose to be proactive and use essential oils to stay healthy in the first place.
It's the same reason we eat real food – we want to take care of our bodies. Yes, it means spending a few pennies up front, but it saves us money in the long run.
I just shared with you SEVENTEEN practical tools you and I both can use afford essential oils.
Here's the thing. People tell me ALL THE TIME that healthy food is too expensive. That it's much cheaper to buy boxed food than it is fresh produce and yada yada yada…
Guys. I've been writing this blog for over SIX YEARS teaching those people otherwise.
My family – and the thousands of families who have gone through my course, who read my posts, purchased an eBook or subscribe to my weekly newsletter – PEOPLE LIKE YOU – are living proof that it is not only possible to eat real food on a budget, but that it's sustainable over time.
So when people say to me that essential oils are too expensive or they're not budget-friendly, I know they're misled.
The same principles that I've used to reduce our grocery budget to $330 (and keep it there for 5+ years) are the SAME EXACT principles I teach in my course Grocery Budget Bootcamp, the SAME EXACT principles I write about here on the blog, and the SAME EXACT principles I use to afford essential oils every month:
Establishing priorities
Buying in bulk
Buying refills
Not replacing everything at the same time
Using loyalty programs
Making gifts
Using items for more than one purpose
Avoiding expensive oils
Using items you already have whenever possible
Notice though, that of the 17 ways to save money on essential oils that I just shared with you, I didn't talk about the most obvious one: sharing your oils with other people.
Now, let's get a few of things out of the way.
1. You probably know that Young Living is an MLM company. But do you know why?
According to Essential Sharing:
"Gary Young, the founder of Young Living, said that he selected network marketing for his essential oils for a very specific reason. He was concerned that consumers wouldn't know the difference between his oils and other oils on the store shelves. Why would YL's Lavender be $20 when the bottle beside it was $6? There would be no one there to talk about purity, quality, or why we cared about what molecules are in our oils. He knew that he needed a referral system. Thus, YL became a network marketing company."
2. Working for an MLM company means you are your own boss, you get to work from home, set your own hours, meet and work with some pretty amazing people and you get to blab all you want about products you use and love.
It also has a built-in mentorship program (my team places a HUGE emphasis on education). To quote Dave Ramsey, "… [MLMs] are a legitimate method for some people to make some side money and sometimes to literally build their own business."
I don't know about you, but that doesn't sound like a bad gig, does it? And for those of us who want to stay home to raise our babies AND do whatever we can within our power to raise them in a healthy environment, it's a viable solution.
3. You might be thinking, "But I don't want to sell oils."
Hear me out – if your mom was struggling to stay healthy and it was taking a toll on her quality of life, and you knew how to help her, wouldn't you share with her?
Of course you would! And that's why I teach families how to live chemical-free, and train them how to build a business doing the same.
There are MANY ladies on my Young Living team who simply share their love for oils with those around them and in turn, earn bonuses and commission checks each month that cover the cost of their oils. Essentially, they're getting their oils for free!
(Here's the full compensation plan.)
Join my Young Living Team today!
Click HERE to join my Young Living team! I'm offering $25 in free product credit when you join with the Premium Starter Kit and enroll in Essential Rewards.
And if you're curious about how your can be your own boss, work from home, set your own hours and create your own business using and loving essential oils, I'd love to chat with you! Send me an email tiffany(at)dontwastethecrumbs(dot)com!
Whew – that's a lot of information. And I wouldn't be surprised if you're in information overload.
So let me close with one last thought.
You might be in a financial situation where you can't even pay your mortgage. You're working multiple jobs, not eating out and lucky to have enough gas to get you through the rest of the week.
This article is not directed at you. You keep doing whatever it is you have to do to make ends meet, for as long as it takes.
But for the rest of us, before you say you can't afford something, let's think about where we're already spending our money.
If something is important to you, you'll find a way to make it work. I use these tips because the health of my family – my kids – is incredibly important to me. I want them to live a long, healthy life free of toxins and chemicals and I'm willing to sacrifice in other areas to make it happen.
Do you use essential oils? If so, how do you make it work financially for you and your family? Please share your story in the comments below! ♥