You guys. This soup. Is Amazing.
And it's not because I made it OR because I love soup. Although both are true.
It's because it contains lentils and NO ONE PERSON AT THE TABLE NOTICED!
Even my picked eater had two servings, and that my friends, is practically unheard of. And a miracle.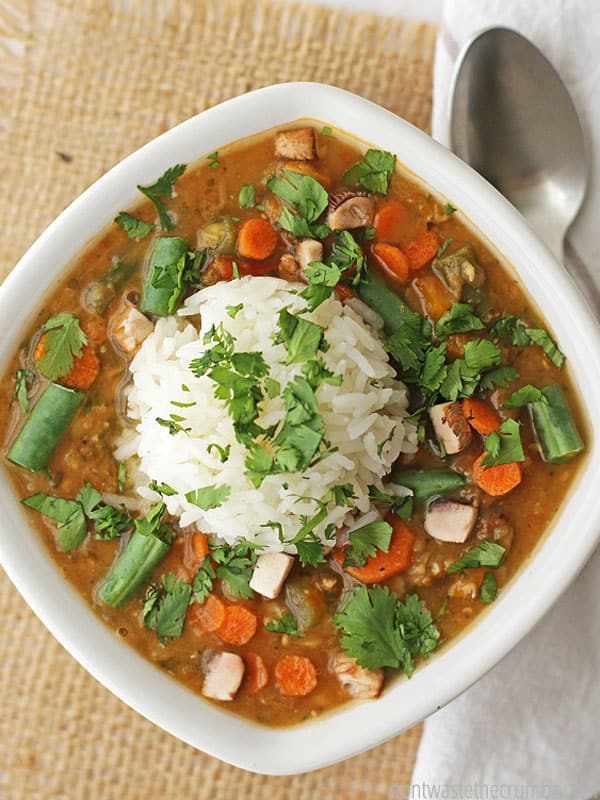 This soup tastes just like the weather outside right now – cool crisp mornings with warm-yet-be-prepared-for-hot afternoons. It's like fall is here, but summer isn't ready to leave yet.
In a bowl.
It's also officially my favorite soup of all time. Partly because it's SO stinkin' good, but also because of the aforementioned lentils.
Feeding my family beans and legumes – without getting complaints in return – is a tall order. But I haven't given up or anything. Cheesey Mexi Lentil Macaroni is one of the kids favorites (probably because it tastes similar to a Mexican-style cheeseburger helper), and the two variety of beans in Tortilla Soup go over well too.
But's a stalemate for most recipes beyond that. It's not really that much fun to cook dinner and get questions like "does it have beans?" or "is this a bean?" or "why are there so many beans?" at the table.
Knowing these questions will come, I dread cooking. Then that dread follows me from the kitchen to the table and dinner becomes a chore rather than quality time as a family. And then…
Red lentils entered my life and the gates of bean dread suddenly disappeared. Because this SUPER cool thing happens when you cook red lentils:  They disappear.
For real! When they're fully cooked, red lentils sorta kinda disintegrate into the soup itself, leaving behind a creamy, oh so tasty puree in it's wake. And when you mix it up with fresh vegetables, homemade chicken stock and a few simple herbs? It becomes the tastiest bowl of goodness you could possibly imagine.
And no one even knows it has lentils!!
In retrospect, I should have named this recipe "Lentil Soup for Those Who Hate Lentils." Because that's what it is.  I asked Mr. Crumbs (my picky eater) if we could add this soup into our soup rotation and he said yes. Right after he helped himself to a second bowl!
You need to make this soup. Right now. Because chances are your family doesn't like beans and legumes all that much, but they're also a powerhouse of nutrition and super cheap. (Bob's Red Mill is the most affordable at 18¢ per ounce, which literally getting the best quality for the best price.)
And because the days of approaching fall meets waning summer will end soon.
But it's okay. Because this soup will be just as delicious in the dead of winter too. Or even in the spring, for that matter.
Shoot. Just go make the soup. And make a double batch while you're chopping so you have a quick and easy dinner later on (see notes below for tips).
Then immediately add it to your recipe rotation. Yes, it's that good!
Red Lentil Vegetable Soup
Author: Tiffany
Prep Time:

15 mins

Cook Time:

1 hour 30 mins

Total Time:

1 hour 45 minutes

Yield: Serves

4

1

x
Category:

Soup & Salad

Method:

Stovetop Simmer

Cuisine:

American
5 1/4

–

6

cups homemade chicken stock

1 1/4 cup

red lentils

1

large garlic clove, minced

1/2

large onion, minced

1 tsp

salt

1 tsp

pepper

1

large bell pepper, diced

2

large carrots, peeled and diced

2

ribs celery, diced

1 cup

chopped tomatoes (or one

15 oz

can diced tomatoes with juices)

4 oz

mushrooms, chopped

1 cup

chopped green beans

1/2

bunch fresh spinach

1 Tbsp

tomato paste

1 Tbsp

dried parsley

1 Tbsp

dried oregano

1 Tbsp

dried basil
salt & pepper, to taste

2 cups

rice, prepared according to package directions (optional)

1/4 cup

cilantro (optional)
Instructions
Combine 5 cups stock, lentils, garlic, onion, salt and pepper in a large pot and bring to a boil.
Meanwhile, start chopping the other vegetables and add to the pot as they're ready.
When the pot reaches a boil, reduce to a simmer.
Finish chopping all the vegetables and add them to the pot. Add the tomato paste and dried herbs and cover the pot, stirring every 10-20 minutes or so until the lentils have broken down, 60-90 minutes.
This is a thick soup, but there should be about 1/2″ liquid covering the vegetables at all times, so add additional stock as needed.
Serve with hot rice, pasta noodles or as-is, with optional cilantro as garnish.
Soup is amazing fresh out of the pot, but somehow becomes super amazing the next day. Enjoy!
Keywords: red lentil vegetable soup
Additional Recipe Notes
As if the fact that YOU'RE FEEDING YOUR FAMILY LENTILS AND THEY'RE NOT COMPLAINING isn't awesome enough as it is, this meal can be made in the slow cooker OR even frozen for a super-quick meal later on:
Slow Coooker Version: Dump all ingredients in the slow cooker and cook on low for 6-8 hours, or until the lentils are cooked through and very soft.
Freezer Meal Version: Dump all ingredients raw into a gallon-sized freezer-safe bag. Lay flat and press the air out. Freeze horizontally, then stack vertically to safe freezer space. To prepare, dump contents into a large pot OR a slow cooker and cook according to directions.
Adding 2 cups of shredded chicken makes this a non-vegetarian meal (if you need to appease the meat and potato folks in the family), but my favorite version (and the most frugal option) is to serve over hot rice. Although if you happen to have leftover noodles or other grains in the fridge, feel free to serve them with this soup!
If you don't have all the vegetables in this recipe, no worries – substitute with whatever you happened to have on hand. Add zucchini if it's summer, butternut squash in the fall, sweet potato in the winter and asparagus in the summer. Seriously, add whatever you have because it's really the red lentils that makes this recipe rock!
Cost Breakdown
Total cost for Red Lentil Vegetable Soup is $5.30 if you use your own tomatoes, and $6.05 if you use canned tomatoes. Your cost will be less if you're growing your own produce and herbs.
This my friends, makes a big pot of soup. You'll get leftovers for at least one or two lunches, but this recipe is PERFECT for hosting company.
Add some freshly baked bread (Man Bread, Rosemary Olive Oil Bread or even No-knead Artisan Bread would be great), with butter and you've got a meal. You could even add those 2 cups of chicken if you had it too, but don't stress out if you don't. This Red Lentil Vegetable Soup is awesome enough without it!
Does your family like lentils? Do you have any secrets to getting more beans & legumes into meals? There's no shame here – share your secrets in the comments!
Crumbs is honored to partner with Bob's Red Mill, whose mission is to produce the very best in whole grain foods in order to help people achieve better nutrition. Traditional methods, in-house production, extensive quality control and a personal relationship with the farmers come together to create the Bob's Red Mill Difference.
Disclosure: This post is sponsored by Bob's Red Mill. I love Bob's Red Mill products and used them often in my kitchen, long before this blog was born. As always, I would never recommend anything on Crumbs that I wouldn't recommend to a close friend or neighbor, and all opinions here are my own.