Meal planning has revolutionized my kitchen and my organization.  (By the way, if you're new to meal planning, you can check out my original how to meal plan post).  I'm still enjoying the long-term advantages, but there were benefits that started almost immediately!
Everyone knew what was for dinner that night, that week, and even the next week!
I no longer had to come up with dinner ideas at the 4pm rush hour.
More food was being eaten and less food was being thrown away, because…
I planned for leftover nights, and
I only bought what was needed for the meals I planned.
A very short while into meal planning bliss, my husband asked me if we could have "that" instead of "this" for dinner.  My answer?
No.  I had planned "this" for dinner so we're eating it.
OUCH!  I had left ZERO room for flexibility and I quickly realized that if I didn't change my attitude and my approach, this meal planning bliss was going to be short-lived.
A dear reader asked me last week how we "stick" to cooking and eating the meals that I had planned.  I gave an answer, but I've been marinating on her dilemma ever since.
I'm sure she's not the only one who has problems sticking to the plan, so I came up with a few suggestions to help keep us all on track.
6 Tips to Help You Stick to a Meal Plan
1. Remind yourself why you're meal planning to begin with. 
Are you meal planning to save money?  To help you be better organized?  To not waste food?  To have better control over your eating habits?
When you feel yourself straying from the plan you've created, remind yourself why you have a plan in the first place.  What was the "goal" you had in mind when you started?
It takes time to meal plan and hard work to keep it within your budget. Straying from your meal plan too much will cause you to un-do all the time you put into it in the first place.
2. Prepare for deviation. 
"Bean and cheese burritos with Spanish rice and salad" sounds like a delicious, inexpensive dinner that you could easily have one night a week (Hint: Use our favorite beans and rice recipe and make Spanish rice in the Instant pot).  But at the end of week 3, or even at the end of a hard day during week 1, this meal may seem more like a punishment than dinner.
Have a back-up meal ready in the pantry so that when you need to deviate, it's not the end of the world.  The back-up plan doesn't have to be grandiose – we like any one of these – just have something planned that lines up with your meal planning goals.  You can always make burritos another night.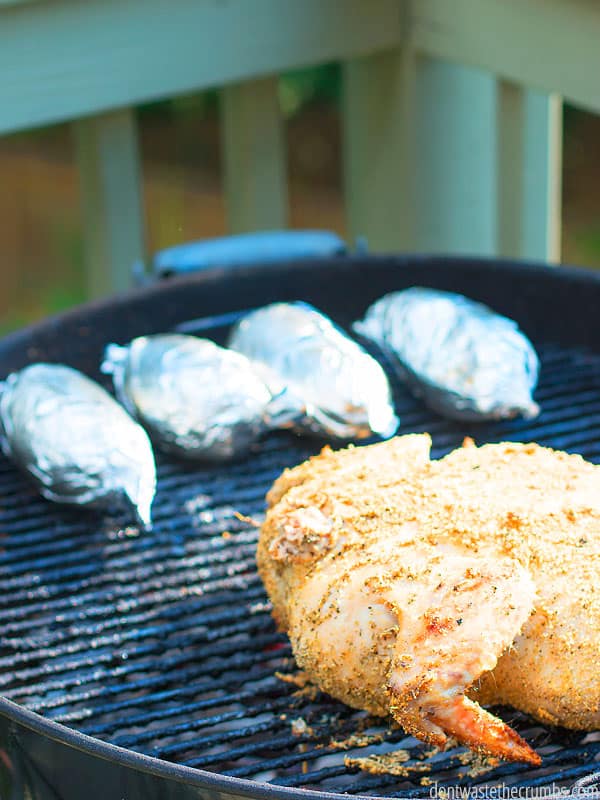 3. Be flexible with your plans. 
Your meal plan doesn't have to be set in stone every single day of the week.  If you want the fajitas you have planned in week 3 for dinner tomorrow, make a switcheroo!  If you think rice will go better with your dish instead of pasta, go ahead! In fact, some people plan seven meals for the week, and then each night chooses from that list of meals. 
No one cares if you don't follow the plan exactly and there's no meal-planning-police that will come knocking at your door if you deviate.  As long as you're still meeting your original purpose for meal planning, switch away!
4. Mix up your meals. 
Eating the same meals over and over can be mundane, so if you find yourself not wanting to cook what you planned, cook it for tonight and don't plan that meal again for a few months.
Take notes on dishes you see in magazines, on cooking shows or even have at restaurants.  Come home and plan to replicate what you've seen or eaten.
And don't forget to keep it simple. Maybe only choose two or three of the meals listed in a week and stick to something simpler the other nights.
Looking for some easy, affordable, real food meal plans?

We have some awesome FREE meal plans that work for the whole family. They even included recipes and shopping lists! The hard work as been done for you!
Here are some of our favorites: 

And for the cook that needs to meal prep on the weekends because of busy weeknights, try our freezer cooking meal plans: 

5. Cook less. 
This sounds opposite to what a "meal plan" requires, but give yourself a break!  If you cook every single night of the week for months on end, you'll get burned out.
Plan a night where everyone feeds themselves; make dinner plans with friends or family and bring a super-easy side dish or even store-bought rolls. Soups are great for making a double batch and freezing so that you don't have to cook it again later.
Cook less at least once a week to motivate yourself to stick with the plan.
6. Make it harder to stray and easier to follow. 
Shopping once each month has the largest impact on whether or not we stay true to the menus I've planned.  If I've already shopped for the month, it's much harder to stop at the store for additional food… especially since I KNOW I have food in the house for what I've planned for dinner.
It's also harder to eat the chicken in the freezer tonight when I know I bought it for another meal later in the month – giving in to the temptation now will force me to make an unplanned shopping trip, or develop a different meal without chicken later.
Another option is to reward yourself at the end of the week if you've followed the plan.  Plan a super delicious dessert or an inexpensive dinner out as a reward for staying in all week!
I'd love to help you save money on groceries, and meal planning is just one of the many tips I've learned and love to help you with!
But if you'd like to learn more about saving over $300 a month on groceries, sign up for my
FREE VIDEO TRAINING.Go to GroceryBudgetBootCamp.com to learn how to save money. 
What tricks do you use to stick to your meal plan? Or what is the biggest obstacle to cause you to want to stray from your meal plan? Let us know in the comments!