Don't know what to cook for dinner tonight? Here are 36 easy meals you can make in 30 min. or less. Healthy recipes for feeding family, kids, or company, like pasta primavera or weeknight stir-fry.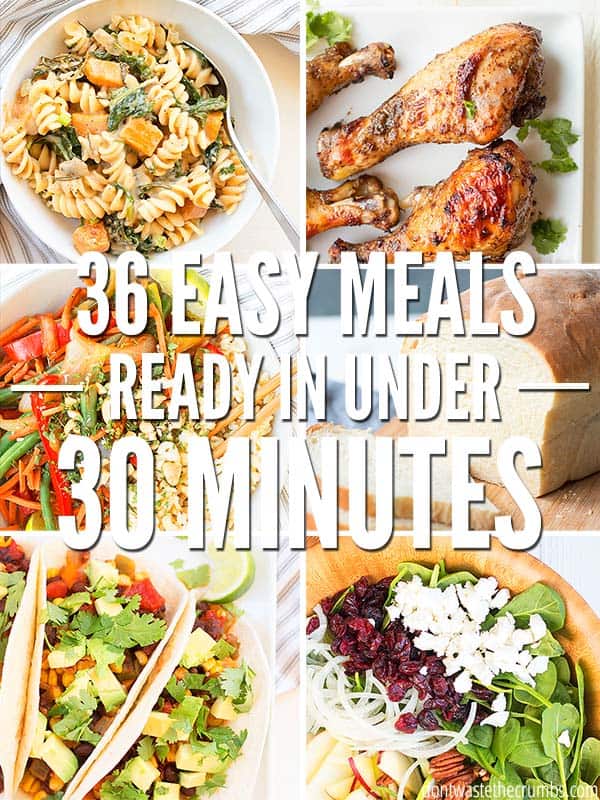 Have you ever meal planned while hungry? I have! My imagination runs wild and huge exquisitely prepared meals fill the menu. Lots of freshly baked goods and desserts become essential for every meal.
When I meal plan while hungry, I always think to myself: Am I crazy? I don't have time for all of that!
I don't want to spend every day, all day cooking. My family doesn't need gourmet. With the unpredictable appetites of a commuter bicyclist and two young children, leftovers nights are a must!
We're all in the same boat. We need easy and healthy meals, and to work when it's worth it and welcome reprieve when it matters.
Enter the list of "easy meals." These are the meals that I can make in 30 minutes or less for busy nights or even a night when I need a break in the kitchen. Lucky for me, these are also some of my family's favorites.
Quick and Easy Meal ideas
Idea 1: Healthy DIY Salad
There's almost always a container of washed and chopped lettuce in our fridge. Pull this out with any other fruits, vegetables, seeds and nuts that we have and dinner is done. Some of my favorite salads:
Idea 2: Easy Pasta
Like the lettuce, we almost always have a jar of homemade tomato sauce in the freezer. If not, there's homemade pesto in the fridge. Here are some of my favorite quick pasts meals:
Idea 3: Quick Gourmet Grilled Cheese
While my family doesn't need gourmet, it's kinda fun to spruce up "boring" meals. Slicing fruit takes less than a minute and mixing up the cheeses offers plenty of sandwich options. Here are some yummy grilled cheese ideas:
Serve with soup for a complete meal:
Idea 4: Fast Weeknight Stir-Fry
The perfect way to use up random pieces of leftover meat and veggies. Toss in some soy sauce and ginger and serve! Here's my favorite weeknight stir-fry.
Here are a few more of my favorite easy stir-fry inspired dishes: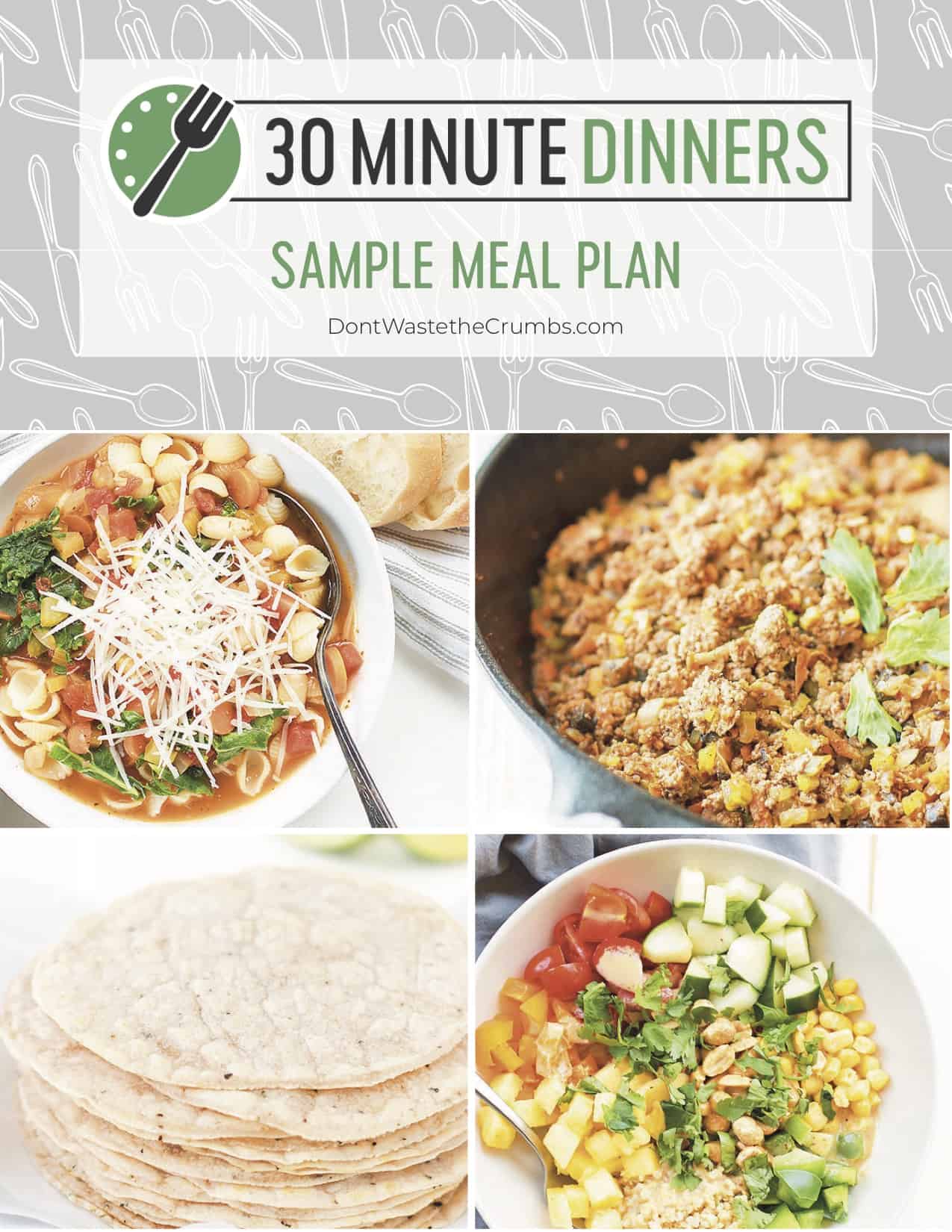 30 Minute Dinners Sample Meal Plan
Sign up to get instant access to my
30 Minute Dinners Sample Meal Plan
, complete with recipes and step-by-step instructions!
Idea 5: Easy Pulled BBQ Pork/Chicken
Making pulled pork or whole chicken in the slow cooker or Instant Pot is an easy way to have dinner ready! Simply shred the meat with a fork before serving. You can even make homemade rolls ahead of time in batches and frozen until the day of.
Here are my go-to pulled pork and chicken recipes:
Idea 6: Simple Quesadillas
It's like taco night, but on a griddle with extra cheese. Keep it simple (meat and cheese) or add in leftover vegetables. I like to serve quesadillas with:
More Quick Meal Ideas
Looking for more inspiration? Here are a few more 30-minute dinner meal ideas: