We eat grilled sandwiches at least once every two weeks.  Sometimes twice, depending on how much comfort Mr. Crumbs is needed from his food after the work week.  Because really, what can be more comforting than fresh bread that's been grilled with butter?
Last week we sliced up rosemary olive oil bread (with half whole wheat flour) and made sandwiches that rivaled caprese salads:  a thick smear of pesto, fresh mozzarella cheese, thick slices of heirloom tomatoes and shredded basil leaves.
Last month we switched out the pesto on one slice for spinach and artichoke Boursin cheese.  We topped with roasted red bell peppers, sliced portabella mushrooms, white onions and fresh mozzarella cheese.
The best sandwich though was one of our firsts, and it was the back-up plan when 4pm came and I had forgotten to thaw meat for the night's dinner.  We raided the fridge and used  leftover prime rib, sliced super thin.  Each piece of bread was smeared with garlic butter and the beef was topped with sautéed onion and provolone cheese.  The fact that we used freshly baked buttermilk potato bread is what sealed the deal.
I love the simplicity of the meal.  Using food we already have to create a completely different dinner masterpiece is much more fun than re-heating plastic containers.
Mr. Crumbs likes how "a sandwich" can be so tasty and so satisfying at the same time.  Sandwiches were another no-no when we first got married, but the man can't resist prime rib, no matter how it's served.
My son likes it when I slice apples or pears really thin and grill those inside the sandwich with the cheese.  He asked for banana one time, but I veto'd that idea.  Maybe with a hazelnut spread for breakfast…
My daughter likes them because of the butter (it's Kerrygold).  She's a smart one. 😉
Grilled sandwiches are a delicious and frugal addition to your real food menus, especially when they're made without processed ingredients like lunch meat and wanna-be cheese.  Make them as fancy or as simple as you'd like!  We actually make these often with company, serving sides of roasted sweet potato fries and broccoli salad – neither of which caused us to hover over the stove.  Creating different combinations using what we already have on hand allows everyone to try a little of this and a little of that.  And of course, you can never go wrong with homemade bread.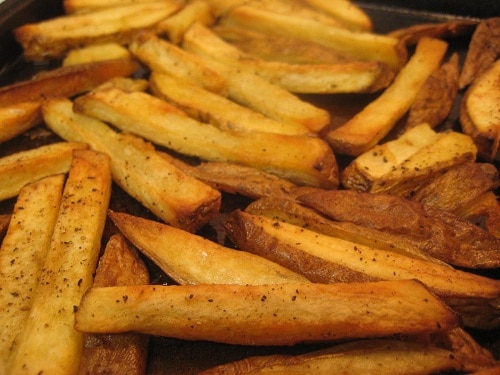 Add grilled sandwiches to your real food menus this week – you won't regret it.  You don't need fancy schmancy equipment either.  Got a skillet and a heavy baking dish?  That'll do it.  All you need now is some inspiration.  Allow me to help. 😉
Create Your Own Ideas:
Meat:  slow cooker chicken, carnitas (shredded pork), beef, ham (leftovers from Easter?), turkey, roast beef, bacon**
Star Vegetables:  eggplant, roasted bell peppers, thick strips of zucchini or eggplant, heirloom tomatoes
Salads:  waldorf, tuna, chicken, egg
Side Vegetables: lettuce, tomato, red onion, white onion, avocado, arugula, spinach, sun-dried tomatoes, kalamata olives, basil… even "hearty" fruits like pears, apples and persimmons
Smear:  hummus, pesto (carrot top or spinach), garlic butter, yellow mustard, Dijon mustard, homemade mayo, chili verde mayo, pesto mayo, homemade ranch dressing
Cheese:  provolone, swiss, havarti, brie, cheddar, gouda, parmesan
Bread:  rosemary olive oil, buttermilk potato, four variations of focaccia (jalapeño cheddar, garlic basil, cheddar and rosemary parmesan), maple oatmeal bread, beer bread, leftover breakfast croissants
Ready Made Ideas:
Greek:  smear of hummus, thinly sliced cucumbers, thick tomatoes, roasted red bell pepper and feta cheese with a drizzle of Greek dressing
Grilled Parmesan:  smear of garlic butter with a sprinkle of parmesan cheese, breaded eggplant or breaded thin chicken breast, fresh mozzarella cheese and serve with hearty spaghetti sauce on the side for dipping
Cheese Steak:  smear of garlic butter, thinly sliced steak or chicken, sautéed onions and mushrooms and provolone cheese
Vegetarian:  smear of pesto, roasted eggplant or zucchini, roasted red bell pepper, mushrooms, arugula and fresh mozzarella
Italian Chicken:  smear of pesto, grilled chicken, red onion with provolone on rosemary focaccia
California Chicken:  smear of pesto, grilled chicken, bacon, red onion, avocado with havarti cheese
BBQ:  smear of garlic butter, thinly sliced tri-tip with provolone on homemade buns, served with homemade bbq sauce on the side
The Method:  How to Make Grilled Sandwiches

1.  Preheat a griddle to 350 degrees, or a skillet to medium heat.

2.  Slice your bread and smear butter on one side of both slices.

3.  Place the bread, buttered side down, on a plate and spread your choice of smear on each side.

4.  Layer your topping on one side so that the smaller pieces (like chopped olives or mushrooms) are on a smear and a heavier topping (cheese, meat or a thickly sliced vegetable) is on top.  This prevents your smaller toppings from falling out.

5.  Place this piece of bread on the preheated griddle or skillet, then place the second piece of bread on top with the buttered side facing up.

6.  Lay a glass 8×8 dish on your sandwich if using a skillet, or a larger glass 9×13 dish on up to four sandwiches if using a griddle.  Press down lightly.  Let the weight of the glass dish press down on the sandwich and cook for 3-5 minutes, or until the bread is medium golden brown.

7.  Carefully take off the dish and flip each sandwich over.  Lay the dish on the sandwiches again and cook for another 3-5 minutes.

8.  Slice diagonally and serve warm.
Additional Money Saving Ideas:
Make your own bread whenever possible.  One homemade loaf can cost as little as 25¢.
First chill leftover ham/turkey/roast from Easter for 2-3 hours, then freeze for 20 minutes before slicing very thin for sandwiches.  Freeze in 1/2 pound portions which when combined with cheese and vegetables, should be enough to feed the average family of four.
Build your sandwich around the cheese used most often in your meal plans.  You can save by buying it in bulk and reduce the chances of random slices of various cheeses growing green fuzzies in the fridge drawers.
Save all leftover meat from one month to splurge on a "meat-lovers" sandwich the next.  You'll enjoy having a meat-filled sandwich without spending any more money!
When making sandwiches for kids, start with one cheese and one mild vegetable (like mozzarella and tomato).  Next time use the same cheese but a different vegetable (swap spinach for tomato).  Then on the third time, combine both approved vegetables with the same cheese (mozzarella with tomato and spinach).  They're more likely to accept both spinach and tomato if they've tried each on their own, plus you'll happily be serving your kids spinach at dinner!
Time Saving Tip:
Instead of slicing just enough for dinner, slice extra cheese, vegetables and meat.  Either save them for the next sandwich night, or use as salad or pizza toppings later in the week.  Visa versa works too!  Saving small leftovers for sandwich night allows experimentation with flavors without a big investment (because you were going to throw away that one slice of cheese anyway, right? 😉 ).
Grilled sandwiches are made to order dinner at home – what would you put on your sandwich?