Delicata squash = my new favorite vegetable.
Oh wait, you haven't met delicata squash yet? Allow me to introduce you.
You, meet delicata squash:
This lovely squash isn't as well known as other squashes like butternut, spaghetti or even acorn squash, but let me tell you – this one will steal your heart.
I personally met delicata squash for the first time last year when it appeared in my weekly CSA box. I had no idea what to do with it back then, so I just roasted it like I do with all the other squashes.
But even that simple method produced an AMAZING squash. And now since the beginning of September, I've been secretly hoping my CSA box would give me another one.
And then they gave me TWO!
And wouldn't you know it, while searching for a winter salad recipe for my monthly meal plan, I found one that called for delicata squash. Coincidence? I think not. 🙂

The original recipe I found called for a few ingredients that I normally don't have on hand, like pomegranate seeds and goat cheese. I don't keep them because they're not common, and they can be expensive.
That recipe called for kale too, which I personally like, but it doesn't always go over so well with the family in a salad form (at least when it's JUST kale, and no other greens).
So I roasted the squash as normal and pulled out what I DID have in the fridge to create a salad that tasted like fall, but one that I knew my family would love.
I can't think of cooler months without thinking of apples and cranberries, so I started there. I thought some maple would be fun too, so I included that in the dressing. In the end, my Delicata Squash Salad with Apples and Cranberries was devoured in minutes. The husband said, "Mmm… babe, this is good!"
I gave it to him the next day for lunch and I asked him how lunch was when he got home. His answer: It was really good!
(That's 2 for 2, in case you weren't counting.)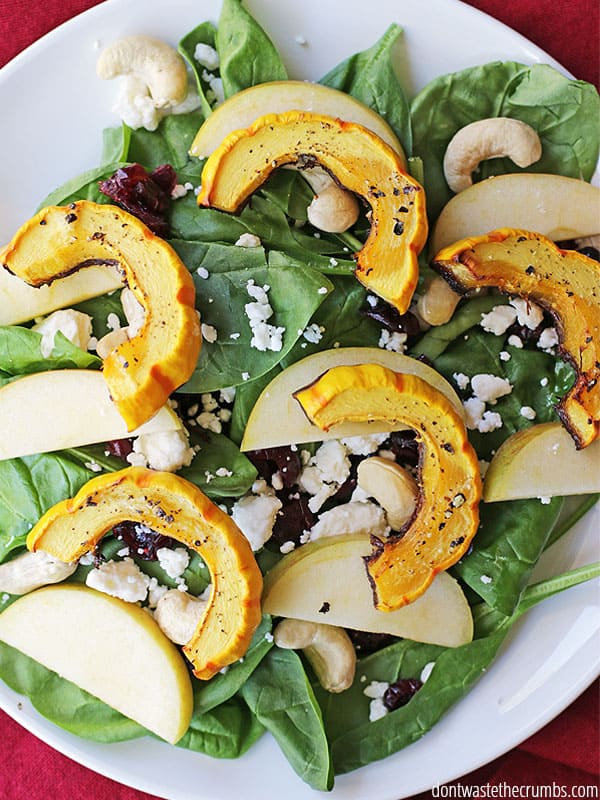 The kids weren't available for comment. Their mouths were full and they were chewing without complaint. Coming from a 6 and 8 year old, that means it's a winner!
Delicata Squash Salad with Apples and Cranberries
Author: Tiffany
Prep Time:

15 mins

Cook Time:

35 mins

Total Time:

50 minutes

Yield:

4

1

x
Category:

Soup & Salads

Method:

Bake

Cuisine:

American
Salad

1

delicata squash

1

–

2

Tbsp olive oil
salt & pepper

4

handfuls of spinach, washed and dried (or a

9oz

bag would work)

2

apples (any kind)

1/2 cup

dried cranberries

1/2 cup

nuts, roughly chopped (I like almonds or pecans best)

1/2 cup

feta cheese
Maple Citrus Vinaigrette

1/4 cup

orange juice (about

1

orange)

1 Tbsp

rice vinegar

1 Tbsp

maple syrup

2 Tbsp

olive oil
Instructions
Preheat oven to 400F. Meanwhile, wash and dry the delicata squash.
Cut off both ends and slice through the middle, from the top to the bottom.
Scoop out the seeds and set aside for either perfectly roasted seeds, smoothies or compost.
Slice the squash into 1″ half-rings, and place in a single layer on a cookie sheet.
Drizzle 1 Tbsp of olive oil over the squash, and season liberally with salt and pepper. Roast in the oven for 35 minutes, or until the squash begins to caramelize and is medium-dark brown.
While the squash is roasting, chop or thinly slice apple. Combine apples with spinach, cranberries and nuts in a large bowl.
Combine ingredients for the dressing in a small jar and shake vigorously.
When the squash is done, pull out to cool slightly.
Combine dressing with the salad and toss to combine well. Serve the salad and place 3-5 pieces of squash on top of each salad. Serve immediately.
Keywords: Delicata Squash Salad
Additional Recipe Notes
I think my most favorite aspect of this salad is that it's SO versatile (which means it'll adapt to whatever I happen to have in the pantry).
Greens: substitute any lettuce you have on hand, but do include spinach if you can. It has a heartier texture than lettuce and makes the salad feel more like a meal than rabbit food.
Apples: honestly, use whatever you can find. You can slice them or dice them, whatever you prefer.
Nuts: I like it with almonds or pecans personally, but I used cashews in the picture because that's what I had. Walnuts would be good too, or use sunflower seeds if you're a nut-free family.
Dressing: oranges are most common in the winter, but substitute grapefruit juice, lime juice or lemon juice if oranges aren't around. Remember that the flavor will change slightly, but it will still be very good. You can also substitute apple cider vinegar for the rice vinegar if you like that pungent acidity flavor.
Note: I love using mason jars for homemade dressing and these lids make it super easy to shake and pour!
Cost Breakdown
squash: $0.64
olive oil: $0.39
spinach: $0.97
apples: $0.60
cranberries: $0.40
nuts: $0.80
feta: $1.16
orange: $0.30
vinegar: $0.13 (or free if you make your own apple cider vinegar)
maple syrup: $0.23
Total cost to make Delicata Squash Salad with Apples and Cranberries is $5.62.
I served this salad with Quick & Easy Dinner Biscuits, but Crusty Artisan Bread would be really good with it too!
Have you had delicata squash before? What's your favorite way to enjoy it?
Disclaimer: This post contains affiliate links. By making a purchase through those links, I will earn commission that helps to keep the lights on in the Crumbs house – with no additional cost to you. Thank you for supporting Crumbs in this way. Read my full disclosure statement here.