What is a CSA? Is a CSA worth it? Here are the "ins and outs" about CSAs, based on my personal experience, plus how you can find a local CSA to join for your own family. A must read before committing! Also consider exploring the differences between CSAs and Farmers Markets here.
Have you ever considered joining a CSA, but hesitated because you wanted to know more first – yet you didn't know who to ask? And I'm sure if you've considered it, you've also wondered if it's even worth it to join a CSA?
There is a lot to learn about CSAs so I thought I would give you the run-down based on my experiences – so you can decide if a CSA is worth it for you and your family.
Quite honestly, it really is an experience for the whole family. My teen daughter even sells her amazing baked goods at our local CSA, which, of course, is super awesome for the people who get to enjoy them! 🙂
What is a CSA?
CSA stands for community-supported agriculture, but it's also been known for community-shared agriculture too (especially in Canada). In either case, it's basically a big box of seasonal and delicious produce that comes from local, community sources.
CSAs can run as short as 4 weeks with a trial version, through a 10 week or 23 week season, or even year-round.
It's like a packaged-deal version of the farmer's market without having to go to the farmer's market (comparing your local farmer's market to your available CSAs is another factor to weigh in when choosing your produce go-to).
Depending on the program, you can pay weekly, in full, or in installments throughout the season.
Nine times out of ten, the cost is non-refundable, but you can put a box on hold if you're going to be out of town (which means you'll get an extra week added at the end of your subscription time frame).
Some even allow you to switch out certain foods if you know for a fact you won't eat them (usually for allergy purposes, not because you simply don't like something).
CSA's support local farmers
A side note, but a very important one: CSAs support local farmers, which is so very necessary these days – as small farmers are being pushed out by Big Ag more and more. Plus, with the high price of groceries, CSAs are likely to save you money over the course of the growing season. Additionally, it's good for the environment too, by supporting more sustainable and regenerative agriculture.
Is a CSA Worth It?
From one week to the next, you really have no idea what you'll get. But you can definitely count on it being local, fresh, and in-season!
Most CSA organizers will tell you up front approximately how many pounds of produce you'll get each week. Some CSA's offer different portion sizes too, like a small box or family size, so you can choose based on what is best for the size of your family and how much you like to eat outside "normal" fruits and vegetables.
Just so you can get an idea of what a typical box includes, I've listed below what produce I have received in 3 weekly boxes from my local CSA.
Weeks 1-3:
1: 1 bunch broccoli, 1 head romaine, 2 cucumbers, 1 bunch beets, 1 garlic bulb, 3 baskets strawberries, 1 bunch carrots, 1 bunch radishes, 1 bunch spinach, 1 basket figs (all organic).
2: 1 bunch kale, 1 head cauliflower, 1 bunch curly leaf parsley, 1 head green leaf lettuce, 3 baskets strawberries, 1 lb mushrooms, 1 lb green beans, 6 zucchini, 1 bunch green onions, 1 head red cabbage (all organic).
3: 2 bunch broccoli, 1 head red leaf lettuce, 1.5lbs leeks, 1.5lbs cherries, 1 stalk celery, 1 basket strawberries, 1lb apricots, 1 bunch cilantro, 2 cucumber, 1lb heirloom tomatoes and 3 freshly baked, in-house cookies (all organic).
Note the "all organic" in parenthesis. While MY CSA is all organic, not all of them are. It really depends on where you live and what type of foods are local to you. At the very least though, the organization should tell you what in the box is organic, and what isn't.
Most CSAs tell you either via email or with a flyer what all is included in the box, just in case you've never seen that particular item before. It also includes a recipe or two, which is SUPER helpful when you really aren't quite sure what to make with all the new-to-you produce.
Is a CSA a convenience, or not?
Some think the spontaneity of a CSA box is a bit too unpredictable. Frankly, if it weren't for someone else picking out those vegetables, I may not have picked them. Which means my kids would have grown up eating the same old basic veggies all the time. And this kind of goes against my goal of encouraging my kids to enjoy a broad range of foods.
Not to mention the nutrients that we'd all be missing out on too… And some of those fruits and veggies are actually pretty darn tasty!
For me, walking into the meet-up location to pick up a box completely prepared ready to go is a major convenience. I think it's good that I don't get to decide what goes in it. It forces me to get creative in the kitchen and come up with recipes that both the adults AND the teens will love. Like making a sauce out of mushrooms and cauliflower, and subbing it into macaroni and cheese with carrots and kale.
It has also encouraged me to stray away from our beloved NY-style pizza crust. In which case this new recipe experiment also taught me to a) read the directions, and b) the right way to squeeze excess water out of zucchini.
Finding a CSA That Best Suits You
Not all CSAs are created equal, so it's important to find one that best fits you and your family's financial and nutritional goals. I suggest you do your research until you find a CSA that you really like. Here is a recap on a few of the differences in CSAs:
Prices can range from $25-$50 each week.
Some CSAs deliver.
Most CSAs require pick-up at a local farm or meet-up site.
There are CSAs that have flexible days, others have set days for pickup.
You will have options for short-term or long-term commitments.
Some offer "extras" like eggs, bread and jam; baked treat, and some are only produce.
Here are a few links to help you get started finding a CSA near you.
CSA Perks
Sometimes CSAs includes fun extras like fresh baked goods! This is exactly what my teen daughter does with our local CSA.
Other examples of fun stuff include freshly cut flowers, a pint of jam or an extra basket of berries. It just depends on what's going on that week and what they're able to give. To me, it's a fun little surprise to look forward to and enjoy.
Some CSAs also offer discount cards to certain shops or farms. My local CSA offers discounts to their shop, 5% off to those who buy 10 weeks and 10% off if you prepay for 23 weeks. Considering their prices are already competitive, this becomes icing on the cake.
One last little bonus item (as I mentioned above as well) – supporting a CSA means supporting a small, family-owned business. CSA's by nature are local, so there's a slim chance it'll be owned by agribusiness. My local CSA is owned by a Christian family and considering the farm IS the family business, we're honored to support them.
What to Consider Before Committing to a CSA
Before you commit to a CSA, here are a few questions (and answers) to consider.
How much do you normally spend on produce each month? Each week?
Some argue that it's cheaper to buy produce at supermarkets because of the mass production. But that's not always the case. Use your receipts and be honest here – how much do you really spend on produce?
Can you afford to prepay for a CSA subscription?
Coming up with around $500 up front to pay for an entire season's subscription (which is the best deal in the long run) is tough. BUT, if you know you want to do this, you can start saving now and commit to next year. The theory is no different than buying a half cow or a large bulk order from Azure. If something is important enough to you, you'll find a way to make it happen, right? In this case, the only thing different is what you're getting in return.
How limited is your access to organic produce?
Here in the south, we have abundant access to organic produce. However, I know not everyone lives in a warm climate. For some, growing gardens are their best effort for fresh, organic produce. For others, it's a CSA.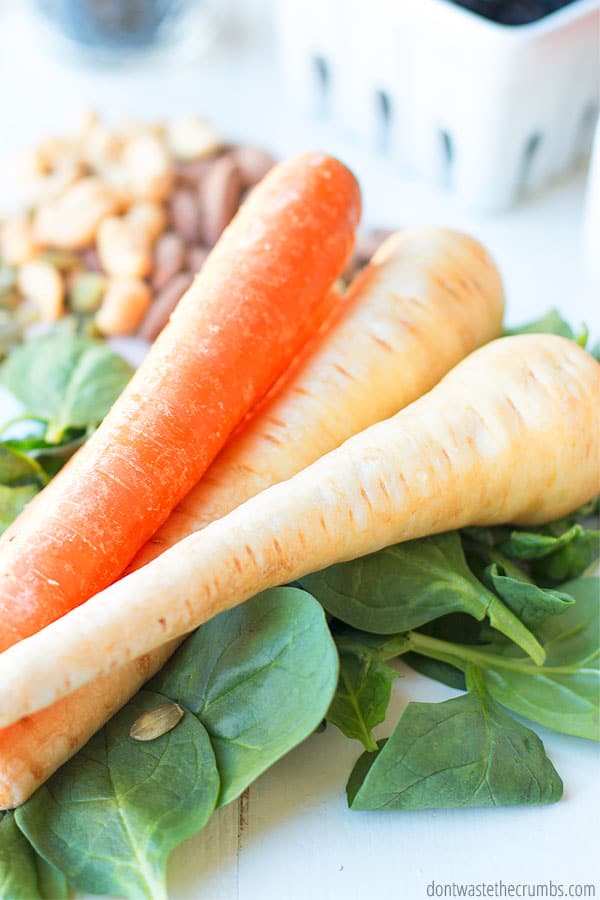 Seriously – will you eat what the CSA gives you?
If none of the produce above would EVER go into your grocery cart, let alone your dinner table, then don't even bother. You'll find yourself frustrated with all the variety, clueless with what to do with it and stressed that you're wasting food (and money). Be honest with yourself, because that's a big chunk of change to waste if you're not going to eat the food. This is when it might be smart to try a sample week or two before committing to an entire season.
Is it too much food from the CSA?
I look in our CSA box and wonder how in the world we'll eat it all. And then next Wednesday rolls around and magically all the food is gone. I blame the little fingers.
If you won't eat all of this in one week, remember you have the option to put weeks on hold. One way to ensure food isn't wasted is putting every other week on hold, or even splitting a CSA subscription with a friend. Each family takes what they love best and split the rest down the middle.
Or maybe joining a CSA is a reason to start inviting more people over for dinner!
FAQs for CSA's
What does being a CSA mean?
CSA stands for Community Supported Agriculture. This is a group of members who financially pledge to support a local farm, via membership, and the produce is shared among members throughout the season.
Is a CSA a good deal?
Locals farmers are supported by the community through a CSA, so it is a mutual benefit for the farmer and the CSA supporters – who get fresh healthy produce throughout the season while avoiding grocery store prices.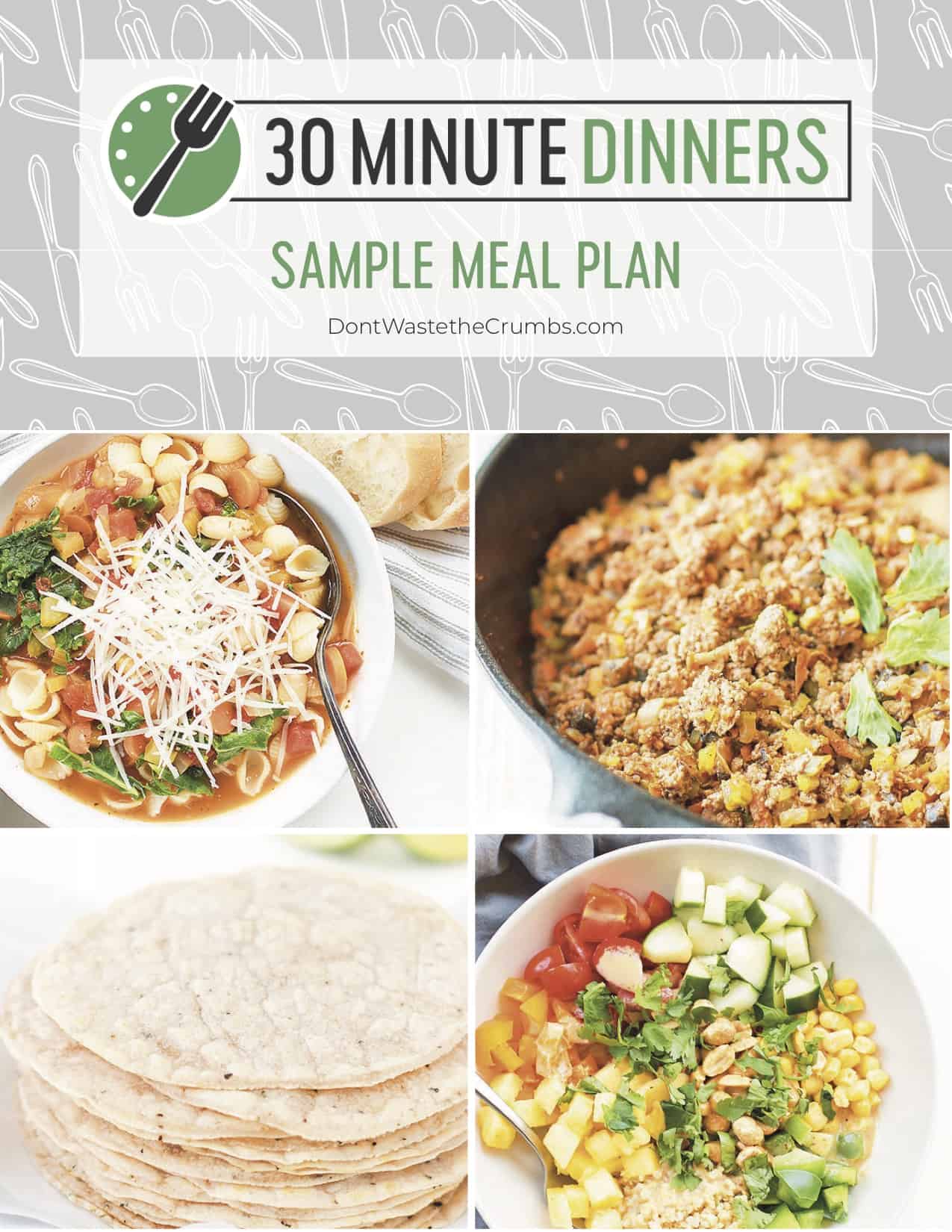 30 Minute Dinners Sample Meal Plan
Sign up to get instant access to my
30 Minute Dinners Sample Meal Plan
, complete with recipes and step-by-step instructions!
More Ways to Save Money on Food