This April Seasonal Produce Guide for 2023 will help you find the best fruits and vegetables to buy this month! Use this food guide to save money on groceries. Use these tips to eat real food on a budget!
I don't know about your part of the country, but Spring has definitely come to our neighborhood!
The number one clue? Trees are blooming.
But better yet, the number two clue? More fresh foods and farmer's markets!
I am so excited to add more fresh variety to our diets. While I love the root veggies and hearty greens that are in season in January and February, I'm totally excited for some asparagus, spinach, and STRAWBERRIES!
For real. I've been waiting for strawberries to come down in price because we love them! And honestly the strawberries you find in winter just don't taste good. They don't have much flavor.
So why eat seasonal produce?
For ideas and meal inspiration on how to use these delicious seasonal fruits and vegetables check out these Spring Dinner Recipes for April!
April Seasonal Produce Guide for Spring
Artichokes
Artichokes are technically a thistle but are often considered a vegetable because they contain so many nutrients! They are high in folate, and vitamins C and K. They also provide a lot of phosphorus and magnesium. Plus high amounts of fiber and antioxidants!
You can eat artichokes raw, but they taste best cooked! Below are some recipes and methods for eating them. The inner heart is the best part!
Asparagus
I listed asparagus with the March Seasonal Produce Guide, but you better believe I'm buying asparagus all Spring long! I'm itching to find some white or purple asparagus, and hope to find some in my local farmer's market.
High in vitamins A, B, and C, minerals and fiber, I know asparagus will help us move into Spring by aiding digestion and boosting our immune systems.
Broccoli
Broccoli has been in season for a while now and I'm so glad it is! It has more vitamin C than an orange and more calcium than milk. Read more about it in the January Seasonal Produce Guide.
Our go to method for cooking is simply roasting in the oven but these other recipes are great!
Cauliflower
A cousin of broccoli and Brussels sprouts, cauliflower is one of those vegetables that you see everywhere! It's almost a joke that you can make pizza crust, mashed "potatoes", and rice from a vegetable. But it's true! It's a great substitute if you are eating more plant based options and want low carbs.
Chives
Many fresh herbs are beginning to come into season in Spring. Chives are one of those spices that should be in every kitchen. They are in the onion family and are known for providing vitamin K and C. Plus they great for digestion and boosting immunity!
Chives are most often used as a garnish for tasty foods like:
Fava beans
Honestly I had to look this one up. I'm not overly familiar with fava beans! I am excited to try them this month because they contain LOADS of nutrients. They are similar to peas in that they are best fresh or frozen. And like other beans they are full of fiber and protein which help give you energy!
Horseradish Root
Horseradish is not a common vegetable to grace the dinner table, yet it is a strong little root that has many benefits! It is high in Vitamin C, folate, potassium, and calcium. When eaten, it helps boost immunity, lower blood pressure, and improve digestion.
Most often you see it as a garnish or added to sauces. It has a very strong, spicy, pungent taste similar to wasabi and mustard. In fact, it contains the same enzymes that make those foods spicy as well!
Lettuce
Fresh leafy lettuce has been in season for a couple months now, and it still continues to be readily available. Low in calories and high in vitamins and minerals, lettuce is a great addition to the daily table.
Mushrooms
Mushrooms are a great way to add extra calcium and other nutrients to your meals. They can be added in as a main ingredient (like in our creamy mushroom pasta) or hidden to stretch your ground beef. You can find more information about them in the March Seasonal Produce Guide.
Papayas
Papaya isn't one of those fruits that comes to mind when I'm making my meal plan. However it is one of the most popular fruits in the world! It is rich in antioxidants and vitamin C. It's great for your heart and digestive system.
Spring Greens
Very similar to lettuce varieties and dark leafy greens like kale, spring greens are rich in nutrients. They carry a lot of folate, calcium, and vitamin K. Spring greens tend to be smaller leaf greens like arugula, radicchio, and baby lettuce.
Strawberries
Yum! My favorite part of this whole Spring produce guide! Strawberries are high in antioxidants, vitamin C and other vitamins and minerals. Plus they taste amazing! They are sometimes tart when early in the season, but then they become sweet and perfect for snacks, salads, and making jam.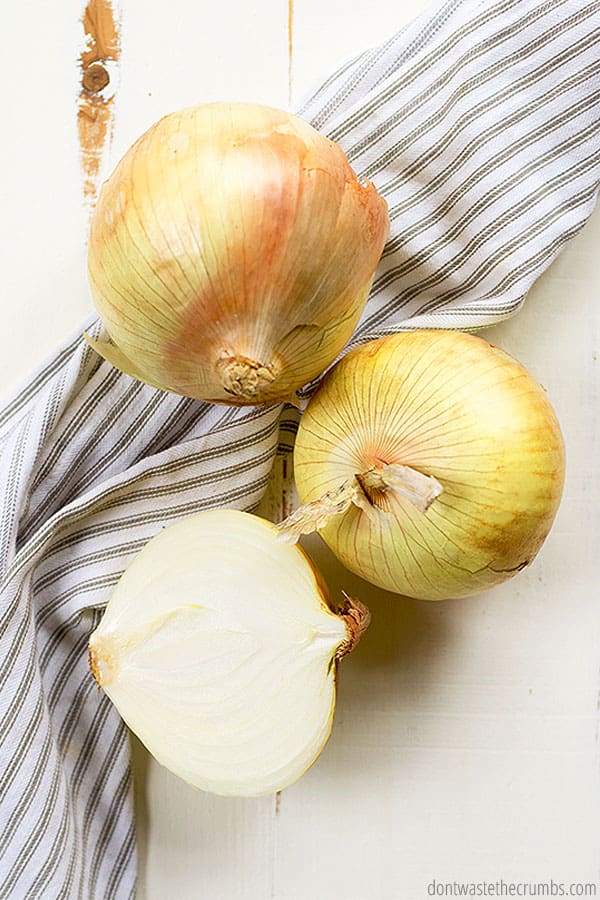 Sweet Onions
Onions are readily available most of the year, are low in price, and add loads of nutrients to any dish. Sweet onions in particular, like Vidalia, come into season in early Spring. Sweet onions are a welcome treat and add a hint of unique flavor to your food.
Sweet Potatoes
Sweet potatoes are still being harvested in season and will show up at the farmer's market this month. But stock up because they won't be as easy to find (or low in price!) over the summer. It's debatable that sweet potatoes carry more benefits than white potatoes, but they are a good carbohydrate rich in nutrients.
Rhubarb
This is a strange vegetable since it looks like bright red celery, but tastes like tart green apples. You usually see it paired with strawberries to balance the tart and sweet flavors. It's a rich source of beta-carotene and antioxidants.
Watercress
Watercress is technically a Spring green but I wanted to highlight some of its benefits specifically. High in vitamins A, B6, and B12, it's a great source of energizing nutrients. It has iron, magnesium, and calcium as well.
Watercress benefits your heart, brain, and bone health while reducing oxidative damage to red blood cells. Adding it to salad, soups, and pestos is a great way to eat it!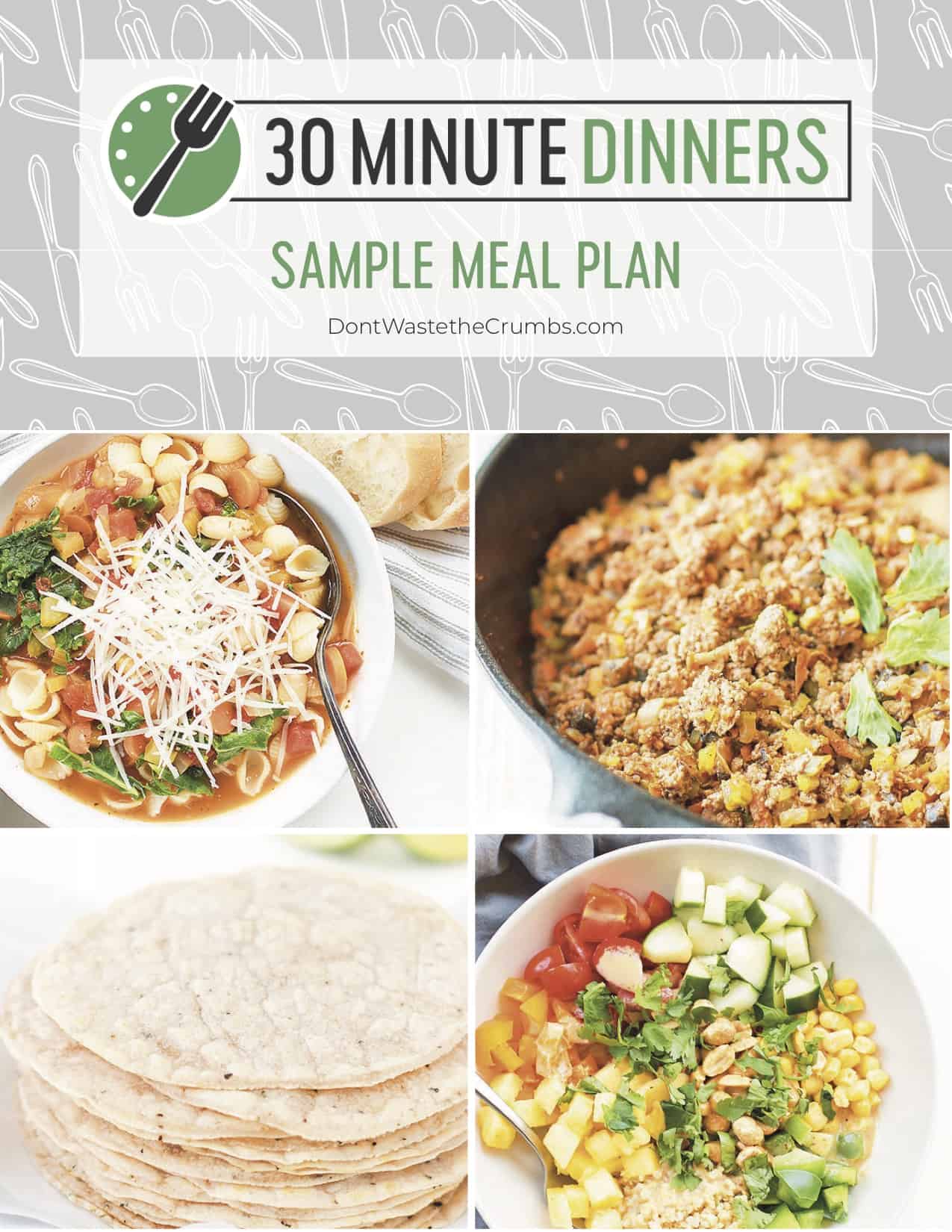 30 Minute Dinners Sample Meal Plan
Sign up to get instant access to my
30 Minute Dinners Sample Meal Plan
, complete with recipes and step-by-step instructions!
Want to learn more ways to save on groceries?