This creamy and healthy roasted red pepper tomato soup recipe from scratch is better than any store-bought soup. Ready in minutes & kids love it! Serve with fresh homemade artisan bread and top with Parmesan cheese or Mediterranean grilled cheese.
Sometimes the best recipes are born by accident.
Mexi-lentil macaroni was created because I needed dinner and didn't have much in the pantry. 90-minute man bread was born because we needed bread, we were short on time and my husband didn't want to follow a recipe.
Roasted red pepper tomato soup can be attributed to finding a wrinkly red pepper that was originally intended for another meal but wasn't used. Instead of throwing it away, I put it in my family's favorite soup.
Having an alternate purpose for things in the fridge is what I call Plan B, and I teach this concept in-depth in my course Grocery Budget Bootcamp.
Tomato Soup
My tomato soup recipe is super easy. Canned tomatoes, homemade chicken stock, fresh or dried basil, and cream all blended up inside the pot with the oh-so-handy immersion blender until it's ultra-smooth and delicious. One pot to clean and you're done.
Paired with a grilled cheese sandwich on whole-wheat bread and it's one of my favorite childhood staple meals, only made with real food.
This tomato soup recipe is super easy too, but it's a bit more dressed up. I make if we were having company over for dinner, which I've done since we've had EIGHT different families visit us in the past 3 months alone.
I made crusty no-knead artisan bread, but Mediterranean grilled cheese would be REALLY good too!
Roasted Red Pepper Tomato Soup
Besides the fact that this soup is a fan favorite, you have tons of options and flexibility in this recipe, depending on what you're looking for…
Dairy-free – omit the milk (my preferred option!) or sub with almond milk
Vegan – substitute vegetable stock for chicken stock, olive oil for butter
Gluten-free – NOTHING! This recipe is naturally gluten-free.
Tomatoes – sub-fresh tomatoes from the garden if you have them!
Ingredients for Roasted Red Pepper Tomato Soup
A simple list of delicious wholesome ingredients:
Red bell pepper
Butter
Onion, chopped
Garlic cloves, chopped
Italian-style tomatoes, canned (whole or even diced tomatoes)
Homemade chicken broth (read my method here)
Fresh basil
Half & half
Salt and freshly ground black pepper, to taste (ground black pepper is ok, too)
Parmesan cheese, to taste
Note: Some people like to use heavy cream, but I prefer the half & half to make it just a little lighter.
Psst! If you're going to add salt, I highly recommend Ava Jane's Kitchen. You may think all salt is created equal, but unfortunately, 90% of the salt produced around the world contains microplastics (gross, right?). Ava Jane's Kitchen is an exception. Their salt is 100% microplastic free, and it's SO GOOD! Plus, you can get a bag for just 1¢!! (Get your penny bag of salt on this page.)
Instructions for Roasted Red Pepper Tomato Soup
Step 1. Roast a red bell pepper on broil or over the oven grate.
Step 2. Melt butter and add onions; cook until translucent.
Step 3. Add garlic and cook, until aromatic.
Step 4. Add tomatoes, stock, and bell pepper and bring to a boil, and stir occasionally. Reduce heat to a simmer, cover, and cook.
Step 5. Add basil. Puree with an immersion blender until smooth.
Step 6. Turn off the heat and add cream while stirring.
Step 7. Serve with a pinch of salt, pepper, and Parmesan cheese to taste.
FAQs
Can I use green bell pepper?
Green bell peppers have a very pungent taste and they will be very noticeable in the final soup.u003cbr/u003eu003cbr/u003eRed peppers are much more mellow and sweeter than green. You could even use an orange or yellow pepper if you'd like, but I stuck with red since it's the same color as tomatoes (picky eaters notice these types of things).
Is tomato soup healthy?
Yes! According to the u003ca href=u0022https://academic.oup.com/jn/article/135/5/1226/4663991u0022u003eOxford Journal of Nutritionu003c/au003e, tomatoes are functional food full of vitamins and nutrients that can help reduce the risk of cardiovascular disease and more!
How many ingredients are needed for tomato soup?
You only need 9 ingredients for this red-roasted pepper tomato soup!
Do I Have to Roast the Red Pepper for Red Pepper Tomato Soup?
Yes! Roasting sounds a bit fancy, but it means you're going to char (a.k.a. burn) the pepper first – like in the picture above. Super easy and great for those who tend to burn things anyway!
You can do this in a few different ways:
In the oven, directly on the grate under the broiler.
On top of the gas stove, holding with a pair of long, stainless steel tongs.
On the grill, if you're already grilling something else that week.
Almost every roasted pepper recipe I've come across has you peel the charred skin off the pepper before using it. I've made this soup both by peeling the skin and leaving it on and the only difference was the teeny tiny flecks of black in the soup.
But if someone asks (a.k.a. the picky kid or picky spouse), those flecks can be pepper… or basil… if you catch my drift.
Save Time
Summer is near and I'm all about NOT heating up the kitchen whenever possible. That means…
You MUST roast the pepper, but work smarter.
More Easy Soup Recipes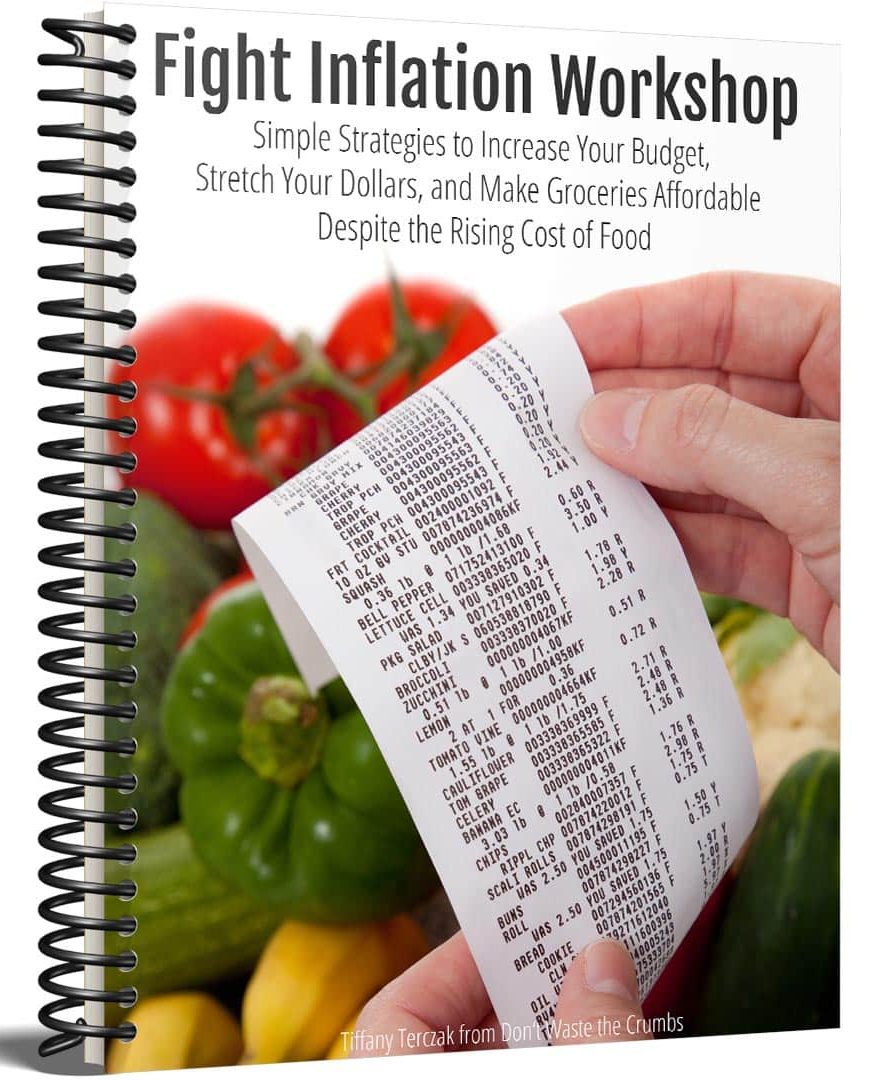 Fight Inflation Workshop
Sign up for my FREE
Fight Inflation Workshop
and learn simple strategies to save money, even with rising food costs!
Roasted Red Pepper Tomato Soup
Author: Tiffany
Prep Time:

15 minutes

Cook Time:

15 minutes

Total Time:

30 minutes

Yield:

4

2-cup servings

1

x
Category:

Soup

Method:

Stove top, blend

Cuisine:

American
1

red bell pepper

1 Tbsp

butter OR olive oil

1/2

onion, diced

1

garlic clove, minced

1

–

28

oz can peeled whole tomatoes

2 cups

chicken stock (how to make chicken stock in a slow cooker)

1

–

2

tsp salt

1 tsp

pepper

2 tsp

dried basil

1/4

–

1/2

cup milk OR cream OR half & half (optional)
Instructions
First, char the red bell pepper by roasting it. You can do this by putting in the oven, directly on the grate under the broiler; on top of the gas stove, holding with a pair of long, stainless steel tongs; or on the grill. Let it roast for 3-5 minutes, keeping a close eye on it to make sure it doesn't burn. Set the pepper aside.
Meanwhile, melt butter in a medium pot over medium heat. Add onions and garlic and cook until the onions are translucent, taking care not to burn the garlic.
Add the tomatoes and chicken stock and bring to a simmer.
If desired, peel the outside skin of the pepper off before placing it into the pot of soup. Otherwise, pull the stem off the pepper (it should easily come off) and place the whole pepper – seeds and membranes and skin – into the pot.
Using an immersion blender, blend everything until smooth. Alternatively, blend in batches in a blender (but be careful – it will be hot).
Add salt and pepper to taste. If desired, finish with milk or cream before serving.
Notes
I've made this soup both by peeling the skin and leaving it on and the only difference was the teeny tiny flecks of black in the soup.
Keywords: Roasted red pepper tomato soup, tomatoes soup recipe, easy tomato soup recipe, homemade tomato soup easy, recipe – tomato soup, recipe for tomato soup, easy tomato soup