Easy Italian sausage and peppers with onions is a quick dinner in the oven, crockpot or skillet. Serve with potatoes or marinara sauce or in a sandwich!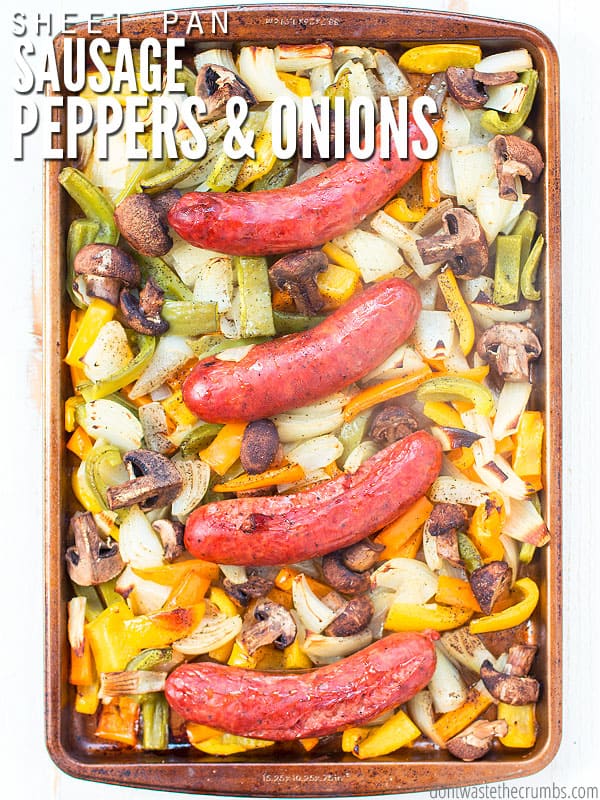 Back when I was creating Frugal Real Food Meal Plans, I was always on the lookout for delicious yet easy recipes to share with you guys. One day I stumbled across a recipe for sheet pan sausage and peppers and I thought, "Wow – that looks good!"
And then as many good ideas do, it got pushed aside and I never made it.
Then a few weeks ago, I found sausage marked down at my local Kroger and immediately thought of this recipe. I pulled out my sheet pan, loaded it up with the sausage and peppers and popped it in the oven.
To say that the kids loved this recipe is an understatement – they INHALED every last bite! They literally jump up and down and say this is the best sausage and peppers recipe ever, so that's how I know I have to share this recipe with you!
I was in total agreement with the kids too. Not only was dinner DELICIOUS, but sheet pan sausage and peppers is SO easy to make.
It takes barely any time at all to get all the ingredients on the sheet pan and once you set the oven timer, you're free to walk away and do something else. I absolutely LOVE when dinner practically cooks itself!
(Which is why I put sheet pan Hawaiian shrimp on the menu in the Spring, lemon and herb sheet pan chicken on the menu all year long, and why anytime the kids ask for sheet pan pancakes, I happily oblige!)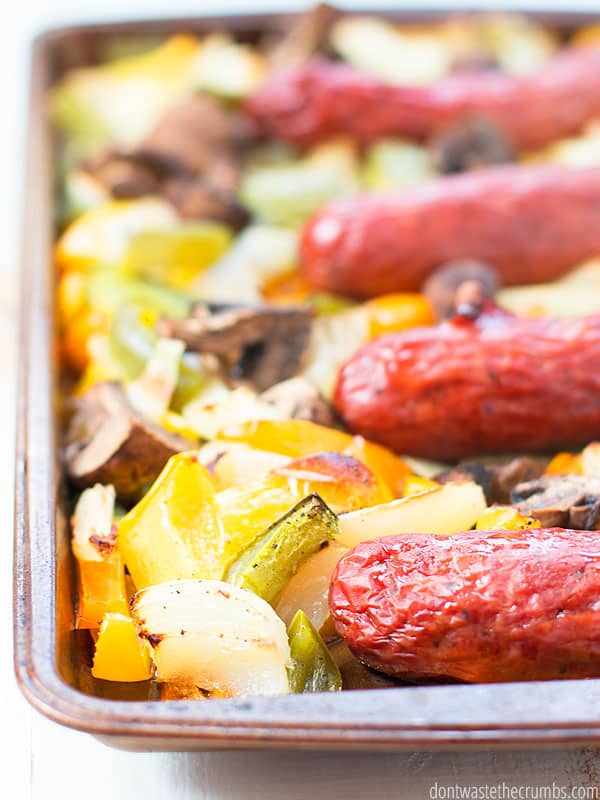 What is Sausage and Peppers?
Now I have to confess that the first time I made this, the sausage and peppers didn't exactly fill up my sheet pan. I mean, it's just farmhouse sausage links (or bratwursts) and bell peppers, right?
You see, I have these half-sheets made by USA (LOVE THEM!) because while my kids aren't teenagers (yet), they definitely can hold their own at the dinner table… ESPECIALLY when I make sausage.
The problem with the sausage and peppers not filing up my sheet pan is that's how I gauge how much food I need to make in order to fill everyone up AND have some leftover for a lunch.
In my house, a half pan won't cut it. And I know from experience that vegetables only shrink when they cook… so that meant beefing up this recipe another way, but still keeping the easy factor.
That's when I thought about onions and mushrooms!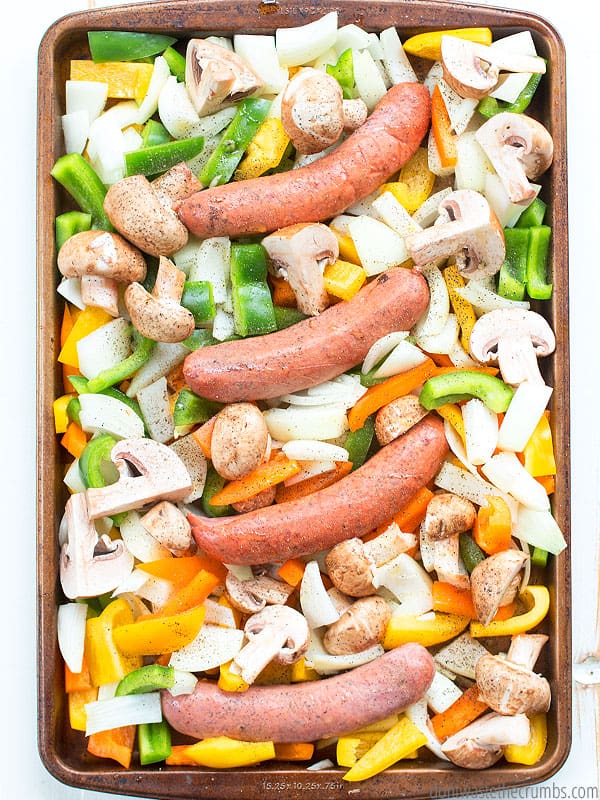 Sheet Pan Sausage and Peppers (and Onions and Mushrooms)
We add onions to almost everything we make, and since we did the Whole30, we've become very fond of mushrooms, too. Since I almost always have both on hand, I figured, why not make this sausage and peppers and onions and mushrooms?!
My husband used to HATE mushrooms, but over time, he's grown to really like them. Over the years I have snuck mushrooms into dishes like the very best ground beef taco meat and slow cooker beef ragu and tex-mex style migas. I like to think that me sneaking the vegetables has acclimated him slowly to the taste…
So much so that now we make my weeknight creamy mushroom pasta at least twice a month, and mushrooms are the main star!!
(Side note: If you haven't made my weeknight creamy mushroom pasta yet, you are MISSING OUT. You need to put it on your meal plan ASAP. The mushrooms are really meaty, so it feels like you're actually eating something… as opposed to eating asparagus – which I absolutely love! – but it sometimes feel like I'm eating a piece of grass.)
If your family is a hard no against onions and/or mushroom, pretty much any vegetable will work here… Brussels sprouts, zucchini, yellow squash and cauliflower immediately come to mind as a great pairing for sausage!
I personally don't need any more reasons to love this sausage and peppers dinner, but let me just brag on this recipe and address any doubts you might have in case you're not convinced:
Wonder if sausage & peppers can be frozen?
YES! I've made this numerous times from a frozen state and it comes out AMAZING every time! That's one reason why I included it in my One Hour Freezer Cooking: Dump Dinner Recipes Plan!
You can find this recipe in our Dinner Dump Freezer Cooking Meal Plan along with 4 other easy dinner recipes like the Very Best Slow Cooker Carnitas, and Sheet Pan Sausage and Peppers, and Slow Cooker Salsa Chicken and Homemade Hamburger Helper HERE and have 10 dinners ready in just ONE hour!
I've also made this using fresh sausage and a bag of frozen peppers and onions. Still good folks – feel free to cheat!
(And if you have fresh bell peppers from the garden, DEFINITELY use them!)
How much sausage and peppers per person?
This is important, because while you can easily gauge the number of sausages (we usually plan one sausage per person), gauging the vegetables is much harder. I suggest allowing 2-3 cups of raw vegetables per person, because the amount will reduce significantly when it cooks.
When I make this for my family of four, I cut up 4 peppers, 3 large onions and 16 oz of mushrooms. This gives us plenty of veggies for dinner, and hopefully some leftover for lunch the next day.
What goes with sausage and peppers?
We usually serve this with Instant Pot brown rice or potatoes (usually basic roasted potatoes, but potato wedges and baked potatoes are good options too!). You can serve this with rice or sweet potatoes or a side side or anything really. (Stove-top mac and cheese sounds good right about now!)
What's EVEN BETTER, is using this sausage and vegetables as a filling for sandwiches!! Use my homemade hot dog buns recipe, stuff it with cooked sausage and peppers and top with cheese (if you're feeling like it) and OMGEEE…. That would be SO GOOD!
What spices should I use to season sausage and peppers with?
I usually keep it simple and use salt, pepper and Italian seasoning, but this would be a great time to use some of those more fun blends you might have on hand, like Chinese 5 spice or Za'tar or even homemade poultry seasoning.
Can I make Crockpot sausage and peppers instead of sheet pan?
Absolutely! If you want to turn this into a crock pot sausage and peppers dinner, just dump everything into the crock pot and turn it on high for 2 hours or low for 4 hours. That's it!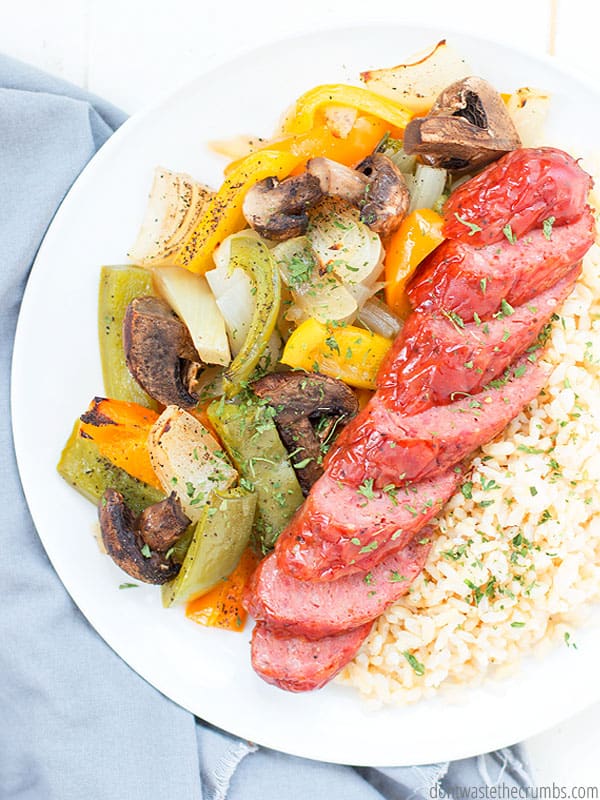 How to Make Sausage and Peppers
I will be honest with you, though – I think the best way to make sausage and peppers and onions and mushrooms is on a sheet pan. The sausages get golden and crispy, the vegetables cook down and get sweet– it's really a match made in your mouth!
Sheet Pan Sausage and Peppers (and Onions and Mushrooms)
Author: Tiffany
Prep Time:

10 mins

Cook Time:

40 mins

Total Time:

50 mins

Yield:

4

1

x
Category:

Main

Method:

Bake

Cuisine:

American
4

bell peppers, sliced (I use a mix of green, red and yellow)

3

large onions, sliced

16 oz

mushroom, halved

2 Tbsp

olive oil

1 tsp

salt

1 tsp

pepper

2 tsp

Italian seasoning

6

whole Italian sausages (sweet, spicy or even bratwurst)
Instructions
Preheat the oven to 375F.
Add all the vegetables to a large sheet pan (I use this large half sheet).
Drizzle with olive oil and sprinkle with salt, pepper and Italian seasoning.
Add the sausages in and around the vegetables.
Bake until the sausages are cooked through and the vegetables are tender and slightly charred, about 40-45 minutes.
Notes
If desired, serve with Instant Pot brown rice or a side salad.
Keywords: Sheet pan sausage and peppers
 How often do you make sheet pan dinners? Do you have a favorite recipe that you make all the time? Leave your ideas in the comments section below!