This slow cooker beef ragu is simpler than Jamie Oliver's version, but just as good! Serve over pasta with Italian spices, and dinner is ready fast!
I love having a few "back pocket" dinner recipes up my sleeve, like slow cooker pot roast or Instant Pot honey garlic chicken or even maple glazed pork chops.
These are the types of recipes that I can make when my meal plan goes awry, for whatever reason. Maybe basketball practice ran late, or I forgot about that after school meeting, or my husband used up the last of the potatoes for a breakfast hash.
Whatever the reason, having a few recipes to rely on – ones that YOU KNOW taste good, and YOU KNOW your family will like, and YOU KNOW you can make work with whatever you have – these are the recipes that we busy frugal mama's survive on.
Well friends, your back pocket list just grew by one – let me introduce you to slow cooker beef ragu!
Slow Cooker Beef Ragu
It seems like every time I make a slow cooker beef recipe, it's sauce is either broth or au jus. That means you either add broth to the recipe or the meal makes it own juices as it cooks.
There's nothing wrong with either of these, but when the husband asks why you made the same thing again for dinner – and yet you know very well that you made an entirely different recipe – something has to change.
That's where slow cooker beef ragu comes into play. We're still using beef, but that's where the similarities end. This slow cooker beef ragu recipe is:
TOMATO-BASED. High-fives for breaking free from the au jus (at least for one night).
LIGHT ON VEGETABLES. I'm not saying don't serve slow cooker beef ragu with vegetables, because golly gee whiz, I think every dinner should be AT LEAST half veggies!! (my personal opinion). But I am saying that the purpose of this recipe isn't to provide tons of vegetables in the sauce. There's just enough to create an awesome flavor, but that's it.
PANTRY-FRIENDLY. Seriously, I dare you to read the ingredient list and NOT find everything you need in your pantry right now. For real. I dare you.
AFFORDABLE. We're using the budget-friendly chuck roast here – the same roast we've grown to appreciate in our beloved pot roast.
EASY. If you can use a can opener, you qualify to make this recipe. Add some spices from the cabinet and that's as complicated as it gets.
FREEZER-FRIENDLY. It's incredibly helpful to have a few meal components ready to go in the freezer (i.e. brown rice, cooked black beans and garbanzo beans, chicken stock, etc.), but it's even BETTER when you have an entire meal ready to go.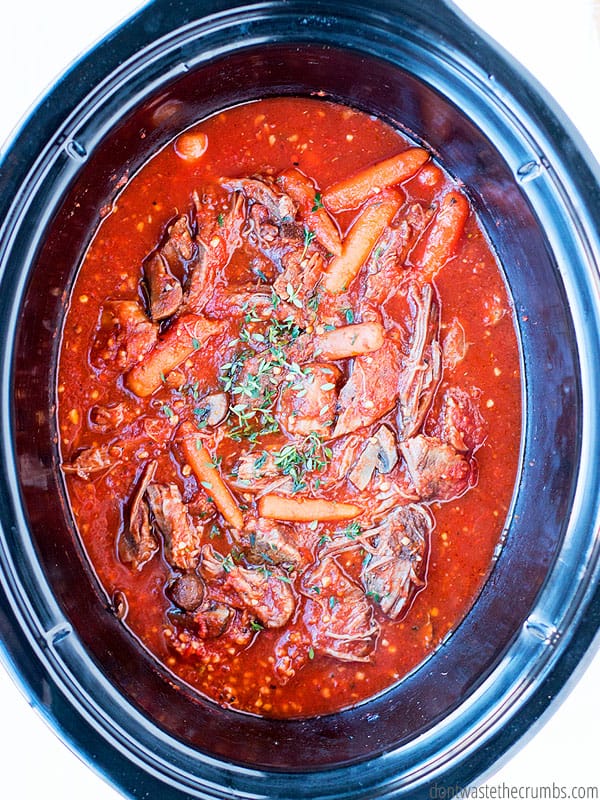 I've made this recipe countless times these past few months, partially because I was making sure it was legit for you guy (which it is), but also because IT'S JUST SO GOOD!
Not only is this a back-pocket meal, but it's one of those meals that you'll go back to over and over again because it's beyond versatile.
Don't have chuck roast?
Try flank steak. Or sirloin. Or any other steak or roast you find on sale.
Basically, chuck roast is on the fatty end of the scale, so you can't really go wrong choosing another cut of beef.
Don't have pasta?
We've made this over pasta as pictured, but also over roasted potatoes, baked potatoes, sweet potatoes, brown rice and cauliflower rice. I told you we've had it a lot!
Spaghetti squash would be good too, and so would mashed potatoes!
Need vegetable ideas?
Broccoli and mashed cauliflower immediately come to mind. We love both pan-seared broccoli and oven-roasted broccoli, and this is my favorite recipe for creamy mashed cauliflower.
This Costco copycat sweet kale salad would be good, and although it's not a vegetable, no-knead overnight artisan bread would be AMAZING to mop up the extra sauce.
Freezer-Friendly Beef Ragu
I mentioned earlier that this slow cooker beef ragu recipe is freezer-friendly, so let me explain how to make that happen without taking up tons of time.
First, plan on making this slow cooker beef ragu for dinner sometime this week. When you shop for ingredients (kitchen first, then the store), make sure you have double everything.
You'll likely be getting this ready early in the morning, since this slow cooker beef ragu recipe takes 8-10  hours to cook (on low), so as you're dumping and measuring everything into the slow cooker, dump and measure the doubled portions into a gallon plastic bag.
Literally, do each step twice.
Put the roast in the slow cooker. Put the roast in the bag.
Open the crushed tomatoes and pour on top. Open the crushed tomatoes and pour into the bag.
Measure the seasonings for the slow cooker. Measure the seasonings for the bag.
By the way, these bag holders make it SUPER easy to fill when you're working in the kitchen by yourself. No more trying to finagle holding a bag open while pouring sauce everywhere but inside the bag, LOL!
If you REALLY want to be on your game, double the side dishes you're making for tonight and freeze them for whenever you make the slow cooker beef ragu later. Mashed potatoes and mashed cauliflower freeze well, and brown rice and cauliflower rice does too.
When you're ready to make slow cooker beef ragu for dinner, simply thaw in the fridge overnight (along with your side dishes!).
Dump it in the slow cooker in the morning. Let it cook all day and serve when you get home. That's it!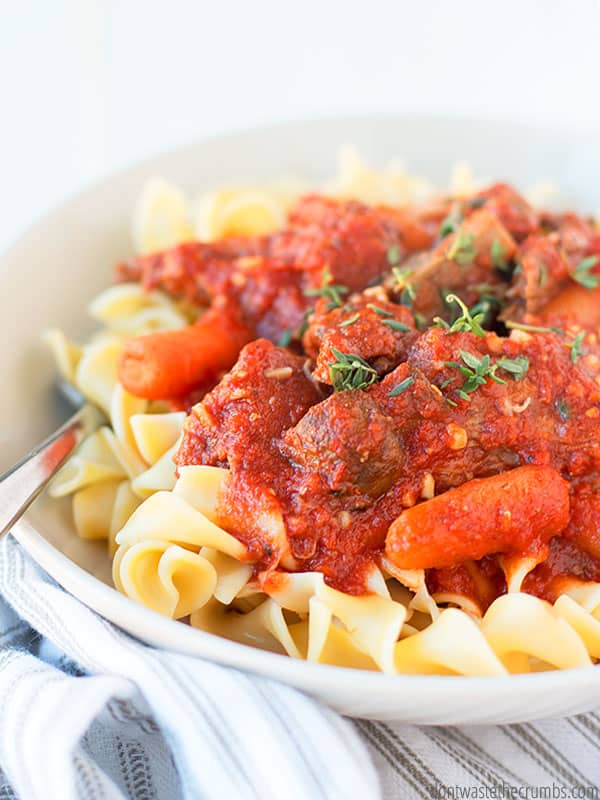 Need more ideas for freezer dump recipes? The very best slow cooker carnitas are always a winner, as is the slow cooker pot roast I mentioned earlier. You can't go wrong with either one!
Slow Cooker Beef Ragu
Author: Tiffany
Prep Time:

10 mins

Cook Time:

8 hours

Total Time:

8 hours 10 minutes

Yield: Serves

4

-6

1

x
Category:

Mains

Method:

Slow cooker

Cuisine:

Italian
28 oz

can crushed tomatoes

1 cup

chopped carrots (about

1

–

2

medium carrots)

1 cup

quartered mushrooms (about

2 oz

)

2

bay leaves

1 tsp

dried thyme

1 tsp

salt

1 tsp

pepper

3 Tbsp

granulated garlic

2

–

3

lb chuck roast
Instructions
Add all the ingredients except the beef in the slow cooker and stir together.
Add the roast, nestling it in among the sauce.
Cook on low for 8-10 hours. Serve with pasta or potatoes and your favorite vegetable side dishes.
Notes
Adapted from Pinch of Yum https://pinchofyum.com/slow-cooker-beef-ragu-with-pappardelle
What is your favorite freezer meal? Have you ever made slow cooker beef ragu?