Learn How to Make Cauliflower Rice, plus the best way to make your cauliflower rice crispy. Quick & easy, paleo, keto and Whole30 approved. Remember to make extra and freeze your cauliflower rice as a part of your monthly meal plan!
Have you heard of cauliflower rice?
It was all the rage not too long ago and seems to be the saving grace for those who can't have grains for one reason or another (like us, while on the Whole30).
I learned how to make it early on in this elimination diet, but before I show you the best way to make cauliflower rice (and the worst way), let me bust a few myths out there on this dish.
First, it doesn't taste like rice. Let's just get that out of the way.
Second, it doesn't absorb liquid like rice does. If you're looking for something to sop up the juices from your Whole30-compliant Instant Pot beef and broccoli, this won't do it.
BUT…
If you're looking for a side dish that has a similar texture as rice, and something that compliments the flavors of your favorite Asian dishes, then look no further. This is the perfect cauliflower rice recipe.
How to Make Cauliflower Rice
When you can't have regular rice, an easy recipe for cauliflower rice is going to be the next best thing. And given the fact that we've been eating a la Whole30 well past the 30 day mark, I've had plenty of opportunities to make cauliflower rice. I've loved this recipe because it's:
Quick & easy
Whole30, paleo and keto friendly
A nutritious vegetable side dish to replace regular rice in recipes!
The best way to make cauliflower rice
Using a box grater to 'rice' cauliflower
Not only is grating the cauliflower with a box grater CRAZY EASY, but it is so much quicker than any other method, like using a knife and cutting board, or a food processor (you can always use a food processor to pulse the cauliflower, but I like this method better).
Plus the cauliflower pieces truly get as small as pieces of regular rice AND it doesn't make nearly as much of a mess as the knife and cutting board method.
Note: I also learned – via the box grater method – that it tastes SO MUCH BETTER if you only use the florets and not the stems. Grating the cauliflower was the easiest way to make this happen.
Here's how to make cauliflower rice with a box grater
As best as you can, pull off all the green stuff from the cauliflower.
Wash the cauliflower and dry.
Placing the stem of the cauliflower on a cutting board, cut the cauliflower in half, from top down.
Holding the cauliflower by the stem, grate the cauliflower florets only using the big hole of a box grater (the hold you'd use to shred cheddar cheese).
Rotate the cauliflower as needed until you've grated all the florets off. When you start getting big pieces of cauliflower all over, stop. That's the stem and you don't want those for this dish. I recommend using them to make a compliant version of creamy cauliflower sauce, or steaming them as a side dish (just don't waste them!).
How to Cook Cauliflower Rice
Frying Pan / Cast Iron Skillet
I started thinking about how to make CRISPY cauliflower rice and I struck gold. The key here is to use a shallow, wide pan with very hot oil, and stir constantly. (My large cast iron pan worked great!)
It kind of sounds like deep frying cauliflower, but I promise you're not. It's more akin to the idea of cooking in a wok. High heat where the food doesn't have a chance to sit in one spot for very long. This means the food cooks without burning, and it cooks rather quickly because of the high heat.
Note: I definitely prefer this method to using the oven (which I do not recommend at all), or in a saucepan (which is like steaming, essentially, and can come out a bit mushy).
Method for cooking crispy cauliflower rice
When you can easily feel the heat coming off the pan, add the cauliflower to the pan and stir constantly with a wooden spoon. I like to make one big "round the pan" motion, and then move side to side as I cross the pan, then repeat this over and over.
Cook the cauliflower until it is light to medium golden brown, or as desired. Season with salt and pepper to taste.
If you're serving this in lieu of rice in a saucy dish, I recommend serving this NEXT TO the dish, rather than layering underneath.
Additional Tips for Cooking Cauliflower Rice
There's another trick to making crispy cauliflower rice – getting rid of the excess moisture.
Once you've grated all the cauliflower, put it on a couple of paper towels or a kitchen towel and press down to absorb as much moisture as you can.
Note: In a typical dinner situation, I'd rice the cauliflower first, absorb the moisture and let it sit out on the paper towels while I prepped and cooked almost everything else. Then I'd blot it again and cook it up at the very end since it cooks fast.
Can I freeze cauliflower rice?
Yes!!! It's perfect for saving time by making extra cauliflower rice for the freezer.
Is this cauliflower rice recipe gluten-free?
Yes! It's just cauliflower, cooking oil (like coconut oil or olive oil) and the seasonings you desire.
How to serve cauliflower rice
This cauliflower rice is the perfect side dish for these great recipes!
Or skip the Asian flavors and add some taco toppings on top!
This recipe is featured in my FREE Budget-Friendly Whole30 Meal Plan!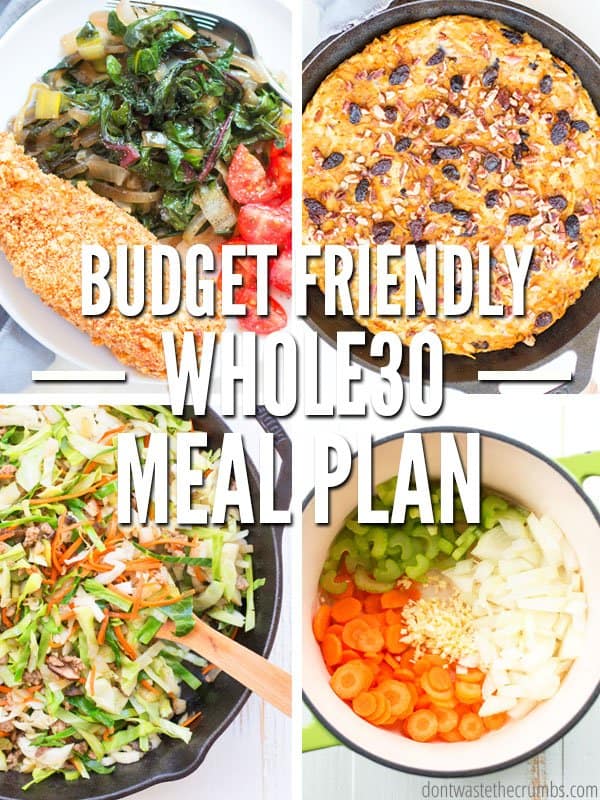 Whole30 Meal Plan
Sign up to get instant access to my
Whole30 Meal Plan,
complete with recipe and a shopping list!!
How to Make Cauliflower Rice
Have you ever made cauliflower rice before? Do you have any tips or tricks to share with the rest of us? I'd love to hear what worked for you – please leave your ideas in the comments!