Save time and money with this one week meal plan featuring healthy slow cooker recipes with chicken, beef, pork and vegetarian ideas. Every recipe is super easy, and approved by my picky kids! A simple kale salad would go perfectly with these recipes for a slow cooker!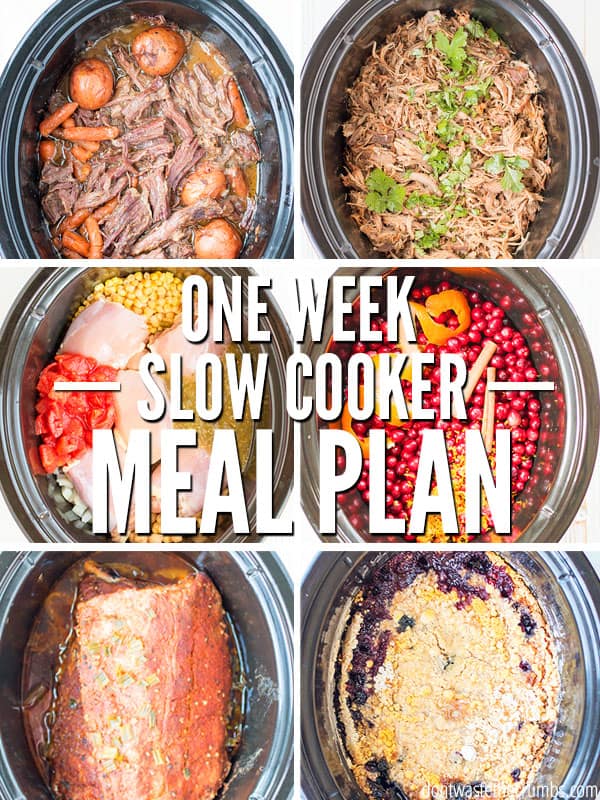 Do you ever have one of those weeks where you have something on your schedule every single night?
I have, and the worst part isn't that we're busy with things to do… it's because there's no time to cook dinner!
So, these are the weeks I reach for my slow cooker recipes.
Reasons to Make Slow Cooker Recipes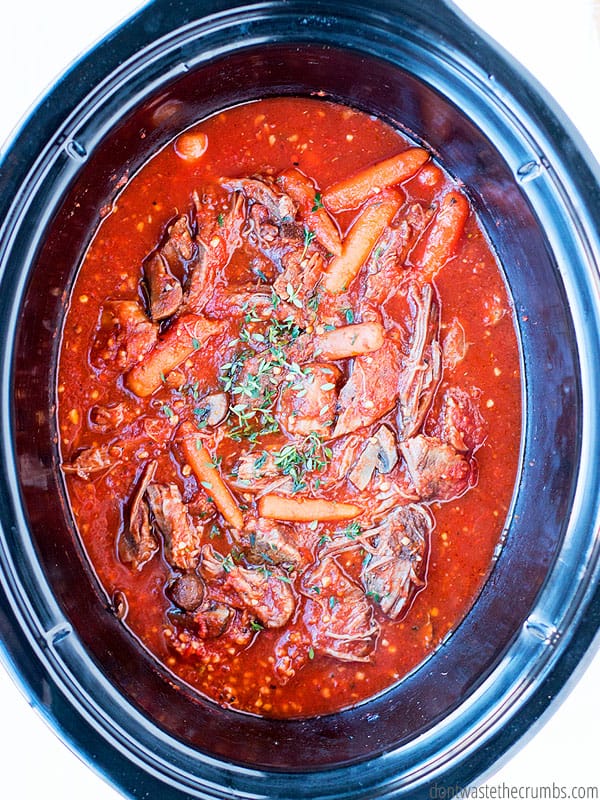 Recipes for the slow cooker aren't new, since one search on the internet will show you TONS of them. And I bet you have a few cookbooks or recipe cards with your favorite slow cooker recipes too.
I like cooking meals with in the slow cooker so much, and here is why 80+ years later, people still use it so often:
It's a time saver – You actually cook dinner while you're away.
It saves money – You can buy the cheapest and toughest cuts of meat and they become tender and juicy.
Who doesn't love saving time or money? That's why you and I both need this one-week slow cooker meal plan!
One Week Meal Plan: Slow Cooked Meals
What's Included in this meal plan?
Here's what you can expect to find in this meal plan that features slow cooker recipes:
100% real food recipes. They're simple, straight-forward and family-friendly.
Seven dinners. I created the meal plan to feed the average family of for with a cost of around $50 to $75.
Hearty meals. There's a good chance you'll have leftovers for lunches too. (If you have hearty eaters or teenagers, you might find this two-week lunch menu handy.)
Slow cooker breakfast AND dessert ideas! Slow cookers aren't just for dinner and your people need to eat, so we included ideas for breakfast and dessert too. Check out this freezer meal plan featuring SIX breakfast recipes in one hour!
Simple side dishes. You can make each side dish in a slow cooker or Instant Pot, or it doesn't require any cooking at all!
Shopping list. I've done the hard part for you!
What's Not Included:
Precautions for food allergies. I have been blessed to not have severe food allergies in our family and as a result, I don't plan for them in my meal plans.

If you need to account for food allergies, ALDI has a fantastic line of gluten-free foods, and if you're dairy-free, you're probably used to subbing anyway. So with a few tweaks, I think this ALDI meal plan would work in most food allergy families, too.
By the way, you can find all of our meal plans on this page!
What You Need for These Simple Crock Pot Recipes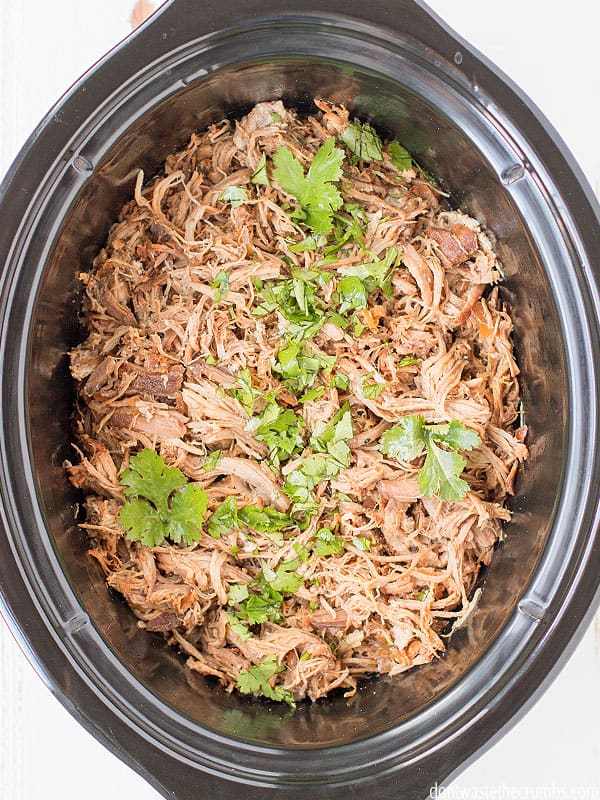 You'll certainly need a slow cooker because this is a SLOW COOKER meal plan. I have and LOVE this 6-quart slow cooker, so I would recommend it in a heartbeat.
But if you prefer to cook using an Instant Pot, here's how to make slow cooker recipes in an Instant Pot. However, since this is a SLOW COOKER meal plan, not all recipes will necessarily fit in the Instant Pot as-written.
Healthy Slow Cooker Recipes for One Week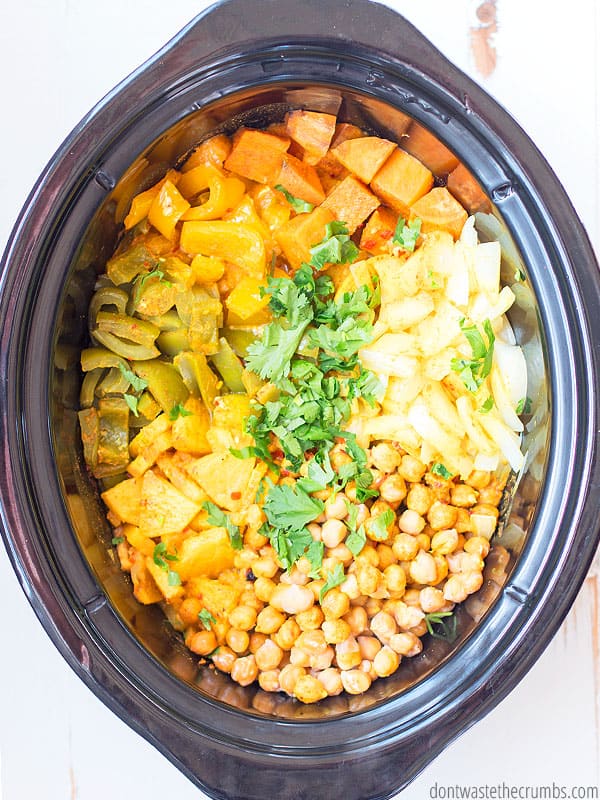 These crock pot dishes are numbered 1-7, so you can always use them in order of the days of the week, or mix them up. It's up to you!
Bonus Slow Cooker Breakfast Recipes
Breakfast in the crockpot makes for a convenient and nourishing meal for busy mornings when there's no time to "cook breakfast."
Bonus Slow Cooker Dessert Recipes
Did you know that you can make dessert in the crock pot? Yes, yes you can! Try these on your weekly meal plan!
More Favorite Slow Cooker Recipes
Here are a few more of our favorite slow cooker recipes. (But these are NOT included in the meal plan. However, they're tried-and-true recipes you might like!)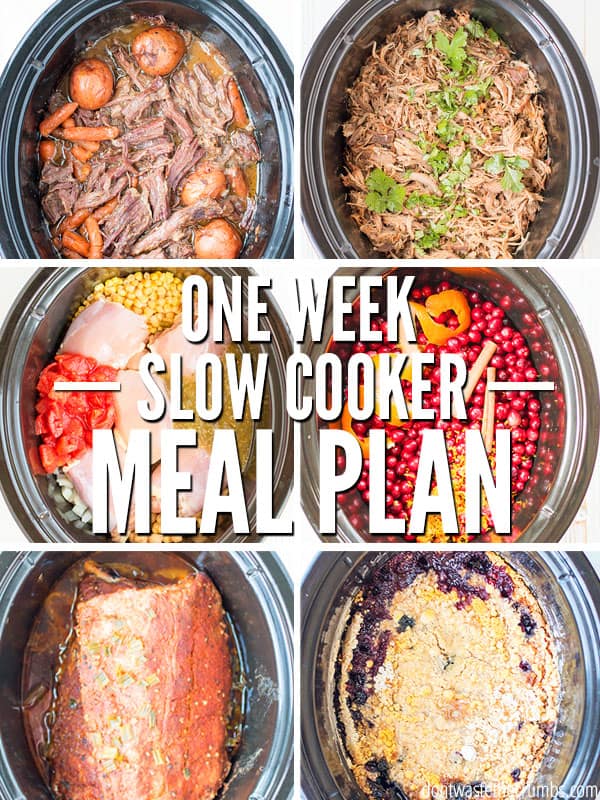 Slow Cooker Meal Plan
Sign up to get instant access to my
Slow Cooker Meal Plan,
complete with recipes and shopping list!!