This simple recipe for Crock Pot Poached Pears is the perfect way to serve a light, healthy and delicious dessert following a hearty family dinner like Instant Pot Vegetarian Chili.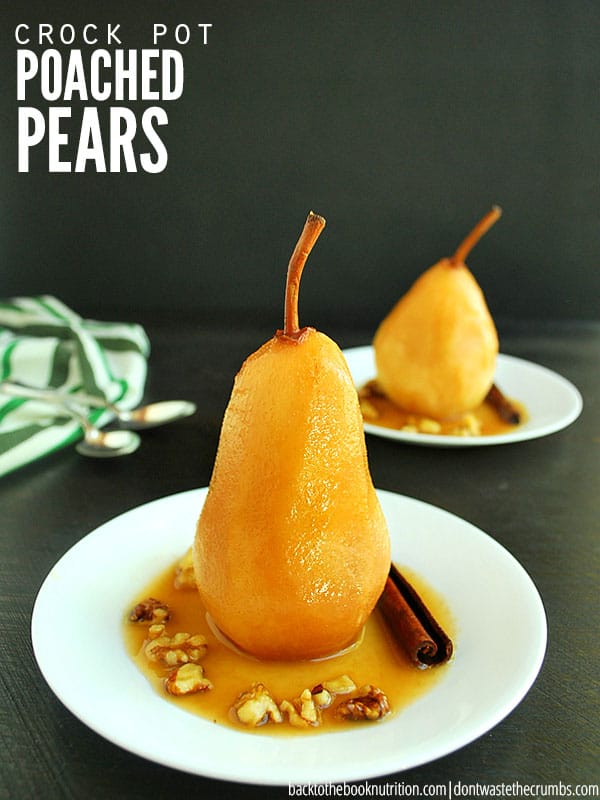 Here's how the weeknight dessert conversation goes at my house:
Halfway through dinner, one or both children will ask whether dessert is being served that evening.
Almost every night, I point to the obvious bowl of seasonal fruit in the center of the table and cheerfully say (as if I had just discovered it myself), "We have fruit for dessert!"
….which is, of course, met with shoulder slumps and disappointed frowns.
My kids, ages 12 and 10, actually love fruit and hardly leave any for my husband and me most nights. But we all know what they really want – this time of year, Apple Slab Pie, with homemade vanilla ice cream, or healthy chocolate chip cookies, which all sound pretty amazing!
Honestly, I want them too!
But sugary desserts are a slippery slope if there ever was one, so I try to be really good about reserving them for weekends and special occasions. So when I can offer something that's still completely healthy but tastes more like a "real" dessert, everyone's happy!
My Cheesecake Baked Apples or a bowl of fresh berries with my perfect Homemade Whipped Cream are family favorites, and now I can add these simple and delicious poached pears to the list!
Easy, Affordable Crock Pot Poached Pears
These easy Crock Pot Poached Pears with cinnamon and walnuts are the perfect healthy dessert because:
They look and taste elegant.
Are actually insanely easy to make,
And very affordable too!
During the peak of pear season, you can usually find Green or Red Anjou and Bosc pears for around a dollar per pound. If you find large pears, each one serves two people. With only two other frugal ingredients, the cost per serving is less than a dollar!
Ingredients for Crock Pot Poached Pears
These simple and healthy ingredients are so easy to find in any supermarket…
Pears, any variety.

Go for what's on sale, but Anjou (green or red) and bosc pears are preferable because they hold up better to cooking than other pears like bartlett, for example.

Apple Juice.
Cinnamon Sticks.

I find that cinnamon sticks are

much

cheaper in the bulk bin section at my local grocery store than on the spice aisle. If you can't find an affordable price on them where you live, substitute a couple of dashes of ground cinnamon.

Walnuts.

¼ cup chopped gives a rich nutty flavor. The Harvard Medical School says that

walnuts have many great health benefits

! This is a definite plus, especially in the fall/winter months!
How to Cook Crock Pot Poached Pears
Peel and add the pears to the slow cooker

with the apple juice and cinnamon sticks.

Cook for an hour on high or two hours on low

, and you've got the juiciest poached pears with the slightest hint of fall spice. The smell alone will have everyone running to the dinner table!

Once the pears are finished cooking

, remove the pears with a slotted spoon, and set them aside. Transfer the poaching liquid to a saucepan to reduce it down by about a third. Bring to a boil, then reduce heat and simmer for about 15 to 20 minutes on medium heat until you have a nice sauce consistency (but I really think you could skip this step if you're short on time).

For extra flavor and crunch

, I tossed a few chopped walnuts into the reduced sauce before ladling it onto plates. (I definitely wouldn't advise skipping this!)
Serve the pears perfectly as they are, OR you can pair it with a dollop of my homemade vanilla bean ice cream for an extra decadent dessert. YUM!
What is the BEST Way to Poach Pears?
This recipe is very simple and can be adapted for fewer or different ingredients…
For a milder flavor, the pears can be poached in water with a couple of dashes of ground cinnamon to replace the sticks, as long as you don't mind the pretty flecks of spice on the flesh of the pears.
For a summer dessert, these would be delicious poached in pineapple juice, without the cinnamon…but we can talk more about that in about six months!
Whatever method you choose, try to keep the stems intact – If one falls off, use a rounded spatula to turn the pears midway through cooking, and then transfer to the plate before serving. The flesh is super soft once cooked and a metal spoon is likely to take a chunk out of the fruit…there's a reason why only two of my pears are pictured! 😉
Others sometimes use red wine with lemon juice for poached pear recipes, but I think these taste so amazing without the wine and lemon. And, they're family friendly too! They can be served hot, cold, or at room temperature.
Can you Freeze Poached Pears?
In theory, yes, but it's not really recommended because the texture is very soft and tender after poaching, which might not be so good after being frozen.
How Long Do Poached Pears Last in the Fridge?
Poached pears refrigerate well in their liquid, tightly covered, for up to 5 days.
What do you eat with Crock-Pot Poached Pears?
Here are some of our favorites…
More Easy Dessert Recipes:
Hands-Free Cooking
Learn the secrets to getting dinner done faster by hacking your kitchen appliances, plus 30+ recipes to fuel your family!
Crock Pot Poached Pears
This simple recipe for Crock Pot Poached Pears is the perfect way to serve a light, healthy and delicious dessert following a hearty family dinner like Instant Pot Vegetarian Chili.
Author: Tiffany
Prep Time:

15 mins

Cook Time:

2 hours

Total Time:

2 hours 15 mins

Yield:

8

1

x
Category:

Dessert

Method:

Slow Cooker

Cuisine:

American
4

large (or 8 small) pears, any variety, skin peeled, bottom cut flat (so pears will stand up straight when served), and with stems on (this looks pretty but also makes them much easier to handle with tongs)

1 cup

apple juice

2

cinnamon sticks

1/4 cup

chopped walnuts
Instructions
Pour juice into the bottom of the Crock Pot.
Lay pears on their sides in the juice, then add cinnamon sticks.
Cover and cook on high for an hour or on low for two hours, opening the lid halfway through cooking to turn pears to their other side.
Use tongs to transfer pears to plates.
Pour juice through a fine mesh sieve into a saucepan. Add cinnamon sticks and bring to a boil over medium high heat. Boil the pear juice for about 15 minutes, or until you have reduced the volume by about 1/3 to a thin syrup consistency. (I dipped a clean toothpick in before boiling, noting how high the juice came up on the pick. As the mixture boiled down, I would insert another clean toothpick and compare the height of the boiled juice to the original pick)
Remove the reduced pear syrup from the heat and stir in the walnuts.
To serve, place pears on plates (1/2 of a large pear or 1 whole small pear), then ladle syrup and walnuts over them.
Keywords: Crock Pot Poached Pears