This lemon and herb sheet pan chicken dinner is so good and fast! Ready in under an hour, and uses a whole chicken, potatoes, and broccoli! Pairs nicely with cloud dinner rolls.
One of the biggest hurdles to overcome in a real food house is time. There never seems to be enough! I have a few tricks up my sleeve to make dinner faster, like including fast meals like Kung Pao Chicken, and hands-free meals like Cashew Chicken, on the meal plan.
But what if you want something that's a bit more "home-style?" You know, like the meals your grandma made when all the aunts, uncles, and cousins came over for dinner.
That's where sheet pan chicken comes into play. Specifically, lemon and herb sheet pan chicken. I already shared how to spatchcock a chicken, which is basically my go-to solution for getting a "traditional" dinner on the table in under an hour.
That basic recipe is delicious in its own right, but when I saw my friend Kelly share her butterfly chicken tutorial that had LEMON SLICES TUCKED UNDER THE SKIN, I knew she was on to something good.
And I was right! Lemon and herb sheet pan chicken are AMAZING! And super fast too, which is why we're eating it just about every week nowadays.
With so many opportunities to make sheet pan chicken, I've experimented with lots of different herbs. The first time it was with rosemary because I had extras from making rosemary sea salt flatbread (which you must make ASAP if you haven't already).
In fact, it would be wise to put both this sheet pan chicken recipe AND the flatbread recipe on the same weekly meal plan so can you buy just one fresh herb, not waste any of it, and save money at the same time… (Here's a tutorial on how to meal plan, if you're new to the concept.)
But… if you don't have flatbread on your meal plan, or even have fresh rosemary available, you can make this with just about any fresh herb. One week Kroger had a "poultry seasoning" package on clearance. It had rosemary, sage, and thyme and it was SO GOOD on the chicken.
Another week tarragon was marked down, so I gave that a try too. Even though tarragon smells like black licorice (which I despise), it was REALLY good with the lemon!
To be honest, I don't think it's possible to choose the wrong herb for this sheet pan chicken recipe. My only caveat is that the herbs have to be fresh, not dried.
Check the store for clearance, snip from the garden, or go raid the neighbors' rogue rosemary bush – do what you must. Fresh herbs all the way folks. (You can always freeze extra fresh herbs so none goes to waste.)
Lemon and Herb Sheet Pan Chicken
This really is an incredibly simple meal to make, but there is just a TEENSY WEENSY bit of skill required. Don't worry, do it once and you're an old pro (like riding a bike!)
2. Very gently lift the skin from the chicken.
Most birds already have a bit of skin lifted either at the end of the breast, or near the thigh, or both. Find those spots and very carefully slide your fingers inside to separate the skin from the meat. You'll want to reach in as far as you can, without tearing the skin.
3. To keep the grocery bill down, aim to get at least 8 slices from each lemon.
I cut the lemon so each slice is about 3/8" thick or so, but you don't have to use a ruler. Just make thin slices, and try to get 8.
4. Slide the citrus as far as your can under the skin.
The goal is to have each piece of chicken covered with at least one slice of citrus. I'm able to get 2 slices of lemon for each breast and each thigh, sometimes 3. Don't be squeamish and just slide one slice. You'll lose lots of flavor.
5. Be careful with the herbs.
Some herbs have reedy stems, so you want to be careful when you slide those under the skin too so you don't poke through. I've inserted the herbs backward (so the top of the herb first) and I've folded them too so that the part that goes in first isn't pointy.
The chicken as a whole takes 50 minutes in the oven. If you can work without distraction, you can have dinner on the table in under an hour flat. The key to making this a well-rounded meal is the veggies.
As you can see, I made potatoes and broccoli with the chicken on this night. I tossed the potatoes in olive oil, added them to the pan at the same time I put the chicken on, salted everything, and set the timer for 30 minutes. When it beeped, I moved the potatoes to one side and added fresh broccoli.
I set the timer again for 20 minutes and dinner was done. If you don't want potatoes and broccoli, you can follow the same method with just about any vegetable. In fact, I think it's brilliant to add as many veggies as you can to the pan.
Why dirty more dishes than you have to?! To roast vegetables with the sheet pan chicken, just think about how long the vegetable would take to cook in the oven by itself, subtract it from 50 minutes, and then add it to the sheet pan accordingly.
Psst! Want to kick this up a notch? Try finishing this recipe with a pinch of finishing salt! I love Ava Jane's Kitchen because it doesn't have microplastics (gross, right?) and it's SO GOOD! Plus, you can get a bag for just 1¢!! Just add a pinch before serving! (Get your penny bag of salt on this page.)
Oh yeah, you know what else would be good with sheet pan chicken? Buttermilk biscuits. YUM!
More Easy Recipes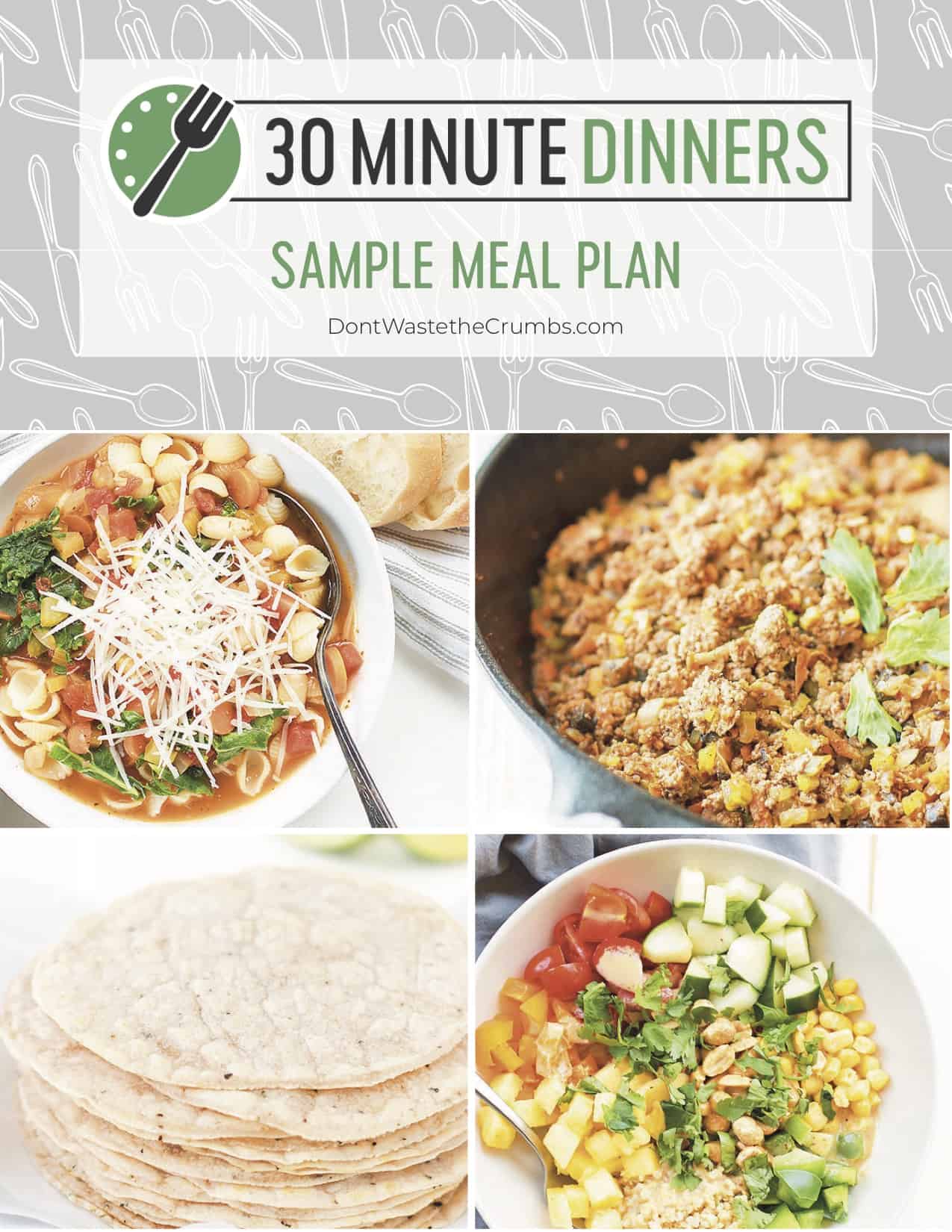 30 Minute Dinners Sample Meal Plan
Sign up to get instant access to my
30 Minute Dinners Sample Meal Plan
, complete with recipes and step-by-step instructions!
Lemon and Herb Sheet Pan Chicken
Prep Time:

10 mins

Cook Time:

50 mins

Total Time:

1 hour

Yield:

Serves 4

Category:

Main meals

Method:

Bake

Cuisine:

American
1

–

5

lb whole chicken, rinsed and patted dry

1

–

2

lemons, sliced into thin rounds

6

–

8

sprigs of fresh herbs (I used rosemary)
salt & pepper

2

–

3

pounds fresh vegetables (optional)
Instructions
Preheat the oven to 400F.
Follow this tutorial to spatchcock a chicken. Place the bird skin-side down and liberally salt. Turn the bird skin-side up and place on the sheet pan.
Gently lift the skin from the meat of the bird by sliding your fingers into the pockets at the end of the chicken breasts, thighs or both. Try to lift as much skin away from the meat as you can, without tearing it.
Gently slide lemon slices under the skin, and as far back as you can into the bird. I aim to have at least two slices of lemon for each thigh and each breast.
Carefully slide the fresh herbs under the skin as well, folding them in half to avoid tough stems if necessary. I aim to have at least two sprigs of herb for each thigh and breast.
Season the bird with salt and pepper and roast in the oven for 50 minutes, or until a meat thermometer reads 165F when inserted into dark meat near the bone. Note: If you're using fresh vegetables, add to the pan so that they finish the same time the chicken is done.
Remove the bird (and optional vegetables) from the oven and let it sit for 5 minutes for the juices to settle before carving.
Keywords: Sheet pan chicken
Where do you get your whole chicken?