25+ Healthy Dinners for Under $10! These cheap healthy meals are easy & frugal and fit perfectly into your monthly meal plan. Pair them with a simple dinner salad and my fluffy dinner rolls to complete each meal.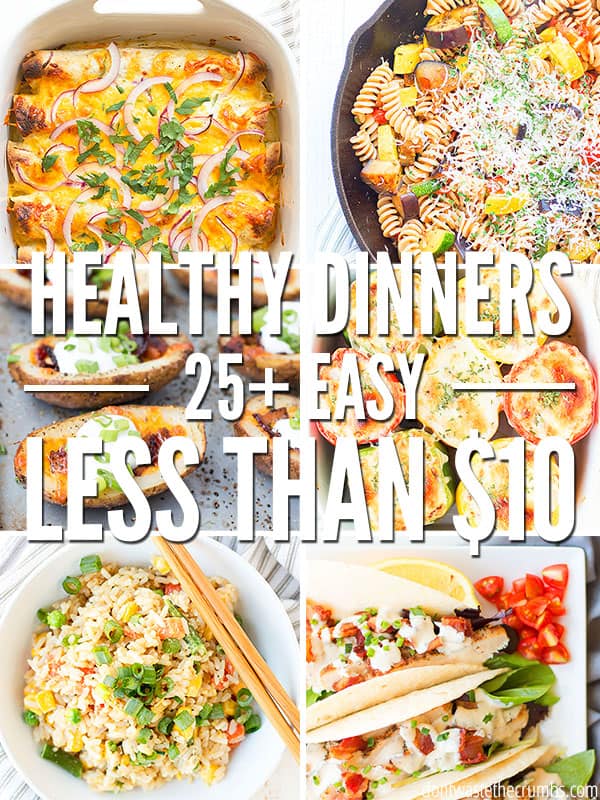 Have you ever thought to yourself, "I wonder how much this weeknight dinner would cost if took a moment to break it all down?"
It could turn out that your current comfort food meal (that you thought was a cheap, healthy meal) could actually be costing more than you think.
I am on a mission to show you how to make cheap healthy meals on a budget – that are also quick and easy! Stay tuned as I share with you all of the possibilities…
You are on your way to enjoying delicious, frugal, and healthy meals – while also staying within your budget!
PS…Check out our LIVE event, Grocery Savings Made Simple that starts March 17th!
The Best 25+ Meals for Under $10
I made this handy list of 25+ Meals for Under $10 to help you see what is possible with frugal meal planning. Using these recipes can also benefit you because they're:
Healthy
Made with REAL FOOD…
AND easy-to-find ingredients
Plus, they're often customizable for special diets (vegetarian, vegan, gluten-free & etc.)
Family-friendly
Freezer-friendly
The Truth of Your Food Costs
You deserve to know how much your meals are really costing you! I have gone through our quick and easy Crumbs dinner recipes, and I've come up with several ideas that are under $10. Often, you will hear how eating a wholesome diet is too expensive. I'm here to tell you that it is possible to stay healthy on a budget.
Enroll now so you can attend our LIVE event, Grocery Savings Made Simple that starts March 17th!
What can I cook on a tight budget?
When you are looking for cheap healthy dinner ideas… you can pick up these simple, easy-to-find ingredients and whip up something that will turn into your new comfort food favorite:
Grains

Fresh vegetables (artichoke hearts have a lot of health benefits)

Pasta

Ground beef or ground turkey

Chicken

Pork chops

Beans (black, pinto, chickpeas, etc)
If you want to experiment and make your own recipes, try making mac and cheese or stir fry within 20 minutes!
What can I eat for under $10?
I have included 25 budget friendly recipes that are under $10. These cheap healthy dinner ideas are delicious and the best thing is, they are easy recipes.
You can always omit the meat and make it a delicious vegetarian dinner. If you are gluten free, you can substitute it with a gluten free product. These cheap healthy recipes can be made for anyone and everyone!
25+ Cheap Healthy Meals
Dinner on a Dime
Subscribe to my newsletter and get instant access to
"Dinner on a Dime"
: 15+ family-friendly and kid-approved recipes that are quick, cheap and healthy!
What cheap healthy meals do you like to cook that are under $10?