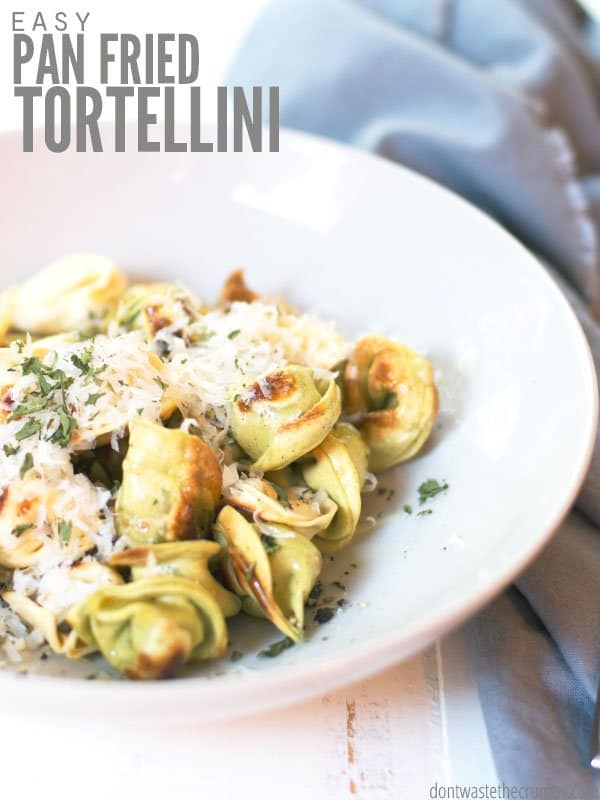 When we first moved to Georgia, we spent 3 months living in a one bedroom apartment. My kitchen tools consisted of a cast iron skillet, a 2.5 quart pot and a ceramic baking sheet that my aunt gave me as we drove through Texas. We didn't even have a microwave to reheat anything.
It was, what I thought, a very minimal kitchen.
And then we embarked on refinishing our hardwood floors. We packed up everything we thought we needed and moved to the basement.
My kitchen tools then consisted of a griddle, a waffle iron and a slow cooker. No oven. No microwave.
After 6 weeks of cooking ALL of our meals without an oven, I finally found hope in fried tortellini.
It sounds weird to say that, but it's true.
Up until fried tortellini, I thought dinners were going along fine.
I made slow cooker chicken, pulled the meat off the bones and made sandwiches, salads and even tacos.
I made slow cooker baked potatoes and pulled toppings out of the fridge (which was in the garage).
We even had a few nights of grilling, where my husband would cook extras so cooking dinner wasn't quite the chore during the week.
But the truth is, cooking on a griddle felt like a prison.
I'm a big proponent of cooking from scratch, but when you don't have a way to boil water, or a way to bake anything, cooking from scratch is HARD.
There's mental stress too. Making a one-week meal plan that didn't use the stove or oven was easy.
But to do it again, and again (and again and again!) felt practically impossible. Yet, we were still trying to eat within a budget, so I knew that NOT meal planning was the greater of two evils (and that's what I teach in my course Grocery Budget Bootcamp too!)
In order to make dinner happen AND stay in budget, I had to pick and choose my shortcuts carefully.
Instead of making homemade tortillas, loaves of man bread and my husband's favorite granola bars, I bought it all.
I even bought a rotisserie chicken one night, and a few bags of ready-to-eat salad mixes.
I knew these shortcuts were temporary, but I was losing faith in my creativity. It felt like the ONLY things I knew how to make, revolved around store-bought foods. It felt like the days when we first switched to real food.
For me, the light at the end of the tunnel was fried tortellini.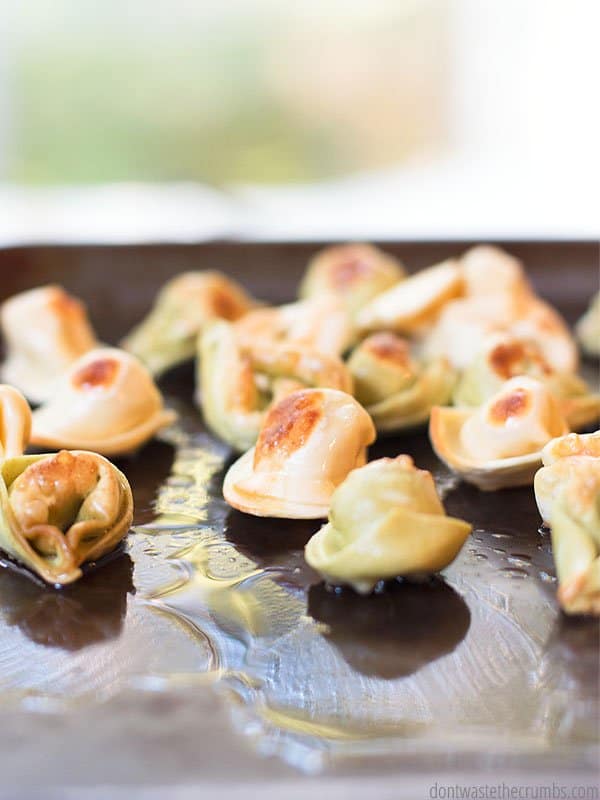 In shortcut mode and tired of eating the same thing over and over again, I picked up a bag of tortellini one day. I remember thinking, wouldn't it be nice to add some veggies to a pot of boiling water, toss in the pasta and call dinner done?
But I couldn't boil water, remember? So I turned to what I did have: bacon grease and a griddle.
Fried tortellini was a huge experiment, and a big risk. Who in their right mind would try to cook pasta on a griddle?!
Maybe you lose a few marbles when you're stuck in the basement for 6 weeks, but this is one experiment I'm glad I tried.
That night of fried tortellini made me feel like a home chef again. It reminded me of the love I have for cooking, and it encouraged me to keep going despite the situation.
And my family LOVED the pasta!
Now, when we think of pasta, we typically think soft. When we think of fried, we think crispy.
Fried tortellini is a combination of the two. The outer edges are crispy, while the stuffed portion is soft.
It's a love affair of soft and crispy that my family adores and keeps asking for, despite the fact that our kitchen is operational again.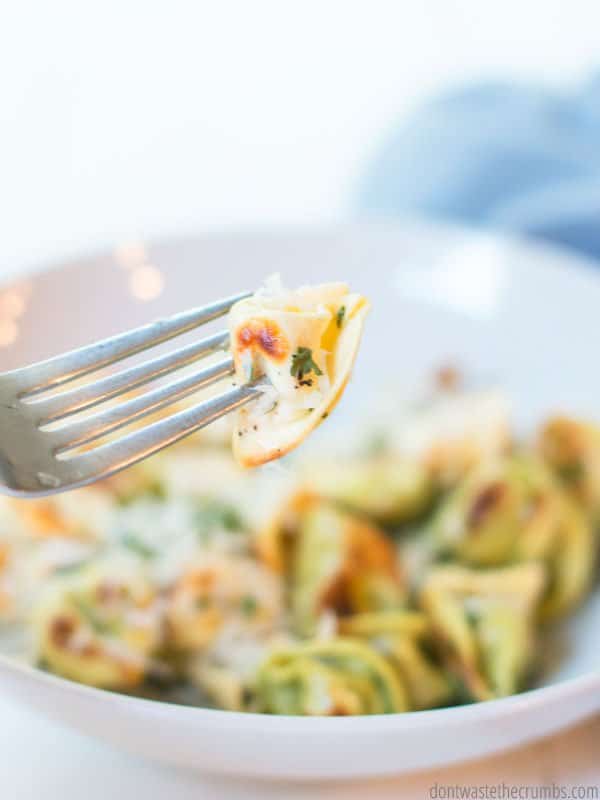 Easy Pan Fried Tortellini
No recipe gets posted on this blog unless I personally have made it at least 3 times, and fried tortellini is no exception. Here's what I learned along the way:
A griddle really performs best.
I tested this recipe in my cast iron skillet, but thought that the pasta didn't get as crunchy in the skillet as it did on the griddle (this is the griddle I have).
I think this is because a griddle has a place for liquids to drain. This means the pasta doesn't sit in the liquid for long. Once the edges get crispy, they stay that way.
In a cast iron skillet, all excess liquid stays in the pan. The pasta then cooks and absorbs the liquid, rather than frying.
Done right, you don't even need a sauce.
The first time I made this, I added a light tomato sauce. The second time I drizzled olive oil and seasoned with coarse salt and cracked pepper and it was SOOO good. That was the moment we deemed it blog worthy.
My advice? Skip the sauce. This is a great way to let the flavors of a good olive oil shine!
You can add veggies!
While your pasta cooks at one end of the skillet, add some veggies to the other end. Halved cherry tomatoes, fresh spinach, sliced mushrooms, sliced zucchini or yellow squash would all be excellent.
Now that the weather is changing, cubed squash or sweet potato, broccoli, cauliflower and kale would be really good!
As long as you cut the vegetables small and/or thin (because veggies won't "heat through" like they do in the oven), you're good.
You can do fried ravioli too!
While my families preferred the extra bits of fried pasta on the fried tortellini, you can definitely make fried ravioli if that's what you have. If you can, aim for smaller ravioli rather than the large ones so you get more edges to fry.
Friends, don't let life overwhelm you. If you get lemons, make healthy homemade lemonade. If you get tortellini, fry it!
Fried Tortellini
Prep Time:

5 mins

Cook Time:

15 mins

Total Time:

20 mins

Yield: Serves

4

1

x
Category:

Main meals

Method:

Stove top griddle

Cuisine:

American
1

–

2

packages of tortellini (

8

–

20

oz total, depending on your family size)

1/4 cup

(ish) of bacon grease OR butter

2

–

4

Tbsp olive oil
salt and pepper for seasoning
Instructions
Preheat a griddle (we have this one) to 350F.
When the griddle is ready, measure 1 Tbsp of bacon grease or butter onto the griddle.
Place tortellini on the griddle on a single layer. If you have more tortellini than space, do this in multiple batches.
Stir the tortellini around in the fat until all the pieces are partially coated. Add more fat if needed.
Let the tortellini sit and cook, undisturbed for about 5 minutes. Turn one tortellini over to see if it's ready. You want a dark golden brown color, but not burnt. If it's not ready, let it cook for another 2-3 minutes. Add additional fat if the tortellini seems to not be cooking very fast.
When the tortellini is ready, flip them all over and continue to cook for another 5 minutes undisturbed, or until the pasta is dark golden brown in color. Add additional fat if necessary.
When all the tortellini has cooked on both sides, randomly flip the pasta around, letting the awkward edges cook as well. When most of the tortellini pieces are dark golden brown in color, remove to serving plates.
Drizzle each serving with olive oil and season with salt and pepper.
Keywords: Fried tortellini
Do you have any kitchen shortcuts that you use to make dinner a bit easier? I'd love to hear them! Please leave your ideas in the comments!