Everything You Need to Know About Cooking in a Minimal Kitchen for Two Weeks
If I didn't have friends and family nearby, I would have given the issue of "What am I going to do without a kitchen for two weeks" more thought BEFORE I packed it all up.
But as things often do, it didn't work out that way.
I ended up thinking about the "what will I need" and "what will we eat" questions as I emptied each kitchen drawer into a box. Literally.
I would pack up a few things, then hold on to something thinking I might need it… then ultimately revert on that decision and pack it up. After all, whatever I didn't pack in a box had to go in our car.
And only so many things will fit in the trunk of a Honda Civic!
Finally, after going back and forth a few times in the same drawer (and worrying I was setting myself up for failure by having nothing at all), I pulled out a piece of paper and wrote down those specific items that I had been wishy washy on. I took that list to my dad's and borrowed them from him.
We've gone over a week now without a full kitchen, and I can confidently say that while it's really nice, and REALLY convenient to have all the cool appliances and gadgets and even utensils that a typical kitchen has, it's not necessary.
What We Had to Work With
Here are the few items I purposely didn't pack in the moving truck:
List A (to pack)
coffee mug
vegetable peeler
measuring cups and spoons
oven mitts
towels
can opener
quart plastic bags
gallon plastic bags
steak knife
small cutting board
aluminum foil
Some of these items were intentional keepers, like the mug, vegetable peeler, oven mitt and can opener. I even kept the free knife from Savemart versus my other knives just in case it didn't make it to the car.
I didn't mean to keep all the plastic bags or even the towels. But they've come in handy as we're preparing individual snack bags for the road trip.
List B (to toss/gift)
dishwasher tabs
paper towels (leftover from camping)
disposable plates, utensils and cups
aluminum 9×13 pan
trash bags
mason jars
My goal was to keep just enough of the disposables to get us through so I didn't have to pack them. We're reusing them as often as we can, and I even counted out the dishwasher tabs (6) and the trash bags (4).
When we leave, I'll toss the aluminum pan and gift whatever disposables are left and the mason jars to my friends.
Side Note: In case you're wondering, I'm gifting the mason jars because they're relatively inexpensive to purchase, my friend can use them and they'd likely break in transit to Georgia anyway.
List C (borrowed, round 1)
Here's what I borrowed from my dad early on:
tongs
spatula
wooden spoon
cast iron skillet
medium saucepan
various tupperware*
round cake pans*
* Since we have dinner together once a week, I had several pieces of his tupperware and two pans already in the kitchen. I kept his, and packed all of mine.
List D (borrowed, round 2)
As Thanksgiving approached, and Operation Clean Out the Kitchen began, I borrowed just a few more things:
cooling rack
3 cookie sheets
glass pie pan
I could have done without these in the kitchen, but they made homemade granola a whole lot easier (and faster!)
What We Ate at Home
Living minimally isn't really possible unless you know what you're going to eat. If you don't have a plan of sorts, you'll end up either:
a) eating a hodge podge of food at every meal
b) go shopping every single day and add more food to a kitchen you're supposed to be eating out of
c) eat out every meal
None of these options is appealing to me, so I made a very loose meal plan, essentially wrote down on a piece of paper all the various meals I thought I could make with what I had. Here's what I came up with:
pork tacos (pork carnitas + rice from the freezer, cheese + tortillas + salsa from the store → this was the only meal I actually shopped for)
deep dish pizza (cheese + pepperoni in the fridge, tomatoes from the freezer, leftover pork + BBQ sauce + cheese from taco night)
scones (dry goods from the pantry, fresh cranberries in the fridge, subbed vanilla extract for orange)
autumn chicken stew (squash + sweet potato from the CSA + shredded chicken from the freezer + onion from the garage)
goulash (ground turkey + whole peeled tomatoes + bell pepper from the freezer, macaroni from the pantry, onion from the garage)
peanut butter & jelly sandwiches for lunch (on No-knead Artisan Bread)
When you included Thanksgiving, Friendsgiving and Family Dinner (and the leftovers from all of those), this is quite the menu. We also had some fresh fruit that's been served on the side.
What We're Eating on the Road
My meal plan extended to the road trip too. Our goal is to eat in for breakfast, lunch and snacks. Then we'll find an inexpensive place for dinner (that will likely be burritos).
Here's what I have set aside for the road:
homemade granola (with milk, also packing solo cups and spoons for serving)
homemade instant oatmeal packets (used up the last of the dehydrated fruit in the pantry – they only need hot water, available at any gas station or hotel)
peanut butter & jelly (homemade bread from the freezer & homemade fruit butter, will make sandwiches in the morning and pack in lunchboxes)
fresh fruit (clementines, since the kids can peel them on their own, and apples, which I'll quarter in the morning before we leave)
carrot sticks (peel and cut in the morning)
bagels & cream cheese (or peanut butter & jelly, when the cream cheese is gone)
granola bars & dried fruit (random leftovers from the last camping trip and the pantry)
hotel continental breakfast items (as available, if available and if not pumped full of sugar)
Note: Since the kids had school this past week, I didn't pack their backpacks or their lunch boxes. For the road trip, their backpack will hold all their "fun stuff" and we'll pack lunches in the morning and store in the boxes (which I'm hoping will be a visual help to curb the "I'm hungry" comments because they're bored).
The only catch with the majority of these meals was that I was used to making them with something I didn't have.
instead of cooking the pork in a slow cooker, I baked it in a cake pan covered with aluminum foil
instead of traditional pizza, I made deep dish in the cake pan. I started the dough in the saucepan and finished by hand on the counter.
I mixed up the scones in the saucepan, baked them in the cake pan.
I halved the stew recipe and made it in the sauce pan. The day before I roasted the squash on a cookie sheet, then mashed it with a fork.
The goulash was made entirely in the cast iron skillet (using a cookie sheet as a lid).
I mixed up bread in the saucepan and let it rise in the large aluminum pan. I baked it in the cast iron skillet, preheated.
I've kinda felt like a female MacGyver, strategically using jars and knives, rigging up pans to be lids and spacing out meals in such a way that I have a pan to cook it all in.
Aside from making me feel semi famous in my kitchen, having so little to work with has really made me think outside the box!
Those pans of granola? Three different flavors in order to use up the last of what I had in the kitchen (Maple Vanilla, Cinnamon Raisin and Cranberry Almond).

I could have zested an orange for

scones

by using a knife, but I chose to save that as a snack and use up the vanilla extract I had in the pantry. Which led me to create a new scone recipe!

Instead of using a whisk, I shook ingredients violently in a mason jar.
Served soup in a mug.
PS – If you want recipes for anything I've mentioned, tell me in the comments and I'll recipe test and share!
The Crumbs family began a new chapter in November 2015, and I'm sharing the story as it unfolds every Friday here on the blog.
Here are the rest of the posts in this chapter:
PS – Many of you knew we were making big decisions and you've emailed to express your thoughts and prayers – can I just say thank you?! I am seriously BLOWN AWAY by your outpouring of love and kindness. You have absolutely NO idea how much it means to us – thank you, thank you, thank you!!!!! Despite not being able to reply to them all, I read every single one of them, cherish the kind words and encouragement you are sharing, and I am sincerely thankful for every single one of you!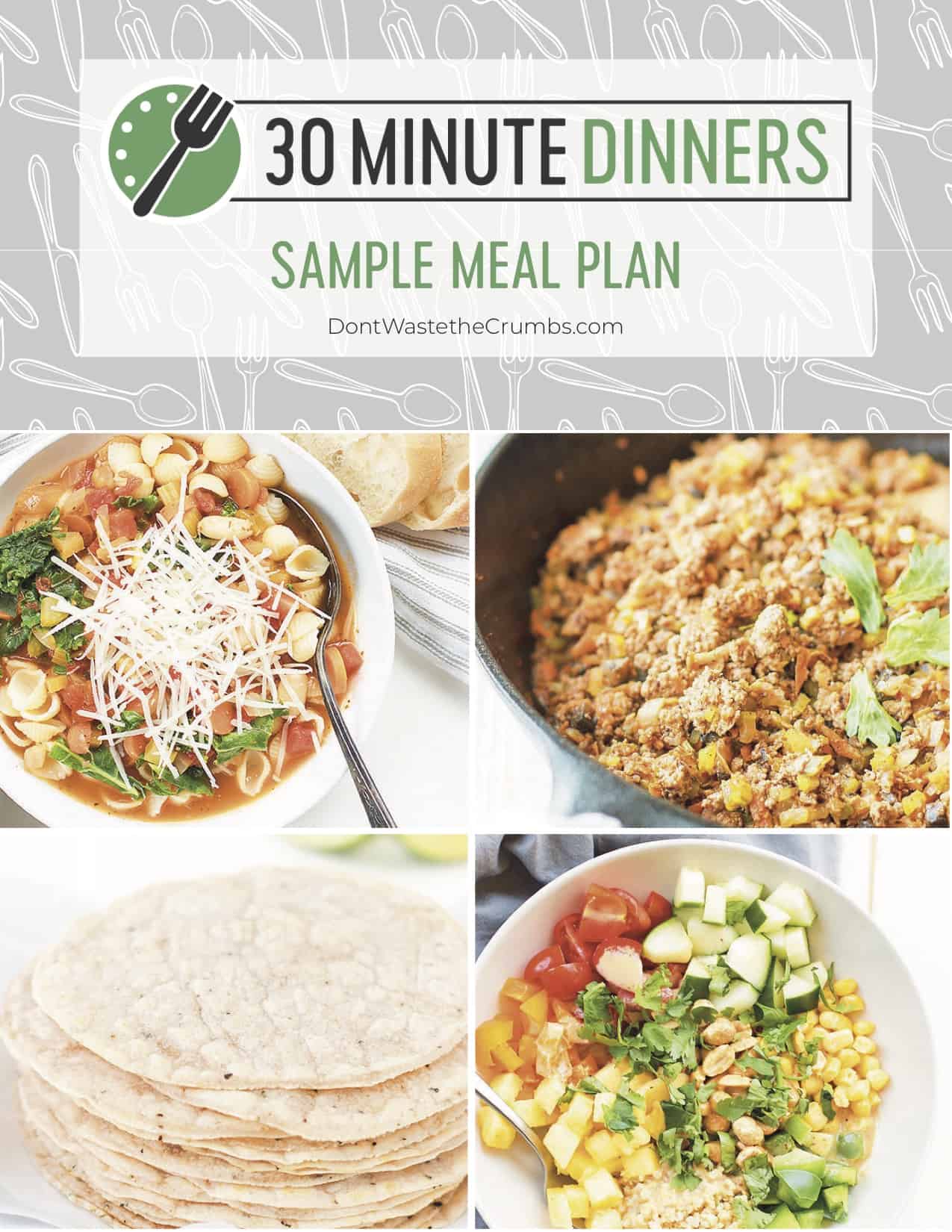 30 Minute Dinners Sample Meal Plan
Sign up to get instant access to my
30 Minute Dinners Sample Meal Plan
, complete with recipes and step-by-step instructions!
Disclaimer: This post contains affiliate links. By making a purchase through those links, I will earn commission that helps to keep the lights on in the Crumbs house – with no additional cost to you. Thank you for supporting Crumbs in this way. Read my full disclosure statement here.