This healthy homemade lemonade recipe is made sugar-free with honey, but you can use stevia, agave or sugar. Also delicious unsweetened without sweetener!
I don't know what it is about the summer heat, but it makes me crave something to drink that ISN'T water.
I know water is good for me and I faithfully take my water bottle with me where ever I go, but in the summer, water tastes so plain.
My husband likes making tea, sweetened with just a smidge of honey. Me, I prefer this healthy homemade lemonade instead. Something about the tart lemon quenches my thirst every time!
Growing up though, there was only one kind of lemonade: Country Time.
You'd scoop out some powder, add some water and magically you had a super sweet yet tart yellow drink that we all called lemonade.
Here's the thing – THERE'S NO ACTUAL LEMON in that stuff!!
This is the list of ingredients:
Sugar, fructose, citric acid, contains less than 2% of ascorbic acid (vitamin C), natural flavor, soy lecithin, maltodextrin, sodium acid pyrophosphate, sodium citrate, magnesium oxide, calcium fumarate, artificial color, yellow 5 lake, tocopherol (preserves freshness).
Wow. That's a lot of ingredients considering you can make delicious, healthy homemade lemonade with just lemons, water and a bit of sweetener!!
Why I Love Homemade Lemonade
I'll admit that I've had a lot of glasses of homemade lemonade while preparing for this post. I've singlehandedly taken out two giant pitchers in three days while my family sat back and watched in disbelief.
I can't help it though – it's just SO good!!
And SO refreshing!
The reason I'm drinking all this lemonade by myself could also be that my husband is a tea man – fair enough. I won't hold it against him.
And my son thought it was too tart – I get it.
And my daughter thought it could use more sugar – I get that too. Mix up some dirt and bugs with sugar and she'll gladly eat it!
But I like it on the tart side.
I rarely drink anything other than water and homemade kombucha (sometimes strawberry lemonade kombucha, sometimes rose hip & hibiscus kombucha) and the occasional glass of wine. I do this on purpose. We don't allow soda or sugary drinks in the house because the excess sugar just isn't necessary, or healthy for us.
This healthy homemade lemonade is intentionally sweetened with the bare minimum of honey.
But the best part is that you can easily add more so it's just the way you like it!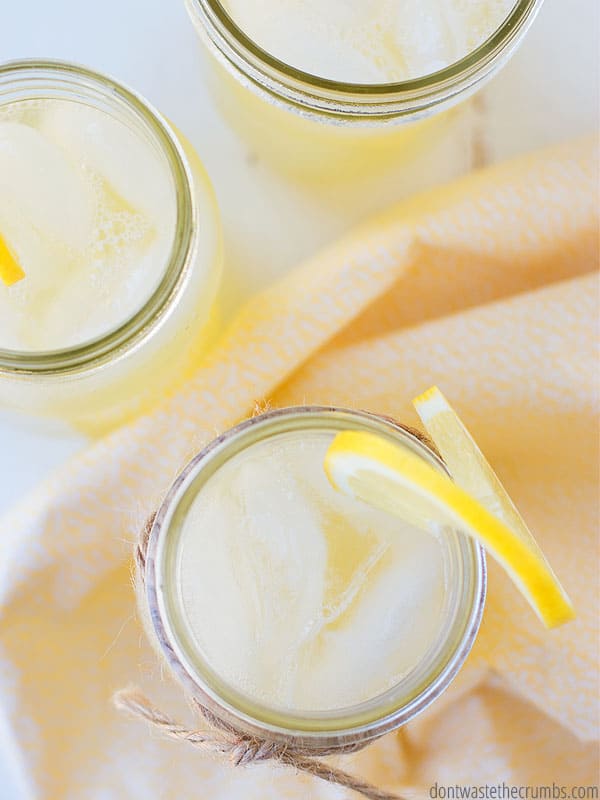 Healthy Homemade Lemonade
There are two key components to this healthy homemade lemonade:
Lemon Juice
You want the real deal here – lemon juice that is freshly squeezed from actual whole lemons.
And no, it's not a lot of work and no you don't need a big juicing machine.
I use a juicer like this one (except mine is white) and it took me MAYBE 5 minutes to juice 6 lemons.
Once you've juiced the lemons, pour the juice over a fine-mesh sieve lined over a big glass measuring cup. Use a spatula to push around the seeds and pulp so that the juice goes through the sieve.
And that's it!
Six lemons gave me a little extra juice, so I poured it into a jar and put it in the fridge. It's less juice I have to squeeze for the next batch! (If it's going to be a while before you make homemade lemonade again, you can freeze the lemon juice in an ice cube tray. I use this silicone mold for things like this.)
Bottled lemon juice in any shape or form is not the same, so please don't attempt this recipe using it. It won't come out the same and won't taste nearly as good.
Sweetener
I used honey to sweeten my healthy homemade lemonade. You can use sugar or maple syrup if you prefer. Start with the 1/3 cup as the recipe calls for and add more to taste. Remember that you can always make it sweeter, but you can undo the sweet once it's added in.
I have a few different varieties of honey at home and was able to taste the flavor of the honey in every batch I made. Keep this in mind if you have local honey with a strong flavor. Make sure you like the way your honey tastes plain before using it in this lemonade recipe!
The only thing you need to make healthy homemade lemonade besides freshly squeezed lemon juice and sweetener is water!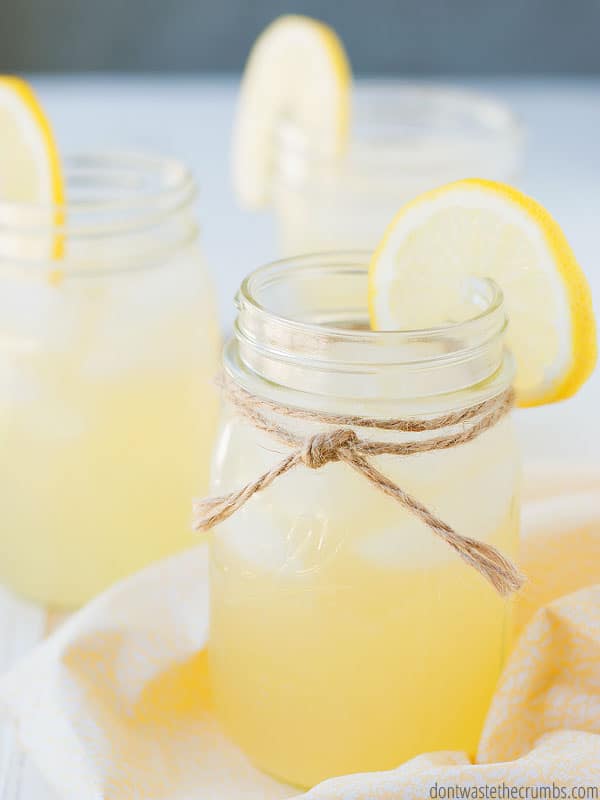 More ways to cut back on sugar
Here are the steps my family took to initially cut back on sugar -> Three Steps to Quitting Sugar
Most recently we took it to the extreme and did a Whole3o which cuts out ALL sugar (and added sweeteners) -> How to Afford the Whole30 on a Budget
But I totally understand how overwhelming it is to go from dessert every night to no sugar in the house at all. Same with most changes when it comes to real food eating when you're used to eating food from a box. I started an annual Real Food Reboot: 30-Day Clean Eating Challenge as a step by step process to help you through simple changes you can make to have a cleaner kitchen and a healthier lifestyle. We run the challenge every January, but you are more than welcome to join the online community any time of the year. You can find more about it RIGHT HERE!
Watch How to Make Healthy Homemade Lemonade
Healthy Homemade Lemonade
This healthy homemade lemonade is quick & easy, with only 3 ingredients. It's way better than store-bought lemonade. Simply sweetened with honey, it's a refreshing summer drink!
Author: Tiffany
Prep Time:

5 minutes

Cook Time:

5 minutes

Total Time:

10 minutes

Yield:

7 cups

1

x
Category:

Beverages

Method:

Stovetop

Cuisine:

American
5 cups

water, divided

⅓

–

½

cup honey (or other desired sweetener)

1

¼

cups freshly squeezed lemon juice (about

5

–

6

large lemons)
Instructions
In a small saucepan, combine 1 cup of water and

⅓

cup of honey and turn heat to medium. This is called simple syrup, and it prevents a big clump of honey (or sugar) from sitting at the bottom of the pitcher while you stir forever to get it to dissolve.
Once the honey is dissolved (this may take up to 5 minutes), pour it into the bottom of a half-gallon pitcher or glass jar.
Add the lemon juice and the remaining 4 cups of water and stir well.
Taste and adjust sweetener, if desired.
Homemade lemonade is most refreshing when served cold and/or over ice.
Notes
If homemade lemonade isn't adventurous enough for you, try some of these variations!
Add herbs like rosemary or lavender to the simple syrup (when you melt the honey into the water)
Use garnishes like lemon slices or peach wedges
Make watermelon lemonade by adding pureed watermelon