Mr. Crumbs and I joke that he's come a long way since his Pepsi, Dorito and Hot Pocket days in college. It was a major turning point when he traded store-bought Hot Pockets for homemade hot pockets instead!
And while he still enjoys the occasional salt and vinegar potato chip, he really truly gave up soda years ago. Reading about the harmful effects of high fructose corn syrup is what finally nailed that coffin shut for good.
He does miss the fizz though, so I make it a point to make second ferments of kombucha to help him with that. Right now with summer knocking on the door, strawberry lemonade kombucha is the flavor of the month!
Now here's the thing. I think it's really funny hearing him say he misses the fizz because I'm not a fizz girl.
I like the flavor of kombucha from the first ferment alone when I add herbs, and right now I'm totally into rose hip and hibiscus kombucha. Plus my continuous brewing system allows me to have kombucha, literally on tap, whenever I want.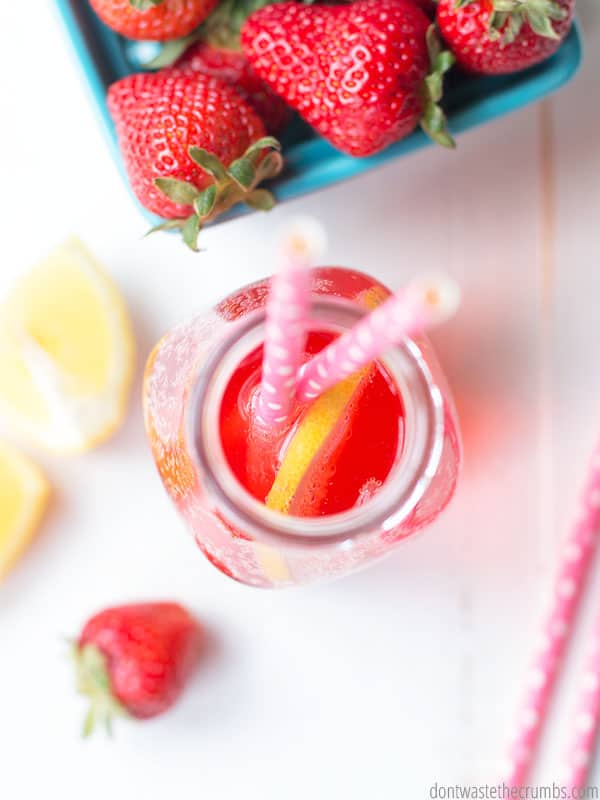 My husband though is a HUGE fizz fan and I know he's not alone. One member from my Grocery Budget Bootcamp course recently told me that they're taking all the money they're saving by NOT buying soda, and investing it into whatever they need in order to make kombucha instead.
Her family loves the fizz, but they know that soda is not only expensive, but it contains lots of unhealthy stuff too.
If you fall somewhere in the middle between no fizz and lots of fizz, know that you can get some fizz and carbonation in the first ferment alone. Lots of variables come into play, but I've noticed that the type of tea you use is important. I definitely get more carbonation when I use this blend of green and black tea, versus using oolong tea.
But in order to get the fizz my husband misses (and really enjoys), I need a second ferment.
Side note…
If you've never made kombucha before, this post might seem like Greek. I assure you that brewing kombucha and making a second ferment is not as hard as it sounds, but it's always best to start at the beginning so you understand what exactly is going on.
If you're new to kombucha, go back to this DIY kombucha recipe post. There I show you how to build your own brewing system on the cheap, using supplies you might already have on hand.
Then come back to this post, so you can learn the art of a second ferment and create some serious fizz!
(And if you're not into kombucha, try healthy homemade lemonade for a tasty summer treat!)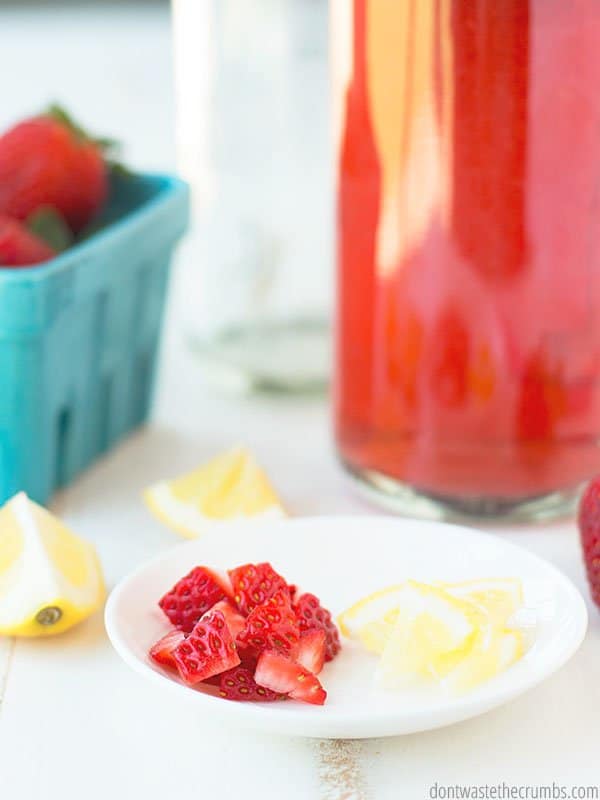 Three Requirements to Make Fizzy Kombucha
The amount of fizz and carbonation you create in kombucha boils down to three main factors: time, a 100% seal, and sugar.
1. Time
No matter how you want to flavor a second ferment – or if you even want it to be flavored at all – you need time if you want a good fizz.
How much time is slightly debatable. Some kombucha batches will make a good fizz after 4 days. Some take 7-10 days.
The amount of time needed to get a good fizz and carbonation in your kombucha is dependent on the type of tea you use (some teas take longer) and the temperature. Cooler temperatures slow the fermentation process, so a jar in the fridge will take longer to fizz than a jar sitting on the counter.
2. 100% Seal
This is referring to the jar you're using. You need to use jars that make an air-tight seal otherwise you won't get that over the top soda fizz we're looking for.
I have and LOVE swing-top bottles very similar to these, except mine are much larger (33.9 oz) and I found mine at ALDI. Although they were filled with lemonade, I bought them anyway. The kids drank the lemonade as a treat, and I promptly washed them and declared them mine for kombucha.
You don't have to use swing-top bottles though. If you have pint mason jars, or even quart mason jars – both will work well.
Something to consider when you're choosing a jar, is where you'll store your kombucha. In the fridge door? On a fridge shelf? On the counter top? You want to make sure that where ever you store your kombucha – both as it ferments for the second time, and for longer-term storage – that your jar fits in the space.
Most importantly though, you just want to make sure you're using something with an air-tight seal, and something you can easily open and close as you drink the kombucha.
3. Sugar
I know you already use sugar to feed the bacteria of the SCOBY. When the taste of your tea has turned from traditional sweet tea to slightly tangy and possibly fizzy, the sugar is practically gone.
But, in order to make seriously good fizz, you need more sugar.
Now, I have two caveats.
One, you don't HAVE to add anything if you don't want to. Some brewers can get a decent fizz just by bottling up their first brew and letting it sit for a second round. This hasn't been my personal experience, but it's apparently worked for some.
Two, kombucha is a super healthy beverage, so we don't just want to add sugar. And if you do just add sugar, you're not adding flavor.
So ideally, we want to add something that is naturally sweet AND will add flavor. Many brewers add fruit juice, but the quality of fruit juice is debatable. Many juices are watered down or made sweet with artificial sweeteners.
You can buy 100% fruit juice, but according to this article, it's super high in sugar. This is technically a good thing if we're flavoring kombucha, because we'll only use 2-4 Tablespoons per 16 oz batch of kombucha. But, 100% fruit juice is not cheap and it's perishable.
You have to either have to bottle lots of the same flavor of kombucha so you don't waste the juice, or drink whatever is leftover before it expires… but then we go back to the fact that it's really high in sugar.
These are the main reasons why I choose whole fruit as the source of sugar instead of fruit juice.
Strawberry Lemonade Kombucha
So far, I've brewed kombucha with strawberries, blueberries, blackberries, cherries, pineapple, oranges, lemons, apple, pear and mangos. I've used each fruit individually, and I've mixed and matched several fruits together. Everything has been awesome, except for the mango. (It bombed twice, so I don't recommend even bothering with that one.)
It's so easy to use whole fruit, especially since I'm buying it weekly for snacks and recipes anyway (like no-cook strawberry freezer jam). It takes 1/4 cup for my big 33 oz jars, so you only need 2 Tablespoons of finely diced fruit to flavor the 16 oz jars I recommend.
In day-to-day terms, it's the same as 2-3 strawberries, a slice of pineapple, less than 1/4 of an apple… things you can simply set aside as you're chopping fruit for the kids anyway. It's barely a dent in your grocery budget (if any, really) and it's so much more convenient than buying juice.
And WAY cheaper than buying flavored kombucha at the store!
Plus when you use whole fruit, you can flavor your kombucha anyway you want!
My husband LOVES pineapple with anything, but he's enjoying strawberry lemonade kombucha right now because strawberries are in season and cheap!
Plus with the heat outside, it's such a refreshing flavor!
More Healthy Strawberry Recipes
Strawberry Lemonade Kombucha
Author: Tiffany
Prep Time:

5 mins

Cook Time:

0 mins

Total Time:

5 mins

Yield:

16 oz

1

x
Category:

Beverages

Method:

Fermentation

Cuisine:

American
16 oz

brewed kombucha (I use this blend of green and black tea)

2

–

3

strawberries, finely diced

1/4

lemon, cut into wedges small enough to fit into the opening of your jar
glass jar(s) with air-tight seal
Instructions
Place the fruit in the glass jar(s)
Fill with the brewed kombucha and seal completely.
Let sit on the counter at room temperature for at least 5 days. For more fizz, let it sit up to 10 days.
Open carefully over the sink and taste.
If the fizz is to you liking, seal the jar and store in the fridge to enjoy cold.
You can store this at room temperature if you prefer, but know that the kombucha will continue to ferment at room temperature.
Keywords: Strawberry lemonade kombucha
How do you feel about the fizz – love it? Hate it? Have no preference? Leave your thoughts in the comments below!