Healthy Homemade Hot Pockets – a recipe for making easy and simple homemade hot pockets. No fake ingredients, just real food, like my homemade pizza sauce!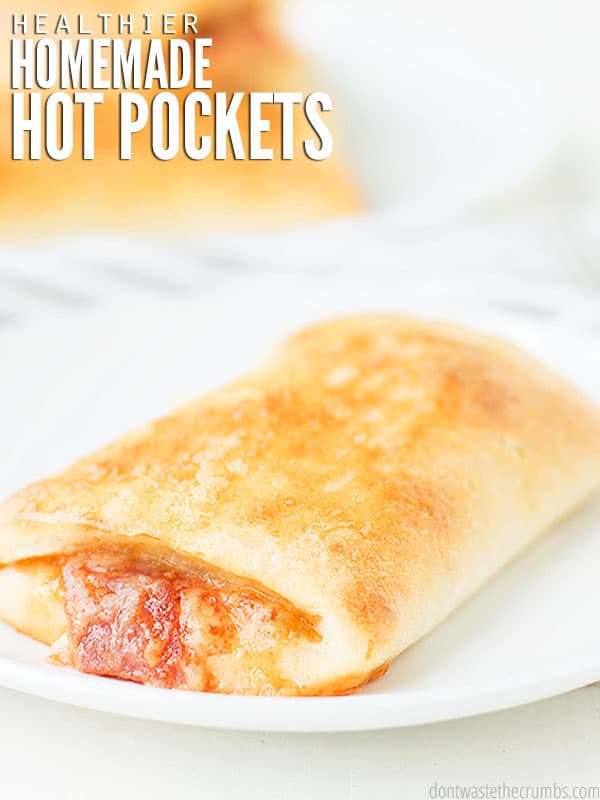 The Crumbs house is full of recovering food addicts.
My daughter is a recovering graham cracker addict. When she was a toddler and learning how to talk and feed herself, "cracker" was her favorite word and snack. It wasn't until she was 3 or so – fully eating with forks and fluent in speaking – that we began taking what we ate seriously and weaned her off the processed snack.
She no longer asks for crackers out of the blue, but they're the first thing she'll grab at a party or pot-luck. Her addiction didn't last long, but it sure was strong!
Peanut butter and I get along a little bit too well for me to eat it regularly. There was a time when me and a jar of Jif and a sleeve of saltine crackers would hang out and watch prime time reality TV shows. The three of us had our nightly routine, which led to many empty jars and even more extra pounds.
Fortunately, I no longer consume peanut butter by the jar-full, but the old habit runs deep, and every now and then, the urge to grab the jar and a fork hits me just so. Switching to an all-natural peanut butter certainly helps, but so does making a "no peanut butter for Tiff" rule.
Sure, it's a fake rule, and there are exceptions whenever the family is having peanut butter sandwiches or dipping celery sticks in a big sticky glob, but it works for the rest of the time and that's what matters. Because that peanut butter slope sure is a slippery one…
Mr. Crumbs had a hot pocket addiction back in college.
The man stocked his dorm fridge with hot pockets and coke, ate at his favorite pizza joint regularly (I'm sure having a part-time job there didn't help), and indulged with the occasional cheese-steak. I know he thinks fondly of those days because he still gets a nostalgic twinkle in his eyes when we talk about hot pockets… although now we're talking about how awful they taste and the fake ingredients they're made of.
What are the ingredients in store-bought Hot Pockets?
It's been a long time since I've laid eyes on a box of hot pockets, but thanks to Amazon, we can read the MASSIVE list of 50+ ingredients that make up a hot pocket. Since Mr. Crumbs is a purist, we're going with the classic pepperoni pizza flavor:
Unbleached Enriched Flour (Wheat Flour, Malted Barley Flour, Niacin, Reduced Iron, Thiamin Mononitrate, Riboflavin, Folic Acid), Water, Pasteurized Prepared Cheese Product (Water, Partially Hydrogenated Soybean Oil, Casein, Modified Food Starch, Whey, Salt, Sodium Citrate, Sodium Aluminum Phosphate, Food Starch, Natural Flavor, Citric Acid, Sorbic Acid [As A Preservative], Xanthan Gum, Locust Bean Gum, Guar Gum, Lactic Acid, Artificial Color, Mozzarella Cheese [Milk, Cheese Culture, Salt, Enzymes]), Pepperoni (Pork, Beef, Salt, Water, Dextrose, Spices, Lactic Acid Starter Culture, Oleoresin of Paprika, Dehydrated Garlic, Sodium Nitrite, BHA, BHT, Citric Acid), Tomato Paste…
Partially Hydrogenated Soybean and Cottonseed Oil (With Lecithin, Artificial Flavor, Beta Carotene), Pasteurized Prepared Cheese Product (Mozzarella Cheese (Milk, Cheese Culture, Salt, Enzymes), Water, Casein, Partially Hydrogenated Soybean Oil, Food Starch, Whey, Salt, Sodium Aluminum Phosphate, Sodium Phosphate, Lactic Acid, Natural Flavor, Sorbic Acid, (As A Preservative), Artificial Color), Contains less than 2% of: Dried Whey, Seasoning (Spices, Salt, Garlic Powder, Maltodextrin, Xanthan Gum, Partially Hydrogenated Soybean and Cottonseed Oil), Modified Food Starch, Dough Conditioners (Calcium Sulfate, Mono- and Diglycerides), Sugar, Dried Egg Yolks, Salt, Yeast, Dried Egg Whites. (Contains 8.5% Pepperoni).
Wow… did your eyes glaze over after line three or so? Mine too. I tried to read the whole list, got confused, and had to start over. Twice. If I can't even READ the ingredient list, we've got problems.
Fortunately, I come bearing solutions.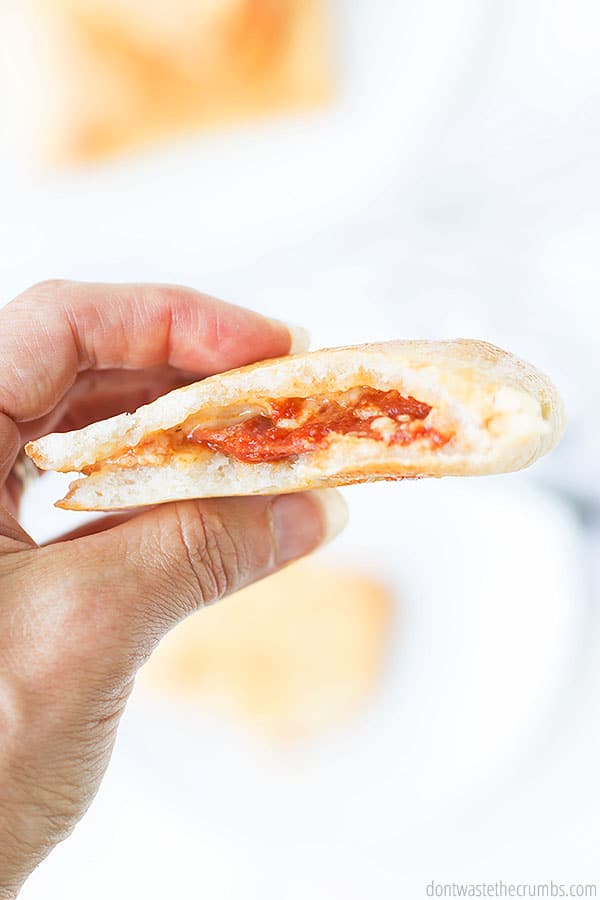 Homemade Hot Pockets
Y'all know we're huge fans of pizza. We tried at least a couple dozen dough recipes before settling on our favorite.
Our sauce contains only four ingredients, two of which are salt and pepper, and is naturally sweet because of the dirt the tomatoes grow in (we use these tomatoes). After learning that some shredded cheese comes with an additive called cellulose, we opt for fresh mozzarella instead and slice it ourselves. Our only splurge is pepperoni, although we're slowly on the quest to find a more natural version.
If you can make pizza, you can make calzones. It's essentially a sauce-less pizza folded in half, served with the sauce on the side.
And if you can make a big calzone, you can make a little calzone, modify it just a bit and create your own homemade hot pocket.
Why we love homemade hot pockets
There are several bonuses to these delicious homemade hot pockets:
You know EXACTLY what they're made of.
They can be made in different sizes. Big ones for the big kids, smaller ones for smaller hands.
If you're already making pizza for dinner, there's no real extra work. Even if you're not making pizza, they're still REALLY easy to make.
You can customize them to your favorite flavor. Steak & cheddar, ham & Swiss, turkey & provolone, carnitas & pepper jack… or go meatless with mushrooms and Swiss, fajita flavors like peppers, onions & tomatoes.
With school starting in just a few weeks, these homemade hot pockets are a great meal to make in advance and keep stored in the freezer for either a quick snack or a packed lunch. The next time you have homemade pizza on your menu, make a double batch of dough and enlist the kids to help you make a big batch of homemade hot pockets.
Storage & Portability
After the homemade hot pockets have cooled, wrap them individually with aluminum foil and store in the freezer for up to 6 months. To prevent them from getting lost in the freezer, label the flavor of each hot pocket with a permanent marker, and store all the hot pockets in a gallon plastic bag.
Cost Breakdown for Homemade Hot Pockets
Dough: yeast (.03) + flour (.38) + salt (.02) + sugar (.01) = $0.44
Sauce: tomatoes (3.45) + salt (.02) + pepper (.05) + basil (.08) = 3.60/2 = $1.80
Cheese: fresh mozzarella = $2.26
Note: One batch of sauce makes enough for four pizzas.
Total Cost for Homemade Hot Pockets: 28¢ each
WOW! Can you believe that you can make 16 hot pockets for just $4.50?! That's an 83% savings over the $1.61 price tag that comes with each store-bought hot pocket. AND you can save even more if you use tomatoes from the garden for the sauce and homegrown basil. 🙂
Get more frugal, affordable, and awesome recipes HERE or check out "The Healthy Lunchbox" – it's one of the best eBooks I've read on healthy lunches, including back to school!
Five School Lunches in One Hour
Sign up to get instant access to my
5 School Lunches in One Hour Meal Plan
, complete with recipes and shopping list!
Watch How to Make Healthy Homemade Hot Pockets
Pizza Pockets
Healthy Homemade Pizza Pockets – an easy recipe for making easy and simple homemade hot pockets. No fake ingredients, just real food, like my homemade pizza sauce!
Author: Tiffany
Prep Time:

20 minutes

Cook Time:

22 minutes

Total Time:

42 minutes

Yield:

1

6

1

x
Category:

Main Meals

Method:

Oven

Cuisine:

American
Instructions
Preheat oven to 450F.
Divide the pizza dough into two portions. Then divide one portion into two equal portions. Again, divide each portion into two equal portions. Repeat with the remaining halves so that there are 16 equal pieces altogether from the single batch of pizza dough.
Working with one small piece of dough at a time, roll or pat it out into a rectangle that's approximately 3″x6″. (The measurement doesn't have to be exact. Adjust to fit the size of the hands that will be holding it.)
Measure 2-3 Tbsp of sauce onto one side of the rectangle, leaving a

¾

" gap around the edges.
Place 1-2 slices of cheese on top.
Add remaining toppings, taking care not to overfill.
Gently fold over the empty dough over the toppings and pinch the top and bottom together to form a seal.
Cut a small slit on the top to allow air to escape during baking.
Repeat with the remaining pieces of dough.
Bake on a pizza stone, or on a cookie sheet for 17-22 minutes, or until the crust is golden brown.
Allow to cool slightly before enjoying.
Notes
You'll need just a small portion of toppings for each hot pocket, so feel free to mix and match with what you have in the house. As an estimate, each 3″x6″ hot pocket will use 1 slice of fresh mozzarella and 2-3 pepperonis quartered.
What about you? Did you eat hot pockets growing up? What was your favorite flavor?