Pop quiz – Name the two most popular ingredients for fall recipes. So easy, right? Pumpkin (duh) and apple.
I usually kick off the season with all of our favorite apple recipes – like Apple Pie Cookie Bites, Apple Ring Pancakes, and Apple Crumble Ice Cream – biding my time until the cooler weather arrives and I'm in the mood for pumpkin spice everything.
But fall came unseasonably late this year in Houston, with daytime temperatures still topping out in the mid eighties until late last week. Ugh. With Thanksgiving just a few days away, I finally had to just crank down the A/C and squeeze in some fall treats before I missed my chance and had to jump straight to homemade eggnog and our favorite Christmas cookies!
So I'm doubling up on favorite fall flavors to make up for lost time, starting with this pumpkin spice apple cider!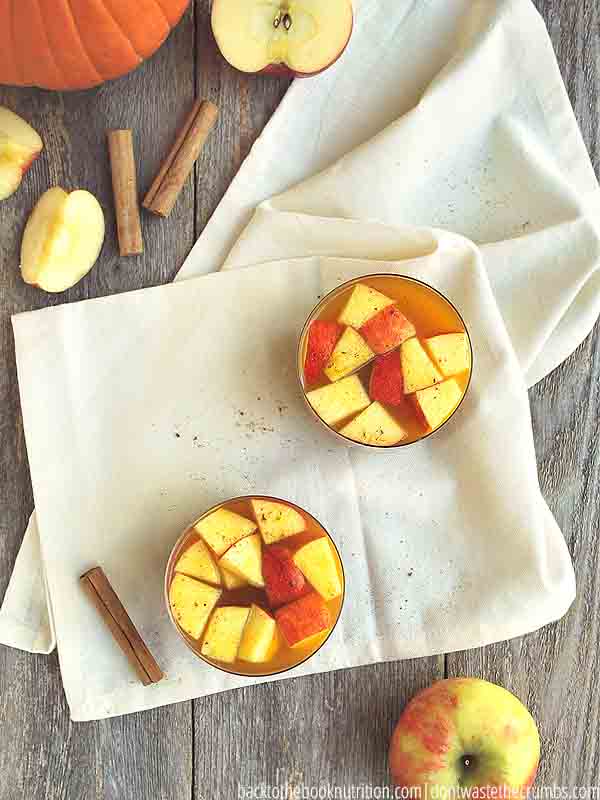 10 Minute Pumpkin Spice Apple Cider
In addition to the unique combination of seasonal flavors in this recipe, I love that this Pumpkin Spice Apple Cider only takes 10 minutes to make!
You just need a handful of ingredients you probably already have on hand. Give them a quick stir, heat until steamy, and voila! Hot apple cider with a pumpkin spice twist!
It's frugal, too – apple juice and canned pumpkin are the main ingredients, both of which are very affordable and easy to find this time of year. To save even more money, use homemade pumpkin puree instead of canned.
Note from Tiffany: Even though homemade pumpkin puree is sometimes cheaper than canned, I tend to only buy it in a can. Making pumpkin puree is one thing from scratch that I don't find worth the time. I teach a whole lesson on evaluating what is worth making from scratch or not in Grocery Budget Bootcamp. 
As a bonus, this drink is super healthy! Made almost entirely of fruits and vegetables, it packs a whopping 300% of your daily vitamin A (beta carotene) needs and even a few grams of fiber. How many sweet treats can say that?
Not many, which means this one goes on the short list of treat recipes that get a pass on my no dessert on weeknights rule.
Additional Recipe Notes
This recipe is easy to adapt to fit your needs – here are a few ideas!
For a stronger flavored cider, add the optional garnishes during heating and/or increase the apple pie spice and pumpkin pie spice.
To make ahead, store the mixture in the fridge, then give it a quick reheat on the stove and whisk well before garnishing and serving.
If serving to party guests, heat in a slow cooker instead of the stove. Whisk well and heat on high until steamy, then turn to warm setting.
Use one of these nifty mixers to stir. It blends everything in better than a spoon.
Add sparkling water to make a spritzer!
10 Minute Pumpkin Spice Apple Cider
Ingredients
1½ cups pumpkin puree (I use canned)
4 cups apple juice
1 Tbsp orange juice (fresh squeezed is best)
3 Tbsp pure maple syrup
½ tsp apple pie spice
½ tsp pumpkin pie spice
1 large apple, chopped into large chunks
Optional garnishes: additional apple chunks, cinnamon sticks, whole cloves, orange slices, apple pie spice
Instructions
Place all ingredients except apple chunks into a cooking pot and whisk well.
Heat over medium high heat until mixture begins to steam.
While mixture is heating, prepare any additional garnishes.
Serve hot.
Notes
Over time some of the pumpkin will settle to the bottom - just be sure to give it a good stir before serving.
 What fall recipes are you loving right now?