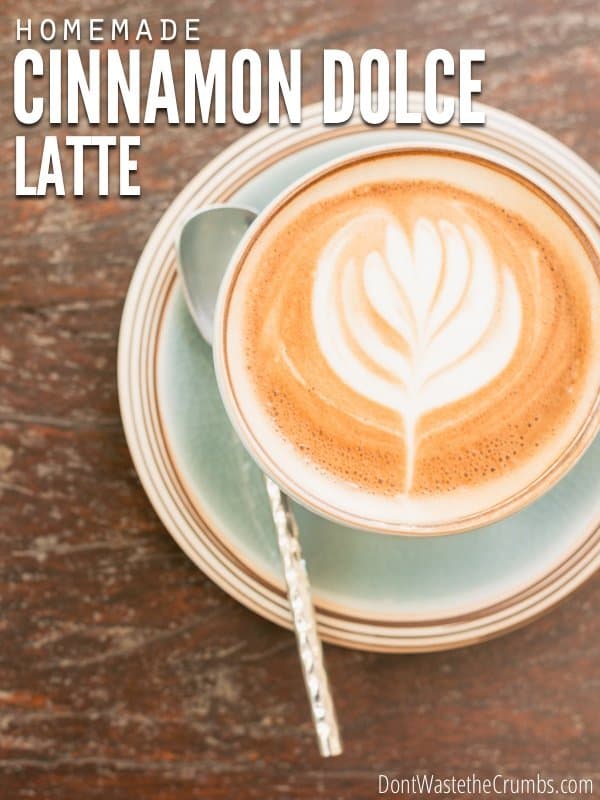 Call me crazy, but wasn't the Cinnamon Dolce Latte once available only during the holiday season?
My mind isn't as sharp as it was six years ago… before having pregnancy brain (twice)… and before turning 30… but for some reason, I can't shake the idea that it used to be a limited time offer like the Salted Caramel or Pumpkin Spice.  Have I lost my marbles?
Anyway, I guess it doesn't matter much anymore since Starbucks has added it to their regular menu, but there's even better news to share – you can make it at home now year-round too!
Homemade Cinnamon Dolce Latte
This homemade version of the popular Starbucks drink was a bit trickier to develop than the others.  I thought we could shake some cinnamon on top, stir it around and be good to go.  And then one trial after another, it kept on clumping instead of dissolving…
It was kinda gross… clumps of "stuff" in my coffee at the top, and then the inevitable thick, potent cinnamon sludge that lingered at the bottom of my mug, only to overtake my taste buds by surprise as I took the final sip of coffee in the mug.
Not ideal and certainly not worthy of sharing other than to simply say don't measure cinnamon into you mug, expect it to completely dissolve into your coffee and taste good. Because that's just not going to happen.  Trust me.
Because of this lumpy cinnamon factor, this specialty drink requires one extra step to prepare.  It's not difficult by any means, and it can easily fit it right into the time you already spend in the kitchen making dinners or prepping for meals later in the week.  Especially if you're a fan of cinnamon dolce latte's and NOT a fan of the expense.
The trick is to make a simple cinnamon syrup. Ground cinnamon is essentially flakes of cinnamon bark, so it will not dissolve fully in water or coffee with a quick stir. However, if you boil ground cinnamon or a cinnamon stick in water, you can make a syrup.
Don't ask me why but it works, but it does. This syrup can then be added to coffee with some cream or milk and voila! Homemade Cinnamon Dolce Latte.
Homemade Cinnamon Dolce Latte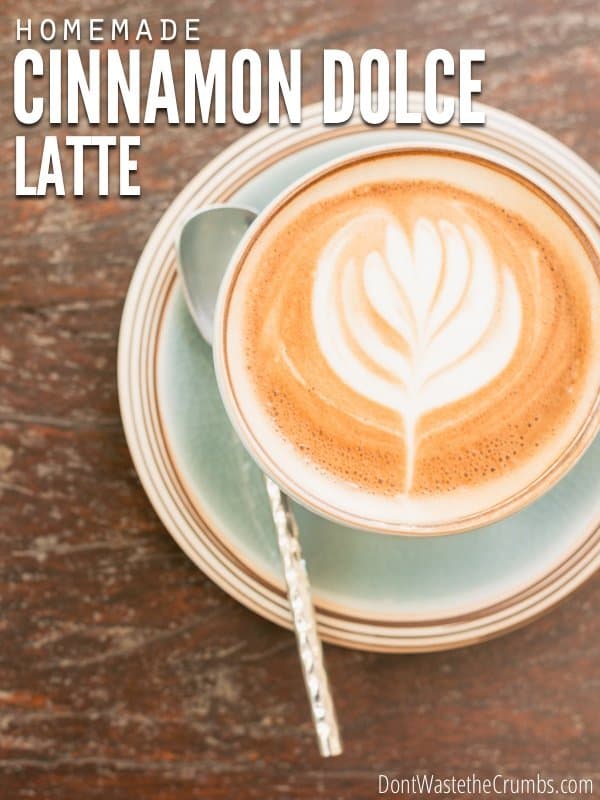 Author:
Cook Time:

5 mins

Total Time:

5 mins

Yield:

16

1

x
Category:

Beverage
Scale
Ingredients
1 cup

of filtered water

1 tsp

of cinnamon

1

–

2

Tbsp maple syrup

1 cup

of hot coffee

2 Tbsp

cream, OR

1/2 cup

milk
Instructions
Cinnamon Syrup
Combine combine water, cinnamon, and maple syrup in a small saucepan. Heat on very low heat for 5 minutes, whisking often.
Remove from heat. Pour cinnamon syrup into a glass jar and store sealed in the refrigerator.
Cinnamon Dolce Latte
Combine 1 Tbsp of cinnamon syrup with coffee and cream.
Add additional maple syrup if you like it sweeter.
Notes
Do not cook the cinnamon syrup for longer than 5 minutes or mixture will be come very thick with the texture of an egg white. If this happens, throw it away and start over.
Additional Recipe Tips
Did you know that "dolce" means sweet?  It does, and if you splurge on a $5 latte, you'll notice their version is very sweet, and even more so if you're trying to eat less sugar in general.  The recipe above works well with just one tablespoon of maple syrup, but if you're looking for that over-the-top sweet, add in the other remaining tablespoon, a little bit at a time, and taste along the way.
If you like just a bit more froth to make it more latte-ish, put your coffee, cinnamon syrup, and milk into a mason jar and give it a good shake. This will froth up the milk and mix the syrup in really well. Then pour into your favorite holiday mug to enjoy. Maker sure to be careful holding the mason jar, it can get hot quickly!
Looking for other homemade latte ideas?  This post explains why we stopped drinking coffee creamer in the first place, and here's a nice list of other homemade latte recipes:
By the way – I tested this cinnamon flavor in a cup of tea too – yummy!
Are you a fan of the cinnamon dolce flavor? What foods would you try to flavor with this rich, cinnamon-y syrup?