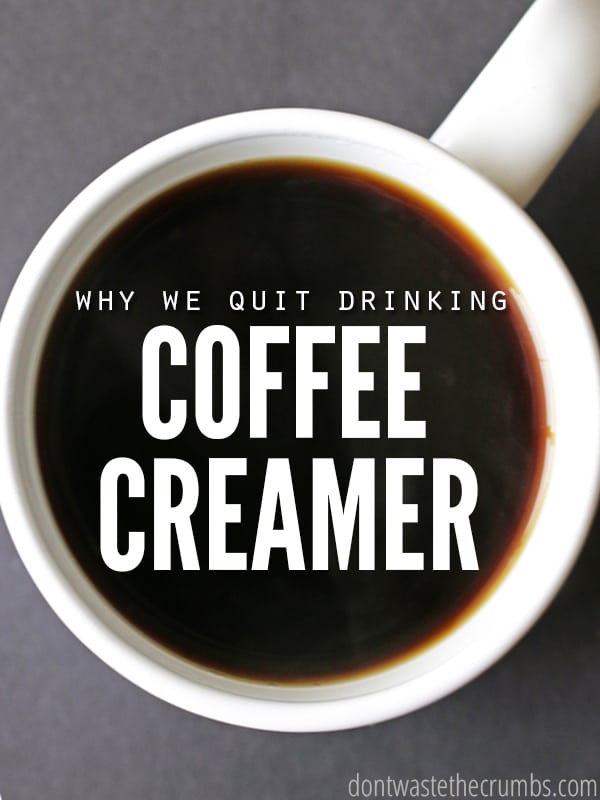 Are you starting off your day with a hot cup of plastic?
Sometimes I wish I had an IV hooked up to me with coffee running through the tubes. If it weren't for my fear of needles, or the awkwardness of rolling/hoisting the tower that holds the IV bags up and down stairs WHILE carrying laundry or making dinner, I'd be all over it.
I like coffee and I like all kinds. I'm not a coffee-snob. It doesn't have to be a particular brand or a particular strength. Sure I have my favorites, but if a cup is offered, I won't say no.
I sometimes drink it black, but my perfect morning cup includes one cup of coffee, one packet of Splenda and one tablespoon of coffee creamer.
UPDATE: We no longer use Splenda as of January 2013!
Ack! I'm craving a hot cup as I type this!
When I started to seriously re-think what my family was eating, I started to read more labels. Besides the flavor of the coffee creamer, I never really read the label beyond the calorie and fat content. Once I realized that they're all about the same, I stopped reading them. What mom has the time to read and re-read something they've already read?
When I re-read the label about a month ago (to answer my own question of "what's this stuff made of?"), I realized that 98% of my coffee creamer was made up of 3 ingredients: water, sugar, and partially hydrogenated soybean and/or cottonseed oil.
I know what water is (although why we add something that's primarily water TO coffee – which is also primarily water – is beyond me).
Sugar is obvious too (but I'm still left wondering why I'm adding splenda…). Good news – we no longer use Splenda! See update above.
But my knowledge of hydrogenated oil was minimal, so I did some research.
My conclusion is simple:
THIS STUFF IS REALLY, REALLY BAD FOR YOU.
Super-scientific answer, right?
What are Hydrogenated Oils?
In terms we can all understand, hydrogenated, partially hydrogenated and shortening are the "friendly" terms for trans fat.
Manufacturers try to trick us into thinking we're not consuming trans fat (because why would we think that these differently named items are really the same thing?) and just about every medical organization agrees that trans fat is bad for you.
New York City has even banned trans fats from all of its restaurants (as of July 2008). But what exactly is the stuff?
A trans fat is a perfectly good (and healthy) fat that's forced to morph into something icky and in some ways, deadly.
Trans fats are created in a lab.  Manufacturers take an oil (palm, kernel, soybean, corn or coconut oil), inject it with a metal (nickel, platinum or aluminum) and this causes the molecules of the oil to rearrange themselves. At room temperature, the end result is either a semi-solid (a.k.a. partially hydrogenated) or solid oil (a.k.a. fully or just hydrogenated).
If the fact that the oil is mixed with metal AND THEN WE CONSUME IT doesn't gross you out, the molecular structure of the oil in this new state more closely resembles plastic than oil. In fact, you only have to change one molecule in order for this "oil" to become plastic!
Can you imagine what your body has to do in order to process this almost-plastic substance through your bloodstream?!
It's no wonder why trans fat causes all sorts of health problems. It raises your bad cholesterol (LDL), lowers your good cholesterol (HDL), clogs your arteries (imagine soaking up dry flour with a sponge), is a major contributor to type 2 diabetes, and it's been linked directly to coronary heart disease.
Wowzers. 
Now I need to pause for a moment and interject some common sense here. I am not saying that if you drink coffee creamer you'll get heart disease, diabetes or high cholesterol. I'm not saying that at all.
What I am saying is that coffee creamer is comprised of a key ingredient THAT DOES cause heart disease, diabetes and high cholesterol.
I honestly didn't think that oil was in my coffee creamer. Those manufacturers are sneaky. They'll do whatever it takes to make their products taste good. I can't even imagine how many other products in my pantry have some sort of trans fat in them. (More about that below.)
And that's the scary part. We don't even know how much of what we eat has this morphed oil in it. I've been consuming near-cellulose oil for YEARS… and who knows the effect it has had on my body.
But I do know this:  cutting it out won't hurt me. 

Time to Stop Drinking Coffee Creamer
And consuming all other hydrogenated oils.
Do I sound a little crazy? Am I going overboard?
I don't think so. This battle isn't just about me. I have a family to take care of. The decisions I make today, the decisions I make in the grocery stores, affect these guys.
Here are some of the items I found in my pantry that contained some form of hydrogenated oils:
granola bars
cookies
hot chocolate
peanut butter (the sweetened kind with more than just peanuts and salt)
microwave popcorn (even labeled "healthy!")
saltine crackers
butter crackers
graham crackers
salad dressings (several brands!!)
BBQ sauce
sriracha sauce
Yikes! Eliminating these items also eliminates a lot of processed foods from my pantry. This means we will rely on whole real foods to fill us up instead. I see a much healthier future in store!
The Next Part of the Story
Now when I first discovered the nasty truth hidden in my coffee creamer, I simply went to black coffee. I do like it like that. However, there are some days when you need to mix it up. In steps homemade vanilla bean creamer. This stuff even tastes better than the store bought stuff!
Since homemade vanilla bean creamer is a little time consuming and I quickly run out because its so delicious, I started using half and half with splenda. (Shortly after, we cut splenda too so I switched to a little maple syrup if I needed some sweetness.) But of course one day we ran out of half and half so milk was the obvious substitute. And it was still just as delicious.
Besides Vanilla Bean Coffee Creamer, we also love these delicious homemade flavors:
What Should I Do About Hydrogenated Oils?
If you're going through your pantry and removing items with harmful ingredients, then anything with hydrogenated oils needs to go. Replacing something like coffee creamer, your best bet is to go black, make one of the above homemade creamers, or simply use cream and sweetener.
Other items, like tortillas and peanut butter, can either be made from scratch (these tortillas are SO GOOD) or purchased if you are diligent to double check the ingredient list. Here is a list of 25+ real food snacks that are easy to make and help you avoid the processed foods!
Sometimes healthier options are hard to find locally, so online grocery shopping is a good alternative. You can still price check, and ingredient check, when you shop online. I've found these sources to be pretty good on price and ingredients:
Have you been starting off your day with a hot cup of plastic?