Delicious homemade cracker recipe using just 3 ingredients, plus options to add herbs! A great healthy snack for kids or family ready in just a few minutes. Great with a variety of dips or hummus.
A few years ago Mr. Crumbs brought some friends home after surfing. After a few hours, hunger began to set in. He asked if we had any cheese and crackers. Yes, we had cheese. No, we did not have crackers.
Instead, I made a tray of cut vegetables and homemade ranch dressing. Although satisfying for the moment, the crunch of celery is just not the same as the crunch of a cracker.
Ah, the forbidden cracker. A snack item that rarely sees the inside of our kitchen pantry thanks to the incredibly long list of ingredients on the box, or the incredibly large price tag on the organic box with a slightly shorter list at the grocery store. A lose/lose situation in either case that has left us alone in the dark when it comes to a starchy, solid crunch of a cracker to accompany our cheeses.
That is until I discovered how easy it is to make them at home!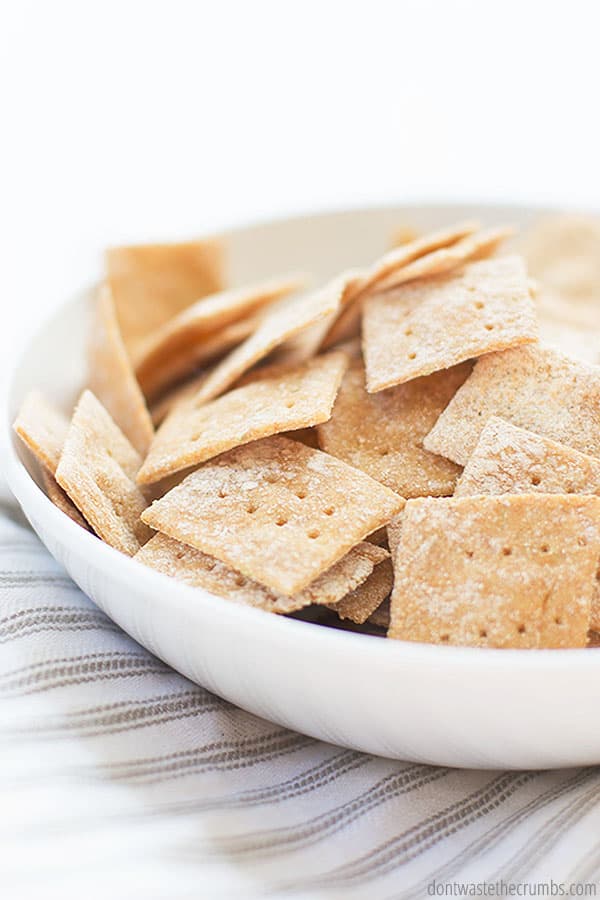 Homemade Cracker Recipe
Did you know that you can make a batch of homemade crackers in under 20 minutes? I didn't. Not until I tried to find a homemade cracker recipe so that I could at least see if making a batch on a whim was feasible.
When unexpected company stops by… when dinner is taking much longer than usual to cook… when you're looking for something crunchy at snack time… when you're packing up for a day at the beach and want to bring food that won't spoil in the hot sun…
These are the times it would help to have a simple homemade cracker recipe on hand. Allow me to share my discovery.
This homemade cracker recipe is:
Quick. Ready in just 20 minutes.
Healthy. Uses real food ingredients.
Versatile. These can be whole grain or wheat!
Crunchy!
Ingredients for Homemade Crackers
The simple combination of flour, salt and water is all it takes to make a delicious, crunchy cracker. Here's all you'll need to make crackers:
Whole grain flour
Water
Salt
Sea salt for topping (optional)
How to Make Crackers from Scratch at Home
A few minutes worth of kneading plus another 12 or 15 minutes to bake and you have a whole grain, healthy snack – that's a cracker no less – ready in just 20 minutes. Quick and easy!
Combine flour and water until you get the right consistency.
Roll the cracker dough out on the back of a baking sheet into the consistency you would like for your crackers. Score the dough with a knife on your work surface, pricking holes into the crackers with a fork.
Bake on a parchment paper lined baking sheet and enjoy!
Loving Leftovers
Love meal planning but hate leftovers? Download my free eBook Loving Leftovers and learn how to save money by turning leftovers into recipes your family will love!
How do I store homemade crackers and how long do they last?
These homemade crackers are best straight out of the oven, or the next day. The crackers may lose their crunch a couple of hours after they finish cooking. If this happens, just let the crackers sit for a day longer in an airtight container. I don't know for sure, but I think it's the excess moisture coming to the surface of the cracker. Once they sit for a while, the crunch returns. No matter when you eat them though, the flavor is still delicious.
Is this homemade cracker recipe whole grain?
Yes! This recipe calls for whole-grain flour. You can experiment with other types of flour too! Some have tried wheat flour with success.
How do you make homemade herb crackers?
Making this cracker recipe into herb crackers is easy. Simply add the herbs of your choice to the flour then proceed to follow the recipe.
I recommend adding 1 tsp of herbs per batch of homemade crackers.
Some flavor ideas for homemade herb crackers:
Rosemary & sea salt
Garlic & oregano
Thyme & chives
Italian seasoning & garlic
Basil, thyme, & garlic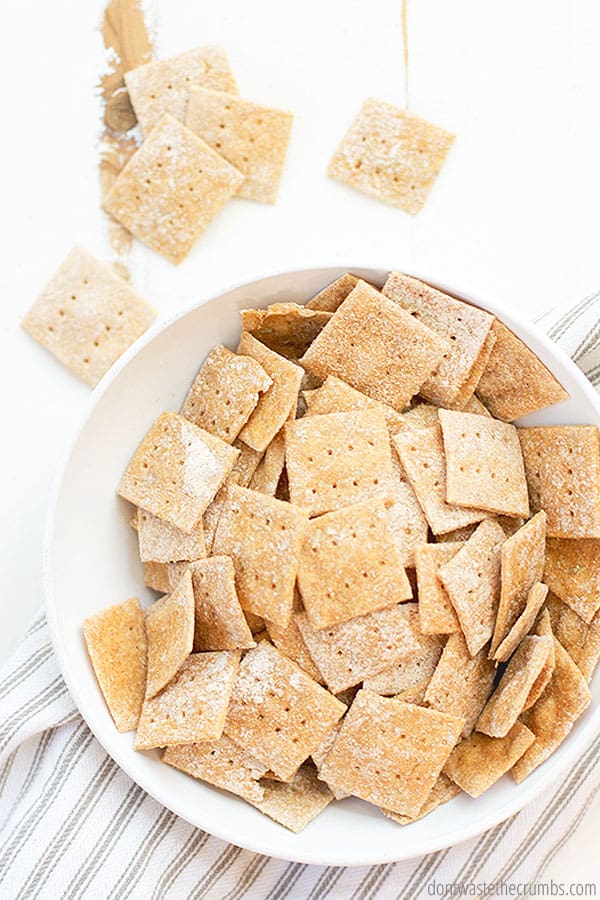 Additional Recipe Tips
I make this recipe with freshly ground flour. You may need to adjust your measurements on flour and water. But, only go up or down by a teaspoon at a time. Use just enough water so the flour is wet but the dough is stiff. This will allow you to roll it out easily, instead of pouring the dough onto the back. When in doubt, use less water. Remember that you can always add more, and if you do, add just a teaspoon at a time.
What do I serve with homemade crackers?
Crackers are so versatile – they go well with so many things! Here are some ideas for what to serve with your homemade crackers.
Serve with your favorite cheese, whether that is blue cheese, cheddar, gouda, etc.
With fresh-cut veggies.
Enjoy with homemade hummus, whether that's classic hummus or chocolate hummus.
Other Easy snack recipes
Homemade Crackers
Delicious homemade cracker recipe using just 3 ingredients, plus options to add herbs. A great healthy snack for kids or family ready in just a few minutes.
Author: Tiffany
Prep Time:

10 min

Cook Time:

10 min

Total Time:

20 minutes

Yield:

40

crackers

1

x
Category:

Snacks

Method:

Oven

Cuisine:

American
1 cup

whole grain flour, plus 1/4 – 1/2 cup flour for flouring surface

1/3 cup

+

2

–

4

Tbsp water

1/4 tsp

salt

sea salt for topping (optional)

Herbs (optional)
Instructions
Using your hands, combine flour and 1/3 cup of water in a medium bowl. If adding herbs, add 1 tsp per batch. Mix well until all the flour is wet. The dough needs to be stiff, but add additional water 1 Tbsp at a time if the dough is too stiff.

Divide the dough in half.

Using a rolling pin, roll half of the dough out onto a lightly floured silpat mat. Roll the dough to each edge and corner of the mat, rotating, flipping, and using flour as needed to prevent sticking. Roll the dough as thin as possible for a crunchy cracker, or leave it slightly thicker for a chewier cracker. Repeat with other half of dough.

Score the dough into desired size using a pizza cutter or a knife. Prick holes onto each cracker using a fork.

Bake in a preheated oven at 350 F for 10-15 minutes (10 min. For thin crackers, and 15 for thicker crackers), or until the crackers are medium brown and begin to pull up at the edges.

Remove from the oven. Eat immediately, or the next day. Store in a sealed container.