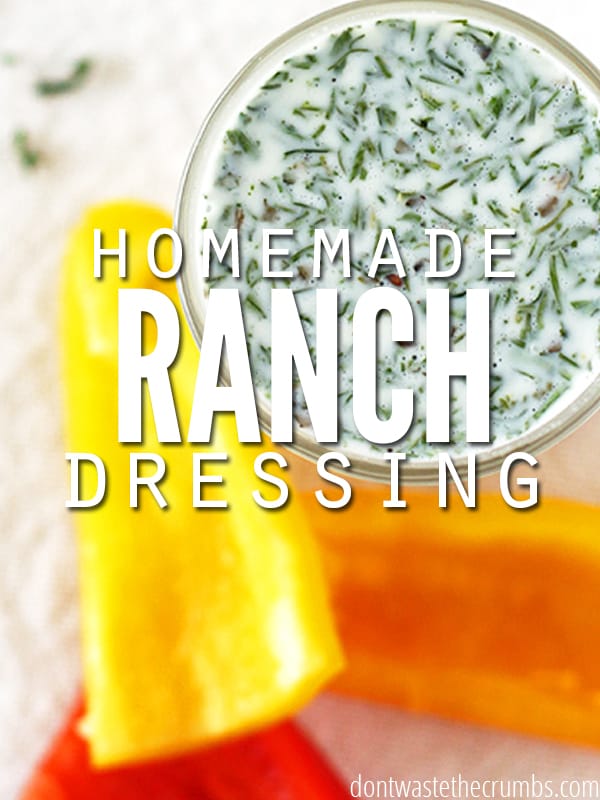 In last week's budget accountability post (counting crumbs) there was a very short trip to Savemart consisting of only three items – black beans, half and half, and a red pepper. Little did you know that there was originally a fourth item…
But it never made it out the store.
In fact, it didn't even make it off the shelf.
With one look at the list of ingredients, it was put swiftly back on the shelf. I simply could not bring myself to purchase ranch dressing.
You see, ever since I read what was in coffee creamer and started to read (and understand) labels beyond the calorie content, I can't buy something that I know has hydrogenated oil.
And I've tried! I looked at every single brand of ranch dressing on the shelf that day. I WANTED to buy ranch dressing. Some bottles were even granted a second look! But alas, every single one had hydrogenated oils. My eyes browsed the twice as expensive and half the size bottles of organic… but the organic brand didn't offer ranch.
Note: I love using mason jars for homemade dressing and these lids make it super easy to shake and pour!
I know that at some point in time a label will be missed and a box of "something" will end up in our pantry. But if I'm doing the shopping and see that the plastic stuff is there, it won't be in my cart.
Even bottles at home are not immune to scrutiny. While cleaning out the fridge last weekend, nine bottles of something (dressing, sauces, etc.) had hydrogenated oil as an ingredient. The rule is simple: if it's listed, the bottle gets tossed – no questions asked. Unopened boxes of food are being thrown away because we would rather lose $1-$2 than risk our health, or even our lives by eating it.
Our lives, and my children's lives, do not have a price tag.
And now I'm more educated to know not to buy those things in the first place.
I could have sucked it up that day and bought the dressing – for ease, for convenience, for taste – but my conscience won. Instead I walked out the door with those three items and crossed my fingers that my fridge held what was needed to make a homemade version of ranch dressing (even though I truly had no clue what was needed).
As it turns out, the ingredients for homemade ranch dressing were already in my fridge and spice cabinet. A batch of dressing for dinner was easy to whip up and my husband loved it. As simple as it is to pick up a bottle at the store, it's just as simple to make our own from here on out.
Ranch Seasoning and Dressing
A simple recipe for ranch dressing and/or seasoning that tastes just as good as store-bought without the questionable ingredients!
Author: Tiffany
Prep Time:

5 minutes

Cook Time:

0 minutes

Total Time:

5 minutes

Yield: About

13 Tbsp

1

x
Category:

Sauces & Condiments

Method:

Bowl

Cuisine:

American
5 Tbsp

dried parsley

6 tsp

dried dill

6 tsp

garlic powder

6 tsp

onion powder

3 tsp

dried basil

3 tsp

pepper

1 tsp

salt, or to taste
Instructions
Ranch Seasoning
Combine all ingredients in a glass jar (or bowl) and mix well. Store in a sealed container. Use 1 tablespoon at a time when serving.
To turn ranch seasoning into dressing:
Combine 1 tablespoon of ranch seasoning with any of the following variations:
1/3 cup yogurt (greek or regular) and 1/4 cup milk
1/2 cup mayonnaise, 1/4 cup sour cream and 1-2 tablespoons of milk or buttermilk
1/4 cup mayonnaise, 1/4 cup sour cream, 1 teaspoon olive oil, 1 teaspoon lemon juice, 1-2 tablespoons buttermilk
Notes
You can use ranch seasoning in place of store-bought packets in any recipe as well.
The Pioneer Woman has a recipe for homemade ranch as well that looks delicious. Hers involved many ingredients that are "optional to taste" so it's up to you guys to visit and try if you're feeling a little daring. The recipe above is tried and true and since everything was in my pantry, there's a good chance they're in yours too. Oh, and it's really good!
What about you – do you make your own dressings?
Disclaimer: This post contains affiliate links. By making a purchase through those links, I will earn commission that helps to keep the lights on in the Crumbs house – with no additional cost to you. Thank you for supporting Crumbs in this way. Read my full disclosure statement here.