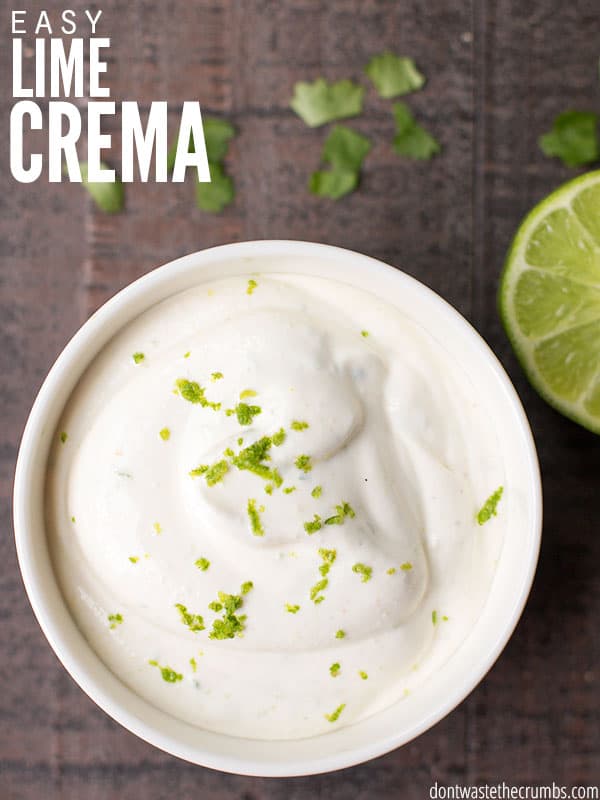 My family and I are HUGE taco fans. They're on our menu at least 2-3 times a month (if not more) and we've had almost every type of taco imaginable…
But all of our taco experience was thrown out the window when I made lime crema.
I first made lime crema while we were on vacation with extended family over the week of Thanksgiving. Each family picked one night to cook dinner and what they wanted to make. I picked Wednesday and (naturally) chose tacos.
I didn't really want to be in the kitchen all day, so when I woke up that morning I started making THE BEST slow cooker carnitas and prepped all the fixings to go with our taco dinner:
diced tomatoes
finely diced white onion
lime wedges
shredded cheese
lime crema
I was cooking for 15 people, so this was a good bit of chopping, but the lime crema came together in less than 5 minutes… and it STOLE the show!
Hands down, the lime crema MADE the tacos.
Yes, the shredded pork was amazing.
Yes, salsa verde gives a good swift kick of flavor and heat.
Yes, a squeeze of lime juice brightens the flavors.
But the lime crema?! Oh my.
Friends, if you haven't tried lime crema before, you have been missing one heck of a flavor bombshell!
Breakdown of Lime Crema
It's crazy to think that something so good can come from just FOUR ingredients, but prepare your mind to be blown because that's exactly what happens when you put lime crema on your tacos.
Let me break it down for you:
Sour Cream
Already magical and delicious in its own right, sour cream is the base for this recipe. I use full-fat since a traditional real food diet includes lots of healthy fats, but you can use a lower-fat variety if you wish. I will say this – if you already like sour cream (like we do), get a 16oz tub because you'll want to put this stuff on EVERYTHING.
Limes
You probably could have guessed this based on the name of the recipe, but we're using the real thing here instead of lime juice. Why? Because we're using the WHOLE thing – we're zesting it AND juicing it.
The zest of a lime is the green part only of the peel on the outside. I used the medium holes in my old-school cheese grater (mine is similar to this one) to zest because I don't have a microplane (although I have my eyes on this one!).
In the rental house at Thanksgiving, I used a sharp knife and carefully cut the zest off and then ran my knife over the peel until it was very finely diced. Use what you have to make it work!
I also have an old school juicer, like this one except mine is white. For the best results, cut a lime in half (around the fat middle) instead of wedges when you're juicing the lime.
The only parts we are NOT using are the pith (the white part of the peel) and the endocarp (the white part that holds the flesh of the lime into segments).
Both the pith and endocarp are bitter and will ruin your lime crema, so avoid them. This means NOT sticking the lime into the blender and hitting go – all the bitter parts will be mixed up with the tasty parts and your lime crema won't taste nearly as good.
Garlic
This isn't the first ingredient to come to mind when I think of lime crema, but just a small amount really makes the cream shine.
You can use fresh garlic if you want, but I prefer to use granulated garlic. It seemed to permeate the cream better and more consistently than fresh garlic. Plus you can avoid the whole mouthful-of-fresh-garlic issue that is very possible if you use fresh garlic. (Ask me how I know!)
Salt
The mac daddy of all seasonings, lime crema must have salt. If you skip it and you wonder why your lime crema doesn't taste that good, it's because it needs salt.
I only use salt – not salt substitutes – so if you must substitute, do so at your own risk. (But to be honest, if your taste buds are acclimated to using salt substitute, you might not even know the difference.)
How to Use Lime Crema
Lime crema is now a must-have when I make tacos… which means I also use it on taco bowls and taco salads as-is.
If you find yourself out of tacos (a travesty!) and not out of lime crema, you can also use it in…
Sauce for Fish Sticks
Thinned with rice vinegar (and seasoned with pepper) for a salad dressing
Mixed with mashed avocado and thinned with rice vinegar (seasoned with pepper) for another salad dressing
Mexican-style Stuffed Baked Potatoes
more tacos (my favorite!)
Plus I'm all about making something once and using it in several different ways. It's one of my tips in my 5 Day Challenge to Getting Dinner on the Table FAST!
Remember that sour cream alone has a decent shelf life, and adding the lime juice helps extend it a bit more. I've kept this in the fridge for two weeks without issue!
Watch How to Make Lime Crema:
Lime Crema
Ingredients
16 oz sour cream
2 big limes, about 2¼" diameter
½ tsp granulated garlic
½ tsp salt
Instructions
Empty sour cream into a small bowl and set aside.
Roll the limes on counter for about a minute each to loosen up the juices.
Zest both limes, ensuring you are ONLY getting the green part of the peel and not the white part.
Cut the limes through the middle and using a juicer, get all the juice out.
Add all the zest, juice, granulated garlic and salt to the sour cream and whisk well to combine. Place in the refrigerator until it's time to serve. Note that letting the lime crema sit for at least 4 hours helps the flavors to meld together better, but you can enjoy it right away too.
Store leftover lime crema in the original sour cream container and label it!
Does your family like tacos as much as we do? What do you like to serve them with? Share your ideas in the comments below!