Grilling ideas and tips from the husband who runs the grill. Tender meat, hot coals, and more, you can cook a whole meal outside this summer with these grilling tips! You can even make homemade pizza on the grill.
Written by Mr. Crumbs
Summer is just a couple weeks away, the temperature is starting to heat up, and many of us will be outside enjoying the weather for recreation with company.
If you're like us, we love grilling year-round. But we understand that in some parts of the country, it's just not feasible to stand in a foot of snow with your hands in your pockets, waiting for the chicken to be completed on the grill.
Now that the weather is starting to cooperate, we expect you to be outside using the grill too!
Grilling can be intimidating if you're not familiar with it, and some families equate "grill" with "burned." It's to those families that we share our top 10 grilling tips, in hopes that even the grilling-challenged can enjoy cooking outside and the amazing flavor that comes from open flames!
Top 10 Grilling Tips & Ideas (from the Man of the Grill)
(1) Think outside the steak.
Don't get stuck in the mindset that you can only cook meat like steaks, chicken breasts, and ribs on the grill. Using indirect heat and rotisserie attachments, we cook Thanksgiving turkey, prime rib roasts, and whole chickens whenever we're able to. It tastes WAY better too!
Here are some grilling ideas to help you think outside the steak! Yes, you can even cook dessert on the grill!
(2) Go beyond the grill grates.
Some propane grills have side burners that can be used to literally cook anything… boiling water for corn, a pot of baked beans, or sautéing bacon to go on your sandwich.
Any cast-iron skillet or pot can be used on the grill too, which essentially turns the grill into a stove that can be used just like the one in the kitchen.
(3) Marinade your meat.
The best barbecue ribs just aren't the best, unless they've been rubbed down several hours prior with a flavorful dry rub. Beef and chicken also taste great with a delicious rub but do even better with a fresh citrus marinade for juicier meat.
Remember that for best results, marinades and rubs need a few hours to sit and get happy. Plan ahead accordingly.
Grilling Ideas: Here are some recipes for marinades and rubs to give amazing flavor to your meats!
(4) Cook from room temperature.
Instead of throwing frozen steak right on the grill, pull it out WAY ahead of time. Let your meat come to ROOM TEMPERATURE for the best results.
I learned this trick from my father-in-law who's an executive chef. Whenever I'd cook steak on the grill, I could never get the perfect medium-rare… while his steaks always were cooked to perfection.
The difference? He'd pull his meat out of the fridge several HOURS beforehand, ensuring that it was room temperature before it went on the grill.
(5) Get a thermometer.
There are ways to test the doneness of meat without an instant-read thermometer, but none of them are always exact (or right).
If you're cooking large roasts or even thick cuts of meat, it pays to have a thermometer. This will ensure you don't overcook or undercook the meal. Plus, you can make your in-laws proud every time.
(6) Get your gear together.
Do you know where your tongs are? Is your cutting board clean? What about a plate for the finished meal?
Pull it all out ahead of time. Don't get stuck with a hot gas grill on high heat, burning meat, and no tongs.
This includes your propane tank and coals. Be sure you have enough propane to cook the meal before you commit to grilling. Getting everything outside just to realize that you can't get the grill going is bad news for everyone. The same goes for those who use coals – be sure you have enough, and a way to get them lit!
(7) Fire it up!
It's time to preheat your grill! For propane lovers, simply turn on the gas and push the igniter. For those with more patience and who savor grilling season: fire up the coals.
Let the grill get to the appropriate temperature before you put anything on it, otherwise, you'll spend the rest of the grilling troubleshooting food cooking too fast or too slow.
Frugal Tip for Charcoal Grills: If you don't have one, I HIGHLY recommend getting a charcoal starter from Weber. They run around $20-$30 but will save you a TON in the long run by avoiding lighter fluid. Not only do your coals start and preheat quicker than traditional lighter fluid, but it's easier and much safer in my humble opinion.
(8) Get grilling, but don't crowd.
Once your grill is sufficiently hot, throw the meat on! If your grill is so hot, it's like nuclear hot, turn the heat down a little bit (for propane), or close up a few air vents (for charcoal) to avoid flare-ups.
If you encounter a flare-up and have already turned the heat down, simply keep a glass of water nearby to drizzle on the flare. But if you're beyond a glass of water, call the fire department or keep a fire extinguisher nearby.
On a related note, don't overcrowd the grill. There needs to be sufficient airflow for the meat to cook. Put too much on the grill at one time and you'll be waiting a LONG time for dinner (ask me how I know).
(9) Let it rest.
The secret to the perfect meal on a grill is allowing your meat to rest for 10-15 minutes after it's been cooked to temperature. For larger game, we sometimes let it sit for up to 30 minutes! This will allow the juices to dissipate throughout the meat, meaning your steak will be juicy!
(10) Learn from your mistakes
Did you annihilate family dinner last week? Were your ribs charred or chewy? Did the in-laws "pretend" that dinner was great, even though you know it was terrible?
I've done it too! The key is to learn from your mistakes and avoid them next time. Simple changes with grilling can make all the difference to a successful meal!
Use this FREE One Week Grilling Meal Plan for your next week of outdoor meals! Designed to keep the house cool and the meals hot with plenty of grilling ideas.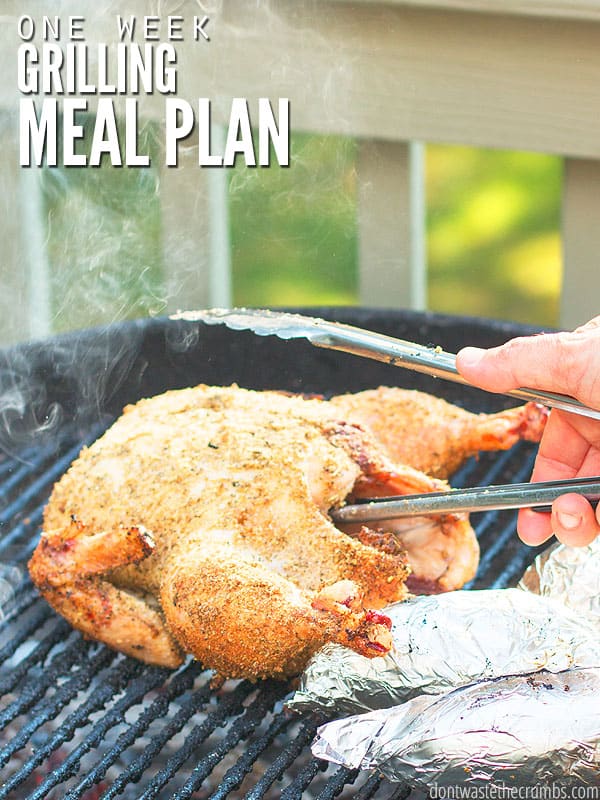 Grilling Meal Plan
Sign up to get instant access to my
One Week Grilling Meal Plan
, complete with recipes and shopping list!
What are your favorite grilling tips? Are any of you ladies the primary grill-master in the family?