Homemade sweet and sour sauce recipe tastes traditional and better than Chinese and McDonald's! Use pineapple or orange juice, perfect for pork or chicken!
I think that with some meals, the dipping sauce makes all the difference.
Perfect example – my crunchy quinoa salad is okay by itself. But drizzle Thai peanut sauce on top?! It's AMAZING!
I feel the same way about Chinese food (and Korean and stir fry and most other Asian cuisines). Take away the sauce and you have rice, meat, and steamed vegetables. B.O.R.I.N.G.
But add an amazing sweet and sour sauce and BAM, you have dinner that's better than take-out!
That's one reason why this sweet and sour sauce has been in our meal plan rotation for the past few months. Even though it's my JOB to come up with cheap and healthy meals, sometimes I can get in a rut.
And sometimes, amidst the busyness of life, I need to hit the quick and easy button for dinner.
Hence, sweet and sour sauce.
Now, I don't know your history with sweet and sour sauce…
But let's set our history aside for a moment and talk about the future, because thanks to this sweet and sour sauce, I'm seeing…
Now that I've just meal planned half the month for you, you have no excuse to NOT make this sweet and sour sauce recipe!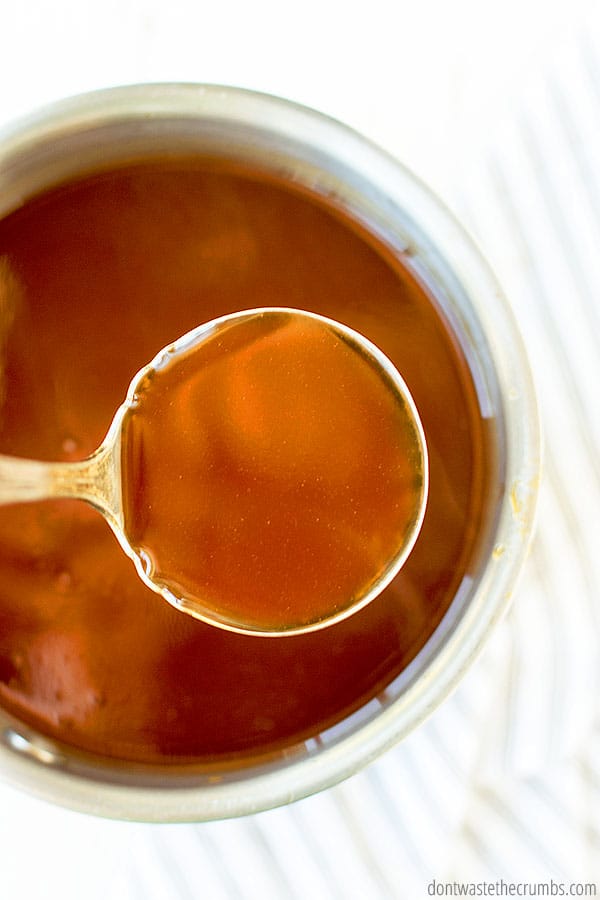 Easy Sweet and Sour Sauce Recipe Ingredients
Let's break this sweet and sour sauce recipe down. Here's what you need to make it.
Pineapple Juice
You may not have pineapple juice in the pantry, but I promise that it's worth it in this recipe. You CAN substitute orange juice, but really, pineapple juice made this sweet and sour sauce taste so much more authentic.
Personally, I would put light and fluffy dinner rolls on the menu the same week since it uses pineapple juice too. That way you won't be left without a plan for leftovers.
(If you DO have some juice left, add it to a basic green smoothie, or any of the smoothies in my e-book High Protein No Powder!)
Vinegar
I highly recommend apple cider vinegar for this sweet and sour sauce recipe. Apple cider vinegar has the right amount of tang that you need and it's super affordable – especially when you make your own using apple peels and cores!
You're only using 3 tablespoons, so you don't want to use a weak vinegar like rice vinegar.
Soy Sauce
Use whatever soy sauce you have in the pantry. I made this once using coconut aminos (leftover from our Whole30 as a family experiment) and then again using liquid aminos and both were delicious.
Brown Sugar
Okay… my family and I have been quitting sugar for a LONG time, and I generally shy away from adding processed sugar to dinner recipes. In fact, I don't add it to my Thai peanut sauce or restaurant-style salsa and we don't even notice the difference!
But here's the thing: Sweet and sour sauce is partially SWEET, so you need something to do that.
A lot of homemade sweet and sour sauce recipes call for ketchup and soy sauce. Ketchup usually has high fructose corn syrup (which is VERY bad for you). If you use it, you can't control the amount of sugar in the recipe.
We're using sugar so you can control just how sweet you want this sauce to be.
As written, you can taste the sweetness in the recipe. It shouldn't be too much, but it's there. Feel free to start with less and add more to taste.
Note: I have not tested this recipe with honey. If you do, please let us know how it turns out!
Cornstarch and Water
We'll make a cornstarch slurry with this to thicken the sauce over medium-high heat, but you can use arrowroot powder if you can't do cornstarch.
What This Easy Sweet and Sour Sauce Does NOT Contain…
Can sweet and sour sauce be frozen?
Yes! In fact, this recipe as written makes more than my family needs for one meal, so I often freeze the leftovers for an easy meal later on.
Tip: Here's how you can freeze in glass jars without breaking them!
How should I store the sauce?
Sweet and sour sauce is best stored in the refrigerator, where it will be good for several days. To prevent food waste, always use the smell test before throwing something away.
Is sweet and sour sauce spicy?
This version is not, but if you want to add a little kick, add some crushed red pepper flakes!
Looking for other sauces to jazz up your dinner?
You can't go wrong any of these favorites:
Homemade Sweet and Sour Sauce
Homemade sweet and sour sauce recipe tastes traditional and better than Chinese and McDonald's! Use pineapple or orange juice, perfect for pork or chicken!
Author: Don't Waste the Crumbs
Prep Time:

5 mins

Cook Time:

10 mins

Total Time:

15 mins

Yield:

1 cup

1

x
Category:

Sauces/Condiments

Method:

Stove top

Cuisine:

Asian
1 cup

pineapple juice

3 Tbsp

apple cider vinegar

1 Tbsp

soy sauce

1/3 cup

brown sugar

3 Tbsp

corn starch

1 ½ Tbsp

water
Instructions
Combine the pineapple juice, vinegar, soy sauce and brown sugar in a small saucepan.
Bring JUST to a low boil, whisking the ingredients every few minutes so the sugar dissolves thoroughly.
In a mug, make a slurry with the corn starch and water. Add the slurry to the sauce while whisking quickly. Cook for one minute and then reduce the heat to low.
Serve immediately, or refrigerate for later.
Keywords: Sweet and sour sauce
Have you tried making homemade sweet and sour sauce? What is your favorite food to combine with sweet and sour sauce? Let me know in the comments below!