Can you freeze mason jars? Yes, you can! Here are 11 tips on freezing mason jars without breaking so you can save soups, jams, sauces, stocks, and even leftovers!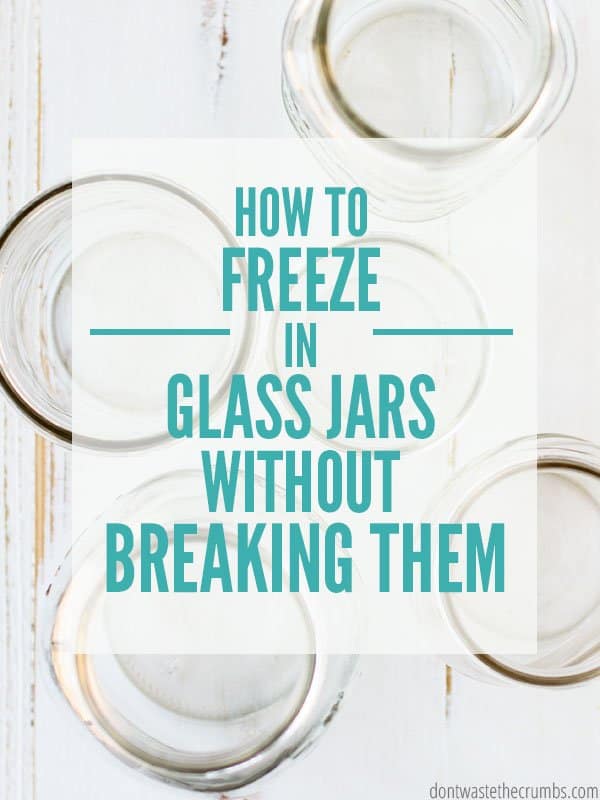 I'm a master at freezing! Anytime I make something in bulk – Homemade Strawberry Jam, Hearty Spaghetti Sauce, Slow Cooker Chicken Stock, or Slow Cooker Beans – I prefer to freeze it.
I freeze my foods in a few different ways depending on what they are and how I'm going to use them.
Sometimes I'll flash-freeze individual items on a baking sheet and transfer them to a reusable bag, like when I freeze yogurt in scoops for smoothies.
Sometimes I'll use airtight containers, like for Homemade Fish Sticks.
And sometimes, I like to freeze in glass mason jars.
The ONLY catch though to freezing glass jars, is knowing how to do so without breaking them.
CAN YOU FREEZE MASON JARS?
You'd think that we should be able to stick a glass jar into the freezer and never have a problem. But for many people, it's ALWAYS a problem. They'll have:
Broken jars in the freezer.
Cracking jars as they thaw (and the inside oozes out everywhere).
Exploding contents when the jar is opened.
If you've ever cleaned spaghetti sauce off of your ceiling, you know exactly what I'm talking about.
As you can imagine, lots of freezing means lots of lessons learned. One of those lessons is how to prevent glass jars from breaking in the freezer.
HOW TO FREEZE MASON JARS WITHOUT BREAKING
TIP 1: CHOOSE THE RIGHT SHAPE
At room temperature, all glass jars are created equal. Not so much when you are freezing in glass jars.
Glass jars are usually one of two main shapes – straight sides or shoulders. Freeze in jars with straight sides.
Glass jars with straight sides are just that – straight from the top all the way to the bottom. The opening at the top isn't any smaller, or bigger, than the glass jar itself.

A perfect example is these wide-mouth mason jars. Notice how the glass jar doesn't bow inward or outward? These are great for freezing (in either the pint or quart size).

Glass jars where the opening is smaller or larger have shoulders. The shoulder of the jar is the point where the jar bends inward or outward, between the opening and the widest part of the jar itself.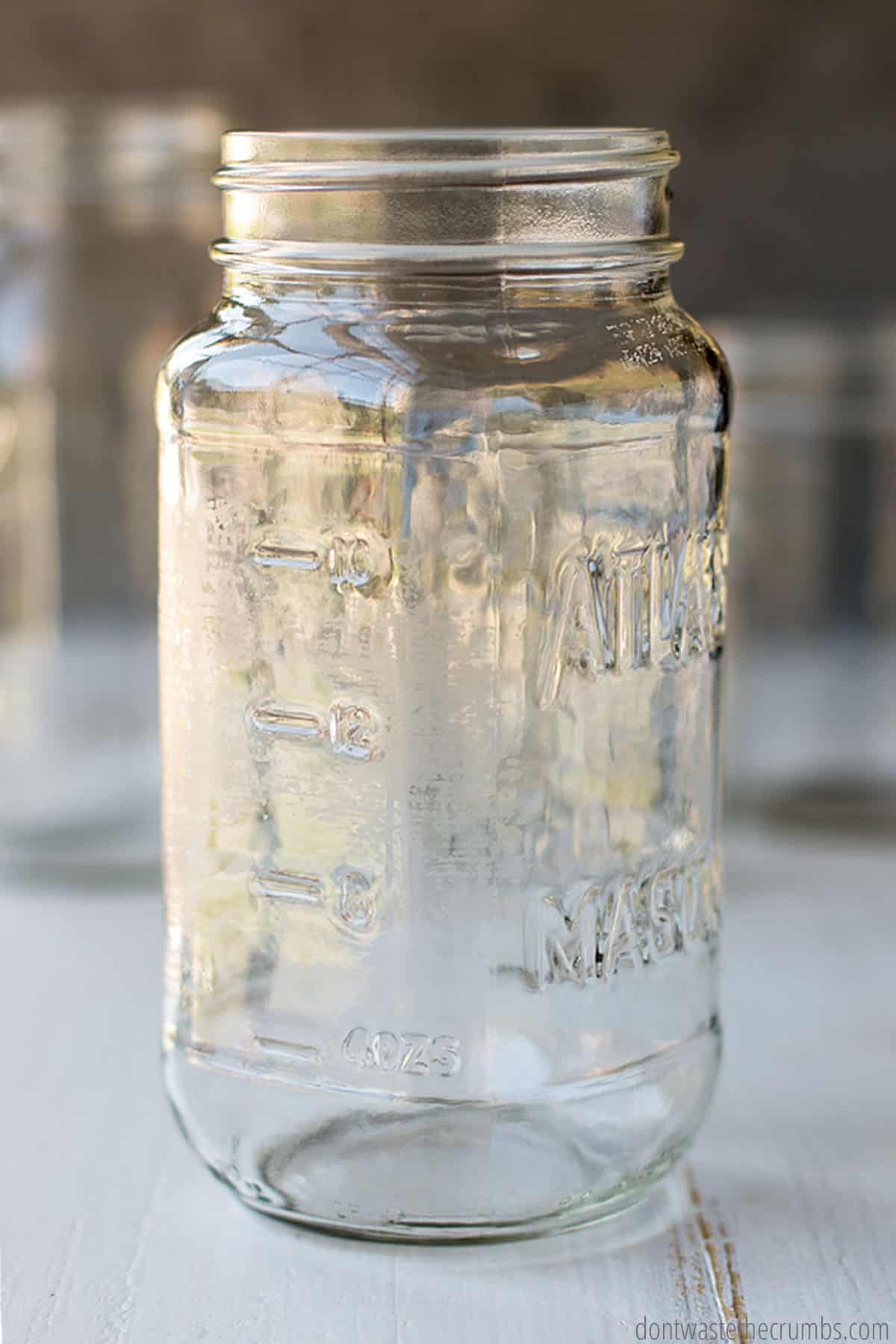 TIP 2. CHOOSE THE RIGHT TYPE OF GLASS.
Glass jars are usually made with one of two types of glass – tempered glass or non-tempered glass. Freeze mason jars made with tempered glass whenever possible.
Non-tempered glass contains microscopic air bubbles that expand and contract as the glass is heated and cooled, especially at extreme temperatures like during canning and freezing. When those little air bubbles expand, they cause the glass to crack or even explode.
Tempered glass doesn't have these little air bubbles because it has been strengthened during the manufacturing process. The result is a glass jar that is 4-5 times stronger than non-tempered, or regular glass.
Do you have any glass storage containers that are safe to go from freezer to microwave to dishwasher over and over again? Kind of like these? Those are made with tempered glass.
Most mason jars manufactured now are tempered glass.
However, most foods bought in glass jars, like

Jellies
Spaghetti sauces
Pickles…are not tempered glass.
It is entirely possible to freeze in non-tempered glass, and using the rest of the tips in this post to help you do this successfully. However, your chances of preventing glass from breaking in the freezer go up when you choose tempered glass.
That's one reason why 99% of my frozen items are in:
Note: I still keep and reuse old spaghetti sauce jars and pickle jars (and remove the labels using this method). But I use those to store leftovers in the fridge, or dry goods in the pantry – especially when I buy in bulk.
TIP 3. LEAVE ROOM AT THE TOP FOR EXPANSION.
The space at the top of the jar, from where your fill line is to the lid, is called headspace.
Food expands when you freeze it, and the only place it has to go is the space you leave at the top. In order to freeze mason jars, you need to leave plenty of room at the top.
The general rule of thumb is 1″ of headspace, but it's not a one-size-fits-all solution. The bigger your jar, the more you're going to fill it. When there's more content to freeze, there's more to expand and you need to leave more room to allow that expansion to happen.
Generally speaking, skinny jars need more headspace and wide jars need less. Depending on the width of the jar, my own personal rule of thumb for leaving headspace in glass jars is:
8 – 14 oz jars, leave 1″ – 1 ½″ headspace
14 – 24 oz jars, leave 1 ½″ – 2″ headspace
24 oz jars or larger, leave 2″ or more headspace
If you have jars made especially for freezing, you'll notice that most have a fill line. I'm not going to say the manufacturer is wrong, but personally, I'll follow my own "rule" and leave more room, to err on the side of caution.
Note: If you choose to freeze mason jars with shoulders, treat the shoulder as the top and leave adequate headspace from there.
TIP 4. STORE THE JAR ON ITS SIDE.
Building on #3, another way to leave plenty of space for expansion is to store the jar on its side. Essentially, laying the jar down.
When you store the jar standing up, it only has 2″ – 3″ of diameter worth of space for expansion. However, when you store the jar lying down, you now have the entire length of the jar AND 2″ – 3″ of depth as well.
Storing the jar on its side does take up more room, but once the jar has been in the freezer for 24-48 hours, you can move it upright for longer-term storage.
TIP 5. DON'T TIGHTEN THE LID RIGHT AWAY.
When you tighten the lid to the jar, you're basically telling everything inside that they're not going anywhere. Not cool when you KNOW the stuff inside is going to expand!
By not tightening the lid to the jar all the way, you're leaving a little escape route for any air that needs to get out. It's not much, but it's enough. And don't worry, your jars won't get freezer-burned if you forget to tighten them in a couple of days.
I use regular mason jar lids when I'm freezing my jars, but when I'm using my jars for salad dressings, smoothies, and leftovers, I LOVE these reCAP mason jar lids! They come with flip tops, straw holes, oil spouts, shaker inserts, and more!!
TIP 6. LOOSEN THE LIDS WHEN THAWING.
For the same reasons as #5, except now you're on the other side of the fence. Loosen the lids, or remove them entirely, as you thaw jars and you'll help prevent the glass jar from breaking.
TIP 7. COOL FILLED JARS SLOWLY.
If there's one surefire way to break glass jars in the freezer, it's thermal shock. Thermal shock happens when the shift in temperatures is extremely great, and essentially too much for the jar to take. A perfect example would be putting piping hot Spaghetti Sauce into a glass jar, and then putting that glass jar into the freezer.
The BEST way to avoid thermal shock, and prevent glass jars from breaking in the freezer, is to cool the jar as slowly as you can. Here is how you can do that:
Fill the jars with cool contents, OR fill the jar with hot contents and allow it to cool to room temperature.
Once the jar AND contents are at room temperature, place them in the fridge at least overnight. 24 hours is best.
Move the jar to the freezer door (not the back of the freezer, see #9 below) or the top of a chest freezer with the lid slightly loose.
Once it's completely frozen (24-48 hours), tighten the lid and move to the back of the freezer OR the bottom of the chest freezer, if desired.
TIP 8. THAW FROZEN JARS SLOWLY.
Again, the same concept as #6, but in reverse. Because the odds of breaking a glass jar don't stop in the freezer!
Here's how to thaw frozen jars so you prevent the glass jar from breaking:
If you have time, move the frozen jar to the door of the freezer or the top of the chest freezer. If you don't have time, move the frozen jar to the back of the fridge and loosen the lid.
Allow the jar to thaw at least 75% before removing the jar to the counter to finish thawing to room temperature. Loosen the lid again, or remove the lid entirely. (There will be condensation on the outside of the jar, so I suggest placing the jar on a kitchen towel.)
Once the contents are 90% thawed or greater, pour into another container to heat or warm.
Do NOT place the jar in hot water or the microwave to thaw. Even if the contents are mostly thawed, there's still a chance the jar itself isn't entirely at room temperature. It's better to wash another dish than ruin the glass jar and possibly the food you stored inside it.
TIP 9. AVOID THE COOLING ELEMENTS IN THE FREEZER.
The closer you place an item to the cooling element in a freezer, the colder the item gets, right? To prevent glass jars from breaking in the freezer, avoid storing glass jars on top of, next to, or beside, the cooling element of the freezer.
For an upright freezer, or a side-by-side fridge/freezer, this would be the very back.
For a chest freezer, this would be the very bottom.
Your jar will still freeze and be plenty cold if you store it in the door of an upright freezer, near the top, or in a basket of a chest freezer. And the chances of your jar breaking go down!
TIP 10. LEAVE SPACE BETWEEN JARS IN THE FREEZER.
I've already mentioned that the jars expand and contract when they're in the freezer, as do the contents inside the jar. It might not seem like a big deal, but cramming the jars right next to each other in the freezer doesn't leave any wiggle room for the jar to expand.
Plus as the jars freeze and once they're frozen, the glass itself is more susceptible to breakage. Storing the jars close to each other can cause them to rattle every time you open the door. Also, storing them close can change the rate at which the jars freeze. Remember, you don't want the jars to freeze too fast.
I like to use the box the mason jars come in to store my jars in the freezer. It leaves just enough room, and it also helps when I'm storing jars vertically in my chest freezer (we have an older model chest freezer similar to this one).
If you're reusing jars or didn't keep the box, you can place each jar in a sock and the sock will be the buffer.
TIP 11. SOMETIMES, DESPITE YOUR BEST EFFORTS, GLASS JARS JUST BREAK ANYWAY.
If you don't want to risk breaking your glass jars, consider freezing them in non-glass containers like plastic storage bags (I like these reusable ones), or reusing old yogurt and sour cream containers. When I freeze muffin batter or freeze multiple loaves of bread, I usually use plastic storage bags.
CAN YOU FREEZE MASON JARS WITHOUT BREAKING?
It's possible to freeze mason jars without breaking, but even if they do break, don't let that deter you from saving money!
I teach in my eCourse, Grocery Budget Bootcamp, details on why you should buy extra of what's on sale now and preserve, it so you can save money later.
HERE ARE SOME OTHER IDEAS FOR PRESERVING:
FREEZING MASON JARS FAQS
Why do mason jars break in the freezer?
Non-tempered glass contains microscopic air bubbles that expand and contract as the glass is heated and cooled down, especially at extreme temperatures, like during canning and freezing. When those little air bubbles expand, they cause the glass to crack or even explode!
Can you freeze glass jars of spaghetti sauce?
I recommend that you allow at least one inch of space between the liquid and the top of the jar to allow liquids to expand. If you want to freeze store-bought sauce, you may need to move it to a larger jar to account for that headspace. Or make your own and freeze that!
How do you defrost broth in a glass jar?
Place the jar in cool water (either in your kitchen sink or in a pot) and change the water every 30 minutes. Once the soup has thawed on the outer edges, you can dump the contents of the jar into a pot and let it thaw quickly over medium-low heat on the stove.
Why do my lids keep rusting?
When you freeze mason jars with metal lids in a humid environment like a refrigerator or freezer, they eventually start to rust. Even replacing them after many uses will still be less of a cost than the amount of disposable packaging you may have used in the same timeframe. You can also buy plastic lids for mason jars instead to avoid rust. Just make sure to loosen them while freezing to avoid cracked jars.
Are all mason jars freezer safe?
Glass jars are freezer-safe in theory, but to avoid breaking when freezing mason jars, choose tempered glass jars with straight sides, leave enough headspace in the jars, and cool and thaw gradually.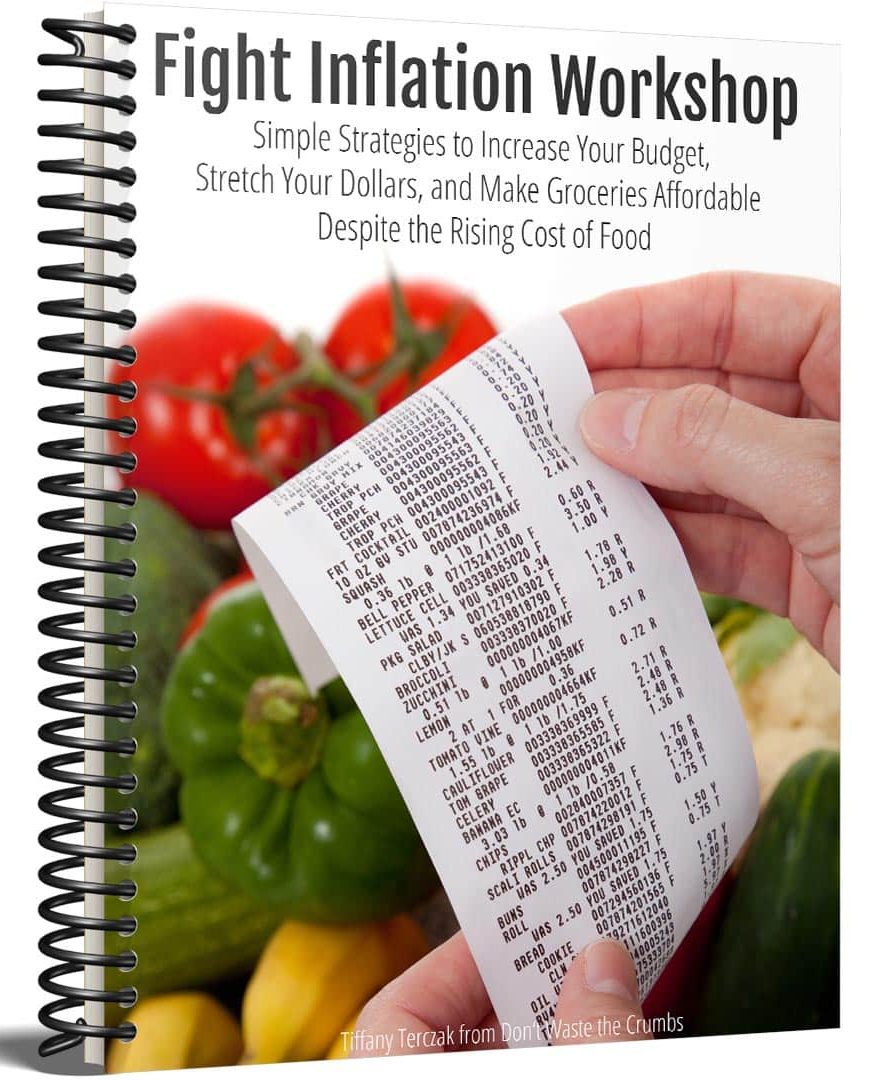 Fight Inflation Workshop
Sign up for my FREE
Fight Inflation Workshop
and learn simple strategies to save money, even with rising food costs!