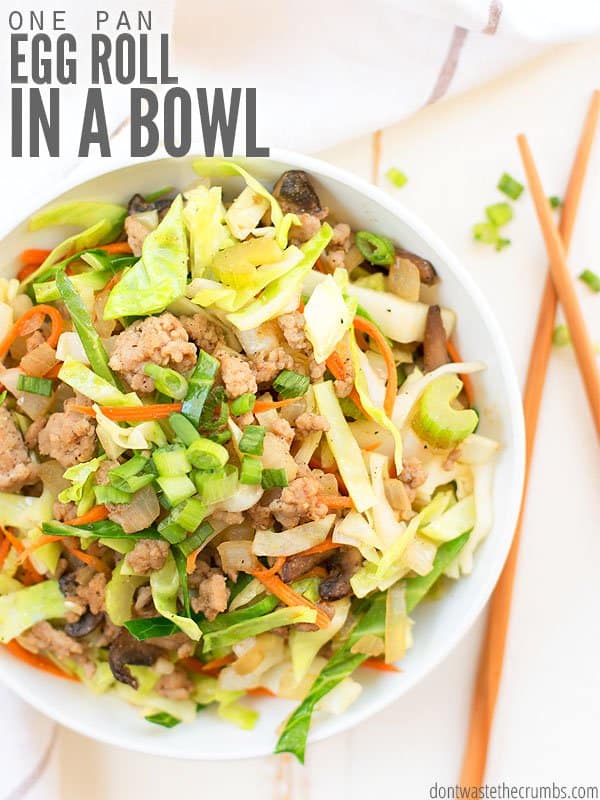 If you told me that I'd have to eat crack slaw for dinner, I would have given you a look like you had a third eye growing out of your forehead.
And then I would have taken a bite and apologized because YOU GUYS. This stuff is one of THE BEST dinners I've made since being on the Whole30.
Well, except for almond crusted baked chicken. That's pretty epic.
But seriously, egg roll in a bowl (a.k.a. crack slaw) needs to be on your meal plan, STAT.
Before I talk about the recipe, can I talk about the NAME for a minute?
If you're searching the interwebs, you'll notice that the names are interchangeable.
I could have called this crack slaw, because it looks a bit like a slaw (a la cilantro lime coleslaw) and it's addicting like a drug…
But I've been giving the kids leftovers for lunch and on the off chance a teacher asked one of them, "What are you having for lunch today?", I didn't want to have to deal with the parent phone call that would surely follow if they said crack slaw.
So egg roll in a bowl it is.
Egg Roll in a Bowl (a.k.a. Crack Slaw)
Although my husband still won't touch ground meat (it's a texture thing), the kids and I have fully embraced ground meat since we're trying to do the Whole30 on a budget.
We're making burgers on Friday nights (since homemade pizza is temporarily off limits) and I'm eyeing these homemade Italian meatballs for the meal plan later this week.
I'm also making a double batch of homemade breakfast sausage every Friday night (while the griddle is out anyway), experimenting with ground pork and/or ground turkey and/or ground chicken. Inevitably though, they're gone by Tuesday. Maybe I should start making a triple batch…
In either case, I'm making dinners with ground meat more and more often, simply because per pound, I can find good deals AND it stretches to make a lot of food.
Case in point: Egg Roll in a Bowl.
The first time I made this, I used my cast iron skillet.
BIG MISTAKE. HUGE! (Name that movie!)
I know I used my cast iron skillet to take these pictures (this is the cast iron skillet I have), but I also HALVED the recipe when I took these, so trust me when I say not to use your skillet.
You want to use the big pot you use to boil water in to make pasta. You know, that 5 or 6 quart mammer jammer that came with your set? Yep – that's the one.
You're going to make this recipe and you'll need a pot big enough to handle the massive amount of vegetables you're about to chop up. Be prepared.
Let's talk about the ingredients for a moment, shall we?
Cabbage
If you think it's a typo that I wrote NINE cups of cabbage, you're wrong. You really truly need 9 cups of cabbage. Yes, it sounds like a lot, and yes, it will cook down. Promise.
(Note: If you're really truly pressed for time, you can buy a couple bags of coleslaw mix. I don't recommend this though, because you'll end up spending more than you need to. Green cabbage is super cheap, and it's easy to slice it up yourself. If you're making this on a night when you don't have much time, slice the cabbage up ahead of time. Store it in a container, in the fridge, and it will keep for several days.)
Other Veggies
I'm lumping together onions, carrots, celery and mushrooms because you can still make this crack slaw / egg roll in a bowl if you happen to run out or forget to pick up one of these veggies.
Granted, I don't want you to make egg roll in a bowl WITHOUT any of these veggies, but I know how life goes sometimes.
If you happen to have sweet peppers, those would be AWESOME in this too. Definitely trying that next time.
Sugar
WHAT?! IS THERE REALLY SUGAR IN THIS RECIPE?!
No, there's not – haha fooled you! I'm specifically calling out sugar here because while some other similar recipes call for sugar, mine does not.
There is no sweetener of any kind whatsoever. Honestly, you don't need it. There's enough hidden sugars in our foods as it is (checked the label of your Worcestershire sauce lately? Or your iodized salt?), that I don't think adding more sugar to our dinner is necessary.
Optional Ideas for Egg Roll in a Bowl
Leftovers
Um, let's get real for a minute here. Anytime I make this for all of us (including the hubby, who gets diced chicken instead of ground pork), there are no leftovers.
There was one time when I made this and put away leftovers for lunch while the kids were eating… and then one of them asked for seconds.
So… be prepared to not have leftovers.
On the very slim off-chance you're able to sneak some into a container and get it in the fridge without anyone noticing, leftovers the next day are THE BOMB.
Sriracha Mayo
I'm pulling the parent card here and calling sriracha mayo mandatory. Really, it's that good.
My hubby doesn't like mayo and he put on gobs of it.
My daughter who hates everything hot put on gobs of it.
My son who also doesn't like mayo but puts homemade Franks hot sauce on EVERYTHING did exactly what my husband did, and then added more.
For real guys, unless you have food allergies, I plead you to at least give it a try. I promise you won't regret it!
PS – Here's my recipe for fail-proof homemade mayo. As the title suggests, it really is fail-proof!
Egg Roll in a Bowl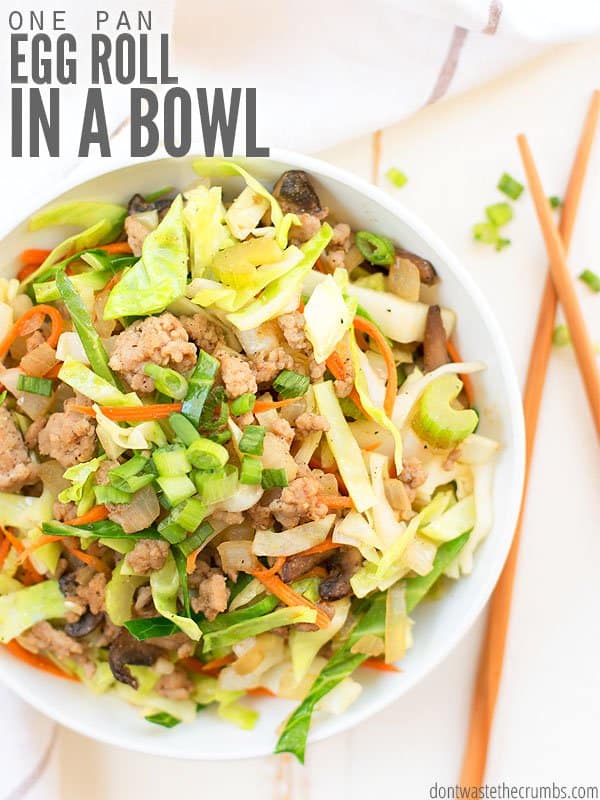 This easy egg roll in a bowl recipe (a.k.a. crack slaw) is Whole30, keto, low-carb, paleo and you only need one pan. Sub pork for your ideal protein – shrimp, turkey, chicken or beef, or leave it out to make it vegetarian!
Author:
Prep Time:

5 mins

Cook Time:

20 mins

Total Time:

25 mins

Yield:

4

-

6

servings

1

x
Category:

Main Meals

Method:

Stovetop

Cuisine:

Asian
Scale
Ingredients
1 Tbsp

coconut oil

1

lb ground pork (or other ground meat)

2

onions, diced

2 tsp

ground ginger

1 tsp

pepper

2 tsp

granulated garlic

4 Tbsp

coconut aminos (or soy sauce or liquid aminos)

1 Tbsp

apple cider vinegar

2 Tbsp

sesame seed oil

9 cups

shredded cabbage (about

1

pound)

2 cups

shredded carrots (about

2

large)

1 cup

diced celery (about

2

ribs)

1 cup

sliced mushrooms (about

4 oz

)

1/4 cup

mayo (optional)

1

–

4

tsp sriracha or chili paste, to taste (optional)
Instructions
In a large 5-6 quart pot, melt coconut oil over medium heat. Add ground meat and cook until cooked about halfway through.
Meanwhile, shred the cabbage (if it's not already done). Add onions, ginger, pepper and garlic and cook until the onions begin to turn translucent.
Add the remaining vegetables, coconut aminos, vinegar and sesame seed oil and cook until vegetables soften. Season with salt and pepper, to taste.
In a small bowl, combine mayo and hot sauce. Mix well and serve as desired with the egg roll in a bowl.
Butcher Box delivers grass-fed beef, pasture-raised and organic chicken, and heritage pork directly to your front door each month. You can read my honest review on Butcher Box here, and also my updated Butcher Box review here.
Have you ever had egg roll in a bowl before? Or crack slaw? What would you call it?! And would you make it again? Leave your thoughts in the comments below!