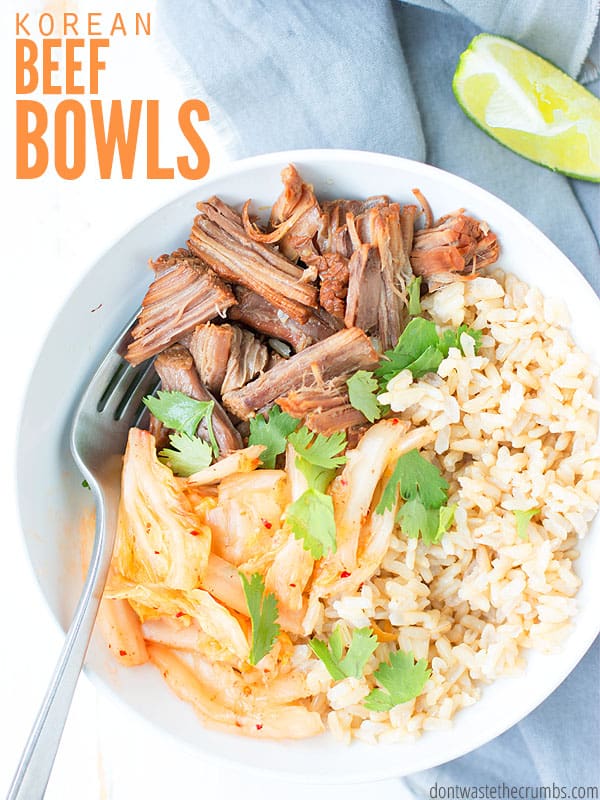 My family LOVES tacos. I once made slow cooker carnitas on Sunday night and we ate tacos for dinner for the WHOLE WEEK. (And lunches too, if I'm being honest!)
Part of the reason we love tacos so much is because everyone can pick out their own toppings. My daughter doesn't have to pick out mushrooms and my son can put extra lettuce. I can put all the extra sour cream and 5-minute guacamole I want!
The only downside to tacos is that we sometimes get tired of carnitas or the best ground beef taco meat or all purpose slow cooker shredded chicken.
Sometimes I want something with PIZZAZZ… something with real big kick in the butt of flavor.
That's why we're talking about Korean beef bowls.
You may remember that I first introduced you to this flavor combo via Instant Pot Korean beef. Friends – this is LIFE CHANGING.
I know tacos are all about the toppings, but when you start with super flavorful and incredibly moist shredded beef, YOU ALREADY HAVE A TON OF FLAVOR and you haven't even put anything on top yet.
That's is the perfect start to the ultimate taco experience in my opinion.
If you've ever made tacos before, you know that they're EXTREMELY versatile. You have your standard toppings of course, but change just one thing and BOOM, you have a completely different flavor profile.
That's kind of where we stand with these Korean beef bowls. This isn't an exact recipe per se, other than starting with Instant Pot Korean beef. It's really a template for building your own bowl – or taco, or wrap, or burrito – using what you already have on hand.
And maybe it'll give you a small nudge to try something new to see if you like it (yep, looking at you kimchi!).
Aside from the fact that tacos eliminate my people grumbling about unwanted vegetables, tacos are friendly to my grocery budget because they are CHEAP!
The most expensive part to any taco (or bowl or salad or wrap) is always the meat, but because tortillas are only so big and most people want to load up on toppings anyway, you can make a lot of tacos without a lot of meat.
As I mentioned earlier – I made a regular 3 lb pork shoulder roast on Sunday night. ALL FOUR OF US ate tacos until we were stuffed for FIVE nights. My husband even took tacos to lunch twice during the week too.
That means I paid just 41¢ in meat per person, per meal. CAN YOU EVEN GET CLOSE TO THAT AT A RESTAURANT?!
No way.
Korean Beef Bowls
Let's break down the Korean beef bowls.
Bowl / Salad / Taco / Wrap
First, you don't have to make this a bowl if you don't want to. You can make these tacos or wraps or even salads! Don't let the title stifle your imagination.
Bowl / Salad Options
Taco / Wrap Options
Instant Pot Korean Beef
Remember that we made this in the Instant Pot. I highly recommend making this earlier in the week. (maybe during weekend meal prep? Or while you're already in the kitchen doing something else? Or even while you're sleeping?! ← YES!)
While you're at it, make a 2x or 3x or 4x batch and freeze in smaller portions for later. Your later self will thank you.
Toppings
We all know the toppings is where the fun is at!
Traditional Toppings
Super Fun Non-Traditional Toppings
Must-try Sauces
How to Build the Perfect Korean Beef Bowl
I'm not entirely sure I need to give instructions on this, but just in case you're new to the taco/bowl/wrap/salad world:
Choose whether it's going to be a bowl or taco or a wrap.
Remember, just because *I* am calling this a bowl and the pictures are of a bowl, doesn't mean *YOU* have to make a bowl. You do you, friend.
Load up your Korean beef.
Be generous. You want that Korean (or wannabe Korean) flavor!
Toppings galore.
Don't even pretend to be shy here. Go crazy.
Eat until you cannot eat anymore.
The end.
Korean Beef Bowls (or tacos, or wraps, or salad)
Quick Korean beef bowl recipe with tons of toppings that cooks in the Instant Pot. Great for meal prep, has ground beef option and options to make it spicy!
Author: Tiffany
Prep Time:

10 mins

Cook Time:

45 mins

Total Time:

55 minutes

Yield:

4

–

6

servings

1

x
Category:

Main Meals

Method:

Stovetop

Cuisine:

Korean
Bowl Base:
White Rice (we like jasmine)
Brown Rice (make it in the Instant Pot)
Rice Noodles (white or brown, or even spaghetti or fettuccine if that's what you have)
Shredded lettuce (romaine would hold up well)
Cabbage (finely shredded)
Taco Base:
Iceberg Lettuce for Cups (or butter lettuce if it's in season)
Traditional Toppings:
Non-Traditional Toppings:
Kimchi (SO GOOD!)
Sliced/diced Avocado
Green Onions
Poached or Fried Egg
Cilantro
Chopped Peanuts
Sautéed Onions / Peppers / Mushrooms
Pickled Jalapenos
Grilled Corn (cut off the cobb)
Crumbled Queso Fresco
Diced Onions
Thinly Sliced Radishes
Sauces:
Sriracha mayo (get my recipe in this post)
Sriracha Mayo + Lime Crema
Salsa Verde (find it in this recipe)
Instructions
Make your Instant Pot Korean Beef and gently shred the beef.
Choose your base: bowl, salad, taco, or wrap.
Add your beef to your base.
Top with your favorite toppings and sauces.
Notes
Mix and match your toppings to make Korean Beef Bowls truly unique to your taste!
Work smarter in the kitchen:
This is the Instant Pot I use to make my Korean beef and brown rice (and whole chicken and oatmeal).
I purposefully make extra beef and rice on an earlier night in the week when I have more time to spend in the kitchen.
Then on a busy night, when I want to avoid the drive-thru, I have an EASY weeknight meal! Just a little chop, chopping of toppings and BAM. A delicious healthy dinner in no time.