Excellent Instant Pot Korean Beef recipe for tacos, burritos or bowls with rice. Use a roast, ground beef or even a slow cooker – it's easier than bulgogi! Enjoy as a Korean Beef Bowl with Instant Pot Rice, brown rice, or even cauliflower rice!
As much as I like the home-y feeling of slow cooker pot roast and slow cooker white chicken chili in the fall, sometimes I want something with a little more pizzazz…
And if it can make more than one meal at a time – a la slow cooker whole chicken – you know I'm all about that!
Enter Instant Pot Korean beef – it's super easy, super fast, and SO good!
It's basically everything you could want when you're tired of chicken and can't afford steak and need something the whole family will like. And if you're dealing with picky eaters, you know what I'm talking about.
So let's get right to talking about what makes this Instant Pot Korean beef so amazing, shall we?
Instant Pot Korean Beef
Not only is this Korean beef recipe super delicious, it's also:
What are the Ingredients in Instant Pot Korean Beef?
Notes on Ingredients for Instant Pot Korean Beef
Some people like to add red peppers to this recipe. I didn't because I think it's perfect as is, but feel free to try it! You can also add red pepper flakes and green onions as garnish!
Beef Roast
Quite possibly the biggest perk of Instant Pot Korean beef is that it doesn't matter what cut of beef you use! We can thank the Instant Pot for that, because the high pressure cooking of the Instant Pot turns pretty much anything into something delicious.
It's one of the ways the Instant Pot saves you money, plus you will always love your recipes!
I've made this recipe using chuck roast and tri-tip and both were equally delicious. No matter the cut you use, be sure to trim well.
Butcher Box delivers grass-fed beef, pasture-raised and organic chicken, and heritage pork directly to your front door each month. You can read my honest review on Butcher Box here, and also my updated Butcher Box review here.
The search for high-quality meat ends here. Amazing taste. Humanely raised and delivered to your door. Sign up today! Click this link to claim the current offer!
Apple (or Pear, or Pineapple)
Rather than using granulated sugar like brown sugar, the natural sugars in whole fruit is what gives this dish just the teeniest tiniest hint of sweet. I've tested using fresh apples, pears and pineapple and they're all great, and all slightly different (pineapple was my favorite!).
I'm sure you can use canned fruit as well, or even applesauce if that's what you have on hand. If you go the canned route, make sure you're choosing fruit that is canned in natural juices and not syrup!
Coconut Aminos (or Soy Sauce or Liquid Aminos)
Our pantry still resembles much of our Whole30 days, so I've only used coconut aminos. However, I have no doubt that soy sauce or liquid aminos would work just as well.
I would encourage you to use low-sodium soy sauce though if you go that route, since the level of saltiness can quickly add up in dishes like this.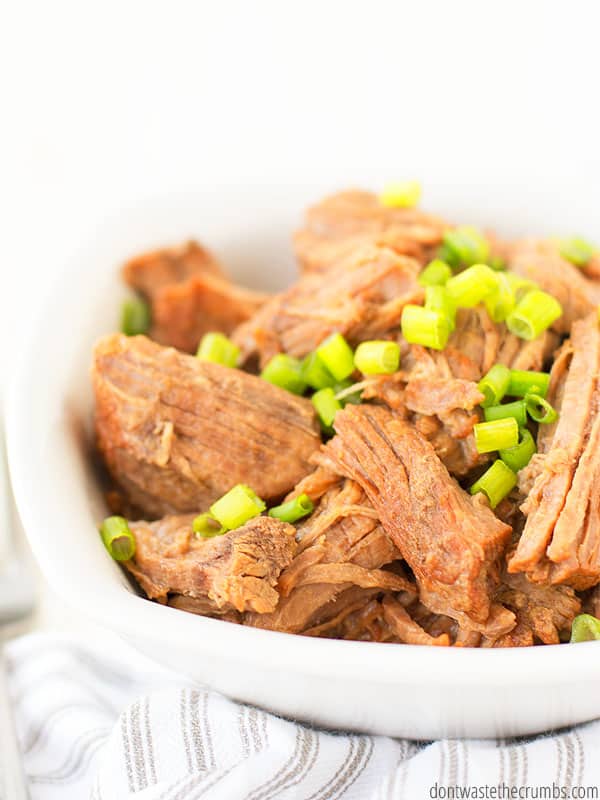 Garlic / Ginger
Using fresh garlic and fresh ginger really makes the flavors pop, so aim for the fresh stuff if you can. You'll probably have extra ginger, so either add carrot and sweet potato fritters or egg roll in a bowl or Chinese 5 spice chicken or Thai peanut sauce or Kung Pao chicken to your meal plan too.
Or if none of that sounds good, or if you STILL have leftover fresh ginger, here's a tutorial on how to freeze ginger.
If you don't have fresh garlic or fresh ginger, don't let that stop you from making this recipe.
You can definitely go the granulated route here with both spices. I personally think that ground spices don't add as much of a punch as fresh, so I like to double the quantity.
Vinegar / Fish Sauce / Sesame Oil
A common trio if you make any sort of Asian foods at home, and all three are equally necessary here.
In fact, we tested this recipe without all of the above, and with all of the above, and the WITH version won by a long shot. No doubt whatsoever, you need all three.
So strange, since you only need 1 tablespoon or less of all three, but let me tell you guys – DO NOT SKIP THIS!
Yes, it's important enough to warrant all caps.
How do you Make Korean Beef in the Instant Pot Pressure Cooker?
I absolutely LOVE that you only need a blender and an Instant Pot to make this dish a reality.
First you put everything but the meat in the blender. Give it a whiz.
Then you put that sauce and the meat in the Instant Pot. Set the timer, press go and walk away. Come back later to dinner DONE!
What Blender and Instant Pot are Best?
I get asked often about what tools I use in my kitchen, so here you go!
Blender: My husband bought me a Blendtec several years ago for my birthday. It's a workhorse in our kitchen, currently getting used three times a day! It's an investment, but considering how long we've had it and how much it can do (check out these 45+ awesome ways!), it's worth every single penny.
Instant Pot: I have this 8-quart DUO Instant Pot and I LOVE it. I don't always need the full 8 quarts, but it means I can fill up my freezer with a triple batch of this Instant Pot Korean beef without batting an eyelash. This is an investment too, so with both the Blender and Instant Pot, I recommend using Swagbucks to earn gift cards to Amazon to either off-set the cost or pay for it entirely!
And because it's equally important, let's talk about what you DON'T have to do with Instant Pot Korean beef:
Can I Freeze Korean Beef?
In case you want to make your life easier later, Instant Pot Korean beef freezes great. You have two options:
You can't go wrong either way!
More Easy Instant Pot Recipes
Hands-Free Cooking
Learn the secrets to getting dinner done faster by hacking your kitchen appliances, plus 30+ recipes to fuel your family!
Instant Pot Korean Beef