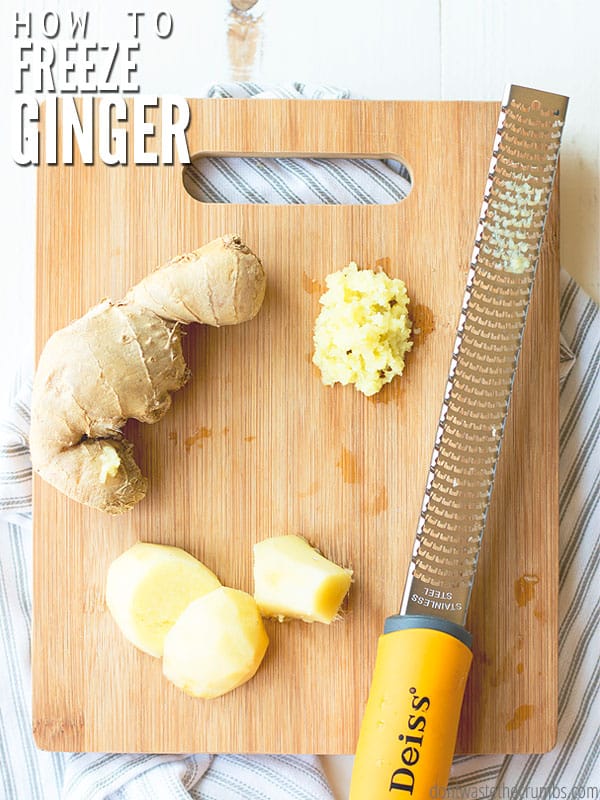 Has something ever caught your eye at the store just the right way, that no matter what your meal plan says and no matter what your shopping list says, you buy it anyway?
It happens to all of us at some point in time, and there's nothing wrong with that so long as you're following two guidelines:
You're sticking to the budget. (Don't have a grocery budget? Get one here.)
You're doing SOMETHING with everything you buy.
Now that "something" doesn't have to be glamorous. Maybe you're just going to eat it (i.e. apples). Maybe you're going to cook it for dinner (i.e. green beans). Or maybe you're going to use it in various baking projects (i.e. honey).
The problem is when we do something with SOME of it, but not ALL of it. That leads to food waste, which is money waste.
We've talked about how to freeze yogurt and how to freeze tomato paste, but I've been using a lot of fresh ginger lately and I want to show you how easy it was to freeze fresh ginger!
Fresh ginger may seem like a luxury to some, but it's actually pretty affordable.
It looks like a knobby root and it doesn't weigh much. Even if the sign at the grocery store says $2.49/lb (or higher), you can actually get a good size piece for less than a dollar. PLUS most recipes only call for one teaspoon or one tablespoon at a time, which makes it SUPER cheap per recipe.
Some of my favorite recipes – like carrot and sweet potato fritters and egg roll in a bowl and homemade elderberry syrup and Chinese 5 spice chicken and Thai peanut sauce and kung pao chicken – can use ground or fresh ginger interchangeably, and I'll admit to pulling the lazy card and choosing ground ginger a lot of the time.
BUT, if I remember to put it on my grocery list, fresh ginger makes ALL THE DIFFERENCE and really packs a punch of flavor.
The only downside to fresh ginger, is that we use 1 inch or so and then the rest sits in the fridge until we're cooking something else that calls for fresh ginger.
Then when we're ready to make that meal and go to the fridge to pull out that ginger root, it's all shriveled up and hard and totally not appealing.
Even though fresh ginger root doesn't cost much, we're still throwing those pennies in the trash can.
Instead, let's freeze whatever ginger we have left so we're NOT wasting our food and money, but we're also making meals that taste delicious!
How to Freeze Ginger
You're going to fall into one of two camps with fresh ginger: you're either going buy some from the store and not know what to do with it, OR already have some at home that you need to do something with.
Both camps end up with frozen ginger, but each one starts with a different preparation method.
Camp #1: You haven't bought fresh ginger YET.
Whenever you come home from the store, peel ASAP. It's one of those tasks that seems tedious and always gets pushed to the next day (and then the next, and then the next…) so just eat your frog and get it done and over with.
Then, stick it in the freezer. Why? Because frozen ginger is easier to grate than fresh ginger.
Ginger is very fibrous, and sometimes grating it can be tricky. Sticking it in the freezer first makes it much, MUCH easier to grate.
When the ginger is frozen, grate it. You can use either the teeny tiny holes or the medium holes of a box grater, or even a microplane. It all depends on how small you want it in your recipes (I usually go for the teeny tiny holes personally, and this is the box grater I have.)
Then continue with the general method below.
Camp #2: You already have fresh ginger at home.
If you already have fresh ginger at home, odds are you've already peeled it and have some leftover. If you don't, follow the instructions above in Camp #1.
With your ginger already peeled, you have a choice: freeze it overnight and grate it in the morning, or grate it as-is. Grating frozen is easier, but I don't want you to put it in the freezer if you're going to forget that you put it there in the first place!
Once it's grated, follow the general method(s) below.
I'd love to give you just one general method for freezing, but just like freezing tomato paste, there are several ways to get the same thing done.
Freeze in Ice Cube Trays
I picked up a silicone ice cube tray from ALDI not too long ago, which is very similar to this one. I'm going to make some fancy ice cubes in the near future, but you could use this or a regular ice cube tray to freeze ginger.
Take your ginger and portion either 1 teaspoon or 1 tablespoon into each ice cube space. Press down with your fingers or spoon so that the ginger is squished together as best as possible. Freeze overnight (or at least 8 hours) and you can pop out the squares and store in a freezer-safe container until you're ready to use them!
Flash Freeze on Parchment Paper
If you don't have ice cube trays, line a cookie sheet (I really like these!) with parchment paper and evenly place scoops of either one teaspoon or one tablespoon onto the paper. Leave about 1" of space between the scoops. Place the entire cookie sheet in the freezer overnight, or at least 8 hours. When they're frozen through, place the frozen ginger rounds into a freezer-safe container.
The Lazy Way to Freeze Ginger
If you're super short on time (or super lazy), there's an even easier way to freezer ginger: peel and stick it in the freezer whole!
Remember that frozen ginger grates easily, so whenever you need some for a recipe, pull out the chunk and grate off what you need!
Tips for Freezing Ginger:
I like to freeze in one teaspoon increments because they'll thaw quicker AND I think it makes it more versatile in recipes later. Three teaspoons equals one tablespoon, FYI.
Fresh ginger will be juicy when you grate it, so you likely won't have to add any liquid. If your ginger is on the brink of being old, it might be on the dry side. Use the ice cube tray method and add just a little bit of water to get the pieces to freeze together.
Always label your containers! You may know it's grated ginger today, but odds are you won't be able to see through the container very well later, so it's a good habit to label EVERYTHING you put in the freezer.
Save your ginger peels! They make great scrap additions to homemade chicken stock.
If you use ginger slices, you don't have to grate it! Simple peel and slice and store in the freezer. You can flash freeze between parchment paper if you want to, or you can save the hassle just put it right in a freezer-safe container.
Vegetable peeler, paring knife or spoon – those are your options for peeling ginger. I personally use a combination of a paring knife first (for the small weird spots) and then a vegetable peeler (for the larger, smooth spots) and that works well for me. I've heard of using a spoon, but I personally haven't tried that myself!
Freeze that ginger!
Saving fresh ginger in the fridge is a super simple way to avoid food waste. When you don't waste food, you don't waste money!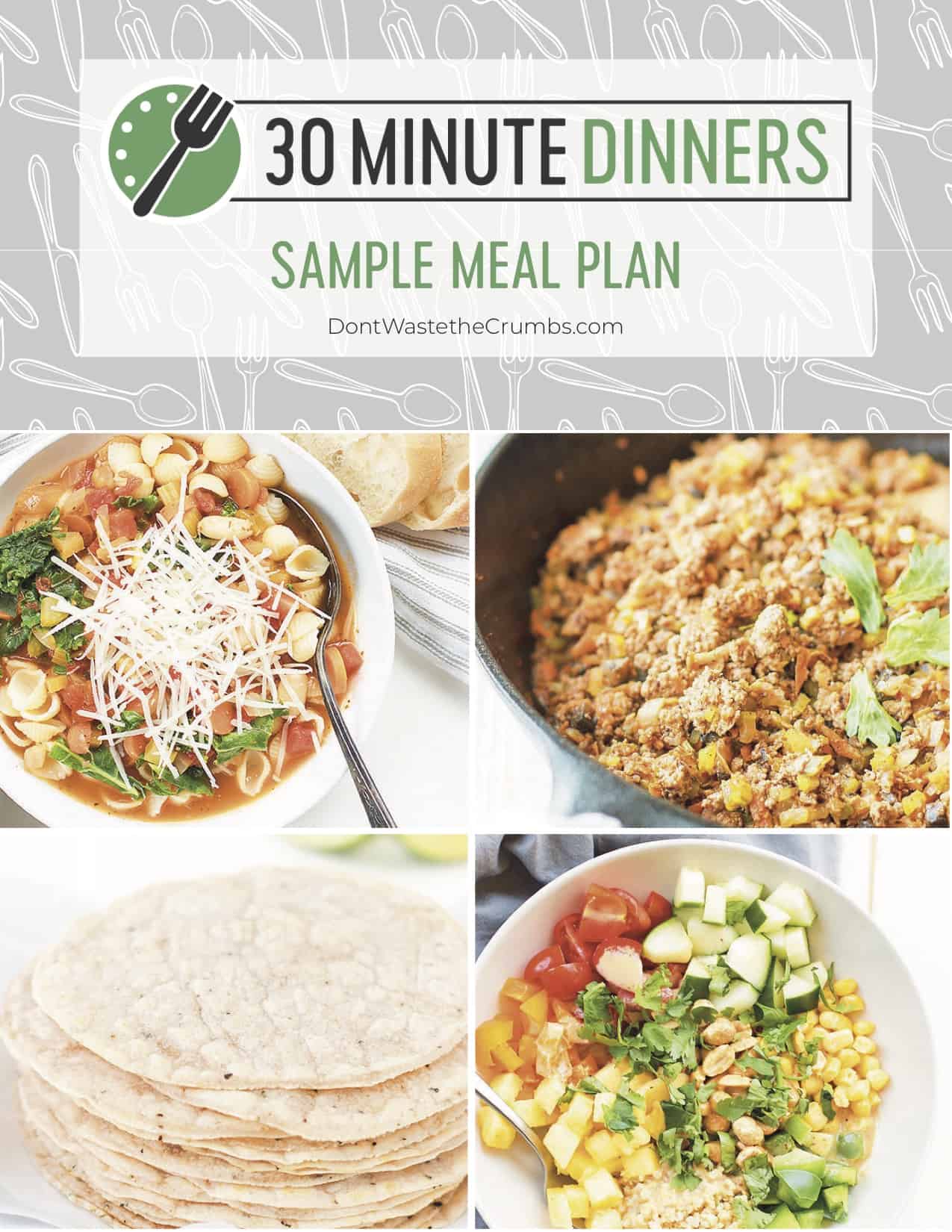 30 Minute Dinners Sample Meal Plan
Sign up to get instant access to my
30 Minute Dinners Sample Meal Plan
, complete with recipes and step-by-step instructions!
PS – Have you ever peeled ginger with a spoon before? How in the world does that work? And do you freeze ginger or tomato paste? Tell me all about it in the comments!