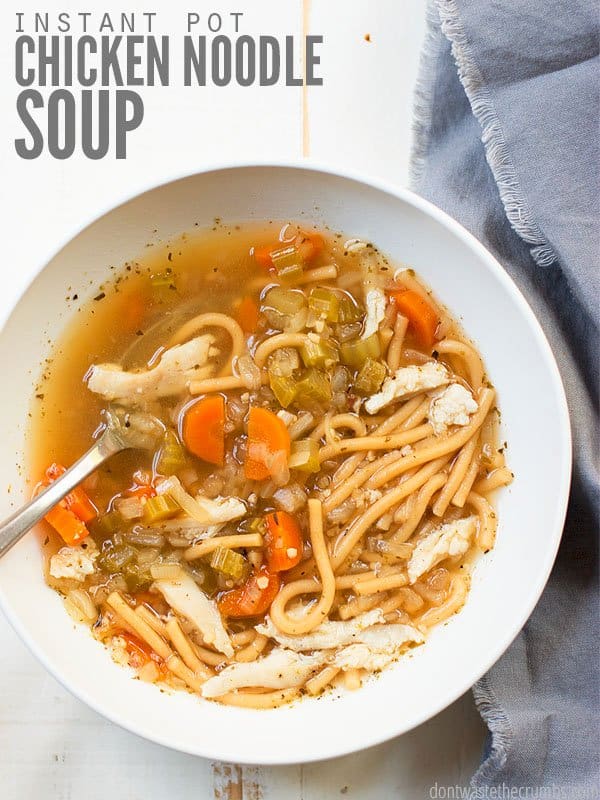 Guess what guys?! I finally got with the program and bought a new kitchen toy – an Instant Pot!
That means you'll see new Instant Pot recipes here on the blog going forward. In fact, I plan on doing an "Instant Pot Basics" series starting next year!
But first, it's fall and that means one thing. Soup season! How about we start with a classic Instant Pot chicken noodle soup for the inaugural post on Crumbs?
Sound good?
Awesome, because this soup is AMAZING. I've made it no less than 3 times in the past two weeks and every drop is devoured.
And the fact that it's made in the Instant Pot means dinner is a bit easier to get on the table.
By the way, I got this one in the 8 quart size. I figured it's better to have extra room than not enough, right?
Can we talk about meat in soup?
If you've followed my blog for awhile, you might have noticed that most of my soup recipes don't have meat.
Granted, minestrone soup and tomato soup traditionally aren't made with meat anyway…
Neither is roasted red pepper tomato soup or garlic white bean soup with kale…
But kung fu panda soup should have had chicken, and red lentil vegetable soup was inspired by a soup recipe that called for chicken too.
So why no soup recipes with meat?
That would be because my husband has a texture aversion. There are only a few things he doesn't like, but ground meat (which means more Italian meatballs for me and the kids!) and meat in soup are two of the big ones.
Since this blog is an extension of what happens at home, there's no meat in soup here if I'm not putting meat in soup in my own kitchen.
UNTIL NOW!
Here's one of the reasons I love Instant Pot chicken noodle soup:
I can dump all the ingredients in the pot – including the noodles AND a whole chicken breast – and I'll have a delicious soup ready in 30 minutes without dirtying any other dishes AND the chicken breast will stay WHOLE.
Say WHAT?!?!?!
I know, my mind was blown too, because that's not how it works in slow cooker (which is what I'm used to).
You put anything in a slow cooker and it will cook to obliteration. This is great if you want to make slow cooker shredded chicken. But not so good if your husband doesn't want meat in his soup and the rest of the family does and you don't want to make two separate pots of soup.
Now, you might be wondering if you can use shredded chicken in this recipe instead of a whole chicken breast.
YES YOU CAN!
In fact, that's definitely the more frugal option. Buy a whole chicken (or leg quarters if they're the better deal), cook it up (in the oven or in a slow cooker), and shred the meat. Portion out 2 cups of shredded chicken into storage containers and stick them in the freezer.
Then when someone is sick (like my father-in-law when he was visiting and I made a second batch of elderberry syrup), or you just have a hankering for soup with chicken, you pull out some and toss it in the pot.
I didn't go the shredded chicken route mostly because of my aforementioned husband and his aversion to meat in his soup. But I also didn't go that route because not everyone has shredded chicken on hand.
And even if you don't have shredded chicken on hand, I still want you to make this recipe. So I tested with a whole piece of chicken and we can rejoice! Because whatever piece of chicken you put in there – breast, leg, drumsticks – that piece will be ready for you to pull out when the timer beeps.
Talk about convenience!
No fishing for bones, no disintegrated and dry chicken, and no stray pieces of chicken floating around that the husband will complain about!
In case you're wondering, when I make this Instant Pot chicken noodle soup, I pull the chicken out and shred it in my mixer.
Then the kids and I will put a couple tablespoons of chicken into our bowls and ladle the soup over it. My husband will just ladle the soup. Everyone is a happy camper!
Instant Pot Chicken Noodle Soup
A few things worthy to note before you jump into this AMAZING soup:
The total cook time is about an hour.
The soup only needs 30 minutes to cook, but the Instant Pot takes 20-30 minutes to come to pressure. Use the quick release to speed things up once the soup is done.
Feel free to add more vegetables!
I'm only including the classics in this version, but I've added mushrooms, spinach, peas and carrots before and it's always YUM-O.
Oh yeah, I've also used celery seeds instead of actual celery when I ran out. Guess what? Still YUM-O.
Don't use the "keep warm" function.
Well, I mean you CAN use it, but my fear is that since you're adding the noodles directly to the soup, the "keep warm" function might cook your noodles into nothingness in the soup.
I'd recommend turning that feature off. Personally, when the lid is sealed, the soup will stay hot for awhile anyway.
This makes EXCELLENT leftovers!
I've intentionally kept leftover soup in the fridge to see if the noodles would dissolve, and they don't! Keep in mind that I've used whole wheat noodles every time, so I haven't tested with regular pasta. I don't know if that would make a difference though.
Instant Pot Chicken Noodle Soup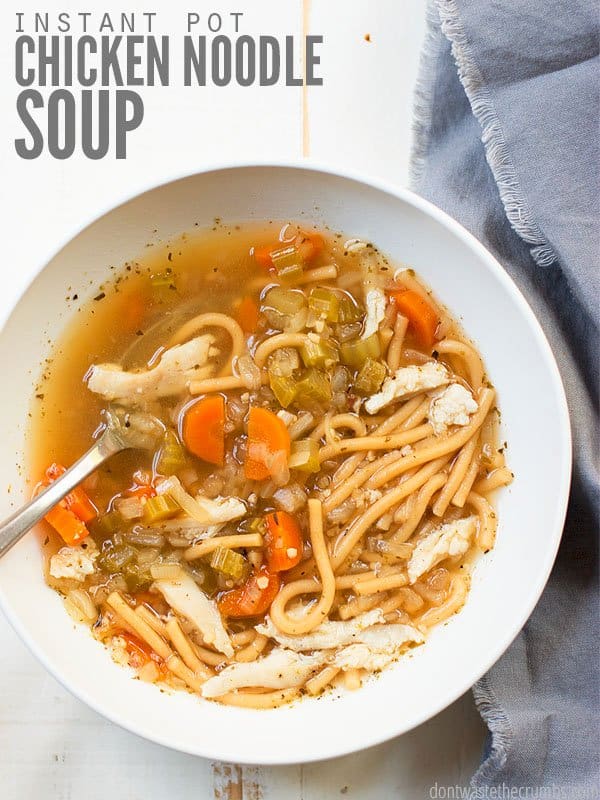 Prep Time:

30 mins

Cook Time:

30 mins

Total Time:

1 hour

Yield:

4

-

8

servings

1

x
Category:

Main meals

Method:

Instant Pot

Cuisine:

American
Scale
Ingredients
1 cup

diced carrots (about

2

large carrots)

1 cup

diced celery (about

2

celery ribs)

1 cup

diced onions (about

1

onion)

8 cups

chicken stock (here's how to make slow cooker chicken stock)

3 tsp

finely diced garlic (about

3

cloves)

1 Tbsp

Italian seasoning

2

bay leaves

1 Tbsp

salt

1 tsp

pepper

4 oz

noodles (I used whole wheat spaghetti)

½

lb chicken, raw (I used chicken breast) OR 2 cups cooked shredded chicken
Instructions
Place all the ingredients through the pepper in the Instant Pot (I have this one). Add the noodles, breaking them into smaller pieces if necessary. (I broke spaghetti into quarters.)
If you're using raw chicken, add it to the Instant Pot.
Close and lock the lid and of the Instant Pot. Press the [soup] function, adjust the pressure to medium and set the timer to 30 minutes.
The Instant Pot will take about 20-30 minutes to come to pressure before the timer will start.
Once the timer goes off, use the Quick Pressure Released to release the steam. If you're using shredded chicken, stir it into the hot soup at this time.
Keywords: Instant pot chicken noodle soup
I'm taking suggestions for Instant Pot recipes! What would you like to see posted on the blog? Leave your requests and suggestions in the comment section below!